Note… If you enjoy my pubescent tales, I recommend my obituary to Jill Clayburgh in The Huffington Post.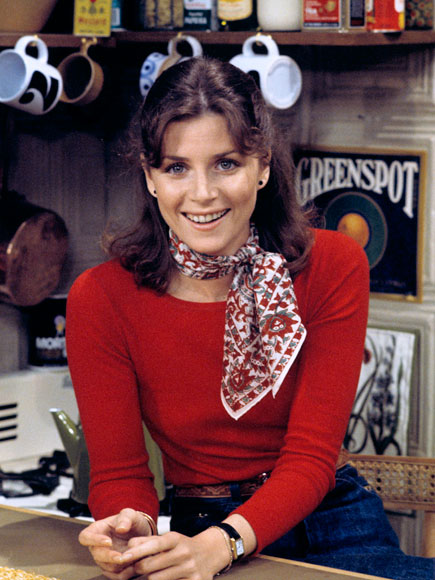 I just learned that actress Marcia Strassman passed away on October 24th at age 66. As a boy of 12-16 when Ms. Strassman played Mrs. Kotter on Welcome Back Kotter, well you can imagine the sort of lust I possessed. There was no more perfect woman – smart, loving, sexy, and in command of every situation, no matter how chaotic. I imagine a few million other boys went, "Ooh! Ooh! Ooh! Ooh! Ooh!" for Mrs. Kotter back then.
In 2005, I used my press credentials to cut lines, secure good seats, and meet people like Arianna Huffington, John Dean, Gore Vidal, Lawrence O'Donnell, Douglas Brinkley, David Frum, and Frank Luntz at the Los Angeles Times Festival of Books. Monty Python's own Eric Idle was going to be interviewed on the big stage at Royce Hall and flashing my press credentials scored me a front-row seat. A few minutes before the program began, a group of VIPs were ushered to my row and seated next to me. I immediately saw a character actress from a million TV shows like Barnaby Jones before I noticed the woman in the track suit who sat down next to me. Omigod! Omigod! Omigod! It was Mrs. Kotter!!! Mrs. Freakin' Kotter!
I immediately sent a text message to Sylvia telling her that the woman of my dreams was inches away from me and to ask if she could Google how old Mrs. Kotter was (in 2005). This was pre-iPhone and many years since I was in Jr. High worshipping Ms. Strassman on Welcome Back Kotter. I'm not particularly shy and have engaged in conversation with movie stars, politicians, scholars, and musicians over the years, but this was different. I was afraid that if we made eye contact, I would burst into flames. I stared towards the stage and let the antics of Eric Idle distract me from the love-of-my-life in the seat next to me.
---
I never saw any of the Honey I Shrunk the Audience's IQ films, but there is another Marcia Strassman opus I recommend to you.
On the cusp of my third decade of celibacy at nineteen, Marcia Stassman co-starred in one of the strangest, funniest, sexiest, crappy films of all-time, Soup for One. I LOVE that film and can recite lines from it. "You dragged me all the way to the Catskills to tie up Jewish women?"
From Wikipedia…
Soup For One is a 1982 sexually themed romantic comedy that was directed and written byJonathan Kaufer and produced by Marvin Worth. The R-rated film was released by Warner Bros. Pictures. Its tagline is "When you're looking for love, you find yourself doing some very funny things."

While the film was not a box office success, mostly due to mixed reviews and the over the top sex scenes (including one involving S/M), it is best remembered for its soundtrack, which was produced by Nile Rodgers and Bernard Edwards of the group Chic, who performed the title track.

Allan, a cable television producer in New York City, is determined to find the perfect woman, and he would even go so far as having a description of what she would look like done on an artist sketch. But before he can encounter the girl of his dreams he finds himself encountering a series of disastrous dating roadblocks. He finally meets Maria, who seems to be his perfect woman, and tries to make the relationship work.
Wikipedia neglects to mention that Allan hunts down Marcia Strassman after seeing her far afar and picking up her diaphragm, which she accidentally dropped in the street. There is a Jewish singles weekend in the Catskills complete with a cow roasted at the Kosher luau. The male leads in the film work at a public access cable station under a Manhattan slaughterhouse. This end of Disco pre-AIDS fairy tale also includes Teddy Pendergrass, Andrea Martin, Anna Deveare Smith, and Christine Baranski. Marcia Strassman should be awarded a posthumous Academy Award for her performance in this masterpiece!
Here is the NY Times review of Soup for One (what do they know?)
Through the miracle of YouTube piracy, you can now watch the entire epic film right here! (until it's taken down)

Rest-in-peace Marcia Strassman. Thanks for the memories.