Educators, citizens, and policy-makers would benefit from remembering two salient truths.
We stand on the shoulders of giants.
"Every problem in education has been solved somewhere." (Bill Clinton)
For those reasons, I have finally finished curating a seminal collection of progressive education texts for an anthology entitled, "Dreams of Democratic Education: An Anthology for Educators Wishing to Stand Between Children and the Madness." The eBook contains full texts by Ferrer, Dewey, Patri, The School of Barbiana, Malaguzzi, Papert, Lakoff, and a guy named Stager.
This 785 page eBook (in PDF format) is now available for download via this web page.
We hope to be able to help organize book clubs, discussions, and courses built upon the eBook's contents in the future.
---
Veteran educator Dr. Gary Stager is co-author of Invent To Learn — Making, Tinkering, and Engineering in the Classroom and the founder of the Constructing Modern Knowledge summer institute. Learn more about Gary here.
The following links are to books mentioned, or included, in the eBook, Dreams of a Democratic Education – An Anthology for Educators Wishing to Stand Between Children and the Madness.
Books by:
The clarity, courage, and commitment of the young people fighting to end school violence and ban assault weapons provides an opportunity to support kids who wish to change the world.
Here are two books I heartily recommend for teenagers.
Here Comes Trouble: Stories from My Life by Michael Moore.
Set your politics aside. It doesn't matter whether you love or hate Michael Moore, his autobiography is deeply moving and wildly entertaining. Here Comes Trouble features hilarious and inspirational tales of how one young person's sense of outrage can change the world. I cannot recommend this book highly enough. I have given lots of copies as gifts to young people.
The Children by David Halberstam
David Halberstam's vivid history of the Civil Rights movement told through the stories of young people who courageously fought for voting and human rights is a must-read. Today's young politically conscious young people would be well-served by a reminder that they stand on the shoulders of giants. The Children is one of the all-time great American history books.
For Tweens
We Were There, Too!: Young People in U.S. History by Phillip Hoose
A large lovely book to inspire tweens by the stories of kids and their role in American history.
Protest Songs for Kids
John McCutcheon's delightful record of protest songs for kids will be the hit of car trips and classroom sing-alongs. Every classroom and minivan needs a copy of Bigger Than Yourself!
Originally appeared in The Huffington Post on 10/19/2010
Shouldn't people bold enough to call themselves "school reformers" be familiar with some of the literature on the subject?
Most of the school leaders who signed last weekend's completely discredited"manifesto," are unqualified to lead major urban school districts. Michelle Rhee and Joel Klein are not qualified to be a substitute teacher in their respective school districts. U.S. Secretary of Education Arne Duncan could not coach basketball in the Chicago Public Schools with his lack of credentials. Therefore, it comes as no surprise that they advocate schemes like Teach for America sending unprepared teachers into the toughest classrooms armed with a missionary zeal and programmed to believe they are there to rescue children from the incompetent teachers with whom they need to work. In public education today, unqualified is the new qualified.
The celebration of inexperience and lack of preparation is particularly disconcerting when it comes to education policy. When you allow billionaires, ideologues, pop singers and movie viewers to define reform, you get Reform™.
Reform™ narrowly defines school improvement as children chanting, endless standardized testing preparation, teacher bashing and charter-based obedience schools who treat other people's children in ways that the rich folks behind Reform™ would never tolerate for children they love.
If that were not bad enough, Reform™ advances a myth that there is only one way to create productive contexts for learning. It ignores the alternative models, expertise and school improvement literature all around us. Public education is too important to society to allow the ignorant to define the terms of debate. Great educators stand on the shoulders of giants and confront educational challenges with knowledge, passion and intensity when afforded the freedom to do so. There are a great many of us who know how to amplify the enormous potential for children, even if we are ignored by Oprah or NBC News.
Reading is important for children and adults alike. Therefore, I challenged myself to assemble an essential (admittedly subjective) reading list on school reform. The following books are appropriate for parents, teachers, administrators, politicians and plain old citizens committed to the ideal of sustaining a joyful, excellent and democratic public education for every child.
In A Schoolmaster of the Great City: A Progressive Education Pioneer's Vision for Urban Schools, school teacher and principal Angelo Patri identifies and solves every problem confronting public education. This feat is all the more remarkable when you learn that the book was published in 1917!
Recently deceased Yale psychologist Dr. Seymour Sarason published forty books on a wide range of education issues well into his eighties. A good place to start is The Skeptical Visionary: A Seymour Sarason Reader. You have to admire a guy who published a book with the title, The Predictable Failure of Educational Reform: Can We Change Course Before It's Too Late, twenty years ago! Books written in the 1990s, And What do YOU Mean by Learning, Political Leadership and Educational Failure and Charter Schools: Another Flawed Educational Reform? remain quite timely and instructive.
No serious citizen or educator concerned with the future of education can afford to ignore the role of technology in learning. Jean Piaet's protegé, Seymour Papert, began writing about the potential of computers to amplify human potential in the mid-1960s. His view is a great deal more humane and productive than using computers to quiz students in preparation for standardized tests. All of Papert's books and papers are worth reading, but I suggest you start with The Children's Machine: Rethinking School in the Age of the Computer.
Want to see what sustainable scaleable school reform looks like where children are treated as competent? The Big Picture: Education Is Everyone's Business by Dennis Littky with Samantha Grabelle describes urban high schools with small classes, consistent student teacher relationships and an educational program based on apprenticeship. Students don't go to "school" on Tuesdays and Thursdays. They engage in internship experiences in the community in any field that interests them. The other days of the week, the curriculum is based on whatever the students need to learn to enhance their internships. This is not vocational. It prepares students for university or any other choice they make. The Big Picture model has spread across the United States with impressive results.
The biography of Big Picture Schools co-founder Dennis Littky, Doc: The Story Of Dennis Littky And His Fight For A Better School, by Susan Kammeraad-Campbell may be the first school reform thriller. The book chronicles how Littky transformed a failing school and was wrongfully fired the second political winds changed. Anyone interested in "reforming" public education would be well advised to read this exciting page-turner.
MacArthur Genius Deborah Meier has forgotten more about effective teaching and urban school reform than today's entire generation of "reformers" ever knew. Meier is often considered the mother of the small school movement and her work as the founder of the Central Park East Schools and Mission Hill in Boston remain influential inspiration for parents and educators committed to the preparation of learners with the habits of mind required for a healthy democracy. Her book, In Schools We Trust: Creating Communities of Learning in an Era of Testing and Standardization, is a masterpiece sharing the wisdom developed over more than a half century of teaching and school leadership. You should also read Meier's weekly online discussion with Diane Ravitch, the Bridging Differencesblog.
The Schools our Children Deserve: Moving Beyond Traditional Classrooms and "Tougher Standards" is but one of the many terrific books by Alfie Kohn in which he challenges conventional wisdom on sacrosanct topics like homework, grades, standardized testing and rewards with clarity and evidence. His books are fearless and make you think. His articles are collected at Alfiekohn.com. Alfie's small book, The Case Against Standardized Testing: Raising the Scores, Ruining the Schools should be on the kitchen table of every parent and teacher. If you're tired of reading, you may watch two terrific Kohn lectures on the DVD, No Grades + No Homework = Better Learning.
Dr. Theodore Sizer was a school principal, Dean of the Harvard Graduate School of Education and unofficial leader of the high school reform movement over the past twenty-five years. His intellect, calm demeanor and practicality led to the creation of the Coalition of Essential Schools and a template by which any secondary school could improve from within. The first book in his "Horace trilogy," Horace's Compromise, tells the story of American high schools, warts and all, through the eyes of a fictional English teacher, Horace Smith. This book and the two that follow share Horace's epiphanies about the shortcoming of American high schools, their strengths and how he and his colleagues can make their school better. The organization Sizer founded, The Coalition of Essential Schools, continues to inspire such local reform efforts one school at a time.
National Book Award-winning author, educator and civil rights activist has been giving voice to the poorest children in our nation and the injustice they face since the 1960s. All of Kozol's books are equal-parts profound, infuriating and inspirational, but the tender and beautifully written, Ordinary Resurrections: Children in the Years of Hope, reminds us why we should care about public education.
Herbert Kohl has shared his insights as a teacher and teacher educator in dozens of brilliant books. His recent anthology, The Herb Kohl Reader: Awakening the Heart of Teaching, should whet your appetite for reading many more of his books.
There is no more fierce or tireless critic of the higher tougher meaner standards and accountability movement than Susan Ohanian. The book she co-authored with Kathy Emery, Why is Corporate America Bashing Our Public Schools? engages in the old-fashioned "follow the money" journalism we keep waiting for from news organizations. This book will help you understand how we got to reform being defined and advanced by billionaire bullies.
Right before he died last year, respected scholar, Gerald Bracey published, Education Hell: Rhetoric vs. Reality – Transforming the Fire Consuming America's Schools. This book disembowels many of the premises and data used to justify the high-stakes accountability rhetoric and school reform strategies currently being advanced. It's a must read!
Not With Our Kids You Don't! Ten Strategies to Save Our Schools by Juanita Doyon is a short must-read book for parents tired of their schools being turned into little more than Dickensian test-prep sweatshops. The book was written by a fed-up mom, turned activist from Washington who has upended her state's political establishment in defense of the sort of high quality education Americans came to expect before No Child Left Behind.
---
Veteran educator Dr. Gary Stager is co-author of Invent To Learn — Making, Tinkering, and Engineering in the Classroom and the founder of the Constructing Modern Knowledge summer institute. Learn more about Gary here.
The irony could cause whiplash. Over the past thirty years, the EdTech community expended sufficient energy to colonize Mars fighting the idea of teaching children to program computers. I cannot think of another single example in education where so much effort was invested in arguing against children learning something, especially ways of knowing and thinking so germane to navigating their world. Now, the very same folks responsible for enforced ignorance, disempowerment, and making computing so unattractive to children are now advocating "Computer Science for All."*
There seems to be little consensus on what CS4All means, few educators prepared to teach it, no space in the schedule for a new course of study, and yet a seemingly unanimous desire to make binary, algorithm, and compression first grade spelling words. The sudden interest in "coding" is as interested in the Logo community's fifty years of accumulated wisdom as Kylie Jenner is interested in taking Ed Asner to St. Barts.
So, amidst this morass of confusion, turf battles, and political posturing, well intentioned educators resort to puzzles, games, and vocabulary exercises for say, an hour of code.
I wish I had 0101 cents for every educator who has told me that her students "do a little Scratch." I always want to respond, "Call me when your students have done a lot of Scratch." Coding isn't breaking a code like when you drunken insurance salesman go to an Escape Room as a liver bonding exercise. The epistemological benefit of programming computers comes from long intense thinking, communicating your hypotheses to the computer, and then either debugging or embellishment (adding features, seeking greater efficiency, decorating, testing a larger hypothesis).
Fluency should be the goal. Kids should be able to think, write, paint, compose, and dance with code. I recently met a team of sixth grade girls who won a contest for creating the "best app." It was pretty good. I asked, "What else have you programmed?" and received blank stares. When I asked, "What would you like to program next?" the children all turned to look at the teacher for the correct answer. If the kids were truly learning to program, they would be full of independent ideas for what to do next.
Children have a remarkable capacity for intensity and computer programming is an intellectual and creative outlet for that intensity. When I learned to program in a public middle school in 1975, I felt smart for the first time in my life. I could look at problems from multiple angles. I could test strategies in my head. I could spend days thinking of little more than how to quash a bug in my program. I fell in love with the hard fun of thinking. I developed habits of mind that have served me for more than four decades.
So, for schools without a Mr. Jones to teach a nine-week mandatory daily computer programming class for every seventh grader, I have a modest proposal that satisfies many curricular objectives at once.
Whether your goal is literacy, new literacy, computer literacy, media literacy, coding, or the latest vulgarity, close reading, my bold suggestion offers a little something for everyone on your administrative Xmas list.
Give the kids a book to read!
That's right. There are two very good books that teach children to program in Scratch using a project-approach. The books are completely accessible for a fifth grader. (or older) Here's what you do.
Buy a copy of one of the recommended books for each student or pair of students.
Use the book as a replacement text.
Ask the students to work through all of the projects in the book.
Encourage kids to support one another; perhaps suggest that they "ask three before me."
Celebrate students who take a project idea and make it their own or spend time "messing about" with a programming concept in a different context.
There is no need for comprehension quizzes, tests, or vocabulary practice since what the students read and understand should be evident in their programming. Kids read a book. Kids create. Kids learn to program.
There is a growing library of Scratch books being published, but these are the two I recommend.
Super Scratch Programming Adventure! : Learn to Program by Making Cool Games is a graphic novel filled with Scratch projects.
Scratch For Kids For Dummies by Derek Breen is a terrific project-based approach to learning Scratch.
If per chance, thick books scare you, there are two excerpted versions of Derek Breen's Scratch for Kids for Dummies book, entitled Designing Digital Games: Create Games with Scratch! (Dummies Junior) and Creating Digital Animations: Animate Stories with Scratch! (Dummies Junior). Either would also do the trick.
Shameless plug
Sylvia Martinez and I wrote a chapter in this new book, Creating the Coding Generation in Primary Schools.

* There are a plethora of reasons why I believe that Computer Science for All is doomed as a systemic innovation, but I will save those for another article.
---
Veteran educator Dr. Gary Stager is co-author of Invent To Learn — Making, Tinkering, and Engineering in the Classroom and the founder of the Constructing Modern Knowledge summer institute. Learn more about Gary here.
I once heard former President Clinton say, "every problem in education has been solved somewhere." Educators stand on the shoulders of giants and should be fluent in the literature of their chosen field.  We should be reading all of the time, but summer is definitely an opportunity to "catch-up."
Regrettably too many "summer reading lists for educators" are better suited for those concerned with get-rich quick schemes than enriching the lives of children. Case-in-point, the President of the National Association of Independent Schools published "What to Read this Summer," a list containing not a single book about teaching, learning, or even educational leadership. Over the past few years, I offered a canon for those interested in educational leadership and a large collection of suggested books for creative educators and parents.
When I suggested that everyone employed at my most recent school read at least one book over the summer, the principal suggested I provide options. Therefore, I chose a selection of books that would appeal to teachers of different grade levels and interests, but support and inspire the school's desire to be more progressive, creative, child-centered, authentic, and project-based.
Gandini, Lella et al… (2015) In the Spirit of the Studio: Learning from the Atelier of Reggio Emilia, Second Edition.
Aimed at early childhood education, but equally applicable at any grade level.  Illustrates how to honor the "hundred languages of children."
---
Little, Tom and Katherine Ellison. (2015) Loving Learning: How Progressive Education Can Save America's Schools
A spectacular case made for progressive education in the face of the nonsense masquerading as school "reform" these days.

---
Littky, Dennis. (2004) The Big Picture: Education is Everyone's Business.
Aimed at secondary education, but with powerful ideas applicable at any level. Students spend 40% each week in authentic internship settings and the remaining school time is focused on developing skills for the internship. This may be the best book written about high school reform in decades. 
---
Papert, Seymour. (1993) The Children's Machine: Rethinking School in the Age of the Computer.
A seminal book that situates the maker movement and coding in a long progressive tradition. This is arguably the most important education book of the past quarter century.  Papert worked with Piaget, co-invented Logo, and is the major force behind educational computing, robotics, and the Maker Movement.
---
Perkins, David. (2010) Making Learning Whole: How Seven Principles of Teaching Can Transform Education.
A clear and concise book on how to teach in a learner-centered fashion by a leader at Harvard's Project Zero. 
---
Tunstall, Tricia. (2013) Changing Lives: Gustavo Dudamel, El Sistema, and the Transformative Power of Music.
"One of the finest books about teaching and learning I've read in the past decade." (Gary Stager) Tells the story of how hundreds of thousands of students in Venezuela are taught to play classical music at a high level. LA Philharmonic Conductor Gustavo Dudamel is a graduate of "El Sistema." The lessons in this book are applicable across all subject areas. 
Check out the CMK Press collection of books on learning-by-making by educators for educators!
I became a pre-k through 8th grade teacher in the mid-1980s. I was literally in the last teacher education cohort who was expected to learn how to teach science, music, art, physical education, special education, make puppets out of Pop-Tart boxes, create math manipulatives, and fill a classroom with interdisciplinary projects. Teacher preparation was equal parts art and science. Then around 1985, a couple of years after A Nation at Risk, legislatures around the world declared, "Teaching ain't nothin'," and replaced rich and varied teacher education curricula with Animal Control and Curriculum Delivery.
Today, anyone who has ever been a billionaire or 7-11 night manager can run the US Department of Education or be a superintendent of schools, while well-prepared and experienced educators are met with suspicion and derision. We say that, "we stand on the shoulders of giants," but ask a room full of school leaders how many of the authors in this reading list they have read and prepare to be stunned by the blank stares. Suggest any teaching practice not sold by Pearson and you're likely to have a school principal reply, "Oh! You mean like Montessori?" Quite simply, unqualified is the new qualified.
Elementary teaching has been narrowed and departmentalized in ways that make it as ineffective as high school. Truly getting to know each child and to engage them in meaning making through interdisciplinary projects has been the first casualty of the assault on the art of teaching. As teacher agency has eroded through mistrust, prescriptive curriculum, and standardized testing, teachers become less, not more, thoughtful in their practice. When you mechanize teaching and place it under constant surveillance, teaching quality becomes less human, rewarding, joyful, creative, and more compliant.
Over the past thirty years, educators have lost control, freedom, and memory of classic pedagogical practices. During my work in classrooms around the world, I am often struck by how teachers are unaware of teaching practices I have long taken for granted. For example, I just assumed that every teacher knew about classroom centers, could defend their use, and make them a staple of each learning environment. I was wrong. That's one of the reasons I wrote "Thoughts on Classroom Centers," although I would still love to find the seminal work(s) on the topic.
Choice Time
While mentioning this lingering question to one of my heroes, Deborah Meier, she suggested I ask Renée Dinerstein. (I intend to) Ms. Dinnerstein is the author of a fine new book, Choice Time – How to Deepen Learning Through Inquiry and Play, PreK-2. The book focuses on the critical element of student choice and what they do during learner-centered classroom time. Classroom centers are the magic carpet of choice time.
I just purchased the book and cannot recommend it highly enough. It is a beautiful guide filled with clear and practical advice for teachers without being condescending or treating its readers like imbeciles. The book is not 500 pages of jargon and reproducibles, but rather 165 pages of inspiration intended to rekindle creative teaching in order to create more productive contexts for learning by children. It also helps teachers observe and understand the thinking of each child.
Although it says that the book's wiscom is intended for PK-2nd grade, I would recomment the book to teachers at any grade level.
The author maintains a web site, investigatingchoicetime.com, intended to extend the inspiration shared in the book.
Since I am known as a man of impeccable taste and endless fascination, I humbly share a collection of the books I have recently purchased. Happy reading!
Curtis, D. & Carter, M
Making Sense of Algebra
Goldbenberg, E. Paul
Mathematical Mindsets – Unleashing Students' Potential Through Creative Math, Inspiring Messages, and Innovative Teaching
Bowler, Jo
---
Random stuff Amazon's robots think you might enjoy…
Unlike most media outlets, The Huffington Post actually pretends to take an interest in education. However, I continue to believe that their Education section was created to be an advertising platform for the truly awful film, "Waiting for Superman," remembered as the Howard the Duck of education documentaries by the three other schmucks and I who paid to see it.
Regardless of their motives, The Huffington Post, is a frequent mouthpiece for the charter school movement and unofficial stenographer for corporations trying to make a quick buck off the misery of teachers and students.
The Huffington Post recently featured an article, "The Most Popular Books For Students Right Now," authored by their Education Editor Rebecca Klein. I clicked on the headline with interest, because I'm a fan of books and reading (I know a truly radical view for an educator). What I found was quite disappointing.
Aside from the fact that six books were the favorite across twelve grade levels, the books fell into two obvious camps; books kids like and books they were required to read by a teacher.
Nonetheless, data is data and Web users like lists.
What I do not like is when basic tenets of journalism, like "follow the money," are ignored in order to mislead readers. The source for the "independent reading habits of nearly 10 million readers" is Renaissance Learning, described by The Huffington Post as "an educational software company that helps teachers track the independent reading practices of nearly 10 million students."
That's like saying ISIS is a magazine publisher Donald Trump, owner of an ice cream parlor. While factually true, this is what Sarah Palin might call putting lipstick on a pig.
Renaissance Learning is a wildly profitable company that sells Accelerated Reader, a major prophylactic device for children who might otherwise enjoy reading. The product is purchased by dystopian bean counters who view small children as cogs in a Dickensian system of education where nothing matters more than data or achievement.
Their product creates online multiple-choice tests that schools pay for in order to quantify each child's "independent" reading. If the school doesn't own the test for a particular book a kid reads, they receive no credit. Kids routinely dumb down their reading in order to score better on the quizzes. Accelerated Reader rewards compliance and speed by turning reading into a blood sport in which winners will be rewarded and their classroom combatants, punished.
Ironically, I wrote about Accelerated Reader in The Huffington Post back in 2012. (Read Mission Accomplished)
When you look at the "favorite" book list featured in The Huffington Post, please consider that kids read The Giver and The Crucible because they are standard parts of the curriculum. This tells us nothing about what kids at grades 7, 8, or 11 actually like to read. Seeing Green Eggs and Ham as the first grade winner should make you sad. Can you imagine taking a comprehension test on this classic??? How vulgar!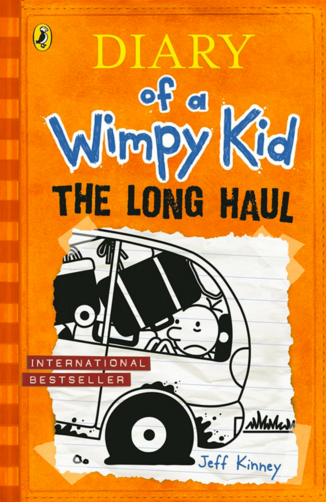 The Grade 2 favorite is also likely assigned by teachers, Click, Clack, Moo: Cows That Type. The mind reels when I try to imagine the test measuring comprehension of the comic book/graphic novel, named favorite book by 3rd, 4th, 5th, AND 6th graders, "Diary of a Wimpy Kid: The Long Haul. First of all, we should be alarmed that this simple book tops the charts for four years, but don't forget that kids will be tested by a computer on their comprehension of this delightful comic book.
"Nothing forced can ever be beautiful." – Xenophone
Caveat emptor!
This time of year, schools scramble to select a book for their entire faculty to read over the summer. Although it would be nice if everyone read the same book as a basis for common dialogue and for teachers to read more than one book about learning each year, I just assembled a list for the (DK-8) school where I serve as the Special Assistant to the Head of School for Innovation. Based on our overarching goals of action, reflective practice, progressive education, learning-by-making, energetic classroom centers, creativity, and collegiality, I recommended the following books for this summer. If a school community was to read one book (besides Invent To Learn – Making, Tinkering, and Engineering in the Classroom) , I would recommend David Perkins' book, Making Learning Whole.
If you wish to give your faculty (K-12 in any configuration), a list of selections to choose from, I recommend the following in no particular order.