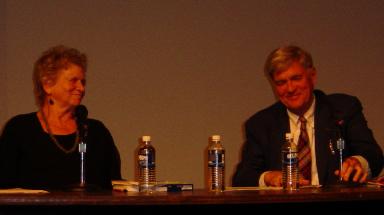 During Gary Stager's recent Ask Me Anything session with Deborah Meier, her Habits of Mind and Ted Sizer's Essential Principles for schools (especially secondary schools) were discussed. Watch a recording of the Ask Me Anything session, here.
Deborah Meier's Bridging Differences column with Diane Ravitch, et al.
Books by Deborah Meier
Documentaries made about Central Park East elementary and secondary schools, founded by Deborah Meier.
Deborah Meier's Five Habits of Mind, as originally explored in the book, The Power of Their Ideas: Lessons for America from a Small School in Harlem.
Evidence – asking, "How do you know?"
Connections – asking, "How is this connected to something else I already know or care about?"
Perspective or Viewpoint – asking, "From whose perspective is this story being told?"
Conjecture – asking, "How can I imagine a different outcome?", and
Relevance – asking, "Why is this important?"
Read and watch how the habits of mind are employed at Boston's Mission Hill School
Books by Ted Sizer, including Horace's Compromise: The Dilemma of the American High School (all three volumes of the Horace trilogy are essential reading)
The Ten Common Principles of Essential Schools (by Ted Sizer), complete with explanations
The Coalition of Essential Schools website
The Coalition of Essential Schools Remembers Ted Sizer
There's no shortage of articles, web sites, top 1,000 app lists instructing educators what to do during the pandemic and when school returns to "normal." All of that "help" may be counter-productive. You deserve a break.
If you're not feeling up to reading, cooking, playing an instrument, or coding right now, watch an episode of Encore! on Disney+ and you will be remember what school can and should mean to children. Keep a box of tissues nearby and your closest friend on speed dial first.
Here are some of the books that ground, focus, and inspire me. I hope you'll find some beauty, peace, grace, or meaning from any of these recommendations.
---

Painting Chinese: A Lifelong Teacher Gains the Wisdom of Youth

The great Herb Kohl's gorgeous meditation of a lifetime of learning and teaching.

---

Wonder Art Workshop: Creative Child-Led Experiences for Nurturing Imagination, Curiosity, and a Love of Learning

Skip the stuff about "brain research" and dig into the large assortment of beautiful and magical art experiments. Super fun and creative!

---

The Book of Learning and Forgetting

This book by the great psycholinguist Frank Smith may be my favorite exploration of learning. It was always a favorite text of my graduate students too.

---

Ordinary Resurrections: Children in the Years of Hope

While not Jonathan Kozol's most popular or best known books, this is my favorite of his many masterpieces. Ordinary Resurrections is poignant and poetic while giving voice to the most innocent and vulnerable members of our society. This book is timeless and life-changing.

---

Changing Lives: Gustavo Dudamel, El Sistema, and the Transformative Power of Music

Read quickly past the fanboy stuff about the remarkable conductor, Gustavo Dudamel, and learn about one the most profound pedagogical approaches on earth, El Sistema. You will be moved by the what's possible when teachers believe in the capacity of each learner and refuse to acknowledge obstacles. In my humble opinion, this one of the best education books of the past decade. Author Tricia Tunstall also coauthored a notable follow-up, Playing for Their Lives: The Global El Sistema Movement for Social Change Through Music.

---

The Inner Principal: Reflections on Educational Leadership

I challenge you to name a more candid, open, or philosophical book ever written by a school administrator, especially one as accomplished as David Loader.

---

The Muses Go to School: Inspiring Stories About the Importance of Arts in Education

The likes of Whoopi Goldberg, Phillip-Seymour Hoffman, Rosie Perez, and Bill T. Jones share the testimony to the critical importance of public school arts education with response pieces by amazing educators including Deborah Meier, Lisa Delpit, Bill Ayers, Diane Ravitch, Maxine Greene, and yours truly (clearly a clerical error).

---

The Long Haul: An Autobiography

Myles Horton's tales of founding and sustaining the Highlander Folk School, an Appalachian retreat where students included Martin Lutther King, Jr., Rosa Parks, Eleanor Roosevelt, and Pete Seeger. Oh yeah, We Shall Overcome was composed there too. This book not only tells the important story of an unknown piece of American history, but offers much wisdom and inspiration for all teachers.

---

Idea Makers: Personal Perspectives on the Lives & Ideas of Some Notable People

Notable scientist, mathematician, and computer scientist Stephen Wolfram book of insightful essays about great mathematicians, scientists, and technologists, many of who he knew personally.

---

The Children

Pulitizer Prize winner David Halbestram's monumental history of the American civil rights movement and the remarkable role played by courageous young people. This book reminds all of us of each person's power to change the world.

---

Books I love to read aloud with kids

Field Trip to the Moon (PK-2)

---

Harold and the Purple Crayon (PK-2)

---

Homer Price (2-5)

I still love this book and its sequel!

---

Apprentice with the world's greatest musicians!

Ever dream of taking piano, bass, vibes, voice, drum, guitar, saxophone, or trumpet lessons from one of the world's finest musicians? Care to understand jazz or Brazilian music? Wish you could develop your own voice with the help of one of the world's most acclaimed vocalists?
Perhaps you don't play an instrument and just enjoy watching great artists explain their craft? That's cool too.

Well, Open Studio is not only the gold standard by which all other online music education programs are measured, but it has cracked the code in teaching impossibly complex and intimate concepts online.

Check out the multitude of offerings at every conceivable skill level.

---
Summer is a great time for kids to read entire series of books.

Here are some great ones you won't find in your school curriculum or approved by the Texas State Textbook Commission, a wholly-owned subsidiary of Pearson!

Horrible Histories (grades 4-9)

Collect them all! They're gorey, bloody, irreverent, gross, and filled with historical facts shared in an entertaining fashion.

---

The Time Warp Trio series (grades 2-5)

Jon Scieszka's zany time travel adventure in which three buddies explore great moments in history.

---

Guys Read series (grades 5-8)

Seven volume anthologies of high-interest short stories with each book featuring a different literary genre.

---

Books to keep kids active

Jane Bull is the author of countless colorful, clever, fabulous, and fun craft books published by DK. Highly recommended!

---

New York City Street Games

This out-of-print, but still available gem, teaches youts to play all da clasic sports your grandparents played on the streets of NYC. There is a great documentary, narrated by Ray Romano on the same subject.

---

Books for learning to program in Scratch

Here is an article I wrote featuring my favorite books to help kids learn Scratch programming.

---

Favorite cookbooks for little kids

Pretend Soup and Other Real Recipes: A Cookbook for Preschoolers and Up

Salad People and More Real Recipes: A New Cookbook for Preschoolers and Up

Fabulous books full of wordless recipes for healthy food

---

Honest Pretzels: And 64 Other Amazing Recipes for Cooks Ages 8 & Up

---

Little Helpers Toddler Cookbook: Healthy, Kid-Friendly Recipes to Cook Together

---

The Tickle Fingers Toddler Cookbook: Hands-on Fun in the Kitchen for 1 to 4s

---

Sesame Street Let's Cook!

Cookie Monster's Foodie Truck: A Sesame Street ® Celebration of Food

---

The Complete Cookbook for Young Chefs (#1 bestseller)

The Complete Baking Book for Young Chefs

---

Timeless videos I still love to watch with my grandkids

Here are some of my favorite videos to watch with the toddlers. They're funny, kind, not scary, and stimulate imagination.

Pee-Wee's Playhouse: The Complete Series

Never disappoints or fails to entertain. The show is pitch perfect for kids and adults to enjoy together. (a real bargain too)

---

The Little Rascals: The "Complete" Collection

The best available collection of the classic shorts that inspired generations to play, dream, and learn by making – long before there was a maker movement. Trust me. Kids still love these 80 year-old films.

---

Mister Rogers' Neighborhood: It's a Beautiful Day

30 classic episodes

---

If you love card games…

I don't, but I have given countless sets as gifts to delighted kids and families.

Fluxx

An endless assortment of looney card games where the rules or the objective of a game change with every card!

---
So, if I were asked to design a program for pre-service teachers, these books would be my starting place.
The Book of Learning and Forgetting by Frank Smith
Making Learning Whole by David Perkins
The Children's Machine by Seymour Papert
A Schoolmaster of the Great City by Angelo Patri
She Would Not Be Moved: How We Tell the Story of Rosa Parks and the Montgomery Bus Boycott by Herb Kohl
And What Do YOU Mean by Learning by Seymour Sarason?
The Long Haul by Myles Horton
The Hundred Languages of Children: The Reggio Emilia Experience in Transformation by Lella Gandini, George Forman, and Carolyn Edwards
In Schools We Trust: Creating Communities of Learning in an Era of Testing and Standardization by Deborah Meier
What to Look for in a Classroom by Alfie Kohn
A Fresh Look at Writing by Donald Graves
Ordinary Resurrections: Children in the Years of Hope by Jonathan Kozol
The Big Picture: Education is Everybody's Business by Dennis Littky and Samantha Grabelle
A reluctant choice between these books to make sure "math" is covered.
I hope that anyone reading this is healthy and sane during this period of uncertainty. Teachers and kids alike are grieving over the loss of freedom, social interactions, and normalcy. Many families, even those never before considered at-risk, are terrified of the potential for financial ruin or catastrophic health risks. Since I'm all about the love and spreading optimism, I humbly share a silver-lining for teachers and the kids that they serve.
The fact that you are being told to "teach online" in some vague version of "look busy" may mean that teachers are finally being trusted. Districts large and small are abandoning grading as they recognize that education (at home) is inequitable. I guess it's better late than never to discover the obvious.
Parents and superintendents are vanquishing the needless infliction of nonsense known as homework. Standardized testing is being canceled, an actual miracle. Colleges have recognized that enrolling students next Fall is more important than SAT or ACT scores. Each of these emergency measures has been advocated by sentient educators forever.
So, there is reason to celebrate (briefly), but then you must act! Use this time to remake schooling in a way that's more humane, creative, meaningful, and learner-centered. This is your moment!
In the absence of compelling models of what's possible, the forces of darkness will fill the void. Each of us needs to create models of possibility.
The fact that kids' days are now unencumbered by school could mean that they finally have adequate time to work on projects that matter rather than being interrupted every 23 minutes. I recently wrote, What's Your Hurry?, about teaching computer programming, but it's applicable to other disciplines.
Project-based learning offers a context for learner-centered pedagogy. I was reminded that the new edition of our book, "Invent To Learn – Making, Tinkering, and Engineering in the Classroom," includes several chapters on effective prompt setting that may be useful in designing projects for kids at home. Invent To Learn also lays out the case for learning-by-doing. Use that information to guide your communication with administrators, parents, and the community.
The following are but a few suggestions for seizing the moment and reinventing education after this crisis is resolved so we may all return to a new, better, normal.
Practice "Less us, more them"
Anytime a teacher feels the impulse to intervene in an educational transaction, it is worth pausing, taking a breath, and asking, "Is there less that I can do and more that the student(s) can do?" The more agency shifted to the student, the more they will learn.
One exercise you can practice teaching online, as well as face-to-face, is talk less. If you typically lecture for 40 minutes, try 20. If you talk for 20 minutes, try 10. If you talk for 10, try 5. In my experience, there is rarely an instance in which a minute or two of instruction is insufficient before asking students to do something. While teaching online, try not to present content, but rather stimulate discussion or organize activities to maximize student participation. Piaget reminds us that "knowledge is a consequence of experience."
Remember, less is more
My colleague Brian Harvey once said, "The key to school reform is throw out half the curriculum – any half." This is wise advice during sudden shift to online teaching and the chaos caused by the interruption of the school year.
Focus on the big ideas. Make connections between topics and employ multiple skills simultaneously. Abandon the compulsion to "deliver" a morbidly obese curriculum. Simplify. Edit. Curate.
Launch students into open-ended learning adventures
Learning adventures are a technique I became known for when I began teaching online in the 1990s. This process is described in the 2008 paper, Learning Adventures: A new approach for transforming real and virtual classroom environments.
Inspire kids to read entire books
Since the bowdlerized and abridged basals are locked in school, encourage kids to luxuriate with real books! Imagine if kids had the freedom to select texts that interest them and to read them from cover-to-cover without a comprehension quiz or vocabulary lesson interrupting every paragraph! Suggest that kids post reviews on Amazon.com for an authentic audience rather than making a mobile or writing a five-paragraph essay. Use Amazon.com or Goodreads to find other books you might enjoy.
Tackle a new piece of software
Been meaning to learn Final Cut X, Lightroom, a new programming language, or any other piece of sophisticated software? Employ groups of kids to tackle the software alone or together and employ their knowledge once school returns. Let them share what they know and lead.
Contribute to something larger than yourself
This is the time for teachers to support kids in creating big creative projects. Write a newspaper, novel, poetry anthology, play, cookbook, or joke book. Make a movie and then make it better. Create a virtual museum. Share your work, engage in peer editing, and share to a potentially infinite audience.
Check out what Berklee College of Music students have already done!
Teach like you know better
Use this time to rev-up or revive sound pedagogical practices like genre study, author study, process writing, interdisciplinary projects and the other educative good stuff too often sacrificed due to a lack of sufficient time. You now have the time to teach well.
Take note of current events
Daily life offers a world of inspiration and learning invitations. Why not engage kids in developmentally appropriate current events or take advantage of opportunities like JSTOR being open to the public during the COVID-19 crisis? Here's a possible student prompt.
"Go to JSTOR, figure out how it works, find an interesting article, and share what you learned with the class."
Let Grow
Change the world by challenging students to learn something on their own by embracing the simple, yet profound, Let Grow school project. A simple assignment asks kids to do something on their own with their parent's permission and share their experiences with their peers.
Stand on the shoulders of giants
Every problem in education has been solved and every imaginable idea has been implemented somewhere. Teachers should use this time to read books about education written by experts and learn the lessons of the masters.
Take time to enjoy some culture
There is no excuse to miss out on all of the cultural activities being shared online from free Shakespeare from the Globe Theatre, Broadway shows, operas, living room concerts, piano practice with Chick Corea, and exciting multimedia collaborations. Many of these streams are archived on social media, YouTube, or the Web. Bring some peace, beauty, and serenity into your home.
The following are some links, albeit incomplete and subjective, to free streaming cultural events.
Apprentice with the world's greatest living mathematician
In A Personal Road to Reinventing Mathematics Education, I wrote about how I have been fortunate enough to know and spend time with some of the world's most prominent mathematicians and that while not a single one of them ever made me feel stupid, plenty of math teachers did. Stephen Wolfram is arguably the world's leading mathematician/scientist/computer scientist. Over the past few years, he has become interested in teachers, kids, and math education. Dr. Wolfram spoke at Constructing Modern Knowledge, runs an annual summer camp for high school mathematicians, and has made many of his company's remarkable computational tools available for learners.
Acknowledging that many students are home do to the pandemic this week, Wolfram led a free online Ask Me Anything session about an array of math and science topics, ostensibly for kids, as well as a "follow-along" computation workshop. You, your children, or your students have unprecedented access to all sorts of expertise, just a click away! This is like Albert Einstein making house calls!
A bit of exploration will undoubtedly uncover experts in other disciplines sharing their knowledge and talents online as well.
Abandon hysterical internet policies
The immediate need for laptops, Internet access, student email, plus the expedient use of available technologies like YouTube, FaceTime, Skype, Twitter, Instagram, and Zoom has instantly dispelled the hysterical and paranoid centralized approach to the Internet schools have labored under for the past twenty-five years. The Internet has never been dependent on the policies of your school or your paraprofessional IT staff to succeed. Perhaps we will learn what digital citizenship actually looks like after teachers and children are treated like modern citizens.
Heed Seymour Papert's advice
When I worked with Seymour Papert, he created a document titled, "Eight Big Ideas Behind the Constructionist Learning Lab." This one sheet of paper challenges educators to create productive contexts for learning in the 21st Century. Can you aspire to make these recommendations a reality in your classroom(s)?
Do twenty things to do with a computer
In 1971, Seymour Papert and Cynthia Solomon published, Twenty Things to Do with a Computer. How does your school measure up a half-century later?
Program your own Gameboy
Yes, you read that correctly. Here is everything you need to know to write your own computer games, build an arcade, or program a handheld gaming device!
Teach reading and programming simultaneously
Upper elementary and middle school students could learn to program in Scratch and develop their reading fluency at the same time. Learn how in A Modest Proposal.
Share my sense of optimism
Shortly before the COVID-19 crisis, I published, Time for Optimism, in which I shared reasons why progressive education is on the march and how we might teach accordingly. We can do this!
Wash your hands! Stay inside! Stand with children!
---
Veteran educator Dr. Gary Stager is co-author of Invent To Learn — Making, Tinkering, and Engineering in the Classroom and the founder of the Constructing Modern Knowledge summer institute. He led professional development in the world's first 1:1 laptop schools and designed one of the oldest online graduate school programs. Learn more about Gary.
The world lost a giant of an educator on July 26th when Vivian Paley passed away at age 90. Paley was the only kindergarten teacher ever named a MacArthur genius. Her example as an educator, documented in her numerous moving and inspirational books, gave voice to young teachers. Her poignant shared self-reflection tackled poverty, racism, gender, power, peace, community, rejection, literacy, democracy, fantasy, play, and love in the classroom and beyond. Paley led through kindness, common sense, and an affection for the inner lives of children. Her work is relevant for educators and parents, regardless of the age of child you support.
"To her, teaching was not about meeting a bunch of core requirements that you can quantify; it was about being a human being." – John Hornstein in the NY Times Obituary of Vivian Paley
I tried in vain to convince Ms. Paley to participate in Constructing Modern Knowledge, but she saw a photo of a computer on our web site and declined. My powers of persuasion were unpersuasive, even when I listed all of her friends who had participated in the past. I sure wish I could have shared Ms. Paley with our community.
In The Children's Machine, Seymour Papert stressed the importance of sharing learning stories as a way of reforming education in a humane learner-centered direction. Vivian Paley was a master of documenting and sharing learning stories.
I strongly urge you to read several of the books listed below, but if you are allergic to books, listen to Vivian Paley on This American Life talking about how she allowed five year-olds to address issues of friendship, empathy, and even bullying with one simple rule, "You can't say, you can't play." (11 minutes)
In The Classrooms All Young Children Need: Lessons in Teaching from Vivian Paley, Patricia Cooper authored a terrific analysis of analysis of Paley's work as a "pedagogical model organized around two complementary principles: a curriculum that promotes play and imagination, and the idea of classrooms as fair places where young children of every color, ability, and disposition are welcome." (Cooper, Patricia M. The classrooms all young children need: Lessons in teaching from Vivian Paley. University of Chicago Press, 2009.)
If you are an educator unfamiliar with the name Vivian Paley or her work, that is a great shame and diminishes your craft.
Vivian Paley authored thirteen books, here are my top five favorites.
Here is one more for good measure, A Child's Work: The Importance of Fantasy Play.
"She helped children use the tools they have, which are imagination, sympathy and make-believe, to understand themselves and each other," said Dr. Joshua D. Sparrow, executive director of the Brazelton Touchpoints Center in Boston, which studies child development. – NY Times Obituary of Vivian Paley
---
Veteran educator Dr. Gary Stager is co-author of Invent To Learn — Making, Tinkering, and Engineering in the Classroom and the founder of the Constructing Modern Knowledge summer institute. He led professional development in the world's first 1:1 laptop schools and designed one of the oldest online graduate school programs. Learn more about Gary here.
I'm a big fan of children's book illustrator/author, Dav Pikley. So, when I came across a beginning reader by him called, "Big Dog and Little Dog," I bought it for my three year-old grandson. The grandkids should love it.
The book is complex with a great deal of subtext.
Big Dog and Little Dog want food.

Here is some food for Big Dog.

Big Dog is happy.

Here is some food for Little Dog.

Little Dog is happy too.
Deep, I know!
After the dozen or so pages of the story, the book includes f#$cking comprehension questions. The publisher, Houghton Mifflin Harcourt, calls them "Bonus Skill Building Activities." I am not going to destroy my grandson's love of reading by giving him books with a stupid quiz at the back.
Want to know why Johnny can't read?
Textbook publishers and the educators engaged in a faith-based relationship with them!
I am sure that if you asked the publisher why they felt compelled to ruin a book with assessment schlock, I bet they would say, "teachers want it." Well, who cares? Any teacher incapable of engaging a child in a conversation about Big Dog and Little Dog should be servicing robot drink dispensers at McDonalds. Better yet, perhaps teachers should shut up altogether and just let kids enjoy reading a book for information or pleasure.
Accelerated Reader, comprehension questions every three paragraphs, and other cynical schemes designed to interrupt reading  for the purpose of ranking, sorting, or failing children have a prophylactic impact on reading far more destructive than playing Minecraft or binge-watching episodes of Wife Swap.
When I was a kid, once you could read, there was no longer a subject in your schedule called, "Reading." Today, some kids receive reading instruction K-12. These are the very same kids who we are often made to believe are not good at reading. Perhaps adults need to stop ruining the reading experience and provide kids of all ages with access to high-interest reading material free of moronic "bonus skill building activities."
---
If you wish to do something about childhood literacy, donate generously to my favorite charity, Access Books. They build and stock beautiful libraries in third world schools where children would not otherwise have access to books. Criminally, those schools are in California!
---
Veteran educator Dr. Gary Stager is co-author of Invent To Learn — Making, Tinkering, and Engineering in the Classroom and the founder of the Constructing Modern Knowledge summer institute. He led professional development in the world's first 1:1 laptop schools and designed one of the oldest online graduate school programs. Learn more about Gary here.
One great joy of my life has been getting to know and work with so many of my heroes/sheroes. Even greater satisfaction comes from sharing those people with my fellow educators, via books, presentations, and the Constructing Modern Knowledge summer institute.
Over dinner thirty years ago, one of my mentors, Dan Watt dropped some wisdom on me when he said, "writing is hard." Writing is hard. I find sitting down to write is even harder. The reward of writing is your work being read by others, especially when readers report thinking differently as a result. Even the "hate mail" I received as a magazine columnist and editor made the agony of writing worthwhile.
While proud of many things I have written, three pieces stand out as enormous honors. Being asked by the science journal of record, Nature, to author the obituary of my friend and mentor, Dr. Seymour Papert, was a difficult challenge and great privilege. Learning later that the great Alan Kay recommended me for the assignment took my breath away. I will remain forever grateful for his confidence in my ability to eulogize our mutual friend in such an august journal.
On two other occasions, I have been invited to contribute to books by my heroes. A few years ago, the prolific progressive author and educator, Herb Kohl, asked me to write a response piece to the great musician, David Amram, for the book, The Muses Go to School: Inspiring Stories About the Importance of Arts in Education. My fellow contributors include Bill T. Jones, Bill Ayers, Whoopi Goldberg, Deborah Meier, Diane Ravitch, Phillip Seymour Hoffman, Lisa Delpit, Maxine Greene, and others. Many readers may be unaware of my music studies and the fact that my career began as a public school arts advocate. Sharing anything, let alone a book, with the remarkable Herbert Kohl remains a source of enormous pride. This is an important book that should receive greater attention.
I first met Artificial intelligence pioneer, Marvin Minsky, in the late 1980s. I cannot say that I spent a great deal of time with him over the subsequent decades, but anyone who ever encountered Marvin can testify to the impact that I had on them, perhaps down to the molecular level. The fact that Marvin agreed to spend time leading a fireside chat with any interested educator at the first eight Constructing Modern Knowledge institutes continues to blow my mind. I will forever cherish his wit, wisdom, friendship, and generosity.
Inventive Minds: Marvin Minsky on Education is a brand new book based on essays by Dr. Marvin Minsky, one of the great scientists, inventors, and intellectuals of the past century. Our mutual friend, Dr. Cynthia Solomon, a hugely important figure in her own right, edited a text in which important essays by Minsky were assembled and responded to by an amazing collection of Marvin's friends. One of Marvin's proteges, Xiao Xiao, illustrated the book. The contributors to this book include:
Co-inventor of the Logo programming language, Cynthia Solomon
Father of the personal computer, Alan Kay
Legendary computer science professor, author, and pioneer of the Open Courseware movement, Hal Abelson
Former Director the MIT Media Laboratory, Walter Bender
Artificial intelligence pioneer and MIT professor, Patrick Henry Winston
Software engineer, inventor, and executive, Brian Silverman
Software engineer, Mike Travers
Haptics engineer and scientist, Margaret Minsky
Me
I can't speak for my contribution, but am confident that Inventive Minds will stimulate a great deal of thought and dialogue among you and your colleagues. Buy the book and enjoy some great summer reading!
---
Veteran educator Dr. Gary Stager is co-author of Invent To Learn — Making, Tinkering, and Engineering in the Classroom and the founder of the Constructing Modern Knowledge summer institute. He led professional development in the world's first 1:1 laptop schools and designed one of the oldest online graduate school programs. Learn more about Gary here.
In Chapter Four of our new book, Invent to Learn – Making, Tinkering, and Engineering in the Classroom, we discuss the importance of prompt setting as a basis for project-based learning. I argue that "a good prompt is worth 1,000 words." Projects are not the occasional dessert you get as a reward after consuming a semester's worth of asparagus, but that the project should be a teacher's "smallest unit of concern."
Last week, Sylvia Martinez and I completed a successful four-city Texas Invent to Learn workshop tour. Each workshop featured an open-ended engineering challenge. This challenge, completed in under two hours, was designed not only to introduce making, engineering, tinkering, and programming to educators with diverse experience, but to model non-coercive, constructionist, project-based learning.
Presented with what we hope was a good prompt, great materials, "sufficient" time, and a supportive culture, including a range of expertise, the assembled educators would be able to invent and learn in ways that exceeded their expectations. (We used two of our favorite materials: the Hummingbird Bit Robotics Kit and Snap! programming language.)
A good time was had by all. Workshop participants created wondrous and whimsical inventions satisfying their interpretation of our prompt. In each workshop a great deal was accomplished and learned without any formal instruction or laborious design process.
What's your point?
Earlier today, our friends at Birdbrain Technologies, manufacturers of the Hummingbird Bit Robotics Kit, tweeted one of the project videos from our Austin workshop. (Workshop participants often proudly share their creations on social media, not unlike kids. Such sharing causes me to invent new workshop prompts on a regular basis so that they remain a surprise in subsequent events.)
This lovely video was shared for all of the right reasons. It was viewed lots of times (and counting). Many educators liked or retweeted it, All good!
What's slightly more problematic is the statement of the prompt inspiring this creation.
"Problem: The Easter Bunny is sick. Design a robot to deliver eggs."
That was not the exact prompt presented to our workshop participants. This slight difference makes all the difference in the world.
Aren't you just nitpicking?
Why quarrel over such subtle differences in wording?
Words matter
My prompt was an invitation to embark on a playful learning adventure complete with various sizes of candy eggs and a seasonal theme. Posing the activity as a problem/solution raises the stakes needlessly and implies assessment.
Design a robot comes with all sorts of baggage and limits the possible range of approaches. (I just rejected the word, solutions, and chose approaches because words matter.)
People have preconceived notions of robots (good and bad). Even if we are using a material called a robotics kit, I never want children to cloud their thinking with conventional images of robots.
The verb, design, is also problematic. It implies a front-loaded process involving formal planning, audience, pain point, etc… good in some problem solving contexts, but far from universally beneficial.
The use of problem, design, and robot needlessly narrows and constrains the affective, creative, and intellectual potential of the experience.
A major objective of professional learning activities such as these is for educators to experience what learning-by-doing may accomplish. Diving in, engaging in conversation with the materials, collaborating with others, and profiting from generative design (a topic for future writing) leads all learners to experience success, even in the short time allotted for this activity. Such a process respects what Papert and Turkle called epistemological pluralism. Hopefully, such positive personal experiences inspire future exploration, tinkering, and learning long after the workshop ends.
Our book suggests that good prompts are comprised of three factors:
Brevity
Ambiguity
Immunity to assessment
Such prompt-setting skill develops over time and with practice. Whether teaching preschoolers or adults, I am sensitive to planting the smallest seed possible to generate the most beautiful garden with the healthiest flowers. That glorious garden is free of litter from brainstorming Post-It Notes, imagination crushing rubrics, and other trappings of instruction.
References
Martinez, S. L., & Stager, G. (2019). Invent to learn: Making, Tinkering, and Engineering in the Classroom, second edition (2 ed.): Torrance, CA: Constructing Modern Knowledge Press
Turkle, S., & Papert, S. (1992). Epistemological Pluralism and the Revaluation of the Concrete. Journal of Mathematical Behavior, 11(1), 3-33.
---
Veteran educator Dr. Gary Stager is co-author of Invent To Learn — Making, Tinkering, and Engineering in the Classroom and the founder of the Constructing Modern Knowledge summer institute. He led professional development in the world's first 1:1 laptop schools and designed one of the oldest online graduate school programs. Learn more about Gary here.

It's time to beef-up your classroom making library
Here's a chance to spend your Amazon gift cards and brighten your classroom with kids learning by making. The following is an assortment of recent discoveries to inspire independent reading, making, tinkering, and engineering in your classroom. There are beautiful project books filled with how-to advice, fun picture books, and several books intended to help kids learn to sew. If you want to engage in eTextile, wearable technology, or soft circuits projects, knowing your way around a needle and thread is a good idea.
While these books are recommended for independent student reading, there are lots of ideas for whole classroom projects and reading aloud.
An ingenious picture book, with plenty of information, for kids of all ages in a style similar to the classic The Way Things Work.

The Smithsonian Maker Lab book series are the sort of gorgeous DK books kids love.

I'm a giant fan of Jane Bull's books. All of them. Buy them all, but this newish volume contains clever STEMy project ideas.

Lovely and clear book for motivated 10-14 year-olds interested in really understanding circuitry. Best of all, the book takes a project-approach.

This new book/LEGO combo by the evil Klutz geniuses contains plans for terrific inventions utilizing simple machines. Get the Klutz LEGO Chain Reacti0ns book and Crazy Contraptions book too! These are perennial favorites.

Super cute. Super clear. Super fun! Platform agnostic intro to stop-acti0n movie making with LEGO.

Glossy little trade paperbacks complete with fun projects, factoids, and historical notes for girls and boys. Get the entire series for your classroom library.

Glorious picture book filled with making, tinkering, and coding about a girl and the doll she upgrades to be her new friend.

Maker projects for outside by DK.

Soon-to-be-released DK project book.

Kids should learn to sew for eTextile and wearable computing projects!

Two bonus recommendations for good measure!

The cutest, most infectious read-aloud/read-along book ever!

An excellent introduction to the vast wonders of SNAP! programming.
---
Veteran educator Dr. Gary Stager is co-author of Invent To Learn — Making, Tinkering, and Engineering in the Classroom and the founder of the Constructing Modern Knowledge summer institute. He led professional development in the world's first 1:1 laptop schools and designed one of the oldest online graduate school programs. Learn more about Gary here.
I'm thrilled to announce that our publishing company, Constructing Modern Knowledge Press, has released a new and expanded second edition of our book, Invent to Learn: Making, Tinkering, and Engineering in the Classroom. The new book is available in softcover, hardcover, and Kindle editions.
Sylvia Martinez and I are enormously proud of how Invent To Learn has inspired educators around the world since we published the first edition. Our decision to emphasize powerful ideas over technology ensured that very little of the book became dated. In fact, the first edition of  Invent to Learn continues to sell at the age of 129 (in tech book years) and is available or currently being translated into seven languages. The book is quite likely the most cited book about the maker movement and education in scholarship and conference proposals.
The new book takes a fresh shot at addressing the three game changers: digital fabrication, physical computing, and computer programming. We include sections on the BBC micro:bit, Hummingbird Robotics, littleBits, and new programming environments for learners. The new Invent to Learn also afforded us with an opportunity to reflect upon our work with educators around the world since the dawn of the maker movement in schools. There is an enormous collection of updated resources and a new introduction. Stay tuned for more online resources to be posted at the Invent To Learn web site.
In crass terms, the new edition of Invent to Learn: Making, Tinkering, and Engineering in the Classroom is 25% longer than the original. We even debugged some six year old typos.
I was shocked by how much time and effort was required to create the new edition of Invent to Learn. The second edition actually took longer to write than the original. I think we made a good book even better.
Spoiler Alert
According to Amazon.com, the most underlined passage in Invent to Learn is this.
"This book doesn't just advocate for tinkering or making because it's fun, although that would be sufficient. The central thesis is that children should engage in tinkering and making because they are powerful ways to learn."
One of the greatest honors of my life was having our book reviewed by legendary educator and author of 40+ classic books, Herb Kohl, who wrote the following.
"Invent to Learn is a persuasive, powerful, and useful reconceptualization of progressive education for digital times." (full review)
So, that's the secret. Invent to Learn: Making, Tinkering, and Engineering in the Classroom is really about making the world a better place for kids by helping educators construct a joyous, purposeful, creative, and empowering vision of education that prepares young people to triumph in an uncertain future.
I sure hope that y0u will read our new book and share this exciting news with your colleagues!