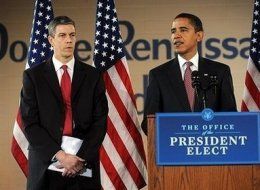 A person named, "Orangepetal," commented on my Huffington Post article. My response follows…
Orangepetal,
Thank you for taking the time to read my article. My first recommendation for the President-elect or anyone else interested in improving education is to appoint competent thoughtful accomplished educators to set policy. America is loaded with them. American learning theorists and brilliant school-level practitioners inspire educators across the globe.
While I am under no obligation to write any more than I have already done on the subject, I will attempt to write some cogent recommendations for school reform over the holidays. Of course, it is impossible to cover such a complex issue in this forum.
In the meantime, there is a large collection of my work and ideas represented at http://www.stager.org/articles.html
Happy holidays,
Gary
About Obama's Cabinet
Read the Original Article at HuffingtonPost
Labels: Arne Duncan, Barack Obama, Huffington Post
Obama Practices Social Promotion
Sent from my iPhone
Labels: Barack Obama, Gary S. Stager, Huffington Post
While I'm being criticized for not understanding fair-use and intellectual property law, Tim Berry in The Huffington Post offers the following food for thought – Ebooks, Copyright, Piracy.
I'm personally fond of what he calls the "Slashdot Argument."
David Pogue's articles and music videos (links included) are also worthy of your time.
Labels: blogosphere, Huffington Post, intellectual property

Today, two new articles I wrote were published by The Huffington Post.
Read:
Spelling Porn (about the televised National Spelling Bee)
When the Jumbotron says, "Read," You Read! (about the merits of "summer reading")
and my earlier article
The Surge Against First Graders (about the Reading First scandal)
Then comment, cross-post, dig, subscribe – anything necessary to tell the world that different perspectives on education need to be expressed in the media.
Labels: Gary S. Stager, Huffington Post, reading, Reading First, spelling, spelling bee, summer reading

Big news!
I could not be more thrilled to have been invited to be a contributor to The Huffington Post. I have read The Huffington Post since the day it launched and am extremely honored to be associated with this ground-breaking publication.
My first article just went live on the Politics page of The Huffington Post. The article is called, "The Surge Against First Graders."
If the article is pushed off the main (politics) page, it may be found here: http://www.huffingtonpost.com/gary-stager/the-surge-against-first-g_b_100456.html
My page for future articles is: http://www.huffingtonpost.com/gary-stager/ This is in addition to my own blog at http://www.stager.org/blog and http://www.districtadministration.com
While checking out my article, feel free to share the love and leave a comment or Buzz-Me-Up! Education needs more critical analysis and reportage. I am humbled that the Huffington Post has given me this opportunity to reach such a large audience.
Gary
Check out Constructing Modern Knowledge
July 28-31, 2008 – Manchester, NH
www.constructingmodernknowledge.com
Labels: Gary Stager, Huffington Post, nclb, Reading First
A few days ago I wrote the following article about the efficacy of "Baby Einstein," Finally, An Alarmist Study I Can Get Behind, for The Pulse: Education's Place for Debate.
I was pleased with the effort until I read Chris Kelly's Huffington Post article, Bush Baby Einstein. It's a doozy! He really connects the dots and tickles the funny bone.
Bravo Chris! I'm not worth! I'm not worthy!
Labels: Baby Einstein, Chris Kelly, George W. Bush, Huffington Post, The Pulse: Education's Place for Debate