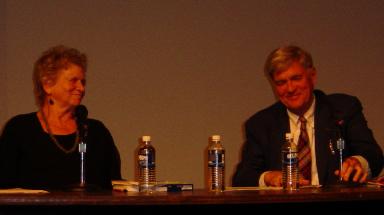 During Gary Stager's recent Ask Me Anything session with Deborah Meier, her Habits of Mind and Ted Sizer's Essential Principles for schools (especially secondary schools) were discussed. Watch a recording of the Ask Me Anything session, here.
Deborah Meier's Bridging Differences column with Diane Ravitch, et al.
Books by Deborah Meier
Documentaries made about Central Park East elementary and secondary schools, founded by Deborah Meier.
Deborah Meier's Five Habits of Mind, as originally explored in the book, The Power of Their Ideas: Lessons for America from a Small School in Harlem.
Evidence – asking, "How do you know?"
Connections – asking, "How is this connected to something else I already know or care about?"
Perspective or Viewpoint – asking, "From whose perspective is this story being told?"
Conjecture – asking, "How can I imagine a different outcome?", and
Relevance – asking, "Why is this important?"
Read and watch how the habits of mind are employed at Boston's Mission Hill School
Books by Ted Sizer, including Horace's Compromise: The Dilemma of the American High School (all three volumes of the Horace trilogy are essential reading)
The Ten Common Principles of Essential Schools (by Ted Sizer), complete with explanations
The Coalition of Essential Schools website
The Coalition of Essential Schools Remembers Ted Sizer
Problem
"Defund the police" is an in-artful term that fails as a "brand" because it requires explanation. It is already being used as a weapon against those calling for justice and peace by cynical Republicans and others who never considered the complex system of racism and cruelty that allows the government to brutalize African Americans with impunity.
That said, I am in agreement with those calling for police defunding, police abolition, and prison abolition. The percentage of cash-strapped municipal budgets allocated to police forces is outrageous and unsustainable. Of course, those funds could be put to better use elsewhere. Nearly 54% of the Los Angeles city budget is spent on policing and California cities have relatively skimpy budgets! (Not to mention that the LAPD has a terrible record of race relations, police brutality, and patrols in a fashion where cops can't discern store owners and from looters.)
I reject the excuse that long stressful shifts should cause the sorts of psychosis that leads police officers to kneel on a man's neck for eight minutes and forty-six seconds. If long shifts are a problem, then it is justification for ending overtime, a hustle police officers engage in to boost their income substantially at the expense of taxpayers and public safety. Accessible and affordable mental health services should be available to the entire community, including peace officers sworn to protect and serve.
We are on the cusp of monumental decisions. The need for social justice and a weak economy are going to require major redistribution of public resources. If not defunded completely, the police (and military) are going to need to be scaled back in both mission and budget.
Two experiences have led me to this point. The first was the 3 1/2 years I spent working inside a troubled prison for teens where we created a radically different schooling experience. When we put the needs, talents, curiosity, creativity, interests, and expertise of the kids ahead of an arbitrary curriculum and treated them like colleagues, not a single student needed to leave the classroom for disciplinary reasons a single time. Not once in more than three years! This was in a facility Amnesty International cited for state-sponsored torture of children. When we treated children with dignity, high expectations, and humanity, they demonstrated learning superpowers and were delightful to spend time with. This experience also leaves me highly reluctant to "lock her up" or "throw away the key,"
About a year ago, I listened to an amazing Chris Hayes podcast, Thinking about how to abolish prisons with Mariame Kaba, in which the activist made a convincing case for seemingly nutty idea, getting rid of prisons – not reforming them, but eliminating the entire prison industrial complex. I was unaware that this was plausible, let alone a movement until I listened to the common sense arguments advanced in this conversation.
Executed properly, this is a moment for serious systemic change. In the recent CNN-SSRS poll, 84% of Americans say that the current protests are justified. This is not 1968 or even just a few years ago. Fellow Americans of good conscience favor doing something differently, perhaps radically differently – now. They just don't know what that might look like or how to wrap their head around alternative scenarios.
I began thinking about this challenge when an old colleague posted a pro-Police/anti-protestor meme and justified it by saying that we should stop complaining about the police because when his wife's wheelchair gets stuck in the yard, he calls the police and they help lift her to safety. Would George Floyd or the 75 year-old man trampled by Buffalo police accept that tradeoff? Must we?
I truly believe that there are millions of people who wish to do the right thing and join together to create a more perfect union based on life, liberty, and the pursuit of happiness. This requires us to stop building systems focused on the extreme worst of human potential. Folks just need help imagining that things need not be as they seem. Each of has an obligation to help paint that picture in order to make the world a better place. 
Here is my first (lame) attempt at doing so.
Solution
Let Richard Scarry be your guide. There are lots of different jobs and helpers in Busy Busytown. Some people help old ladies across the sidewalk, others direct traffic. Some even remind their fellow critters to stay off the grass. When someone is sick or injured, other helpers rush to scene to, well, help. Others clean up litter and make sure that street lights work. New jobs are created to feed hungry people and play games with little critters afterschool. New houses and apartments are built and properly maintained so everyone in Busytown enjoys a comfortable place to sleep.
There are helpers who help you deal with stress or stop taking drugs. Every mommy and daddy in Busytown has a job that pays a living wage and health insurance. They even have enough money left over to take their children on vacation sometimes. And yes, in Busy Busytown, there are even helpers who will help lift your wife's wheelchair. They just won't be carrying an assault rifle, pepper spray, or swinging a baton.
---
A challenge for educators
Which educational practices can you imagine abolishing in schools? I am sure you can think of ineffective, grossly expensive, distracting, or miseducative "traditions" most people take for granted. Can you imagine school without:
Grades?
Tests?
Homework?
Tracking?
Silent lunch?
Discipline problems?
Bullying?
Competition?
School segregation?
Charter schools?
Algebra II?
Football?
If so, this is your moment. What is your plan for doing the right thing?
---
Veteran educator Dr. Gary Stager is co-author of Invent To Learn — Making, Tinkering, and Engineering in the Classroom and the founder of the Constructing Modern Knowledge summer institute. He led professional development in the world's first 1:1 laptop schools and designed one of the oldest online graduate school programs. Learn more about Gary.
"You can't think about thinking without thinking about thinking about something" – Seymour Papert
I find potentially interesting education provocations everywhere. The remarkable generosity of the world's finest musical artists performing online during this pandemic have kept me safe and sane. I aspire as an educator to possess their level of talent, wisdom, expertise, focus, humor, commitment, generosity, and love. It is these very virtues that has made jazz musicians such a source of knowledge, wonder, and comfort in my life. One other very special aspect of "the hang" with jazz musicians is the lack of generational barriers within their community of practice. Most people aspiring to be great at what they do welcome opportunities to mentor newbies who express passion for similar pursuits. What makes the performing arts so special is that, as in the Brazilian samba schools, everyone – young and old alike – "dances" together.
So, in between concerts regularly scheduled concerts by Peter Martin, Chick Corea, and the Emmet Cohen Trio, I've watched great musicians discuss music they love at listening party fundraisers for Jazz House Kids (Friday nights) and Wynton Marsalis'  "Skain's Domain," (Monday night) where world-class artists spin yarns and take questions from the audience.
When I think about education, these are three ideals I cling to.
The best thing we can do is to create as many opportunities as possible for young people to be in the company of interesting adults.
Greatness is achieved through a laser-like focus on overcoming bugs that bother you. Once you approach overcoming that obstacle, a new challenge reveals itself. Such focus tends to make experts great teachers since such self-awareness is easy to articulate.
If you wish for others to learn from you, your practice needs to be as transparent as possible.
Each of these principles are embodied in the Skain's Domain Web livestreams (and archives). I highly recommend you watch the one below, even if you do not understand the subject matter, like jazz, or know who the participants are. There is still plenty to learn about learning and teaching.
This class is not a cocktail party!
Back in the 90s, my colleagues and I created online graduate school programs at Pepperdine University. One of my colleagues told students, "This is not a cocktail party! Your online interactions need to be pithy and deliberate." To make matters worse, she revealed to students that she used a handheld clicker to count their personal interactions.
Upon hearing this, my first reaction was sadness followed by thought that apparently my colleague has never been invited to a good cocktail party. In fact, I set out to use a cocktail party as the metaphor for all of my teaching. I assume that we have gathered for a common purpose. If someone becomes insufferable you can grab another coconut shrimp and participants are surrounded by a plethora of potentially interesting conversations. Social interaction was key to knowledge construction, collaboration and creativity. Worst of all, "measuring/assessing/counting" human interaction had a predictable prophylactic impact on the social cohesion and productivity of the class.
So, here's an activity for you to try…
Teachers from a school or department, perhaps even multiple schools, should meet online via a platform like Zoom. A diversity of experience, age, gender, friendships, perspectives, race, etc. are all welcome.
That Zoom session should be open to the public (or as broad a cross-section of your community as possible) and recorded in order to share the archive. Advertise the session in advance at a time your community may be available to "participate."
The participating teachers should discuss any topics they wish, reminisce about their teaching experiences, plan their next units, chill, catch-up on each other's lives, or a combination of all-of-the-above. If children are watching the online "faculty room," be sure that the language and topics discussed are age appropriate.
After 30-45 minutes of the "audience" observing your social fishbowl, open the session up to questions from the peanut gallery. Break the fourth wall.
Voila! That's it! Go ahead and change the world!
Let me know what you learn.
---
Veteran educator Dr. Gary Stager is co-author of Invent To Learn — Making, Tinkering, and Engineering in the Classroom and the founder of the Constructing Modern Knowledge summer institute. He led professional development in the world's first 1:1 laptop schools and designed one of the oldest online graduate school programs. Learn more about Gary.
I hope that anyone reading this is healthy and sane during this period of uncertainty. Teachers and kids alike are grieving over the loss of freedom, social interactions, and normalcy. Many families, even those never before considered at-risk, are terrified of the potential for financial ruin or catastrophic health risks. Since I'm all about the love and spreading optimism, I humbly share a silver-lining for teachers and the kids that they serve.
The fact that you are being told to "teach online" in some vague version of "look busy" may mean that teachers are finally being trusted. Districts large and small are abandoning grading as they recognize that education (at home) is inequitable. I guess it's better late than never to discover the obvious.
Parents and superintendents are vanquishing the needless infliction of nonsense known as homework. Standardized testing is being canceled, an actual miracle. Colleges have recognized that enrolling students next Fall is more important than SAT or ACT scores. Each of these emergency measures has been advocated by sentient educators forever.
So, there is reason to celebrate (briefly), but then you must act! Use this time to remake schooling in a way that's more humane, creative, meaningful, and learner-centered. This is your moment!
In the absence of compelling models of what's possible, the forces of darkness will fill the void. Each of us needs to create models of possibility.
The fact that kids' days are now unencumbered by school could mean that they finally have adequate time to work on projects that matter rather than being interrupted every 23 minutes. I recently wrote, What's Your Hurry?, about teaching computer programming, but it's applicable to other disciplines.
Project-based learning offers a context for learner-centered pedagogy. I was reminded that the new edition of our book, "Invent To Learn – Making, Tinkering, and Engineering in the Classroom," includes several chapters on effective prompt setting that may be useful in designing projects for kids at home. Invent To Learn also lays out the case for learning-by-doing. Use that information to guide your communication with administrators, parents, and the community.
The following are but a few suggestions for seizing the moment and reinventing education after this crisis is resolved so we may all return to a new, better, normal.
Practice "Less us, more them"
Anytime a teacher feels the impulse to intervene in an educational transaction, it is worth pausing, taking a breath, and asking, "Is there less that I can do and more that the student(s) can do?" The more agency shifted to the student, the more they will learn.
One exercise you can practice teaching online, as well as face-to-face, is talk less. If you typically lecture for 40 minutes, try 20. If you talk for 20 minutes, try 10. If you talk for 10, try 5. In my experience, there is rarely an instance in which a minute or two of instruction is insufficient before asking students to do something. While teaching online, try not to present content, but rather stimulate discussion or organize activities to maximize student participation. Piaget reminds us that "knowledge is a consequence of experience."
Remember, less is more
My colleague Brian Harvey once said, "The key to school reform is throw out half the curriculum – any half." This is wise advice during sudden shift to online teaching and the chaos caused by the interruption of the school year.
Focus on the big ideas. Make connections between topics and employ multiple skills simultaneously. Abandon the compulsion to "deliver" a morbidly obese curriculum. Simplify. Edit. Curate.
Launch students into open-ended learning adventures
Learning adventures are a technique I became known for when I began teaching online in the 1990s. This process is described in the 2008 paper, Learning Adventures: A new approach for transforming real and virtual classroom environments.
Inspire kids to read entire books
Since the bowdlerized and abridged basals are locked in school, encourage kids to luxuriate with real books! Imagine if kids had the freedom to select texts that interest them and to read them from cover-to-cover without a comprehension quiz or vocabulary lesson interrupting every paragraph! Suggest that kids post reviews on Amazon.com for an authentic audience rather than making a mobile or writing a five-paragraph essay. Use Amazon.com or Goodreads to find other books you might enjoy.
Tackle a new piece of software
Been meaning to learn Final Cut X, Lightroom, a new programming language, or any other piece of sophisticated software? Employ groups of kids to tackle the software alone or together and employ their knowledge once school returns. Let them share what they know and lead.
Contribute to something larger than yourself
This is the time for teachers to support kids in creating big creative projects. Write a newspaper, novel, poetry anthology, play, cookbook, or joke book. Make a movie and then make it better. Create a virtual museum. Share your work, engage in peer editing, and share to a potentially infinite audience.
Check out what Berklee College of Music students have already done!
Teach like you know better
Use this time to rev-up or revive sound pedagogical practices like genre study, author study, process writing, interdisciplinary projects and the other educative good stuff too often sacrificed due to a lack of sufficient time. You now have the time to teach well.
Take note of current events
Daily life offers a world of inspiration and learning invitations. Why not engage kids in developmentally appropriate current events or take advantage of opportunities like JSTOR being open to the public during the COVID-19 crisis? Here's a possible student prompt.
"Go to JSTOR, figure out how it works, find an interesting article, and share what you learned with the class."
Let Grow
Change the world by challenging students to learn something on their own by embracing the simple, yet profound, Let Grow school project. A simple assignment asks kids to do something on their own with their parent's permission and share their experiences with their peers.
Stand on the shoulders of giants
Every problem in education has been solved and every imaginable idea has been implemented somewhere. Teachers should use this time to read books about education written by experts and learn the lessons of the masters.
Take time to enjoy some culture
There is no excuse to miss out on all of the cultural activities being shared online from free Shakespeare from the Globe Theatre, Broadway shows, operas, living room concerts, piano practice with Chick Corea, and exciting multimedia collaborations. Many of these streams are archived on social media, YouTube, or the Web. Bring some peace, beauty, and serenity into your home.
The following are some links, albeit incomplete and subjective, to free streaming cultural events.
Apprentice with the world's greatest living mathematician
In A Personal Road to Reinventing Mathematics Education, I wrote about how I have been fortunate enough to know and spend time with some of the world's most prominent mathematicians and that while not a single one of them ever made me feel stupid, plenty of math teachers did. Stephen Wolfram is arguably the world's leading mathematician/scientist/computer scientist. Over the past few years, he has become interested in teachers, kids, and math education. Dr. Wolfram spoke at Constructing Modern Knowledge, runs an annual summer camp for high school mathematicians, and has made many of his company's remarkable computational tools available for learners.
Acknowledging that many students are home do to the pandemic this week, Wolfram led a free online Ask Me Anything session about an array of math and science topics, ostensibly for kids, as well as a "follow-along" computation workshop. You, your children, or your students have unprecedented access to all sorts of expertise, just a click away! This is like Albert Einstein making house calls!
A bit of exploration will undoubtedly uncover experts in other disciplines sharing their knowledge and talents online as well.
Abandon hysterical internet policies
The immediate need for laptops, Internet access, student email, plus the expedient use of available technologies like YouTube, FaceTime, Skype, Twitter, Instagram, and Zoom has instantly dispelled the hysterical and paranoid centralized approach to the Internet schools have labored under for the past twenty-five years. The Internet has never been dependent on the policies of your school or your paraprofessional IT staff to succeed. Perhaps we will learn what digital citizenship actually looks like after teachers and children are treated like modern citizens.
Heed Seymour Papert's advice
When I worked with Seymour Papert, he created a document titled, "Eight Big Ideas Behind the Constructionist Learning Lab." This one sheet of paper challenges educators to create productive contexts for learning in the 21st Century. Can you aspire to make these recommendations a reality in your classroom(s)?
Do twenty things to do with a computer
In 1971, Seymour Papert and Cynthia Solomon published, Twenty Things to Do with a Computer. How does your school measure up a half-century later?
Program your own Gameboy
Yes, you read that correctly. Here is everything you need to know to write your own computer games, build an arcade, or program a handheld gaming device!
Teach reading and programming simultaneously
Upper elementary and middle school students could learn to program in Scratch and develop their reading fluency at the same time. Learn how in A Modest Proposal.
Share my sense of optimism
Shortly before the COVID-19 crisis, I published, Time for Optimism, in which I shared reasons why progressive education is on the march and how we might teach accordingly. We can do this!
Wash your hands! Stay inside! Stand with children!
---
Veteran educator Dr. Gary Stager is co-author of Invent To Learn — Making, Tinkering, and Engineering in the Classroom and the founder of the Constructing Modern Knowledge summer institute. He led professional development in the world's first 1:1 laptop schools and designed one of the oldest online graduate school programs. Learn more about Gary.
One of the most remarkable achievements of American democracy was its provision of free universal compulsory education for all its children and young people. No society had ever committed itself to universal education. The movement to get our children out of the fields and factories led every state by 1918 to set a minimum school leaving age ranging from 16 to 18. . That meant that publically supported high schools had to be available to all communities.
It also meant that schools had to develop ways of serving the full range of differences in language, culture, experiential background , values, goals and ability among the children coming to our schools . In earlier times the goals of general education were little more than the minimal three r's with secondary education only to prepare the elite for higher education. To serve all pupils well, new institutions with new curricula had to evolve: schools needed a broad and variable curriculum to serve the all of the nation's youth including the waves of young immigrants.
Much thought went into this curriculum. John Dewey said we could no longer make the students adjust to the school; we had to make the school fit the learners. We needed to prepare all learners for full participation in a democratic society, and also to accept difference, to start where the learners were and carry them as far as they were capable of going. One answer was the comprehensive high school. The central idea was that a single school could serve everyone in a community by offering varied curricula with many choices and options. That was particularly important in small and medium sized towns that could only support a single high school; but it was also important in the large cities. By having all young people in the same school, students could learn to participate in a diverse society. Schools could serve the college bound but they could also provide interesting and challenging sequences for those who would enter the work force when they left school.
The civil rights period extended this concept to eliminate racially segregated schools. New laws required inclusion of the full range of handicapped and special populations so that the schools were really serving all young people in the public schools of the community.
It wasn't a perfect system but it worked well to keep virtually all young people in school, to educate them to a reasonable level, and to provide a unifying experience for new and native born citizens.
Now, however, there are strong pressures on state and federal levels to move to a one size fits all narrow curriculum. Choices, even for those college bound, have been largely eliminated and every student is required to complete the courses formerly required for those seeking college admission. Advanced math and science courses are required for all that were designed originally for those planning to follow college majors in math and science. And in many states all students have to pass the same tests at the same level to even get a high school diploma.
Ironically, as other developed and developing nations are moving toward universal education and a comprehensive secondary curricula, we 're driving pupils out of schools that are no longer willing or able to adjust to their needs and goals.
On the national level, the punitive No Child Left Behind law is requiring that schools not only narrow the curriculum but that all pupils reach the same high level of achievement previously only reached by the top 10-20 percent. Virtually every school and school district will be labeled as failing by 2014 according to several state studies because they can't reach these impossible goals.
Our nation needs good mathematicians and scientists. But more than that it needs informed citizens with a broad education who can participate in a democratic society. In an increasingly diverse society we need schools that can adjust to differences among learners. For that we need to bring back the comprehensive high school.

Scratch is a miracle. It's popularity as a creative computing environment and its ubiquity around the world are truly impressive. Millions of children use the environment and have shared tens of millions of projects for others to enjoy and remix.
Scratch is a descendent of the Logo programming language. Logo was the first, and I would argue best, programming environment ever designed for children and learning. Logo is over fifty years old. While this would seem to be a million years old in technology years, Logo not only remains powerful in the hands of children, but benefits from a half-century worth of research, project ideas, and collective pedagogical wisdom.
Scratch adds media computation to the Logo bag of tricks available to kids. The sort of storytelling projects created in it appeals to adults who value kids being engaged in creative acts. A large part of Scratch's appeal is the enormity of its project library full of projects that look like anyone can make them. It is also worth remembering that Scratch was originally designed for use in afterschool programs where teaching could not be guaranteed. Kids look at Scratch and know what to do. These are powerful and legitimate design features that contribute to its popularity.
Logo on the other hand was designed as a vehicle for education reform and created a "microworld" in which children could be mathematicians rather than just be taught math. Kids using Logo often fell in love with mathematics and felt intellectually powerful for the first time. Logo introduced the concept of the turtle, a representation of the child's place in physical space, and turtle geometry, a math connected to movement in the real world. The turtle matched the intensity of children, captured their imagination, and was their collaborator in constructing mathematical knowledge. In 1968, Alan Kay first imagined the Dynabook, the progenitor of the modern laptop or tablet computer, after observing children programming in Logo. Kay recalls being amazed by the sophisticated mathematics young children were engaged in. Fifty-two years later, I feel the exact same way every time I use Logo with children.
*Today, a 5th grader came bounding up to me to announce, "Look what I accomplished!" She had taught the Logo turtle to draw a fraction, a bit of curricular detritus that normally invokes dread. In the process, she simultaneously demonstrated understanding of fractions, division, angle, linear measurement, and was on the verge of understanding variables all while teaching the turtle to draw. Turtle geometry may be the greatest mathematical prosthetic ever invented for learners. Logo creates a Mathland in which "messing about" and learning mathematics is as natural as a child develops oral language.
Math is the weakest link in every school. It remains the center for misery and instructionism in most. Seymour Papert taught me that the teaching of math ultimately jeopardizes all other efforts at educational progress. There is no gap as wide as the gulf between mathematics – a jewel of human intellect, and school math. Papert believed that even the most progressive schools become undone by the traditional diet and pedagogy of school math. He often discussed the need to create a mathematics children can love, rather than inventing tricks for teaching a "noxious" irrelevant math. Papert convinced me that no matter how project-based or student-centered a school happens to be, there remains a part of the day or week (math time) when coercion is reintroduced into the system. That is ultimately coercive to the nobler aims of the institution. Logo is and has been one of the few Trojan horses available for helping teachers rethink "math" on behalf of the kids they serve.
I fear for the future of such experiences in a world in which software has no value and there is no incentive for modern Logos to be created.
I just spent several hundred words stipulating that Scratch is a good thing. However, decisions were made in the evolution of Scratch that undermine its ability to make mathematics comprehensible, wondrous, relevant, and accessible for learners of all ages. Scratch could maintain fidelity to the powerful ideas inherent in Logo while adding all of the storytelling, animation, and media manipulation in a Web-based programming environment, but the designers of Scratch have decided to do otherwise. In fact, the most recent version, Scratch 3.0, has made it either too difficult or impossible to create the sorts of experiences I desire for my grandchildren and the children I'm privileged to teach.
I truly do not wish to step into the minefield of arguing about everyone's favorite software, but my concerns are legitimate. I know readers may be thinking, "Hey, design your own software if you love Logo so much!" This is impossible in a world in which software has no value and there is no incentive for modern Logos to be created. Scratch benefits from mountains of government, university, and corporate funding, making it the 900-pound gorilla in coding for kids. That's a good thing, but it could be better. My hope is that as Scratch evolves, consideration is given to bringing back some of the powerful mathematical ideas that have been lost.
Let me get specific. The following examples are a non-exhaustive list of the ways in which Scratch makes my life more difficult as a teacher and teacher educator concerned with providing authentic mathematical experiences.
Putting the turtle out to pasture
Perhaps the most enduring and kid-imagination-capturing metaphor of Logo programming goes like this:
[Teacher] "The turtle has a pen stuck in its belly button. What do you think happens when it drags its pen?"
[Kids] It draws!
This sounds simple, but is at the heart of what makes Logo a powerful, personal experience. Placing a transitional object representing ourselves inside of the machine is an instant personal invitation to programming. Drawing, with a crayon, pencil, or turtle is the protean activity for representing a child's thinking.
Drawing or painting with the mouse is fine but denies children opportunities to express mathematical formalisms in service of drawing. There is fifty years' worth of scholarship, joy, and powerful ideas associated with turtle graphics – often a user's first experience with thinking like a mathematician and debugging.
Scratch 3.0 inexplicably demotes its pen blocks (commands) to software extensions. The extensions are hidden until the user un-hides them. All of the other Scratch 3.0 extensions support either external hardware control or more advanced esoterica like interactive video, language translation, or text-to-speech functionality. I appreciate that part of Scratch's success is its clean design and lack of clutter. However, pen blocks are seminal and were integrated into previous versions. This design decision has several negative consequences.
It complicates the possible use of turtle graphics by requiring finding the location of the extensions button and clicking on the pen extensions
It implies that turtle graphics (drawing) is not as valuable a form of expression as animation.
The symbol on the extensions button is highly non-intuitive.
The pen blocks, once the extension is loaded, appear near the bottom of the block palettes, far from the motion blocks they rely on. This makes block programming cumbersome when the focus is turtle geometry.
The turtle has a pen stuck in its nose? Ouch!
In Scratch, the sprite draws from the perimeter of its shape, not its center. This makes precise movement, predictions about distances, and drawing precision much more difficult.
There are no turtle costumes for sprites
The turtle head points in the direction that matches "Forward" commands. This is obvious to even the youngest programmers. In Scratch, even if one wanted to use the turtle, there are no turtle costumes. Neither the turtles found in systems, like Turtle Art, MicroWorlds,
 Lynx , or even the old 70s-80s era turtle
 are provided. While it is possible to design your own Scratch costumes, you would be required to do so for every project, rather than merely adding sprite costumes to the system.
It is easy to explain that the "turtle may wear other costumes you design," telling the kids that "the sprite could be a turtle that you can dress in custom costumes," adds needless complexity.
No Clean, CG, Home, or CS
Nearly every other version of Logo has a Clean command for erasing the screen, CG, or CS for erasing the screen and repositioning the turtle at the center of the screen with a compass orientation of zero. Commonly found, HOME commands, send the turtle back to the center of the screen at coordinates, [0 0]. These are all simple concepts for even young children to quickly grasp and use.
Scratch's pen extension Erase All block wipes the screen clean, but neither returns the sprite to home nor reorients a "dizzy turtle."
Sure, if a teacher wants students to have a block performing the roles of Clearscreen, Scratch allows them to Make a Block.
The problem with doing so is that Scratch leaves the blocks you create, complete with their instructions, in the blocks palette – cluttering up your workspace. The definition of the "new" block cannot be hidden from users, even when the new block appears under My Blocks. Even more critically, there is no simple way to add pseudo-primitives (user-created blocks) to Scratch 3 for use by students each time they use the software. Therefore, you need to recreate Clearscreen in every new project.
[Making your own blocks is buggy too. Make your own block. Drag that stack of blocks, topped by Define, off the screen to delete it. Press Undo (Apple-Z or CTRL-Z). The definition stack of blocks returns, but not the new block under My Blocks until another block is created.]
The default sprite orientation is 90
When you hatch a sprite in Scratch, its orientation is towards the right side of the screen with an orientation of 90. If one hopes for children to construct understanding of compass orientation based on Mod 360, orienting the sprite/turtle to 0 is more intuitive. Since the turtle is a metaphor for yourself in space, your orientation is up, or 0 when facing the computer to program it.
No wrapping
For many kids, one of the most intoxicating aspects of turtle graphics comes from commanding the turtle to go forward a large number of steps. In many ways, it's a kid's first experience with big numbers. Turn the turtle and go forward a million steps and get a crazy wrapping pattern on the screen. Add some pen color changes, turns, and more long lines and math turns into art turns into math.
Scratch has no wrapping due to its focus on animation and game design. There could be a way to toggle wrap/no wrap. But alas…
Units are unnecessary
Not only are they unneeded, but educationally problematic. Far too much of math education is merely vocabulary acquisition, often devoid of actual experience. I go into countless classrooms where I find a store-bought or handmade "angles" poster on the wall listing the various kinds of angles. My first question is, "Who do you think is reading that?" The kids certainly aren't, but more importantly, "Who cares?" Kids are forced to memorize names of angles too often without any experience with angles. Turtle geometry changes all of that.
If you watch me introduce turtle geometry to children, I show them that the turtle can walk and turn. It walks in turtle steps. I never use the terms, angle or degrees, until either kids use them or much much much later. After kids have experience with angles and a growing intuition about their units of measure will I mention the words, angle or degrees. After experience, those labels hang nicely on the concepts and the terms are understood, not just parroted.
In Scratch, the turn right and turn left blocks include the label for "degrees." This is quite unfortunate. The design of these blocks is particularly odd since they do not even use the words, right and left, but arrows instead. This is most peculiar when juxtaposed against the rest of the motion blocks which are excessively chatty with extraneous text for their inputs.
Why use symbols for right and left and not a straight arrow for move?
To make matters worse, the default degree value in Scratch is 15. Kids naturally turn in 90 degree increments. If the default were 90, as it is in Turtle Art, kids quickly realize that there are turns smaller and larger when seeking angular precision. This is a much more effective sequence for understanding angle measurement from the syntonic to the abstract.
One tacit, yet profound, benefit of teachers teaching with Logo is that they gain experience teaching mathematics without front-loading vocabulary. In too many classrooms, kids are "taught" terms, like degree or angle, absent any experience. Logo-like environments offer the potential for teachers to appreciate how students may engage in mathematics unburdened by jargon. After children enjoy meaningful experiences and "mess-about" with the turtle, it is easy to say, "that's called an angle," or "the units used to measure angles are called degrees." Those terms now have a powerful idea to hang their hat on.
Starting with units is not just unnecessary, it's pedagogically unproductive.
Asymmetrical movement
Why are there blocks for turning right and left when there is only one move block? In Logo, Forward (FD) and Back (BK) are incredibly simple for children to understand and act out by playing turtle as a formal activity or in the course of programming. Move is ambiguous. Which way should I move? Forward and back make perfect sense.
Frankly, having a default of 10 in the move block is also a drag. For decades, teachers have experienced success by asking children, "How far would you like the turtle to go?" Kids suggest values and then are surprised by them. 10 is an arbitrary number. I might prefer 0 or a random integer as the default value for move. Such a change would force children to make a decision about the distance they wish to travel.
If you want the turtle to move backward, there is no back block. You are required to turn 180 degrees or move by a negative value.
Premature use of negative numbers
Introducing negative numbers and vectors the moment one encounters the turtle is premature and likely developmentally inappropriate. There is no reason for little kids to deal with negative numbers so soon when forward (fd) and back (bk) blocks could have been in the system, or at least as primitives under the pen extensions.
Multiple forwards provides kids practice with repeated addition, leading to multiplication.
Consider this simple example:
fd 20
fd 30
fd 100
Now you want the turtle to return to the midpoint of that line segment.
You can achieve that goal three ways, not including all of the repeated addition that might be used if a kid is not ready to divide 150 by 2 or figure out that a U-turn equals 180 degrees.
bk 75
rt 180 fd 75
fd -75
It is the possibility of solving even simple problems in multiple ways that is central to the genius of learning to think mathematically with Logo and the turtle. Sadly, the Scratch use of "move" to replace forward and back makes what was once a natural simple act, complicated or impossible.
PS: One more annoyance
Why are ask and answer in the Sensing palette? They get information from a user, but do not sense anything. Either move them or rename the Sensing palette, Data. Again, why lead the witness with the arbitrary "What's your name?" value?

*Notes: This was largely written after a recent day teaching kids. I spent months deciding whether to share this with the world. The great Cynthia Solomon contributed to my thinking and Sylvia Martinez read a draft. Seymour Papert is in my head all of the time.
Resources
Selected bibliography
Abelson, H., & DiSessa, A. A. (1986). Turtle geometry: The computer as a medium for exploring mathematics: MIT press.
Harvey, B. (1982). Why logo? . Byte, 7, 163-193.
Hawkins, D. (2002). The informed vision; essays on learning and human nature. NY: Algora Press.
Newell, B. (1988a). Turtle confusion: Logo puzzles and riddles. Canberra, Australia: Curriculum Development Centre.
Newell, B. (1988b). Turtles speak mathematics. Canberra, Australia: Curriculum Development Centre.
Papert, S. (1972). Teaching children to be mathematicians versus teaching about mathematics. International Journal of Mathematical Education in Science and Technology, 3(3), 249-262.
Papert, S. (1993). Mindstorms: Children, computers, and powerful ideas (2nd ed.). New York: Basic Books.
Papert, S. (1999). Introduction: What is logo and who needs it? In LCSI (Ed.), Logo philosophy and implementation (pp. v-xvi). Montreal, Quebec: LCSI.
Papert, S. (2000). What's the big idea? Toward a pedagogical theory of idea power. IBM Systems Journal, 39(3&4), 720-729.
Papert, S. (2002). The turtle's long slow trip: Macro-educological perspectives on microworlds. Journal of Educational Computing Research, 27, 7-27.
Papert, S. (2005). You can't think about thinking without thinking about thinking about something. Contemporary Issues in Technology and Teacher Education, 5(3), 366-367.
Watt, D. (1983). Learning with logo. New York: McGraw-Hill Book Co.
Watt, M., & Watt, D. (1986). Teaching with logo: Building blocks for learning. NY: Addison-Wesley Publishing Company.
The Papert articles (above) are available here.
---
Veteran educator Dr. Gary Stager is co-author of Invent To Learn — Making, Tinkering, and Engineering in the Classroom and the founder of the Constructing Modern Knowledge summer institute. He led professional development in the world's first 1:1 laptop schools and designed one of the oldest online graduate school programs. Learn more about Gary.
---
Once a decade or so, the New York Times publishes a hysterical article about "the reading wars," in which the argument for systematic phonics instruction is advanced. They just did it again in An Old and Contested Solution to Boost Reading Scores: Phonics. The article is a predictable mess.
The phonics phanatics are hard-core. One academic used to contact my former university and demand that I be terminated whenever I questioned the phonics gospel in my magazine column. That was in addition to sending scalding letters-to-the-editor.
In 2004, the entire editorial staff of the magazine I worked for was threatened with termination for questioning Reading First. Here's another one I wrote in 2006.
To "commemorate" the latest discovery of the "reading wars", I humbly suggest that journalists tackle the following questions.
Q1: Anyone remember when "whole language" was banned in California? Any journalist wish to follow-up on that legacy?
Q2: Why is "balance" virtuous? Can't it be dangerous or wrong? In my experience, educational quests for balance result in the weeds killing the flowers. In education, "balance" can be not only simplistic, but cowardly and wrong. When schools seek "balance," the weeds always kill the flowers.
Q3: Why does the defense of systematic phonics instruction remain a top priority of the religious right?
Q4: Why are the same people so often anti-science when it comes to issues like climate change or sexual orientation and yet cling to phonics instruction as scientifically proven?
Q5: Has there been any research or journalistic investigation (or even interview) about the evolution of Lucy Calkins' work over time? I acknowledge her contributions, but have simple profound ideas become massive curriculum products? If so, what has been lost/gained?
Q6: Where is all of this "unbalanced" whole language influence emanating from? Please name the texts or teacher preparatory programs that have gone hog wild on non-phonics-based instruction. (Not excusing the batshit crazy, sloppy, silly, reading myths SOME teachers subscribe to.)
Q7: NAME A TIME OR PLACE IN THE POST-WAR (WW II) ERA WHERE PHONICS HAS NOT COMPLETELY DOMINATED READING INSTRUCTION. Doesn't a "reading war" require actual combatants? One side has nuclear weapons and every White House, the other has Shel Siverstein.
Q8: How can you publish an article about the reading wars without any input from the seminal experts on the losing side? Where is the expertise of scholars such as, Frank Smith, Ken Goodman, Richard Allington, Herbert Kohl? I know you now how to reach Stephen Krashen. He writes letters-to-the-editor of the New York Times regularly.
Q9: How about writing an article in which lots and lots of experts do nothing but define "phonics," "whole language," "literacy," "balanced literacy," "reading," and "instruction?"
Q10: If everyone learns to read by being taught a sequence of 43 phonemic sounds, how do you explain children reading in Israel, China, Japan, or other countries with non-phonemic languages. How can deaf people possibly learn to read without phonics>
I respectfully implore you to investigate the effects of an unconscionable lack of access to high-interest reading material in classrooms and school libraries in places like Los Angeles and Oakland. https://www.accessbooks.net/school-library-crisis.html
In August 2018, I delivered the opening keynote address at the Constructionism Conference in Vilnius, Lithuania. When invited to speak at the conference nearly eighteen months earlier, I felt pressured to share the topic of my address quickly. Since I do some of my best work as a wiseass, I offered the title, "Making Constructionism Great Again." Over the ensuing months, my tongue-in-cheek title began resonating and formed the basis for what I believe to be one of my favorite keynotes ever. (Sadly, I will unlikely ever give the presentation again. Therefore, I will not have the opportunity to improve upon my performance)
Despite the title I selected, I accepted the sober challenge of making an important contribution to the conference. After all, this is a community I care about, a topic I have dedicated my adult life to, in the home of my ancestors. Due to a family emergency, the speaker scheduled before me had to fly home and my talk got moved earlier in the schedule at the last minute. That meant that some of the people I hoped would hear my message, missed it. I rarely write a speech with specific audience members in mind, but I did in this case.
A bit of background
The Constructionism Conference is held every two years, almost always in Europe. The conference prior to Vilnius was in Thailand, but that was the only time the conference was outside of Europe. For close to three decades, the conference was called, EuroLogo, and was a biennial event celebrating the use of the Logo programming language in education. In 2008, the long-time organizers of the conference worried that interest in Logo was waning and that shifting the emphasis to constructionism (1) would broaden the appeal and attract more participants. It has not. Communities begin to die when they become self-conscious. There is nothing wrong with "preaching to the converted." There are quite successful institutions that preach to the converted. Its members find strength, nourishment, and purpose in gathering.
In my humble opinion, the problem lies within the fact that the European Logo community, and this is a generalization, focused more narrowly on the fascinating mathematical or computational aspects of the Logo programming language separate and apart from its more radical use as an instrument of school reform, social justice, and epistemology. Logo's father and inventor of "constructionism," Dr. Seymour Papert was a noted mathematician and computer scientist who did invent the first programming language for children, but limiting the enormity of his vision to that would be like one of his favorite parables about the blind men and the elephant.
To me, the Constructionism/EuroLogo community has been focused on what is measurable and earns academic credit for those seeking job security in university systems proud of their ongoing medieval traditions. Although I have great friends who I love, respect, and adore within this somewhat dysfunctional family, I am never sure what they make of the loud American kid who works with thousands of teachers each year and doesn't give a damn about publishing journal articles read by 3.1415927 people.
I go to the Constructionism Conference every two years because it is important to sustain the community and ideally to help it mature. If it became more popular or influential along the way, that would be a bonus. This speech was intended as a bit of unsolicited tough love, but love nonetheless. In fact, love is a big theme in this address. That is one of the most important lessons I learned from Seymour Papert and this Constructionism Conference was the first since his death.
I hope you will watch
Thankfully, I grabbed the SD card out of the video camera sitting in the theatre pointed at the stage following the talk so there is a video documenting a talk I am proud of and wish I could give many more times. The audio quality isn't perfect and there is no camera work (except for a couple of quick edits I made). That said, if you want to understand who I am and why I do what I do, I hope you will watch this video. It was quite an emotional experience.
If you wish to listen to it while deep sea folk dancing, please WATCH from about the 46 minute mark. You need to see, hear, and feel what great teaching and learning look like.
(1) For those of you interested in learning more about constructionism, you could read our book, Invent to Learn: Making, Tinkering, and Engineering in the Classroom or Edith Ackermann's splendid papers, her Constructionism 2010 paper, Constructivism(s): Shared roots, crossed paths, multiple legacies or Piaget's Constructivism, Papert's Constructionism: What's the difference?
---
Veteran educator Dr. Gary Stager is co-author of Invent To Learn — Making, Tinkering, and Engineering in the Classroom and the founder of the Constructing Modern Knowledge summer institute. He led professional development in the world's first 1:1 laptop schools and designed one of the oldest online graduate school programs. Learn more about Gary here.
Stop the Insanity
Simple strategies to address the growing epidemic of at-risk learners.
October 2007 issue of District Administration Magazine
When politicians shout and headlines highlight underperforming schools and children left behind, they are referring to the growing number of students labeled "at-risk." The phenomena leading to this designation include poverty, behavioral disorders and the rapidly growing epidemic of learning disabilities. "Atrisk" has really come to mean, "Not good at school." Consider the possibility that if a student is not good at school, then that school is not good for the student. Perhaps the school is at-risk.
From 1999 through 2001 I worked with MIT colleagues Seymour Papert and David Cavallo on the creation of a high-tech, multiage, project-based, alternative learning environment for incarcerated teens within the troubled Maine Youth Center. Students in a person often represent the hat trick of being at-risk-poverty, social problems and learning disabilities.
My Ph.D. dissertation documents the remarkable work of dozens of these students and shares details of constructionist learning theory, which was supported and validated by the learning environment we created. Subsequent work with large populations of at-risk students in the United States, Canada and Australia leads me to share the following, some might say radical, proposals for serving at-risk learners.
Behave in a Rational Fashion
Some define insanity as doing the same thing and expecting a different result. If a student is underperforming or not learning, subjecting him or her to more of the same, perhaps louder or for longer periods of time, will not achieve a different result. This is a punitive approach to teaching that increases student alienation.
The state of Maine freed us from all curricular and assessment requirements. This made it possible for us to focus on each learner. At the very least, every school can try fresh approaches to see if new interventions reduce the severity of the at-risk population.
Start Fresh
Treat all new students as welcome guests in your classroom. Leave their umulative folders in the file cabinet so you may get to know them without prejudice. Do not allow colleagues and past teachers to poison your relationship with students before you even get to know them.
Real Teachers Don't Need Data!
One student, Michael, was absolutely brilliant at engineering. He could assemble, test and improve a dozen robotic machines in the time it takes most people to get started. He could converse at length with MIT professors about engineering principles. Yet everything in Michael's permanent record indicated that he was illiterate. We had clues that this was a misdiagnosis,since Michael programmed computers and garnered information from books around the classroom but never made a big deal about it. Instead we focused on Michael and his current work. We provided assistance when asked and when we observed a teachable moment. A spirit of collegiality and trust was formed between us. Such a bond is critical in any productive context for learning but is often lacking in the lives of at-risk learners.
A few weeks before Michael was going to be released from the facility on his 18th birthday, he quietly sat at his computer for long stretches of time busily working on something important to him. Upon completion of this project, Michael presented us with a 12,000-word autobiography.
My colleague feigned amazement and said, "We were told you were illiterate." Michael replied, "Oh, I could always read and write, but I wasn't a very strong reader and I didn't like reading about puppies." Then his voice trailed off and he said, "I liked reading about NASA," as if to suggest that nobody cared about what he liked to read and tossed him in the illiterate bin. Michael and so many other at-risk learners suff er from what Herbert Koh calls "creative maladjustment." We found that students proud of their work maintained secret portfolios, even if they refused to produce such documentation for us.
Additional Recommendations
Here are a few additional suggestions for better educating at-risk students.
1. Move the goalposts
It may be unrealistic to believe a student years below grade-level will catch up in a few months, regardless of a teacher's brilliance. The goal needs to be what football coaches call forward progress. We need to take individual students from where they are and move them forward.
2. Be honest
Prioritize and have honest objectives. If a child is disruptive, teaching him or her Algebra 2 may be unrealistic since your real goal is for the student to behave. Institutions give grades for academic subjects, while society just worries about the student being a behavioral problem.
3. Imagine the impossible
If student discipline or behavior is your primary concern, think about the places where such problems do not exist and study them. Reflect on why such activities as summer camp, organized sports or afterschool jobs don't suffer from the same pathologies, and identify variables you may integrate in the classroom.
4. Remember that less is more
We may need to do a lot more of what we know about effective primary school teaching. Integrated studies, thematic teaching, a centers approach or storytelling as teaching offer models of engaging students without overwhelming them with different rituals and teachers and giving them insufficient time for doing quality work.
5. Stop the name calling
This one is a biggie and extends beyond blaming students for their predicament. Make a concerted effort to refrain from labeling students at-risk, under-performing, etc. Their status is not a surprise to them, and labeling them only harms their self-esteem. Other labels, often considered positive, such as "multiple intelligences learning style" also have a deleterious effect by placing students in a new set of boxes.
6. Eliminate academic competition
While competition may be human nature, it's highly destructive in the learning environment. It is only possible for students to make steady personal progress if one may comfortably read Dr. Seuss while a classmate tackles James Michener. Th e typical high school classroom sanctions ridicule and rewards degree of difficulty. This is counterproductive for at-risk learners.
7. Create authentic experiences
Disengaged students need to work on long-term meaningful work they can take pride in. Whether you embrace projectbased learning or something akin to the apprenticeship model used successfully by the Big Picture schools, students, especially those at-risk, need to be engaged in authentic experiences.
Students love teachers brave enough to maintain humane relationships with them.
8. Offer greater curricular diversity
The biggest mistake made in an effort to increase test scores is doubling up on reading and mathematics at the expense of the other subjects, especially electives. At-risk students may already dislike school. Depriving them of opportunities to learn something they like by killing-off electives, social studies, science and the arts is a recipe for disastrous dropout rates.
9. Have material rich classrooms
Learn from great kindergarten classes and make classrooms material rich. Not only should there be abundant constructive and computational technology and art supplies, but every classroom needs a wellstocked classroom library of fiction and nonfiction books at every reading level.
Allowing one of our 18-year-old students to "read" a book on tape led him to say, "This is the first time I ever saw pictures when I read." Access to such materials may quickly lead to literate behaviors. Ubiquitous access to computers may offer a opportunity for at-risk students to demonstrate expertise in a domain not dominated by teachers.
10. Let go of the checklists
Great teachers know that once interest is generated in a story or topic, connections may be made to any other subject. Your scope and sequence is less important than children learning.
11. Talk with the students
While this sounds obvious, I meet highschool-age students regularly who have never had a conversation with an adult. Sure, adults have talked at them or yelled at them or told them what to do, but an alarming number of students have never engaged in an actual intergenerational conversation among equally interested parties. Without reversing this trend, students will never be able to be productive citizens. Students love teachers brave enough to maintain humane relationships with them.
12. The "worst" students need your "best" teachers
We all know the tendency to assign the best students the finest teachers. While we may quibble over a defi nition of "best," the most flexible, creative, compassionate teachers need to work with your least successful students.
13. Keep the students engaged
The one rule in our Maine classroom was that every student needed to be doing something. Children understand this, and it's good, simple advice for educators of atrisk students as well. If one strategy isn't working, do something else.
14. Don't put students at risk in the first place
Can you imagine how much effort and suffering Michael invested in being illiterate? Wouldn't asking what he liked to read when he was seven have saved a great deal of hardship? It may take decades to overcome today's earlier and tougher calls for accountability, which result in the conditions that breed at-risk students.
Gary S. Stager, gary@stager.org, is senior editor of DISTRICT ADMINISTRATION and editor of The Pulse: Education's Place for Debate
(www. districtadministration.com/pulse).
Following speaking at the prestigious WISE Conference in Qatar (November 2017), Gary Stager delivered a keynote address on learning-by making at a conference held at The American University in Cairo. The video is finally available. Enjoy!
---
Veteran educator Dr. Gary Stager is co-author of Invent To Learn — Making, Tinkering, and Engineering in the Classroom and the founder of the Constructing Modern Knowledge summer institute. He led professional development in the world's first 1:1 laptop schools and designed one of the oldest online graduate school programs. Learn more about Gary here.