The irony could cause whiplash. Over the past thirty years, the EdTech community expended sufficient energy to colonize Mars fighting the idea of teaching children to program computers. I cannot think of another single example in education where so much effort was invested in arguing against children learning something, especially ways of knowing and thinking so germane to navigating their world. Now, the very same folks responsible for enforced ignorance, disempowerment, and making computing so unattractive to children are now advocating "Computer Science for All."*
There seems to be little consensus on what CS4All means, few educators prepared to teach it, no space in the schedule for a new course of study, and yet a seemingly unanimous desire to make binary, algorithm, and compression first grade spelling words. The sudden interest in "coding" is as interested in the Logo community's fifty years of accumulated wisdom as Kylie Jenner is interested in taking Ed Asner to St. Barts.
So, amidst this morass of confusion, turf battles, and political posturing, well intentioned educators resort to puzzles, games, and vocabulary exercises for say, an hour of code.
I wish I had 0101 cents for every educator who has told me that her students "do a little Scratch." I always want to respond, "Call me when your students have done a lot of Scratch." Coding isn't breaking a code like when you drunken insurance salesman go to an Escape Room as a liver bonding exercise. The epistemological benefit of programming computers comes from long intense thinking, communicating your hypotheses to the computer, and then either debugging or embellishment (adding features, seeking greater efficiency, decorating, testing a larger hypothesis).
Fluency should be the goal. Kids should be able to think, write, paint, compose, and dance with code. I recently met a team of sixth grade girls who won a contest for creating the "best app." It was pretty good. I asked, "What else have you programmed?" and received blank stares. When I asked, "What would you like to program next?" the children all turned to look at the teacher for the correct answer. If the kids were truly learning to program, they would be full of independent ideas for what to do next.
Children have a remarkable capacity for intensity and computer programming is an intellectual and creative outlet for that intensity. When I learned to program in a public middle school in 1975, I felt smart for the first time in my life. I could look at problems from multiple angles. I could test strategies in my head. I could spend days thinking of little more than how to quash a bug in my program. I fell in love with the hard fun of thinking. I developed habits of mind that have served me for more than four decades.
So, for schools without a Mr. Jones to teach a nine-week mandatory daily computer programming class for every seventh grader, I have a modest proposal that satisfies many curricular objectives at once.
Whether your goal is literacy, new literacy, computer literacy, media literacy, coding, or the latest vulgarity, close reading, my bold suggestion offers a little something for everyone on your administrative Xmas list.
Give the kids a book to read!
That's right. There are two very good books that teach children to program in Scratch using a project-approach. The books are completely accessible for a fifth grader. (or older) Here's what you do.
Buy a copy of one of the recommended books for each student or pair of students.
Use the book as a replacement text.
Ask the students to work through all of the projects in the book.
Encourage kids to support one another; perhaps suggest that they "ask three before me."
Celebrate students who take a project idea and make it their own or spend time "messing about" with a programming concept in a different context.
There is no need for comprehension quizzes, tests, or vocabulary practice since what the students read and understand should be evident in their programming. Kids read a book. Kids create. Kids learn to program.
There is a growing library of Scratch books being published, but these are the three I recommend. [Note: I added the first one since the original publication of this article.]
Code Your Own Games! 20 Games to Create with Scratch by Max Wainewright, is a lovely 80-page spiralbound book with gorgeous graphics and a non-nonsense approach to helping kids learn to program in Scratch by creating twenty different game projects sequenced by degree of difficulty. Most projects are started in 2–4 pages, with extension challenges and plenty of open-ended project ideas shared. I discovered this book a few months after originally posting this article and am a big fan. It's inexpensive and makes a great gift for any kid, especially since the book doesn't feel intimidating.
Super Scratch Programming Adventure! : Learn to Program by Making Cool Games is a graphic novel filled with Scratch projects.
Scratch For Kids For Dummies by Derek Breen is a terrific project-based approach to learning Scratch.
If per chance, thick books scare you, there are two excerpted versions of Derek Breen's Scratch for Kids for Dummies book, entitled Designing Digital Games: Create Games with Scratch! (Dummies Junior) and Creating Digital Animations: Animate Stories with Scratch! (Dummies Junior). Either would also do the trick.
Growth
I must admit to being alarmed by the frequency with which many educators tell me that their students "Do a little Scratch." Scratch and "Hour-of-Code" type activities present an illusion of simplicity that is misleading. Fluency only develops from doing "a lot of Scratch."
Although my copy of this new book has yet to arrive, I'm intrigued by a more advanced Scratch book for kids written by the gentleman who wrote the delightful book, Code Your Own Games! 20 Games to Create with Scratch. Therefore, I'm cautiously recommending his book, Generation Code: I'm an Advanced Scratch Coder. The emergence of "advanced" Scratch programming books provides evidene of growth in the community and enhances the sustainability of the programming language.
Another Must-Have
Natalie Rusk's terrific Scratch cards are a must-have for any Scratch-using classroom.
Check it out
You might also enjoy The Invent To Learn Guide to Block Programming.
Shameless plug
Sylvia Martinez and I wrote a chapter in the recent book, Creating the Coding Generation in Primary Schools.

* There are a plethora of reasons why I believe that Computer Science for All is 
doomed as a systemic innovation, but I will save those for another article.
---
Veteran educator Dr. Gary Stager is co-author of Invent To Learn — Making, Tinkering, and Engineering in the Classroom and the founder of the Constructing Modern Knowledge summer institute. Learn more about Gary here.
The following opinion column from the October issue of District Administration Magazine caused the owner (and Editor-in-Chief) of the magazine to publish an apology in the very next issue. The mea culpa was published before any reader or advertiser complained. None did. This column never appeared on the magazine's web site, so it is published here.

In August 2004, District Administration Magazine published my harsh critique of Senator John Kerry's education plan. It may be read here.

In other words, the following fact-checked article was deemed unfair when an article critical of the political opponent two months earlier was fair game.

I remain incredibly proud of this article because it was timely, witty, and predicted the ultimate disaster caused by the policies I criticized.
Gary Stager on Direct Instruction
Perhaps it's time to end political social promotion
From the October 2004 issue of District Administration Magazine
Michael Moore got it wrong.
In his film, Fahrenheit 9/11, Moore shows President Bush in a Florida classroom on the morning of Sept. 11, 2001. The film's narration said that while America was being attacked, the president read the book, My Pet Goat, to a room full of young children. This is factually inaccurate in three important ways.
The story is actually titled, The Pet Goat.
It is not a book, but an exercise in a heavily scripted basal.
The president did not read the story to the children.
Any perceptive educator watching this would quickly realize what was going on. The president was not in that classroom to demonstrate his love of reading. Being read to is a powerful literacy experience. Having a wonderful story read to you by the president of the United States could create a memory to last a lifetime.
Unlike his wife, mother and Oval Office predecessors, this president had a more important agenda than demonstrating affection for children or for reading. The trip was part of a calculated campaign to sell No Child Left Behind. In what Michael Moore rightly observed as a photo opportunity, young children were used as props to advance the administration's radical attack on public education.
The Pet Goat is an exercise from a literary classic called, Reading Mastery 2, by the father of Direct Instruction, Siegfried (Zig) Engelmann. In the 1960s, Engelmann invented a controversial pedagogical approach that reduces knowledge to bite-]sized chunks presented in a prescribed sequence enforced by a scripted lesson the teacher is to recite to a classroom of pupils chanting predetermined responses. Every single word the teacher is to utter, including permissible and prohibited words of encouragement, are provided. There is no room for individuality. The Direct Instruction Web site states, "The popular valuing of teacher creativity and autonomy as high priorities must give way to a willingness to follow certain carefully prescribed instructional practices."
Engelmann told The New Yorker in its July 26, 2004 issue, "We don't give a damn what the teacher thinks, what the teacher feels. On the teachers' own time they can hate it. We don't care, as long as they do it. Traditionalists die over this, but in terms of data we whump the daylights out of them." It is easy to see how a man of such sensitive temperament could author more than 1,000 literary masterpieces such as The Pet Goat.
While I am sure the Florida school visited is a fine one and the classroom teacher loves children, educational excellence was not being celebrated. This was a party on behalf of Direct Instruction. While Moore made a documentary [some suggest artful propaganda] about the Iraq war, he could have made a movie about the United States government's ideological attack on the public schools.
The War on Public Education
Engelmann's publisher is a textbook giant with ties to the Bush family dating back to the 1930s. Company namesakes served on George W. Bush's transition team and the board of his mother's literacy foundation. The publishers have received honors from two Bush administrations and they in turn have bestowed awards on Secretary Rod Paige, who then keynoted their business conference. The same company's former executive vice president is the new U.S. Ambassador to Iraq. Direct instruction has become synonymous with the "scientifically based methods" required by No Child Left Behind.
The War on Public Education has ratcheted up parental fear with cleverly designed rhetoric of failing schools, data disaggregation, underperforming students, unqualified teachers and clever slogans like, "no excuses." If you turn public schools, even the best ones, into single-]minded test-]prep factories where teachers drone on from scripted lessons then more people will want that magical voucher. Repeatedly demonize teachers arid the public will lose confidence regardless of their personal experiences with their local school.
So, how are you doing? Is your job now more about compliance than kids? Are sound educational experiences being sacrificed for test­ preparation? Has fear replaced joy in your classrooms? President Reagan might suggest we ask ourselves, "Is your school better off than it was four years ago?"
Unlike most media outlets, The Huffington Post actually pretends to take an interest in education. However, I continue to believe that their Education section was created to be an advertising platform for the truly awful film, "Waiting for Superman," remembered as the Howard the Duck of education documentaries by the three other schmucks and I who paid to see it.
Regardless of their motives, The Huffington Post, is a frequent mouthpiece for the charter school movement and unofficial stenographer for corporations trying to make a quick buck off the misery of teachers and students.
The Huffington Post recently featured an article, "The Most Popular Books For Students Right Now," authored by their Education Editor Rebecca Klein. I clicked on the headline with interest, because I'm a fan of books and reading (I know a truly radical view for an educator). What I found was quite disappointing.
Aside from the fact that six books were the favorite across twelve grade levels, the books fell into two obvious camps; books kids like and books they were required to read by a teacher.
Nonetheless, data is data and Web users like lists.
What I do not like is when basic tenets of journalism, like "follow the money," are ignored in order to mislead readers. The source for the "independent reading habits of nearly 10 million readers" is Renaissance Learning, described by The Huffington Post as "an educational software company that helps teachers track the independent reading practices of nearly 10 million students."
That's like saying ISIS is a magazine publisher Donald Trump, owner of an ice cream parlor. While factually true, this is what Sarah Palin might call putting lipstick on a pig.
Renaissance Learning is a wildly profitable company that sells Accelerated Reader, a major prophylactic device for children who might otherwise enjoy reading. The product is purchased by dystopian bean counters who view small children as cogs in a Dickensian system of education where nothing matters more than data or achievement.
Their product creates online multiple-choice tests that schools pay for in order to quantify each child's "independent" reading. If the school doesn't own the test for a particular book a kid reads, they receive no credit. Kids routinely dumb down their reading in order to score better on the quizzes. Accelerated Reader rewards compliance and speed by turning reading into a blood sport in which winners will be rewarded and their classroom combatants, punished.
Ironically, I wrote about Accelerated Reader in The Huffington Post back in 2012. (Read Mission Accomplished)
When you look at the "favorite" book list featured in The Huffington Post, please consider that kids read The Giver and The Crucible because they are standard parts of the curriculum. This tells us nothing about what kids at grades 7, 8, or 11 actually like to read. Seeing Green Eggs and Ham as the first grade winner should make you sad. Can you imagine taking a comprehension test on this classic??? How vulgar!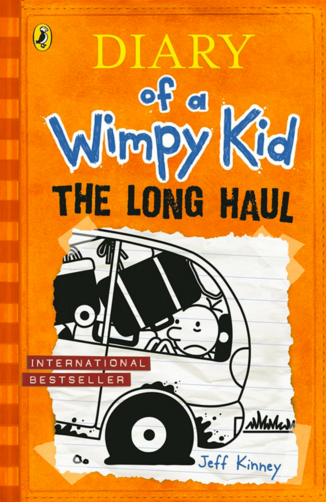 The Grade 2 favorite is also likely assigned by teachers, Click, Clack, Moo: Cows That Type. The mind reels when I try to imagine the test measuring comprehension of the comic book/graphic novel, named favorite book by 3rd, 4th, 5th, AND 6th graders, "Diary of a Wimpy Kid: The Long Haul. First of all, we should be alarmed that this simple book tops the charts for four years, but don't forget that kids will be tested by a computer on their comprehension of this delightful comic book.
"Nothing forced can ever be beautiful." – Xenophone
Caveat emptor!
We are cheating our students by turning reading into a game of dodgeball.
There is lots of talk about games and education these days. Educators mystified by students' indifference to schooling are all too easily taken in by slick talkers drawing grandiose conclusions from some kids' love aff airs with video games. Rather than take the steps necessary to make school more social, teachers more engaging, and curriculum more relevant, we either shift blame to parents, TV and hip hop, or seek salvation in the lessons of Grand Theft Auto.
Kids have always spent long periods of time engaged in activities different from those valued by school. Most display a talent for developing an encyclopedic knowledge of topics from dinosaurs to sports statistics to gossip. Children whose passion or aptitudes happen to match the tested curriculum are declared "good students."
While we marvel at the intensity and focus required for children to achieve video game success, we are quick to label the same children as having attention deficits while in class. The capacity of children for intensity is squandered by mountains of worksheets, timed tests and other curricular contradictions.
Students as Workers
While we obviously recognize the value of play in video games, we cancel recess and build schools without playgrounds, referring to students "as workers." As fewer children enjoy the sportsmanship and healthy competition learned from a friendly game of kickball with classmates, they have been transformed into soldiers in a high-stakes political game of international economic competitiveness.
Perhaps there are many more distractions facing children today, but great teachers continue to create environments where their students want to be and to learn. The answer to bad teaching is better teaching, not another worksheet, get tough movement or quick fix. The sad truth is that schools may be better at destroying interest in a subject than inspiring it.
A friend used to require his students to write a weekly television show review. This satisfied a variety of language arts objectives and shared the unintended consequence of the traditional book report: Students' interest in TV would decrease with each report required.
Illiteracy is not a problem among preschoolers. Every toddler enjoys books. It isn't until children attend school that they begin to feel self-conscious or failures as readers. We tell kids what to read. We interrupt their reading with comprehension quizzes. We rush, test, score, fail and recover them. We reduce the world of literature to "Fawn at Dawn." In way too many cases, school has a highly effective prophylactic affect on reading. An alarming number of learning disabilities result.
Winning Points
Too often, schools respond to the literacy crises they create by turning reading into a game. I remember being told that I read 750 words per minute, a feat unmatched by TV's Steve Austin. The secret behind my bionic ability was a talent for guessing answers to multiple-choice questions, not superhuman comprehension.
Many classrooms today use a popular software program to test student reading. No longer do students read for pleasure or information. They read to win points in a misguided effort to mechanize teaching and learning. This perverse notion of motivation turns reading into a contest with winners and losers. Strong readers choose simpler books to rack up points quickly, while struggling readers are humiliated by the public nature of their scores.
Guess what? Teachers tend to become dependent on teacher-proof systems and stop exercising professional judgment. While the company behind this system has been very nimble and creates tests for new books, teachers are unlikely to value the reading of a book not in the system.
Reading for fun wastes time you could spend crushing your classmates. With score tables automatically generated and parents alerted to their child's pole position, teachers will invariably use the points in grading students regardless of the program's intent.
Turning reading into a game is neither effective nor very good for inspiring lifelong readers.
Originally published in District Administration Magazine – April 2008
Last week, my 7 year-old nephew, (let's call him) Homer, brought home another stupendous homework assignment. He was required to read a phonics primer to his parents, get his parents to sign that they had been sufficiently tortured by the experience and then answer comprehension questions on a worksheet.
The book was titled, Fawn at Dawn.
Here is an excerpt from this classic tale…
I saw a fawn. I saw a fawn at dawn… I saw a fawn at dawn on my lawn…"
Homer then whipped out his worksheet and assumed the role of literary critic.
Question #1: The story was about?
The story was about a girl named Jenny who saw a fawn, but nobody believed her.
Question #2: Favorite part of the book?
The end because the story was very porly (sic) written
The teacher corrected the spelling of "poorly" despite the mistake being wholly consistent with phonics instruction. Then things began to get a bit ugly.
Question #3: Who else do you think would like this book?
I don't think anyone would like this book. It's just aw aw aw awful!
On Homer's paper the teacher wrote something to the effect of "I'm sorry you didn't like it. I guess you have the right to your opinion." (as if she LOVED the book) In class the teacher dismissed Homer's critique by reminding the kids that this was a phonics lesson so the stories don't have to be good.
The moral of this story?
Homer has been reading fluently for three years and loves books, but this one-size-fits-all assignment made no allowances for his skill or personal interests. In fact, there would be no time for pleasure reading that night because by the time this second grader gets off the bus at 4:30 PM, does his homework and eats dinner there is rarely any time left to waste on playing with friends, practicing an instrument, visiting with his parents or reading a good book.
Couldn't Homer read a real book and make a list of the "aw" words he encountered?
If I were to suspend my disbelief and stipulate that every child learns to read by systematically mastering 43 phonemes I am left with a simple question. Once a child can read shouldn't phonics instruction end? Why has phonics become a separate subject rather than a decoding strategy?
Why should Homer and his literate friends be subjected to crummy reading materials until middle school when a bumper crop of high-quality high-interest literature is available?
Originally published Sunday, March 18, 2007 in The Pulse: Education's Place for Debate
The world lost another great educator recently. Donald Graves, passed away at 80 years-old in late September. Graves was the author of numerous books on teaching and literacy. His most important contribution was as "the father of the writing process."
If you are not familiar with Dr. Graves' work or many books, your students would benefit from you reading his classic book, A Fresh Look at Writing or Writing: Teachers & Children at Work. Graves also authored the terrific small book, Testing Is Not Teaching: What Should Count in Education