Once a decade or so, the New York Times publishes a hysterical article about "the reading wars," in which the argument for systematic phonics instruction is advanced. They just did it again in An Old and Contested Solution to Boost Reading Scores: Phonics. The article is a predictable mess.
The phonics phanatics are hard-core. One academic used to contact my former university and demand that I be terminated whenever I questioned the phonics gospel in my magazine column. That was in addition to sending scalding letters-to-the-editor.
In 2004, the entire editorial staff of the magazine I worked for was threatened with termination for questioning Reading First. Here's another one I wrote in 2006.
To "commemorate" the latest discovery of the "reading wars", I humbly suggest that journalists tackle the following questions.
Q1: Anyone remember when "whole language" was banned in California? Any journalist wish to follow-up on that legacy?
Q2: Why is "balance" virtuous? Can't it be dangerous or wrong? In my experience, educational quests for balance result in the weeds killing the flowers. In education, "balance" can be not only simplistic, but cowardly and wrong. When schools seek "balance," the weeds always kill the flowers.
Q3: Why does the defense of systematic phonics instruction remain a top priority of the religious right?
Q4: Why are the same people so often anti-science when it comes to issues like climate change or sexual orientation and yet cling to phonics instruction as scientifically proven?
Q5: Has there been any research or journalistic investigation (or even interview) about the evolution of Lucy Calkins' work over time? I acknowledge her contributions, but have simple profound ideas become massive curriculum products? If so, what has been lost/gained?
Q6: Where is all of this "unbalanced" whole language influence emanating from? Please name the texts or teacher preparatory programs that have gone hog wild on non-phonics-based instruction. (Not excusing the batshit crazy, sloppy, silly, reading myths SOME teachers subscribe to.)
Q7: NAME A TIME OR PLACE IN THE POST-WAR (WW II) ERA WHERE PHONICS HAS NOT COMPLETELY DOMINATED READING INSTRUCTION. Doesn't a "reading war" require actual combatants? One side has nuclear weapons and every White House, the other has Shel Siverstein.
Q8: How can you publish an article about the reading wars without any input from the seminal experts on the losing side? Where is the expertise of scholars such as, Frank Smith, Ken Goodman, Richard Allington, Herbert Kohl? I know you now how to reach Stephen Krashen. He writes letters-to-the-editor of the New York Times regularly.
Q9: How about writing an article in which lots and lots of experts do nothing but define "phonics," "whole language," "literacy," "balanced literacy," "reading," and "instruction?"
Q10: If everyone learns to read by being taught a sequence of 43 phonemic sounds, how do you explain children reading in Israel, China, Japan, or other countries with non-phonemic languages. How can deaf people possibly learn to read without phonics>
I respectfully implore you to investigate the effects of an unconscionable lack of access to high-interest reading material in classrooms and school libraries in places like Los Angeles and Oakland. https://www.accessbooks.net/school-library-crisis.html
Unlike most media outlets, The Huffington Post actually pretends to take an interest in education. However, I continue to believe that their Education section was created to be an advertising platform for the truly awful film, "Waiting for Superman," remembered as the Howard the Duck of education documentaries by the three other schmucks and I who paid to see it.
Regardless of their motives, The Huffington Post, is a frequent mouthpiece for the charter school movement and unofficial stenographer for corporations trying to make a quick buck off the misery of teachers and students.
The Huffington Post recently featured an article, "The Most Popular Books For Students Right Now," authored by their Education Editor Rebecca Klein. I clicked on the headline with interest, because I'm a fan of books and reading (I know a truly radical view for an educator). What I found was quite disappointing.
Aside from the fact that six books were the favorite across twelve grade levels, the books fell into two obvious camps; books kids like and books they were required to read by a teacher.
Nonetheless, data is data and Web users like lists.
What I do not like is when basic tenets of journalism, like "follow the money," are ignored in order to mislead readers. The source for the "independent reading habits of nearly 10 million readers" is Renaissance Learning, described by The Huffington Post as "an educational software company that helps teachers track the independent reading practices of nearly 10 million students."
That's like saying ISIS is a magazine publisher Donald Trump, owner of an ice cream parlor. While factually true, this is what Sarah Palin might call putting lipstick on a pig.
Renaissance Learning is a wildly profitable company that sells Accelerated Reader, a major prophylactic device for children who might otherwise enjoy reading. The product is purchased by dystopian bean counters who view small children as cogs in a Dickensian system of education where nothing matters more than data or achievement.
Their product creates online multiple-choice tests that schools pay for in order to quantify each child's "independent" reading. If the school doesn't own the test for a particular book a kid reads, they receive no credit. Kids routinely dumb down their reading in order to score better on the quizzes. Accelerated Reader rewards compliance and speed by turning reading into a blood sport in which winners will be rewarded and their classroom combatants, punished.
Ironically, I wrote about Accelerated Reader in The Huffington Post back in 2012. (Read Mission Accomplished)
When you look at the "favorite" book list featured in The Huffington Post, please consider that kids read The Giver and The Crucible because they are standard parts of the curriculum. This tells us nothing about what kids at grades 7, 8, or 11 actually like to read. Seeing Green Eggs and Ham as the first grade winner should make you sad. Can you imagine taking a comprehension test on this classic??? How vulgar!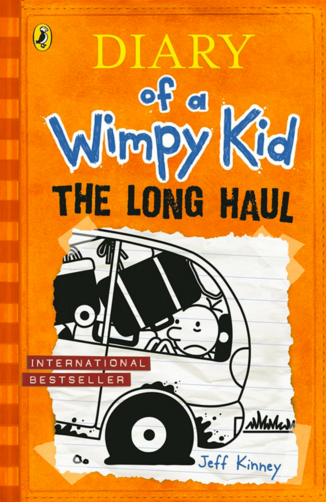 The Grade 2 favorite is also likely assigned by teachers, Click, Clack, Moo: Cows That Type. The mind reels when I try to imagine the test measuring comprehension of the comic book/graphic novel, named favorite book by 3rd, 4th, 5th, AND 6th graders, "Diary of a Wimpy Kid: The Long Haul. First of all, we should be alarmed that this simple book tops the charts for four years, but don't forget that kids will be tested by a computer on their comprehension of this delightful comic book.
"Nothing forced can ever be beautiful." – Xenophone
Caveat emptor!
While in While in Italy last week, I received email from Eugene Paik, a reporter for The Star Ledger newspaper. He read my blog post, BYOD – Worst Idea of the 21st Century?, and was seeking expertise for an article on a New Jersey school district enacting a Bring-Your-Own-Device/Technology policy. I dropped everything and responded to his questions immediately via email since I was overseas. Besides, you can't be misquoted when you respond in writing, right?
Paik's article, Bernards Twp. district encouraging use of mobile devices, ran in the December 4th issue of The Star Ledger. That article completely misrepresents and distorts my answers to his questions. I cannot claim to be misquoted since the attributions to me are not printed as quotes. Sneaky, eh?
The following is how Mr. Paik reports my views on the matter of BYOD in Bernards Township, NJ.
Gary Stager, an international school-reform consultant and advocate for laptops in classrooms, said there are other issues as well. Not only are there challenges in training faculty on different devices and phone applications, but many school districts also mistakenly assume all electronic devices are alike.

A focus on mobile devices could prevent students from becoming familiar with software and hardware that require an actual computer, Stager said.
Here are my major issues with the reporting of my views.
I NEVER EVER use the word training. It is antithetical to learning. Anyone familiar with my work knows this to be the case. You do not train professional educators! Training is what you do when you're trying to get your chihuahua to piss on The Star Ledger.

While I understand the space constraints required by writing for publication, the author decided not to raise my major objection to BYOD policies – inequity.
I never said anything about students becoming familiar with hardware and software. My advocacy of computers in education is based on depth, breadth and fluency.
I truly wish that educators and reporters would pay greater attention to nuance and stop tossing around terms like "training."
---
Here are Mr. Paik's interview questions sent to me and answered on November 27th. My quite precise answers are indented.
Gary,
Just a little bit of background about the policy. The district, in
Bernards Township in New Jersey, is mulling the proposal for its high
school and middle school students. They would use their smart phones,
tablets and laptops for instruction, and those who don't have those
devices would be asked to share with students who do.
Here are my questions:
1.) The most common concern I hear about is that students would use
their cell phones to goof around (chat, use Facebook) under the guise of
information gathering. Obviously, the issue goes far deeper than that,
but I'm wondering if you agree that this would be an issue. Or are
critics incorrectly calling this the biggest problem when there are many
other issues to be concerned about?
I have worked in schools where every student has a personal laptop computer since 1990. Most recently, I launched 1:1 in a new Korean international school where every student down to first grade has a personal MacBook computer. Theft, breakage, loss have not been a problem anywhere in the world from Harlem to Sydney.

As for goofing around, there is a good deal of anecdotal and scientific evidence that children with computers are not only more social, but their social interactions tend to be work related.

If kids are goofing around or aimlessly surfing the Web, this is a function of an unimaginative curriculum or lackluster teaching.

I view the computer as an intellectual laboratory and vehicle for self-expression that amplifies human potential. When the goal is not to use the computer to teach what we have always hoped kids would learn, perhaps with greater efficacy or efficiency, but to learn and do things that were impossible without the presence of computing, the work takes on a sense of life and urgency much deeper than Facebook.

It seems odd to me that an affluent district with a long tradition of educational computing, like Bernards Township, would adopt such a policy. Bernards' students are much more likely to own real portable computers than kids in other districts where the BYOD policy seems to be "Let them eat cellphones!" Even if every kid can afford the quality of personal computer I advocate for learning, BYOD is still terrible public policy.
2.) One of the issues arising out of this is the divide between the
"haves" and the "have-nots." It would appear that this would set an
uneven playing field for certain students. Could you explain a little
more about the significance of this? Would sharing devices be enough to
solve this problem?
First of all, if schools did not create moronic knee-jerk policies banning things kids own, they wouldn't need to enact new policies to allow them back on campus. While there might be educational potential in cell-phone use, the real reason not to ban them is that we should not be arbitrarily mean to children. Schools need to do everything possible to lower the level of antagonism between adults and kids. Any idea, passion, question, expertise or gadget a kid brings to school should be viewed as a potential gift. It is incumbent upon teachers and administrators to build upon such gifts. That does not mean that BYOD is sound policy.

One problem with BYOD is that it enshrines inequity while pretending to be democratic. Some students will have much more power and capability when educational policy is left to the accident of family wealth. Not every object requiring electricity is equivalent. Since the computer is today's primary instrument for intellectual and creative work, every child needs as much power as possible. The cost of providing every American youngster a multimedia laptop computer has never been more than a few percentage points of the annual per pupil spending and that price would fall dramatically if we committed to every child having a portable personal computer as Seymour Papert and Cynthia Solomon proposed in 1971.
3.) You mentioned the issue of teacher anxiety, and I've heard stories
in New Jersey about some teachers who aren't familiar with smart phones
at all. In your opinion, do those kinds of teachers represent most
educators? Even if they form a minority, how big of a problem would that
be?
Teachers, for a variety of reasons, are among the least comfortable users of computational technology in society. Asking them to teach in an environment when kids have random "devices" only exacerbates the problem and raises their anxiety. This is a bad idea for two reasons. 1) Not all devices are created equally. So, educational activities need to be predicated upon the weakest device in the room. 2) There is a tendency to think of technology in education as "looking stuff up online." This is the low-hanging fruit and represents the most trivial potential of the computer.
4.) Considering the shrinking budgets many school districts are seeing,
why shouldn't this policy be considered a good compromise between
educational quality and cost? I've heard some say that school-issued
laptops for students typically are not well maintained or cared for.
Wouldn't students take better care of the equipment knowing it was their
own?
Kids do take better care of their computer, even if it is on loan from the school. However, it is terrible policy to leave 21st Century learning up to the financial liquidity of children. Educators will suffer more dire financial conditions when they endorse the idea that the public need not finance high-quality public educational opportunities for all of its young citizens.
5.) I thought your argument about BYOT policies narrowing the learning
process was intriguing. What are the skills that students would not
develop under this policy?
Science, technology, engineering, mathematics, computer modeling, programming, computer science, music composition, film-making, personal fabrication are but a few of the learning opportunities rendered impossible or very difficult on a cell phone or tablet device – at least for the next couple of years.
Thanks so much for the quick turnaround. I appreciate it.
---
Feel free to contact Mr. Paik and express your concern about this reporting.
Read my original post, igniting this controversy.
In a perfect world, members of the edtech community would know better and stop equating cellphones with computing.