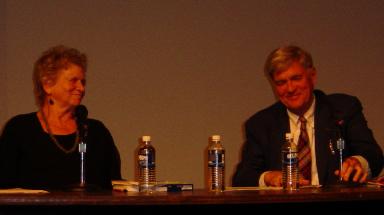 During Gary Stager's recent Ask Me Anything session with Deborah Meier, her Habits of Mind and Ted Sizer's Essential Principles for schools (especially secondary schools) were discussed. Watch a recording of the Ask Me Anything session, here.
Deborah Meier's Bridging Differences column with Diane Ravitch, et al.
Books by Deborah Meier
Documentaries made about Central Park East elementary and secondary schools, founded by Deborah Meier.
Deborah Meier's Five Habits of Mind, as originally explored in the book, The Power of Their Ideas: Lessons for America from a Small School in Harlem.
Evidence – asking, "How do you know?"
Connections – asking, "How is this connected to something else I already know or care about?"
Perspective or Viewpoint – asking, "From whose perspective is this story being told?"
Conjecture – asking, "How can I imagine a different outcome?", and
Relevance – asking, "Why is this important?"
Read and watch how the habits of mind are employed at Boston's Mission Hill School
Books by Ted Sizer, including Horace's Compromise: The Dilemma of the American High School (all three volumes of the Horace trilogy are essential reading)
The Ten Common Principles of Essential Schools (by Ted Sizer), complete with explanations
The Coalition of Essential Schools website
The Coalition of Essential Schools Remembers Ted Sizer
There are a lot of discussions underway about what school will or should look like when face-to-face sessions resume. Sadly, the images of teachers barking commands from meters away at children in cells bolted to the floor six feet apart are as pedagogically toxic as they are medically perilous.
It is amazing how school leaders and districts can always seem to find rainy day money to invest in terrible ideas without a second wasted on considering the consequences of such actions. I realize that you are in a hurry to reopen schools, but are you investing for the future or reacting out of panic?
I remember several years back when virtual reality was being hyped by educator members of the Shiny Object Club flitting from one new scheme to another. Folks desperate to justify whatever they thought VR is would ask, "What do you think about virtual reality in schools?" My answer would always be, "Isn't that redundant?"
Surprisingly to some, the online world may provide greater opportunities for intimacy, collaboration, conversation, and learning-by-doing. It is the mechanical stuff long overvalued by school – reading quietly, answering questions, worksheets, quizzes, tests, studying – that are much better suited for the virtual world.
You know who I rarely, if ever, see featured in the articles, books, podcasts, pronouncements, panel discussions or prognostications of the futurists "helping" schools prepare for the "new normal?" Music, art, or drama teachers. Why must the future be so colorless and dystopian?
The simple truth is that band was the only thing we did not have at home that justified my kids going to school. Schools tend to undervalue the things to which they actually add value.
When pressed to defend investment in art, music, drama programs (a justification only ever sought after for things kids enjoy), the affirmative arguments often evoke the words of Dickensian shopkeepers. Students in art and music classes do better on standardized tests or get into better colleges or crush the lesser kids. Even those with nobler objectives argue that art, music, and drama programs motivate kids to stay in school and give them purpose. While certainly true, those reasons are also in service of the system. How about investing in performing arts programs with qualified teachers within the curricular day because what students experience in those classes are the things that make us human, nurture democracy, and sustain civilization? To quote the late NEA Jazz Master Jimmy Heath, "What was good, is good."
This is not small stakes. I write this as fiery protests burn in cities across the United States in the wake of the latest racist police officer killing of an African American. It is a safe bet that kids in the high school jazz band or production of "Fiddler on the Roof" are not out looting a shoe store. They may even vote to support school budgets when they become adults.
Today's feed
I have been battling for public investments in performing arts education for thirty-eight years (a tale for another article), but today I saw something so deeply moving on Facebook, that its importance motivated this article.
One of the world's finest vocalists, Kurt Elling, shared a video of a high school choir from Boulder, Colorado performing an adapted version of his arrangement of Paul Simon's American Tune. Despite their social isolation, a work of high-quality art was produced on iPhones by students who learned to sing together in school. The special poignancy of the performance is heightened by today's milieu. Even if these young people did not learn to sing in school, this is where they learned to sing songs by Paul Simon like Kurt Elling and to be part of something bigger than themselves. It also happens to sound great.
A cursory Google search revealed that Fairview high school does not just have a choir, it is blessed with nine of them! It has at least three orchestras and a jazz band as well. They employ multiple art teachers as well. Their community undoubtedly values the arts as an integral part of the educational experience and invests accordingly while other schools share YouTube videos of how there's music in math (Look, they're counting!) or math in art (Can you see the triangles?). What this school choir has created is so much more profound than the viral videos of one kid jamming in their room, no matter how talented that kid happens to be.
The music education professionals in this school community have pulled off something impossibly hard as arts teachers are often called upon to do. The result is everything that justifies the future viability of public education.
This investment in kids learning to do something well together, including the cost of arrangers and editors to produce this video, sends students the message that they are loved and much is expected of them. Doesn't every student deserve that?
---
Note: Having the audacity to point out that arts programs are under appreciated or underfunded immediately provokes school librarians and teachers of other subjects to exclaim their deprivation.  The race to be the most aggrieved by so many educators is disempowering and counter-productive. We must unite to create and advocate for a modern liberal arts education for every child.
---
The following is the post on Kurt Elling's Facebook page. It tells the backstory of remarkable high school video (above).

EXCALIBUR's deeply moving performance of American Tune is emblematic of these times under lockdown. These talented Fairview High School Choirs students from Boulder, CO – isolated from each other – sang into their phones and the finished result is amazing!

Choir director JANICE VLACHOS had commissioned KERRY MARSH to arrange KURT ELLING's version of American Tune for Excalibur to perform this school year.

JANICE VLACHOS reflected, "The lyrics hit so deep on this one and it was a comfort all year long to us knowing that there have been times the world has felt in turmoil and that we've been in this place before. The words 'it's alright, it's alright', have been soothing to all of us. We sang this song multiple times throughout the year and we were planning on singing it at the last concert, and then coronavirus hit.

"We walked out of school on March 12th and never returned. We were heartbroken on so many levels – the global consequences of the virus and in our own small world of not being able to singing together. We were also saddened to realize we didn't have a great recording of American Tune. So we recorded it on our phones, and Kerry Marsh mastered it for us beautifully. I often find myself thinking of the lyrics as I'm searching for solace during this time.

Arranger KERRY MARSH notes, "I feel that this is one of the most important arrangements I've written thus far in my musical career, frankly. Based on the transcendent recorded version by Kurt Elling, and arranged during the most uncertain time in at least my own lifetime, this prescient Paul Simon composition connects with our modern times in a way that a typical 'chart description' is not fit to articulate. Its meaning, as it may relate to the current gaping political divide in the U.S. (mirrored in many countries worldwide, certainly) or certainly the 2020 Coronavirus pandemic, will be best communicated by each group that performs it.

"These young musicians (and their director) are absolutely amazing. It was humbling to work on this, and [my partner] Julia Dollison and I shed buckets of tears throughout the process. Really proud of what they've accomplished with this and everything else, and confident that this currently messed up world is in very capable hands when these folks take charge.

"As a part of the celebration of their releasing this, I've just made this chart available at KerryMarsh.com. Kurt Elling's version (arranged by Christian Elsässer) was an incredible source of inspiration to work from. Paul Simon's composition has proved timeless…would that it weren't so, actually. But these students, in their interpretation of his lyric, provide great hope.

Fairview HS Orchestra director DAVID RUTHERFORD adds this behind-the-scenes perspective:

"Your experience is this: For 7 minutes you watch all their beautiful faces, all together, side-by-side, shining at you with all the love of singing they're known for. Your heart overflows with the beauty of the music piped through your earbuds. And you smile and say, 'Beautiful!'

"But think about the experience for each student in the creation of the video. Alone, listening to a click track and accompaniment. No blend. No harmony. Multiple takes because of all the silly imperfections one begins to focus on in a myopic environment like that. Am I in tune? Was I early? How is this vowel? Where is this cutoff? The insecurities never end.

"Then each video is sent off to the producer and engineer, who take all 26 videos and painstakingly line up the sound, which takes literally weeks to do in front of a computer screen. After hundreds of hours, finally, all the consonants are together, the imperfections in pitch have been tweaked out, the entrances and the cutoffs are perfect, and the quality of sound from an iPhone microphone has been processed to become nearly studio quality. Finally the video, after another week, presents those beautiful faces artfully for maximum effect when you watch and listen.

"Again for the students, there was no shared experience here. There was no ensemble. Look at each one of those faces and think about it from their perspective as they sing – the space past that black border is tragically empty.

"So how can they sound so good? Because they remember what it was like to sing together, and they recreate that in their minds. This is a song they had sung all year long – I performed it with them on several occasions. They know how it feels to sing it as an ensemble, to blend their voices into one, and oh my goodness do they know how to connect with an audience. So they sang at an iPhone screen, remembering all this, pretending they were together singing for you….

"Excalibur, thank you for this reminder of just how valuable music is to all of us. The tears on my face are real."
---
Veteran educator Dr. Gary Stager is co-author of Invent To Learn — Making, Tinkering, and Engineering in the Classroom, pubisher at Constructing Modern Knowledge Press, and the founder of the Constructing Modern Knowledge summer institute. He led professional development in the world's first 1:1 laptop schools and designed one of the oldest online graduate school programs. Learn more about Gary.
A hole in the wall as science and public policy
By: Gary Stager
District Administration, May 2004
(archive)
A funny thing happened to me while in India (besides losing my luggage, teaching for three days on three hours sleep, and confronting an elephant in traffic). While speaking at a conference, I encountered another educator whose work blew my mind. Such an experience is a rarity at the dozen or so educational conferences I attend each year across America.
Dr. Sugata Mitra, a physicist from Indian think-tank NIIT, embodies the best features of a scientist, educator, tinkerer and dreamer. His social conscience led him to invent a novel approach to learning technology. The scientist in him designed controlled experiments to explain the remarkable phenomena he observed.
India is a populace nation with staggering poverty and majority illiteracy. Politics, religion and tradition conspire to create millions of poor people and slums unfit for the stray dogs who compete for food. Wealth and great poverty coexist side by side like two nations with diplomatic relations.One boy who uses the kiosk defined the Internet as, "That with which you can do anything."
Mitra's own campus was separated from the "other India" by a wall. He often sensed that the poor children watched his research community with the cell phones attached to their ears and funny bags hanging from their bodies disappear into a mysterious fortress.
Mitra inserted a PC monitor into the wall behind a pane of glass and alongside a touch screen. The computer had a high-speed Internet connection and was on nearly all of the time. No other intervention occurred. Before long, this "hole in the wall" attracted children from the community and a great educational experiment had begun.
A video camera trained on the children using the kiosk and computerized logs of what was done on the computer create a record of the children's activities. Within a short period of time, children who speak one of India's thousand languages other than English and who had never received any instruction in technology use were surfing the Web. More over, groups of children played online games and painted pictures with MS Paint. After being shown MP3 software, some children even managed to find music in Hindi to play.
The success of the first "Hole in the Wall" inspired Mitra to replicate the experience with kiosks across the economic, cultural and geographic diversity of India. Children in every case were able to demonstrate what we might call computer literacy without any curriculum, formal teaching or adult intervention. The "Hole in the Wall" children discovered and taught each other amazing things. Young children stand on the shoulders of others and direct the action. The hundreds of shortcuts often left on a kiosk computer offered evidence of such expertise. Mitra found that kiosk users managed to learn hundreds of English words and used their native language to describe computer functions. Most users were 6 to 12 years old. Adults did not make any attempt to use the kiosk.
Self-Service Education
Dr. Mitra describes his learning theory as minimally invasive education – a hypothesis that even in totally unfamiliar situations, children in groups will learn on their own with little or no input from others, provided the learning environment induces an adequate level of curiosity. Like in minimally invasive surgery there should be no more expert intervention than absolutely necessary.
This work proves that when provided with access to a computer in a social context, all children will become computer literate with or without a traditional teacher. Mitra's careful experiments confirm the theories of Piaget and Vygotsky. Most of all, "The Hole in the Wall," offers a glimmer of hope for concerned global citizens who do not know where to begin in increasing educational opportunity in the developing world. The "Hole in the Wall" project is a testament to the competency and capacity of children to construct their own knowledge in a community of practice. Internet access can connect children to each other and the 21st century.
Does your school really need that computer literacy class? Can your teachers celebrate the technological fluency of your students and build upon it in the design of richer tasks and more imaginative curricula? American schools are blessed with advantages most of the world cannot even ponder. The "Hole in the Wall" project demands that we do better by our students and do our part to change the world.
Gary Stager is editor-at-large and an adjunct professor at Pepperdine Univ.
Today's horrific health and economic crisis might have at least one educational benefit, students are "working" from home and like everywhere else in the past two generations, communication is largely via computer generated text, not manual handwriting.
Whenever I visit a school, I scan the environment, observe social interactions, and look for learning artifacts. Even while strolling around spectacular schools — the sort of institutions blessed with phenomenal facilities, grandiose grounds, well-stocked libraries, maker spaces, and performing arts centers — I sense reason for concern. The lower primary classrooms have examples, presumably of exemplary student work, adorning the corridor walls. Sadly, the displayed work fails to match the grandeur, quality, and expectations of the school. Por que?
Thanks to the technology of choice, the pencil, your average elementary school student will spend an inordinate amount of time filling a cleverly designed worksheet with two or three banal sentences. I truly lament the lost opportunities for children to create work commensurate with their creativity and intellect. The prophylactic barrier is the pencil.
How many learning disabilities are created by a six-year-old's confusion between their ability to express one's self and their physical prowess at etching letters with a primitive writing stick? The development of a child's fine motor skills is much better suited to typing than handwriting. Few other intellectual pursuits require muscle development.
Word processing is the undisputed winner of the computer age. No serious writer under the age of a presidential candidate uses a writing stick for more than writing "not my fault" in Sharpie. Writers "write" on computers. Period. Full stop. Fin!
I harbor no doubt that the pencil has retarded literacy development. It spawned the five-paragraph essay, inauthentic "writing" assignments, and has made life unpleasant for teachers sifting through piles of student chicken scratch. The pencil has fundamentally limited the quality and volume of student writing. This is indisputable.
You learn to write by writing. When you waste several years teaching kids, not one, but two different styles of ancient stick scratching, you severely diminish opportunities for students to say something with coherence, persuasion, beauty, or personal voice.
Word processing makes it possible to write more, better, and quicker, while the editing process is continuous and fluid. You may still turn in X number of drafts to satisfy an assignment, but each of those drafts is the product of countless micro-drafts. Best of all, word processing eliminates another useless and ineffective subject of bygone eras, Spelling instruction! Bonus! #winning
Spare me the academic papers by tenure-track weenies at East Metuchen Community College seeking to "prove" that handwriting instruction raises test scores or I will be forced to send you reams of scholarship on butter churning as an effective weight loss strategy or blood letting as an indicator of entrepreneurship.
I am sorry, but publishers of handwriting workbooks and providers of D'Nealian professional development may have to go and get themselves some of those clean coal jobs or find some other way to torture young people. The College Board may be hiring!
If you feel nostalgic about handwriting, offer a calligraphy elective. Now, your school will have an art class! The high-falutin handwritten International Baccalaureate a concern? Relegate penmanship to an 11th grade PE unit.
The only time I use a pen or pencil is when asked to autograph a copy of a book I composed on a computer. Banking is online, so no more check writing excuses. You can teach kids to sign their name on a greeting card for their great grandmother in a session or two and then say, "Aloha!" to Eberhard Faber. Spend the rest of elementary school how to think and engage in work that matters. Their lumbrical muscles will thank you and their intellectual development will no longer be limited by a Number 2 drawing stick.
Teachers, it's time to say goodbye to your little friend… Pencils R.I.P
---
For those interested in "keyboarding instruction," please read this literature review.
---
Veteran educator Dr. Gary Stager is co-author of Invent To Learn — Making, Tinkering, and Engineering in the Classroom and the founder of the Constructing Modern Knowledge summer institute. He led professional development in the world's first 1:1 laptop schools and designed one of the oldest online graduate school programs. Learn more about Gary.
"Prechewed Pencils" by Bernie Goldbach is licensed under CC BY-NC-ND 2.0
One great joy of my life has been getting to know and work with so many of my heroes/sheroes. Even greater satisfaction comes from sharing those people with my fellow educators, via books, presentations, and the Constructing Modern Knowledge summer institute.
Over dinner thirty years ago, one of my mentors, Dan Watt dropped some wisdom on me when he said, "writing is hard." Writing is hard. I find sitting down to write is even harder. The reward of writing is your work being read by others, especially when readers report thinking differently as a result. Even the "hate mail" I received as a magazine columnist and editor made the agony of writing worthwhile.
While proud of many things I have written, three pieces stand out as enormous honors. Being asked by the science journal of record, Nature, to author the obituary of my friend and mentor, Dr. Seymour Papert, was a difficult challenge and great privilege. Learning later that the great Alan Kay recommended me for the assignment took my breath away. I will remain forever grateful for his confidence in my ability to eulogize our mutual friend in such an august journal.
On two other occasions, I have been invited to contribute to books by my heroes. A few years ago, the prolific progressive author and educator, Herb Kohl, asked me to write a response piece to the great musician, David Amram, for the book, The Muses Go to School: Inspiring Stories About the Importance of Arts in Education. My fellow contributors include Bill T. Jones, Bill Ayers, Whoopi Goldberg, Deborah Meier, Diane Ravitch, Phillip Seymour Hoffman, Lisa Delpit, Maxine Greene, and others. Many readers may be unaware of my music studies and the fact that my career began as a public school arts advocate. Sharing anything, let alone a book, with the remarkable Herbert Kohl remains a source of enormous pride. This is an important book that should receive greater attention.
I first met Artificial intelligence pioneer, Marvin Minsky, in the late 1980s. I cannot say that I spent a great deal of time with him over the subsequent decades, but anyone who ever encountered Marvin can testify to the impact that I had on them, perhaps down to the molecular level. The fact that Marvin agreed to spend time leading a fireside chat with any interested educator at the first eight Constructing Modern Knowledge institutes continues to blow my mind. I will forever cherish his wit, wisdom, friendship, and generosity.
Inventive Minds: Marvin Minsky on Education is a brand new book based on essays by Dr. Marvin Minsky, one of the great scientists, inventors, and intellectuals of the past century. Our mutual friend, Dr. Cynthia Solomon, a hugely important figure in her own right, edited a text in which important essays by Minsky were assembled and responded to by an amazing collection of Marvin's friends. One of Marvin's proteges, Xiao Xiao, illustrated the book. The contributors to this book include:
Co-inventor of the Logo programming language, Cynthia Solomon
Father of the personal computer, Alan Kay
Legendary computer science professor, author, and pioneer of the Open Courseware movement, Hal Abelson
Former Director the MIT Media Laboratory, Walter Bender
Artificial intelligence pioneer and MIT professor, Patrick Henry Winston
Software engineer, inventor, and executive, Brian Silverman
Software engineer, Mike Travers
Haptics engineer and scientist, Margaret Minsky
Me
I can't speak for my contribution, but am confident that Inventive Minds will stimulate a great deal of thought and dialogue among you and your colleagues. Buy the book and enjoy some great summer reading!
---
Veteran educator Dr. Gary Stager is co-author of Invent To Learn — Making, Tinkering, and Engineering in the Classroom and the founder of the Constructing Modern Knowledge summer institute. He led professional development in the world's first 1:1 laptop schools and designed one of the oldest online graduate school programs. Learn more about Gary here.
Long ago, a wise friend told me that 90% of education research is bullshit. As I mature, I realize that estimate is far too modest. Social media and the nonsense masquerading as education journalism have become inundated with a flaming brown paper bag full of articles out to prove that phonics[1]and penmanship instruction[2]are crucial 21stCentury skills[3], class size does not matter[4][5], constructivism is a failed pedagogical strategy[6], there are no learning styles[7], not everyone "needs to code,"[8]all kids need to be above the norm[9][10], and that standardized testing is objective, reliable, and valid[11].
If you believe any of these things, then I would love to tell you that the Common Core State [education] Standards were "written by the nation's governors." No seriously; they expect us to believe that crap. I for one would love to see Chris Christie's notes from his curriculum development meetings. "Time for some BrainPop on the GW Bridge!"
When brightly colored infographics and Venn diagrams with nothing in the intersection of the rings fail to convince you to panic, the purveyors of hysteria wave their interactive white board pen and recite the magic word, "SCIENCE!"
SCIENCE is the new FINLAND!
Wish to justify the curious epidemic of learning disabilities, just yell, "SCIENCE!" Want to medicate kids when your curriculum fails to sedate them? SCIENCE! Care to cut salaries and slash electives? SCIENCE will prove that playing the bassoon will never get you a high-paying job at Google passing out t-shirts at tradeshows like the niece of your mom's hairdresser. (Someone should set that last paragraph to music. Lin-Manuel, call me!)
Aside from the ISIS-like fanaticism defending phonics or penmanship systems, two recent "studies" reveal the quality of SCIENCE rushing through the body education like sugar-free gummy bears. "Study Shows Classroom Decor Can Distract From Learning," about the value of bare walls on kindergartener's recall, and "Kids perform better during boring tasks when dressed as Batman." No, seriously. Those are real. Someone undoubtedly earned an EdD and parking space at Southern North Dakota Community College for such drivel.
The mere stench of SCIENCE associated with such studies goes unchallenged and serves as fantastic clickbait for a myriad of school discipline conventions. (Seriously, this is a real thing.) Why doesn't anyone ask why babies are taking bubble tests or should be subjected to ugly classrooms? Surely, the National Science Foundation is funding replication studies to determine if five-year-olds dressed as Superman or Queen Elsa are more easily tricked into wasting their formative years on meaningless tasks? [12]
It just isn't sufficiently SCIENTIFIC for children to enjoy happy, healthy, creative, productive, and playful childhoods. Move along young Batman. Nothing to see here. Wet your pants again? You might be dyslexic.
SCIENCE is only ever used to sustain the mythology or comfort of adults. The only time educators are ever asked to provide "evidence" is to justify something kids like – laptops, recess, band, making things…
The burden of proof is quite different for defending the status quo. What was the last time you heard anyone ask for evidence to support homework, 42-minute class periods, Algebra II, AP classes, textbooks, worksheets, times tables, interactive white boards, or the countless forms of coercion, humiliation, and punishment visited on students daily?
You know where else you find very little actual science? In Science class where the vast majority of the curriculum is concerned with vocabulary memorization or historical reenactments and very few students do science by engaging in the habits of a scientist.
At a recent gathering, three generations of people shared what they remembered from their high school science classes. The most vivid memories consisted of starting fires, causing explosions, noxious fumes, throwing test tubes out a window while exclaiming, "I'm Zeus," or killing things (plants, the class rat, time). In SCIENTIFIC terms, 0.000000003% of the official science curriculum is retained after Friday's quiz.
Another way of providing nutrients to the sod of education rhetoric is to sprinkle highfalutin terms like, metacognition, everywhere. This form of scientism takes a little understood concept and demonstrates a profound misunderstanding of it as a vehicle for justifying more memorization, teacher compliance, or producing the illusion of student agency. Don't even get me started about the experts incapable of discerning the difference between teaching and learning or the bigshots who think learning is a noun.
Free advice: Forbes, the McKinsey Group, anyone associated with Clayton Christensen, TED Talks and EdSurge are not credible sources on education reform, pedagogy, or learning theory even if they accidentally confirm our own biases once in a while. They are libertarian hacks hell-bent on dismantling public education. It is also a good rule of thumb to steer clear of any source containing "ED," "topia," "mentum," "vation," "mind," "brain," "institute," or "ology" in their title.
When you get right down to it, many of the questionable educational practices seeking justification from SCIENCE seek to promote simplistic mechanical models of complex processes that are in actuality much harder to distill or even impossible to comprehend. To those seeking to justify phonics instruction, a simple input-output diagram is preferable to the more likely hypothesis that reading is natural. Learning is not the direct result of having been taught.
Note: This is a deliberate provocation intended to challenge a phenomenon in education rather than engage in a hot-tempered battle of dueling research studies. Don't bother to ask me for evidence to support my claims since I'm trading in common sense and honestly do not care if you agree with me. Seriously.

Of course, there are studies widely available to validate my outrageous blather, but I am under no obligation to identify them for you unless you grant me a cushy tenure track position, medical insurance, and a pension. If this article upsets you, my powers of persuasion are inadequate to change your mind anyway.
Endnotes:
[1]If everyone learns to read through the direct instruction of a fixed sequence 43 different sounds, how do you explain students learning to read in China, Japan, Israel or any other language without phonemes?
[2]These studies always "prove" the importance of medieval chores by pointing to test score increases (memorization). How many children are misdiagnosed with learning disabilities for confusing the ability to express themselves (writing) with the way in which they use a pencil (writing)? If penmanship is so precious, teach it in art class as a craft or as a PE activity prior to the prehistoric high school IB exams.
[3]I refrain from citing the pernicious and ubiquitous "studies" I mock with such utter contempt because I do not wish to give them any more oxygen.
[4]See the amoral work of John Hattie. He also determined that desegregation doesn't matter for student achievement. Basic concepts of right and wrong are of no consequence for such purveyors of SCIENCE!
[5]Bill Gates loves larger classes too (except for his children) – https://www.theatlantic.com/business/archive/2011/02/bill-gates-big-idea-to-fix-us-education-bigger-classes/71797/
[6]Constructivism is not a pedagogical trick, it is a scientific learning theory. Those who doubt constructivism are like flat earthers or climate change deniers. Science has nothing to do with their beliefs.
[7]Go ahead; argue that humans do not learn differently. The anti-learning styles crowd confuses teacher intervention with learning.
[8]Addressed this issue in this podcast.
[9]Hillary Clinton promised to close all schools below average – https://www.washingtonpost.com/news/the-fix/wp/2015/12/23/hillary-clinton-may-want-to-close-every-public-school-in-america-according-to-math/?utm_term=.623a9f0ad161
[10]No Child Left Behind demanded that all schools meet norm-reference standards by 2014 – [10]https://www.npr.org/sections/ed/2014/10/11/354931351/it-s-2014-all-children-are-supposed-to-be-proficient-under-federal-law
[11]See all education policy
[12]My friend Alfie Kohn does a fantastic job dismantling the quality of such "SCIENCE" in this article. https://www.washingtonpost.com/news/answer-sheet/wp/2014/06/05/the-education-question-we-should-be-asking/
---
Veteran educator Dr. Gary Stager is co-author of Invent To Learn — Making, Tinkering, and Engineering in the Classroom and the founder of the Constructing Modern Knowledge summer institute. He led professional development in the world's first 1:1 laptop schools and designed one of the oldest online graduate school programs. Learn more about Gary here.
Stop the Insanity
Simple strategies to address the growing epidemic of at-risk learners.
October 2007 issue of District Administration Magazine
When politicians shout and headlines highlight underperforming schools and children left behind, they are referring to the growing number of students labeled "at-risk." The phenomena leading to this designation include poverty, behavioral disorders and the rapidly growing epidemic of learning disabilities. "Atrisk" has really come to mean, "Not good at school." Consider the possibility that if a student is not good at school, then that school is not good for the student. Perhaps the school is at-risk.
From 1999 through 2001 I worked with MIT colleagues Seymour Papert and David Cavallo on the creation of a high-tech, multiage, project-based, alternative learning environment for incarcerated teens within the troubled Maine Youth Center. Students in a person often represent the hat trick of being at-risk-poverty, social problems and learning disabilities.
My Ph.D. dissertation documents the remarkable work of dozens of these students and shares details of constructionist learning theory, which was supported and validated by the learning environment we created. Subsequent work with large populations of at-risk students in the United States, Canada and Australia leads me to share the following, some might say radical, proposals for serving at-risk learners.
Behave in a Rational Fashion
Some define insanity as doing the same thing and expecting a different result. If a student is underperforming or not learning, subjecting him or her to more of the same, perhaps louder or for longer periods of time, will not achieve a different result. This is a punitive approach to teaching that increases student alienation.
The state of Maine freed us from all curricular and assessment requirements. This made it possible for us to focus on each learner. At the very least, every school can try fresh approaches to see if new interventions reduce the severity of the at-risk population.
Start Fresh
Treat all new students as welcome guests in your classroom. Leave their umulative folders in the file cabinet so you may get to know them without prejudice. Do not allow colleagues and past teachers to poison your relationship with students before you even get to know them.
Real Teachers Don't Need Data!
One student, Michael, was absolutely brilliant at engineering. He could assemble, test and improve a dozen robotic machines in the time it takes most people to get started. He could converse at length with MIT professors about engineering principles. Yet everything in Michael's permanent record indicated that he was illiterate. We had clues that this was a misdiagnosis,since Michael programmed computers and garnered information from books around the classroom but never made a big deal about it. Instead we focused on Michael and his current work. We provided assistance when asked and when we observed a teachable moment. A spirit of collegiality and trust was formed between us. Such a bond is critical in any productive context for learning but is often lacking in the lives of at-risk learners.
A few weeks before Michael was going to be released from the facility on his 18th birthday, he quietly sat at his computer for long stretches of time busily working on something important to him. Upon completion of this project, Michael presented us with a 12,000-word autobiography.
My colleague feigned amazement and said, "We were told you were illiterate." Michael replied, "Oh, I could always read and write, but I wasn't a very strong reader and I didn't like reading about puppies." Then his voice trailed off and he said, "I liked reading about NASA," as if to suggest that nobody cared about what he liked to read and tossed him in the illiterate bin. Michael and so many other at-risk learners suff er from what Herbert Koh calls "creative maladjustment." We found that students proud of their work maintained secret portfolios, even if they refused to produce such documentation for us.
Additional Recommendations
Here are a few additional suggestions for better educating at-risk students.
1. Move the goalposts
It may be unrealistic to believe a student years below grade-level will catch up in a few months, regardless of a teacher's brilliance. The goal needs to be what football coaches call forward progress. We need to take individual students from where they are and move them forward.
2. Be honest
Prioritize and have honest objectives. If a child is disruptive, teaching him or her Algebra 2 may be unrealistic since your real goal is for the student to behave. Institutions give grades for academic subjects, while society just worries about the student being a behavioral problem.
3. Imagine the impossible
If student discipline or behavior is your primary concern, think about the places where such problems do not exist and study them. Reflect on why such activities as summer camp, organized sports or afterschool jobs don't suffer from the same pathologies, and identify variables you may integrate in the classroom.
4. Remember that less is more
We may need to do a lot more of what we know about effective primary school teaching. Integrated studies, thematic teaching, a centers approach or storytelling as teaching offer models of engaging students without overwhelming them with different rituals and teachers and giving them insufficient time for doing quality work.
5. Stop the name calling
This one is a biggie and extends beyond blaming students for their predicament. Make a concerted effort to refrain from labeling students at-risk, under-performing, etc. Their status is not a surprise to them, and labeling them only harms their self-esteem. Other labels, often considered positive, such as "multiple intelligences learning style" also have a deleterious effect by placing students in a new set of boxes.
6. Eliminate academic competition
While competition may be human nature, it's highly destructive in the learning environment. It is only possible for students to make steady personal progress if one may comfortably read Dr. Seuss while a classmate tackles James Michener. Th e typical high school classroom sanctions ridicule and rewards degree of difficulty. This is counterproductive for at-risk learners.
7. Create authentic experiences
Disengaged students need to work on long-term meaningful work they can take pride in. Whether you embrace projectbased learning or something akin to the apprenticeship model used successfully by the Big Picture schools, students, especially those at-risk, need to be engaged in authentic experiences.
Students love teachers brave enough to maintain humane relationships with them.
8. Offer greater curricular diversity
The biggest mistake made in an effort to increase test scores is doubling up on reading and mathematics at the expense of the other subjects, especially electives. At-risk students may already dislike school. Depriving them of opportunities to learn something they like by killing-off electives, social studies, science and the arts is a recipe for disastrous dropout rates.
9. Have material rich classrooms
Learn from great kindergarten classes and make classrooms material rich. Not only should there be abundant constructive and computational technology and art supplies, but every classroom needs a wellstocked classroom library of fiction and nonfiction books at every reading level.
Allowing one of our 18-year-old students to "read" a book on tape led him to say, "This is the first time I ever saw pictures when I read." Access to such materials may quickly lead to literate behaviors. Ubiquitous access to computers may offer a opportunity for at-risk students to demonstrate expertise in a domain not dominated by teachers.
10. Let go of the checklists
Great teachers know that once interest is generated in a story or topic, connections may be made to any other subject. Your scope and sequence is less important than children learning.
11. Talk with the students
While this sounds obvious, I meet highschool-age students regularly who have never had a conversation with an adult. Sure, adults have talked at them or yelled at them or told them what to do, but an alarming number of students have never engaged in an actual intergenerational conversation among equally interested parties. Without reversing this trend, students will never be able to be productive citizens. Students love teachers brave enough to maintain humane relationships with them.
12. The "worst" students need your "best" teachers
We all know the tendency to assign the best students the finest teachers. While we may quibble over a defi nition of "best," the most flexible, creative, compassionate teachers need to work with your least successful students.
13. Keep the students engaged
The one rule in our Maine classroom was that every student needed to be doing something. Children understand this, and it's good, simple advice for educators of atrisk students as well. If one strategy isn't working, do something else.
14. Don't put students at risk in the first place
Can you imagine how much effort and suffering Michael invested in being illiterate? Wouldn't asking what he liked to read when he was seven have saved a great deal of hardship? It may take decades to overcome today's earlier and tougher calls for accountability, which result in the conditions that breed at-risk students.
Gary S. Stager, gary@stager.org, is senior editor of DISTRICT ADMINISTRATION and editor of The Pulse: Education's Place for Debate
(www. districtadministration.com/pulse).
For decades, I have marveled at the vehemence with which seemingly reasonable adults defend not teaching kids to program computers. Aside from the typical (and often dubious) justifications popularized by politicians, Hour of Code, and the Computer Science for All community, I know how learning to program in the 7th grade was an intellectual awakening that has served me well for more than four decades.
So, when #1 Canadian, Dean Shareski, posed the following tweet, I decided to take "his" question seriously and offered to speak with him about the top online. Then another person I don't know, Shana White, called in.
I hear some suggest everyone should learn to code. Ok. But should everyone learn basic woodworking? electrical work? cooking? plumbing? automotive? Those are all good things but is time part of the issue? How do all these good things get taught? Just thinking out loud.— Dean Shareski (@shareski) September 10, 2018
For what it's worth, some of y0u might find the conversation interesting or just use it to lull yourself to sleep.
You may listen to or download the podcast here.
#basta
Following speaking at the prestigious WISE Conference in Qatar (November 2017), Gary Stager delivered a keynote address on learning-by making at a conference held at The American University in Cairo. The video is finally available. Enjoy!
---
Veteran educator Dr. Gary Stager is co-author of Invent To Learn — Making, Tinkering, and Engineering in the Classroom and the founder of the Constructing Modern Knowledge summer institute. He led professional development in the world's first 1:1 laptop schools and designed one of the oldest online graduate school programs. Learn more about Gary here.
In May 2018, Gary Stager sat down with Change.School founders, Bruce Dixon and Will Richardson for their Modern Learners Podcast, to discuss learning, teaching, school improvement, and a host of other provocative topics. The title of the podcast is "The Lost Art of Teaching with Gary Stager."
You may listen to the conversation or download the audio podcast here or watch the Zoom video below.