Gary Stager's work and educational philosophy are based on four ideas.
The Piagetian idea that "knowledge is a consequence of experience."
Xenophon's admonition that "nothing beautiful can ever be forced."
Schools have a sacred obligation to introduce children to things they don't yet know they love.
Computational technology makes complexity accessible to children and allows them to solve problems their teachers may never have anticipated.
These four ideas come together in a desire to make school the best seven hours of a kid's life where she may become good at doing things and experience the satisfaction accompanying working towards continuous progress in areas that matter to her. The future viability of school depends on identifying the types of experiences we want our children to have much of the time. These experiences must benefit from being co-located in the same space at the same time and are rewarded by the participation of students. (152 words – oops!)
The slide below is being passed around the Internet by well-meaning educators.
However, such "don't do this, do that" statements from startup-culture and Silicon Valley education "experts" almost always reveal their profound ignorance of how learning occurs and children develop.
Neither question is developmentally appropriate, although the first (bad one) at least includes a chance for play, fantasy, and imagination. The latter is designed to train workers to be cogs in a system dominated by the good folks at companies like Google.
Unlike most media outlets, The Huffington Post actually pretends to take an interest in education. However, I continue to believe that their Education section was created to be an advertising platform for the truly awful film, "Waiting for Superman," remembered as the Howard the Duck of education documentaries by the three other schmucks and I who paid to see it.
Regardless of their motives, The Huffington Post, is a frequent mouthpiece for the charter school movement and unofficial stenographer for corporations trying to make a quick buck off the misery of teachers and students.
The Huffington Post recently featured an article, "The Most Popular Books For Students Right Now," authored by their Education Editor Rebecca Klein. I clicked on the headline with interest, because I'm a fan of books and reading (I know a truly radical view for an educator). What I found was quite disappointing.
Aside from the fact that six books were the favorite across twelve grade levels, the books fell into two obvious camps; books kids like and books they were required to read by a teacher.
Nonetheless, data is data and Web users like lists.
What I do not like is when basic tenets of journalism, like "follow the money," are ignored in order to mislead readers. The source for the "independent reading habits of nearly 10 million readers" is Renaissance Learning, described by The Huffington Post as "an educational software company that helps teachers track the independent reading practices of nearly 10 million students."
That's like saying ISIS is a magazine publisher Donald Trump, owner of an ice cream parlor. While factually true, this is what Sarah Palin might call putting lipstick on a pig.
Renaissance Learning is a wildly profitable company that sells Accelerated Reader, a major prophylactic device for children who might otherwise enjoy reading. The product is purchased by dystopian bean counters who view small children as cogs in a Dickensian system of education where nothing matters more than data or achievement.
Their product creates online multiple-choice tests that schools pay for in order to quantify each child's "independent" reading. If the school doesn't own the test for a particular book a kid reads, they receive no credit. Kids routinely dumb down their reading in order to score better on the quizzes. Accelerated Reader rewards compliance and speed by turning reading into a blood sport in which winners will be rewarded and their classroom combatants, punished.
Ironically, I wrote about Accelerated Reader in The Huffington Post back in 2012. (Read Mission Accomplished)
When you look at the "favorite" book list featured in The Huffington Post, please consider that kids read The Giver and The Crucible because they are standard parts of the curriculum. This tells us nothing about what kids at grades 7, 8, or 11 actually like to read. Seeing Green Eggs and Ham as the first grade winner should make you sad. Can you imagine taking a comprehension test on this classic??? How vulgar!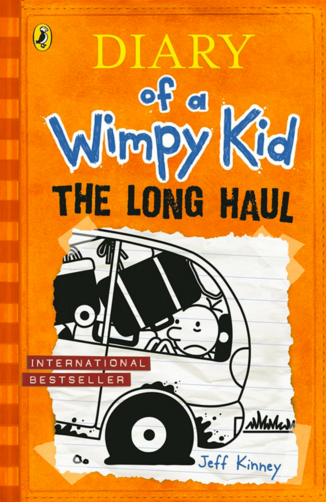 The Grade 2 favorite is also likely assigned by teachers, Click, Clack, Moo: Cows That Type. The mind reels when I try to imagine the test measuring comprehension of the comic book/graphic novel, named favorite book by 3rd, 4th, 5th, AND 6th graders, "Diary of a Wimpy Kid: The Long Haul. First of all, we should be alarmed that this simple book tops the charts for four years, but don't forget that kids will be tested by a computer on their comprehension of this delightful comic book.
"Nothing forced can ever be beautiful." – Xenophone
Caveat emptor!
I engage frequently in conversations such as the one below. These interactions take place online and face-to-face.
Well-intentioned educator: We need to teach children to make mistakes.
Me: Really? We need to teach mistake making?
Educator: Well, we need to teach them to embrace failure.
Me: There is nothing virtuous about failure. You cannot possibly motivate children with the same force you use to punish them. Besides, Papert teaches us that the best projects push up against the persistence of reality. Overcoming obstacles is natural. Failure is the imposition of judgment by others.
Educator: What I mean is that kids should be risk-takers.
Me: It doesn't seem like a good idea for adults to be encouraging children to take risks. Learning has nothing to do with risk. Risk is potentially dangerous.
Educator: We should encourage tinkering and experimentation.
Me: Why didn't you say that?
An Australian federal court just ruled for teachers in amazing fashion that should impact educational practice everywhere on earth. The court ruled that materials and tools teachers need to do their job should be paid for by their employer and not by the teachers.
Nearly a decade after my colleagues and I introduced 1:1 laptop computing to a few hundred thousand of Australian students for the purposes of project-based learning, programming across the curriculum, shifting agency from teachers to students, collaboration, and creative expression, the government of the State of Victoria discovered laptops and set forth a number of "transformative" and "revolutionary" notions of how they could use the most powerful technological tool of all-time, the personal laptop, as a way of teachers doing chores. There was no educational vision whatsoever behind the "Notebooks for Teachers and Principals Program" and subsequently as the "eduSTAR.NTP Program."
What the state department of education did was urge teachers to purchase laptops through automatic salary education schemes of between $8 and $34 Australian dollars per month (approximately $6 – $26). More than 40,000 teachers and principals participated. Who wouldn't want a top-of-the-line MacBook Pro for $26/month?
Teachers then had to do clerical work, report grades, attendance, etc… via the laptops. After about $20 million (AU) was taken from teachers this way and tens of thousands of educators got laptops, the Australian Education Union filed suit claiming that since the laptops were required by the job educators perform, their employer should pay for such hardware.
Imagine that? Teachers should have ample supplies and technology required to do their job provided for them like any other employee.
The Australian Federal Court sided with the education union and has ordered the State to refund the money educators paid for their laptops, PLUS INTEREST!
Check out just a few of the Education Union's press release:
"We are pleased that the Federal Court found teachers should not have to spend their own wage to purchase items that are essential for their work. This is a win for our members and sets an important precedent."

"Laptop computers are essential for teachers and principals. It is unreasonable for them to pay for resources that are a necessary part of their job," says Meredith Peace, AEU Victorian president."

"Teachers need computers to write school reports, respond to parent emails, develop and co-ordinate curriculum, and collaborate with colleagues. They do not sit in offices at desks, they teach in classrooms – so they need laptop computers.

"The AEU pursued this matter through the Federal Court because teachers and principals deserve the tools and resources that are essential to their jobs to be provided by their employer. To attract and retain teachers, we must provide standard professional tools."

"We argued that even if the deductions were deemed to be authorised, they were predominantly for the benefit of the Department, rather than the teachers themselves."
The union also asserted that teachers were being asked to purchase laptops in schools where students were provided them by the school/state.
"It is unreasonable to expect teachers and principals to pay for accessing their work computers. Students themselves in many schools have laptops under the one-to-one laptop program. Teachers are expected to engage their students in learning through digital devices and teach them the ICT skills they need to be successful learners in an increasingly digitised world, so they need a laptop," says Peace.
A few questions?
When will American educators sue for the supplies, tools, and technology they purchase in service of their employer?
What are the implications for your school's technology implementation?
When a teacher (or student) DOES purchase her own computer, should a school be able to restrict its use?
Congratulations to the Australian educators who spoke truth to power and won!
I'm of several minds on this decision, however for the following reasons…
Clearly teachers should use computers and if it's a work tool, the court's decision is correct.
I remain a staunch advocate for every child having 24/7 use of a fully-featured personal laptop computer. However, the Victoria laptop rollout was a vision-free clusters#ck in which none of the intellectual or creative potential of computing had anything whatsoever to do with the real or intended use of the laptops.
This is going to immediately cause problems for schools embracing laptops, even if the merits of this case are unrelated. This is because morons set education policy and anything associated with "laptop" is likely to now be viewed as toxic.