There has been some extraordinary news recently that has received very little attention in the United States or coverage by our news media. For the past two months, Australia has experienced cataclysmic flooding. The most devastated region was the State of Queensland where an area the size of France AND Germany, or larger than the State of Texas, was underwater! Imagine that!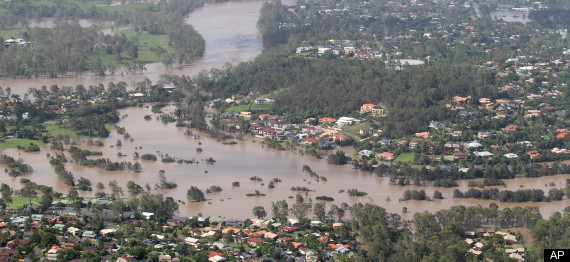 Infrastructure, crops, homes, schools, businesses were destroyed in a State representing 20% of the nation's economy. Thirty-five people died. 5% of the world's steelmaking coal exports have been removed from the world market. Soon after Queensland, the States of Victoria and New South Wales were also ravaged by flooding.
So, the first extraordinary news is that one of our closest allies has been flooding for two months and most Americans know very little about it.
The second bit of news should be at least as extraordinary to Americans. The Prime Minister and Federal Parliament announced yesterday a one-time tax levy designed to cover some of the reconstruction costs incurred by the floods. Australians earning between $50,000 and $100,000 per year will be assessed an additional 0.5 percent of their income. Australians earning more than $100,000 per year will pay an additional 1% of their income to contribute towards the massive rebuilding costs.
Australians earning less than $50,000/year OR who were victims of the flooding pay nothing.
Imagine that happening in the United States of America? Our infrastructure is crumbling and our neighbors are in need. Should the Congress decides to raise taxes for the common good? Fuggetaboutit!
Hell, we just gave an estate tax bonanza of $25,000,000,000 to 6,000 rich families and extended tax cuts to millionaire and billionaires who use teams of accountants and off-shore accounts to avoid paying taxes in the first place.
If a great American city is wiped out by a flood, we wait until Leighton Meester holds a telethon or Justin Bieber organizes a bake sale. Quick! Call a Kardashian! Surely, Jessica Simpson can save the day!
Government is to be avoided at all costs. Charity uber alles!
Last night, I was listening to the BBC coverage of the Aussie flood tax levy and the program interviewed an economist from the Westpac Bank (a major Australian bank). He casually referred to a person earning $150,000 per year as HIGH INCOME! President Obama is attacked  for attempting to define $250,000 as the upper limit of being MIDDLE CLASS! The American mythology causes voters to act against their own self-interest based on the fantasy that we will each be a billionaire any day now.
I've been asked occasionally to name my ten favorite jazz CDs. This is not necessarily the most important recordings, but my favorites.
Classical entry – Takacs Quartet – Borodin – Smetna
Pop entry = Luther Vandross – The Best of Love OR Stevie Wonder – Natural Wonder
I know it outrageous that I didn't include anything by Miles Davis (he's on the Cannonball album above) or my current favorite musician, Dianne Reeves.
2007 Grammy Award Winner!


Gary was the new media producer for this groundbreaking Grammy Award-winning music project
My tricky little pal and fellow suffering Jets fan, Will Richardson, recently tweeted asking for TED Talk suggestions to share with his family on "TED Talk" Tuesdays. Will and his wife are embarking on an interesting family event featuring dinner, a TED Talk and conversation with their teenage kids. I know how much my family learns watching Jersey Shore together, so I decided to share my parental expertise with the Richardson family via the following TED Talk recommendations.
You might find my small selection surprising:
This talk is all about connections and contrasts – beauty and science, math and art, problem solving and creativity. As a result, this brilliant presentation challenges many of the sterotypes about learning, knowledge and the scientific method perpetuated by school. You will be amazed by how the craft of crocheting led to the visualization and understanding of  centuries old theorems at the frontier of mathematics.
Majora Carter's TED Talk explores the connections between economic justice, poverty and environmentalism through community activism. Aside from the importance of this message, I selected this TED Talk because marketing and communications genius Guy Kawasaki does a masterful job of analyzing the talk line-by-line in his book, Reality Check: The Irreverent Guide to Outsmarting, Outmanaging, and Outmarketing Your Competition. Kawasaki demonstrates how Ms. Carter breaks many of the rules of public speaking while persuasively delivering a world-changing presentation. (Kawasaki's book is a must-read for educators and even high school students.)
This talk is also all about connections.
MIT Media Lab Pattie Maes and her graduate student, Pranav Mistry, demonstrate how $300 worth of consumer electronics may be worn and woven into daily life as we face a new world in which ubiquitous information is available to you as if it were a sixth sense. This video is mind-blowing and should inspire kids to learn to program computers and embrace tinkering.

You do not need to buy into any of the new age hokum being peddled by Tony Robbins to recognize that he is one of the greatest communicators alive today. His presentation style is remarkable and the impromptu exchange precipitated by Vice President Gore's heckling makes this one for the ages. There is much to learn stylistically and affectively from this performance.
Best-selling author Dave Eggers' desire to give back to his community is only matched by his passion for whimsy and sharing his love of writing with young people. This TED Talk celebrating Eggers winning the TED Prize explores how pirate supply shops and superhero stores may serve as incredibly rich non-school learning environments where children become writers by writing with expert adult writers. Put aside Eggers' nod towards school and homework and consider the powerful ideas of apprenticeship, access to expertise, community of practice and how we might all create productive contexts for learning.
If you want to go beyond five recommendations, might I suggest the two TED videos exploring El Sistema, the Venezuelan Youth Orcestra program and remind yourself of what the performing arts mean to a culture.
Steve Hargadon, the Maury Povich of edtech, will interview me later today for a freewheeling webinar entitled, Inside the Mind of Gary Stager, for his Future of Education series..
http://www.stevehargadon.com/2011/01/live-interview-on-january-25-inside.html
The webinar is at 8 PM Eastern/5 PM Pacific time. Be there! Aloha!
I just received the following email with the subject above. It's a political critique of Governor Christie by my 13 year-old nephew, Mathew. I've posted it here verbatim.
That's it Christie! I'm moving to Nauru!
We are cheating our students by turning reading into a game of dodgeball.
There is lots of talk about games and education these days. Educators mystified by students' indifference to schooling are all too easily taken in by slick talkers drawing grandiose conclusions from some kids' love aff airs with video games. Rather than take the steps necessary to make school more social, teachers more engaging, and curriculum more relevant, we either shift blame to parents, TV and hip hop, or seek salvation in the lessons of Grand Theft Auto.
Kids have always spent long periods of time engaged in activities different from those valued by school. Most display a talent for developing an encyclopedic knowledge of topics from dinosaurs to sports statistics to gossip. Children whose passion or aptitudes happen to match the tested curriculum are declared "good students."
While we marvel at the intensity and focus required for children to achieve video game success, we are quick to label the same children as having attention deficits while in class. The capacity of children for intensity is squandered by mountains of worksheets, timed tests and other curricular contradictions.
Students as Workers
While we obviously recognize the value of play in video games, we cancel recess and build schools without playgrounds, referring to students "as workers." As fewer children enjoy the sportsmanship and healthy competition learned from a friendly game of kickball with classmates, they have been transformed into soldiers in a high-stakes political game of international economic competitiveness.
Perhaps there are many more distractions facing children today, but great teachers continue to create environments where their students want to be and to learn. The answer to bad teaching is better teaching, not another worksheet, get tough movement or quick fix. The sad truth is that schools may be better at destroying interest in a subject than inspiring it.
A friend used to require his students to write a weekly television show review. This satisfied a variety of language arts objectives and shared the unintended consequence of the traditional book report: Students' interest in TV would decrease with each report required.
Illiteracy is not a problem among preschoolers. Every toddler enjoys books. It isn't until children attend school that they begin to feel self-conscious or failures as readers. We tell kids what to read. We interrupt their reading with comprehension quizzes. We rush, test, score, fail and recover them. We reduce the world of literature to "Fawn at Dawn." In way too many cases, school has a highly effective prophylactic affect on reading. An alarming number of learning disabilities result.
Winning Points
Too often, schools respond to the literacy crises they create by turning reading into a game. I remember being told that I read 750 words per minute, a feat unmatched by TV's Steve Austin. The secret behind my bionic ability was a talent for guessing answers to multiple-choice questions, not superhuman comprehension.
Many classrooms today use a popular software program to test student reading. No longer do students read for pleasure or information. They read to win points in a misguided effort to mechanize teaching and learning. This perverse notion of motivation turns reading into a contest with winners and losers. Strong readers choose simpler books to rack up points quickly, while struggling readers are humiliated by the public nature of their scores.
Guess what? Teachers tend to become dependent on teacher-proof systems and stop exercising professional judgment. While the company behind this system has been very nimble and creates tests for new books, teachers are unlikely to value the reading of a book not in the system.
Reading for fun wastes time you could spend crushing your classmates. With score tables automatically generated and parents alerted to their child's pole position, teachers will invariably use the points in grading students regardless of the program's intent.
Turning reading into a game is neither effective nor very good for inspiring lifelong readers.
Originally published in District Administration Magazine – April 2008
Although it would be insensitive to use violent rhetoric this week, I have a few wishes for Sunday…
I hope the New England Patriots get so caught-up watching stolen Jets film that they forget it's game time!
I hope the New England Patriots eat a bad batch of baked beans and tainted scrod at their team dinner.
I hope the New England Patriots are detained by Sgt. James Crowley while entering their own homes Sunday.
I hope the New England Patriots throw their backs out shoveling their driveways.
I hope the New England Patriots have to wait at home Sunday for the cable guy.
I hope the New England Patriots have to appear in court Sunday to make their child support payments.
I hope the spleens of the New England Patriots spontaneously fall out of the bodies.
I hope the New England Patriots slip and fall on a really big banana peel. That would be so hilarious!
Last week, my 7 year-old nephew, (let's call him) Homer, brought home another stupendous homework assignment. He was required to read a phonics primer to his parents, get his parents to sign that they had been sufficiently tortured by the experience and then answer comprehension questions on a worksheet.
The book was titled, Fawn at Dawn.
Here is an excerpt from this classic tale…
I saw a fawn. I saw a fawn at dawn… I saw a fawn at dawn on my lawn…"
Homer then whipped out his worksheet and assumed the role of literary critic.
Question #1: The story was about?
The story was about a girl named Jenny who saw a fawn, but nobody believed her.
Question #2: Favorite part of the book?
The end because the story was very porly (sic) written
The teacher corrected the spelling of "poorly" despite the mistake being wholly consistent with phonics instruction. Then things began to get a bit ugly.
Question #3: Who else do you think would like this book?
I don't think anyone would like this book. It's just aw aw aw awful!
On Homer's paper the teacher wrote something to the effect of "I'm sorry you didn't like it. I guess you have the right to your opinion." (as if she LOVED the book) In class the teacher dismissed Homer's critique by reminding the kids that this was a phonics lesson so the stories don't have to be good.
The moral of this story?
Homer has been reading fluently for three years and loves books, but this one-size-fits-all assignment made no allowances for his skill or personal interests. In fact, there would be no time for pleasure reading that night because by the time this second grader gets off the bus at 4:30 PM, does his homework and eats dinner there is rarely any time left to waste on playing with friends, practicing an instrument, visiting with his parents or reading a good book.
Couldn't Homer read a real book and make a list of the "aw" words he encountered?
If I were to suspend my disbelief and stipulate that every child learns to read by systematically mastering 43 phonemes I am left with a simple question. Once a child can read shouldn't phonics instruction end? Why has phonics become a separate subject rather than a decoding strategy?
Why should Homer and his literate friends be subjected to crummy reading materials until middle school when a bumper crop of high-quality high-interest literature is available?
Originally published Sunday, March 18, 2007 in The Pulse: Education's Place for Debate
I am enormously pleased to share some great news.
I am honored to be invited to serve as a Senior Education and S.T.E.M. Consultant with Fielding Nair International. Fielding Nair (FNI) is widely heralded as the best school design and architecture firm in the world. FNI does not just build boxes for children, they view their mission as "Change Agents for Education."
Three years ago, I met FNI partner Prakash Nair at the first Educon and was blown away by his passion for progress and knowledge of learning theory. I rarely meet education scholars who know as much about the history of school reform or how learning occurs as Prakash does.
I am quite fortunate in that my work takes me to public, private, charter and international schools around the world. I work in hundred year-old buildings and brand new schools. One of my clients is a brand new 500,000 square feet international school. I am often amazed by how new schools continue to be constructed ignoring all of the lessons of the past and doing little to prepare for the future of learning.
Spend some time watching the videos of Fielding Nair's work or tour some of their design projects and you are sure to be impressed. It's an honor to join old friends and respected educators, like Dr. Stephen Heppell, on the FNI team. I look forward to helping them change the world for kids.
My (excessively long) bio from the site may be found here.
Note: I wrote this article in 1993, three years after I began at working at the world's first two laptop schools, including Melbourne, Australia's Methodist Ladies' College. By 1993, I had worked in dozens of Aussie "laptop schools." It would still be several years before American schools began to embrace 1:1 computing.
"…Only inertia und prejudice, not economics or lack of good educational ideas stand in the way of providing evety child in the world with the kinds of experience of which we have tried to give you some glimpses. If every child were to he given access to a computer, computers would he cheap enough for every child to he given access to a computer." – Seymour Papert and Cynthia Solomon (1971)
It took eighteen years since Papert and Solomon published this prediction, but in 1989, Methodist Ladies' College (MLC) in Melbourne, Australia embarked on a learning adventure still unparalleled throughout the world. At that time the school made a commitment to personal computing, LogoWriter, and constructionism. The unifying factor would be that every child in the school (from grades 5-12) would own a personal notebook computer on which they could work at school, at home, and across the curriculum with a belief that their ideas and work were being stored and manipulated on their own personal computer. Ownership of the notebook computer would reinforce ownership of the knowledge constructed with it. The personal computer is a vehicle for building something tangible outside of your head – one of the tenets of constructionism. By 1994, 2,000 teachers and students will have a personal notebook computer. [at MLC alone]
Personal computing in schools not only challenges the status quo of computers in schools, but creates new and profound opportunities for the teaching staff at MLC. Schools often take computers so seriously (ie… hiring special computer teachers, scheduling times at which students may use a computer) that they trivialize their potential as personal objects to think with. Computers are ubiquitous and personal throughout society, just not in schools.
The challenge of getting 150 teachers to embrace not only the technology, but the classroom change that would accompany widespread and continuous LogoWriter use was enormous. Thus far the school's efforts have paid off in a more positive approach to the art of learning on the part of students and teachers. MLC has provided their staff with varied and numerous opportunities lo grow and learn as professionals.
A Critical Choice
The laptop initiative inspired by Liddy Nevile and MLC Principal, David Loader, was never viewed as a traditional educational research experiment where neither success or failure mattered much. Personal computing was part of the school's commitment to creating a nurturing learning culture. Steps were taken to ensure that teachers were supported in their own learning by catering to a wide range of learning styles, experiences, and interests. It was agreed that personal computing was a powerful idea more important than the computers themselves. What was done with the computers was of paramount importance. LogoWriter was MLC's primary software of choice.
Although educational change is considered to occur at a geologically slow pace, the MLC community (parents, teachers, students, administrators) has immersed itself in some areas of profound growth in just a few short years. The introduction of large numbers of personal computers has served as one catalyst for this "intellectual growth spurt." MLC teachers routinely engage each other in thoughtful discussions of learning, teaching, and the nature of school. While similar conversations undoubtedly occurred prior to the introduction of personal computing, today's discussions are enriched by personal learning experience and reflections on the learning of their students in this computer-rich environment. Traditional curricula, pedagogy, and assessment are constantly being challenged. One teacher recently suggested that mathematics no longer be taught. Such an idea would have been unthinkable in a conservative church school ten years ago.
Teachers in many schools rightfully view the computer with suspicion as just one more mandated fad or as a threat to their professionalism as large Orwellian teaching systems are unloaded on the market place. The national average of students to computers in the United States is nineteen to one. The State of Florida recently announced that it will spend $17 million (US) in 1992-93 to rewire schools in order to make way for computers.' $17 million could buy at least 20,000 students their own notebook computer. Schools routinely spend a fortune building fortresses, called computer labs complete with special furniture.2
The personal computing experience at MLC has been different. In less than four years, 1600 children and teachers have personal computers and approximately 40 teachers in one school have made LogoWriter part of their repertoire. Some schools spend more time deciding on a spelling workbook. Given the changes that have accompanied classroom computer use, this initiative would have been cheap at twice the price. 3
Challenging Our Notions of School
The act of asking every parent to purchase a notebook computer for their child3 was not nearly as courageous or challenging as the way in which MLC has chosen to use computers. The quaint idea of drilling discrete facts into kids' heads with computer-assisted instruction was dismissed and so was the metaphor of the "computer as tool." The popular tool metaphor is a based on the business paradigm of increasing productivity and efficiency. I would argue that there is seldom an occasion in school when the goal needs to be increasing a student's efficiency or productivity. The discussion of educational tools is an odd phenomenon. One would be hard pressed to find another example of the tool metaphor used historically in education literature. Critics would suggest that the tool metaphor is the result of commercial forces.
MLC has chosen to guide its thinking about personal computing by the ideas of "constructionism" and by viewing the computer as "material." Constructionism is the idea of Jean Piaget and extended by Seymour Papert to mean that learning is active and occurs when an individual finds herself in a meaningful context for making connections between fragments of knowledge, the present situation, and past experiences. The person constructs her own knowledge by assembling personally significant mental models. Therefore you learn in a vibrant social context in which individuals have the opportunity to share ideas, collaborate, make things and have meaningful experiences. After the first year of using laptops, the seventh and eighth grade humanities teachers asked for History, English, Geography and Religious Education to be taught in an interdisciplinary three-period block. This scheduling modification allowed for students to engage in substantive projects.
The computer as material metaphor is based on the belief that children and teachers are naturally talented at making things. The computer should be seen as an intellectual laboratory and vehicle for self-expression – an integral part of the learning process. In this context a gifted computer-using teacher is not one who can recite a reference manual, but one who can heat-up a body of content when it comes in contact with the interests and experiences of the child. This teacher recognizes when it might be appropriate to involve the computer in the learning process and allows the student to mold this personal computer space into a personal expression of the subject matter.
Staff Development
MLC's visionary principal, David Loader, once said, "We have not yet discovered truth." This idea is at the core of MLC's approach to staff development. While every teacher is expected to use technology in appropriate ways, their learning styles are respected and catered for via a range of professional learning opportunities. In-classroom consultants such as myself, visiting experts, conference participation, peer collaboration, university courses, courses offered by the school's community education department, and residential whole-learning experiences all accompany the common afterschool workshop. Teachers have identified that sharing ideas with colleagues and the residential events have been their most rewarding staff development experiences.
I have led four multi-day residential inservices at which teachers learn about learning, Logo, themselves, and each other in a playful collegial environment. The quality of the experience for most teachers and successful learning outcomes of the "Logo slumber parties" makes the cost of sending fifteen teachers to the Hilton for three days inexpensive when compared with the cost of a never-ending series of ineffective two-hour afterschool workshops from here to eternity. MLC also recognizes two outstanding LogoWriter-using teachers by reducing their number of classes and asking them to assist other teachers in their classrooms. It is not uncommon for one teacher interested in sharing a recent insight to voluntarily offer a workshop for colleagues.
Teachers at MLC were introduced to computers by being challenged to reflect on their own learning while solving problems of personal significance in the software environment, LogoWriter – the software the students would be using. I would argue that educational progress occurs when a teacher is able lo see how the particular innovation benefits a group of learners. These teachers come to respect the learning processes of their students by experiencing the same sort of challenges and joy. The teacher and learner in such a culture are often one-and-the-­same. Other teachers find the enthusiasm and pride of their colleagues infectious. MLC is using LogoWriter to help free the learner to express herself in unlimited ways – not bound by the limits of the curriculum or artificial (school) boundaries between subject areas.
LogoWriter (and its new successor, MicroWorlds) are the result of twenty-five years worth of research by Seymour Papert and his colleagues at MIT. Papert has been committed to extending the ideas of Piaget by designing open-ended software construction environments in which learners could express themselves in undetermined ways and make connections between personal interests, experiences, and knowledge.
Hundreds of thousands of teachers around the world use Logo in their classrooms.
Students at MLC have used LogoWriter across the curriculum in numerous and varied ways. A student designing a hieroglyphic word processor, a longitudinal rain data grapher, or Olympic games simulation must come in conlact with many mathematical concepts including randomness, decimals, percent, sequencing, cartesian coordinate geometry, functions, visual representations of data, linear measurement and orientation, while focusing on a history topic. An aspect of ancient Egyptian civilization was brought lo life by first drawing Egyptian urns and then designing pots that portrayed contemporary Australian life. Their teacher remarked at how traditional pencil and paper artistic skills no longer created an inequity in personal expression. A sixth grade girl was free to explore the concept of orbiting planets by designing a visual race between the planets on the screen. The more the student projects blur the distinctions between subject areas, the more the curriculum is rethought. Fantastic examples of student work abound.
Two particular projects by MLC students warrant attention because of the ways in which they challenge us to rethink the organization of schools. Seventh grade students were assigned the task of designing a LogoWriter program to solve a linear equation, such as 3X + 4 = 16. While such a task is typically too advanced for twelve-year-old students, the girls at MLC have gained much mathematical experience through their computer use and are therefore capable of solving such problems. One girl went well beyond the assignment of solving the equation by not only writing a computer program to solve similar equations – she created an elaborate cartoon of a girl walking into her bedroom, complaining to her mother about her difficult math homework, and then a magical computer appeared and showed the user how to use the equation solving program. The student extended the typical dry algebra assignment with great joy by demonstrating her creative art and communications abilities. Another student's linear equation solving program included the playing of a complete Mozart sonata. Every note of the sonata had to be programmed in a way the computer understands. The mathematical experiences of both students were greatly enhanced because their computing environment allowed them to express their mathematical knowledge in their own voice. There is great hope for schools when student's interests and experiences are encouraged to converge with the teacher's curriculum.
Another example 1 wish to share illuminates how teachers have been forced to reflect on their role in the learning process and take action based on observations of student learning in the computer-rich environment. The French teacher at MLC was provided with a French language version of LogoWriter. It was originally thought that their students might find it interesting to "speak" to the computer in another language. One French teacher was intrigued by the idea, but did not know anything about LogoWriter. She felt comfortable asking a math teacher for help ­this type of professional collaboration is now commonplace at MLC.
The math department offered some eighth grade girls the opportunity to do their math assignments, not only on the computer, but in French. Students in several classes were intrigued by the challenge. A math teacher asked his colleague how to say a few phrases in French so that he could leave comments in French on their students' projects. This teacher's demonstrable respect for his student's work and colleague's subject area is exceptional by contemporary standards.
A few weeks passed before the French teacher visited the math class. The teacher was not only pleased to observe the students learning mathematics, computer programming, and French, but was ecstatic to find that the girls spontaneously speaking French. This veteran teacher later reported that she had never witnessed students of this age actually speaking French outside of a French class lesson. In the LogoWriter environment language is active ­the computer does something if you combine words in the right or wrong way and you receive immediate feedback.
This experience has caused a small group of teachers from a variety of disciplines to propose that the school allow them to create a French immersion class in the junior secondary school. Teachers who have not used much French since university are so excited by the learning of their students that they arc willing to practice the language along­side the students they are teaching. Now, one year-seven class does all of their LogoWriter assignments in French LogoWriter. This sort of professional risk-taking is more common in constructionist environments than in traditional school settings. Risk-taking is an essential element of self-esteem and a critical characteristic of great teachers.
Another language teacher at MLC recently remarked that there seemed lo be much more talk of French LogoWriter use by other subject teachers than in the language department. There may be something important in her observation. Perhaps the language department does not see the use of Logo in their discipline as revolutionary. However, mathematics, science, and humanities teachers are now excited about French!
Challenges for the Future
MLC faces the obvious challenges associated with helping teachers become better Logo programmers keeping the computers functioning. MLC also needs to encourage the collection of "Logo literature" – a canon of exemplary LogoWriter projects that may be deconstructed by other students and become part of the school's culture. We are also working to provide students with opportunities to create more interactive programs. Most of the LogoWriter projects designed by MLC students have been expository in nature – databases, reports, tutorials. Much has been accomplished using very little LogoWriter. This is both a tribute to the MLC teachers and to LogoWriter itself.
The solutions to challenges, such as the one posed by David Loader, that "schools are not always very good places for children," or James Britton's, "schools must be more hospitable lo children's intentions," are much less obvious.
There is a belief among many teachers that constructionism, Logo, freedom, respect – whatever you wish to call it – is appropriate only for the students who have demonstrated educational achievement in the traditional ways. These teachers also believe that while they are capable of teaching in a constructive environment, the majority of their colleagues are not. This belief structure leads to depriving many students of potentially rewarding experiences and prevents more teachers from serving their students.
Kids have much more ability and enthusiasm as learners than schools often ask them to exhibit. Most teachers are better than schools ever give them the opportunity to demonstrate. We must create an environment in which teachers will feel secure in creating open-ended learning opportunities for all of their students.
A concrete example of how this phenomenon manifests itself is in the way mathematics and Logo are treated in MLC's junior secondary school (grades 7-8). The standard syllabus is still followed, without enough concern for the new insights the students have as a result of their Logo-use. A syllabus of conservative teacher-conceived LogoWriter projects is assigned each year and teachers are given solution sheets for the assignments. It is amazing how quickly the solutions given to well-meaning mathematics teachers find their way into the students' projects. The primary purpose of using LogoWriter in the domain of mathematics is for the learner to confront intellectual obstacles that need to be overcome. Learners need time to develop such strategies. Handing a student a solution sheet prematurely prevents the student from mathematical understanding any deeper than that derived from "full-frontal teaching" and the student is also unlikely to gain any programming fluency. Teachers are often too concerned with covering curriculum, student "success," and the calendar.
This is understandable. No adult wants to see a child fail, although we create such opportunities with regularity. When a year-seven teacher can't trust what the year-six teacher does and the year-eight teacher does, they must reinvent the subject each year in a teacher-centered way. The two year seven girls designing a LogoWriter tennis game are exploring many sophisticated mathematical concepts at an appropriate time for them, but a teacher of 30 kids who teaches something called, year-seven mathematics, cannot depend on serendipity. This teacher would feel more confident that all students would learn important knowledge and problem solving strategies if their entire school experience was one that respected tennis video games or student designed software tutorials on how to annoy other people. A school that creates these sorts of personal learning opportunities on a regular and ongoing basis, can depend on students learning most of the important mathematical concepts in a much more meaningful way, perhaps not always in the same sequence. The Western tradition of schools conspires against such meaningful learning.
The greatest enemy of understanding is coverage. As long as you are determined to cover everything, you actually ensure that most kids are not going to understand. You've got to take enough time to get kids deeply involved in something so they can think about it in lots of different ways and apply it – not just at school but at home and on the street and so on. (Howard Gardner, 1993)

The entire point of all of the examples I have given is that computers serve best when they allow everything to change. (Seymour Papert, 1993. Page 149)
Teachers are not to blame for this situation. Most work in a repressive environment, mired in archaic traditions, and incapable of the "mega-change" discussed by Papert and underway at MLC. What schools must realize is that instruction leaves much more to chance than construction. We have seen the disappointing result of traditional schooling's reliance on instruction. The issue is more complex than merely asking, "Can we do any worse?" Logo-using teachers at schools like MLC have "lived" in environments in which students love learning. These professionals know that all children are capable learners. Their insights, ideas, and experiences must be trusted. Their learning stories and those of their students must be shared.
Teachers need to work in an environment that respects their personal insights and encourages routine to derive from their practical experiences. There is a menacing voice in the heads of many teachers that tells them to teach in other ways than they know are successful and rewarding. The pressing question becomes, "What sorts of schools can we design that will make the voice in our head supportive of our posi tive honest experiences as teachers and learners?"
Einstein was quoted as saying, "Education is wasted on youth." I would like to play with this idea by proposing that, "Schools are wasted on adults." An honest appraisal of traditional schooling would show how schools have been created to meet the needs of adults: childcare; passing-down traditions and morality; transmitting knowledge deemed valuable by a select group of adults. MLC is working to become a model for schools committed to creating rich environments that respect the learning of students and value the insights of adults.
NOTES
Electronic Learning Magazine – September, I992
Corporations, such as Apple Computer, must realize that it is possible to do good and to do well simultaneously. It makes a lot more sense to sell 1,000 notebook computers to a school than to sell 10 for a computer lab. During the summer of 1992 Powerbook 100 notebook computers were being liquidated by Apple for less than $800 each. Perhaps hardware manufacturers will wise-up some day and market such low-cost powerful computers to K-12 schools.
Each MLC teacher interested in owning a personal notebook computer received a substantial subsidy from the school in order to purchase a computer. The school decided against fully funding the computer for two reasons. a) The teacher had flexibility to purchase the computer that met his/her specific needs and b) Teachers were being asked to make a personal commitment to personal computing. Each year a $400-$700 stipend has been available to teachers interested in upgrading their hardware or purchasing peripherals.
BIBLIOGRAPHY
Brandt, R. (1993), "On Teaching for Understanding: A Conversation with Howard Gardner," Educational Leadership. April, 1993.
Franz, S. & S. Papert (1988), "Computer as Material: Messing About with Time," Columbia Teachers College.
Record.
James, M. (1993), "Learners and Laptops," Logo in Our Laps, Melbourne, Australia: MLC (In press)
Loader, D. (1993), "Restructuring an Australian School," The Computing Teacher. March, 1993.
Loader, D. & L. Nevile (1991), "Educational Computing: Resourcing the Future," IARTV Occasional Paper.
Jolimont, Australia: September, 1991.
Papert, S. (1993), The Children's Machine: Rethinking School in the Age of the Computer. NY: Basic Books.
Papert, S. (1987), "A Critique of Technocentrism in Thinking About the School of the Future," Transcription of a speech presented at the Children in an Information Age Conference in Sofia Bulgaria, May 19,1987.
Papert, Seymour (1981), Mindstorms: Children, Computers, and Powerful Ideas. New York: Basic Books.
Solomon, C. & S. Papert (1972) "Twenty Things to Do With a Computer," Educational Technology.