Putting blogger, Emily Gould, on the cover of last Sunday's New York Times Magazine set off a firestorm among the chattering classes of traditional media and the blogosphere.
The Los Angeles Times discusses the controversy and whether Ms. Gould's blog-fueled fame/exhibitionism is worthy of such prized New York Times real estate.
Marcia Meier, director of the Santa Barbara Writer's Conference, writes in the Huffington Post, "At Least She's Writing…" in an article that makes arguments Will Richardson might share.
Prince ordered YouTube to take down clips of him performing a song by the band Radiohead. Prince claimed copyright infringement, yet he doesn't hold the copyright to the song. YouTube acquiesced nonetheless.
In a recent interview, Thom Yorke said he heard about Prince's performance from a text message and thought it was "hilarious." Yorke laughed when his bandmate, guitarist Ed O'Brien, said the blocking had prevented him from seeing Prince's version of their song.

"Really? He's blocked it?" asked Yorke, who figured it was their song to block or not. "Surely we should block it. Hang on a moment."

Yorke added: "Well, tell him to unblock it. It's our … song."
Prince, a pioneer in Internet distribution of music, has taken down all of his web properties. Perhaps free turns out to be expensive for the artist.
Read the entire story and weigh-in on the controversy for yourself.

Only a few days remain for early-bird registration!
Save $50
Attendees get free software from Tech4Learning (Frames, Pixie, ImageBlender, WebBlender, Twist)and LCSI (MicroWorlds EX) in addition to four days worth of immersive project-based learning, world-class guest speakers and terrific social events.

Constructing Modern Knowledge
Hosted by Dr. Gary Stager
July 28-31, 2008
Manchester, NH
For more information, go to www.constructingmodernknowledge.com.
Sponsored by The Constructivist Consortium and the Anytime Anywhere Learning Foundation
One of the unintended consequences of the World Wide Web is I get to read terrific and inspirational commencement addresses like this one by author and human-rights activist, Samantha Power.
A couple of the messages Power shared with Pitzer graduates…
There are great benefits to connectedness, but we haven't wrapped our minds around the costs. Comedy Central would happily hire a limo to take Steven Colbert to and from work every day. But he says he wouldn't be funny if he didn't drive himself home. On his drive from New York to New Jersey, he puts the devices away and lets his mind drift … with side-splittingly funny results. Many of the best decisions you make in life will come from listening not to your parents, not to your horoscope, and not to your MySpace visitors. Your best decisions will come after you have placed a metaphorical stethoscope up to your gut and managed to listen to yourself. These days it can be hard to hear oneself amid the din, but try!!
and
Put one foot in front of the other for as long as you can afford to, rather than trying to map your way to the winner's platform…
Read the entire message here.
Read about Ms. Power's Pulitzer-Prize winning book, A Problem from Hell: America and the Age of Genocide.

I rented a new Ford Focus. The car is stylish for a no-frills sedan. It even comes equipped with Sync by Microsoft.
I've seen the TV commercials for Sync, but what it actually does remains hazy. But heck, the combination of Microsoft and Ford can mean nothing less than engineering magic. Who can resist strapping themselves into the love-child of the companies who brought America Windows Vista and the Pinto. (Don't forget Bob)
During the trip from NY to DC I decided to put Sync through its paces. I thought that clicking on the button with a phone icon would allow me to sync with my iPhone. Then I could do something space-age like talk on the telephone while driving.
The problem is that no sequence or combination of button pressing would sync the phone and Knight Rider. Disappointed, I decided to surrender and listen to the radio – kicking it old school while cruisin' down I-95.
Alas, listening to the radio was impossible. Sync was hung in an unbreakable loop.
So, for the first time in my life I had to stop at the next rest area and reboot my car!
Gee, thanks Microsoft!
PS: I still have no idea what Sync does.

A McCain Court Could Overturn Roe In "Maybe A Year"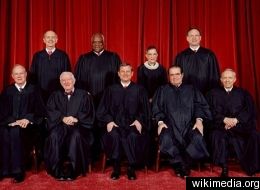 The Pulse: Education's Place for Debate is going through a transitional phase, so you may have missed some of my recent blogs there.

Digital Native Theory Further Disproved
Willfully Ignoring the Lessons of the Past
Alfie Kohn's Latest Masterpiece
Public Schools?
You may subscribe to the RSS Feed for The Pulse: Education's Place for Debate with http://blogs.districtadministration.com/thepulse/rss.xml
Although I've been incredibly critical of Ed in '08, they are giving out awards for education bloggers next week in Washington D.C. Wouldn't it be ironic if someone so critical of Bill Gates and Eli Broad turning schools into Dickensian sweatshops won an award from that organization?
C'mon friends, Romans and twitterers! Can we do it? Yes, We Can!
Go to http://edin08.com/bloggersummit/bloggerpoll.aspx
and vote for any or all of the following blogs:
http://districtadministration.com/pulse/resultpage.aspx?bloggerid=5
http://blogs.districtadministration.com/thepulse
http://www.districtadministration.com/pulse/commentpost.aspx?news=no&postid=48233
http://www.stager.org/blog
I thank you!

Big news!
I could not be more thrilled to have been invited to be a contributor to The Huffington Post. I have read The Huffington Post since the day it launched and am extremely honored to be associated with this ground-breaking publication.
My first article just went live on the Politics page of The Huffington Post. The article is called, "The Surge Against First Graders."
If the article is pushed off the main (politics) page, it may be found here: http://www.huffingtonpost.com/gary-stager/the-surge-against-first-g_b_100456.html
My page for future articles is: http://www.huffingtonpost.com/gary-stager/ This is in addition to my own blog at http://www.stager.org/blog and http://www.districtadministration.com
While checking out my article, feel free to share the love and leave a comment or Buzz-Me-Up! Education needs more critical analysis and reportage. I am humbled that the Huffington Post has given me this opportunity to reach such a large audience.
Gary

Check out Constructing Modern Knowledge
July 28-31, 2008 – Manchester, NH
www.constructingmodernknowledge.com