A response to the plethora of articles spouting hooey similar to this article – Saving Computer Science from Itself
(Regrettably, I will undoubtedly be compelled to write more on this topic in the future. In the meantime, here is my answer to the "should we teach kids to code" argument)
As someone who has taught countless children (from preschool) and their teachers to program across the curriculum for 34 years, I disagree with lots of the arguments in this article. I agree that we have done an awful job of defining CS AND reaching any rational consensus of why it is critical that every child learn computer science.
The larger argument I would like to make is that this is not a matter of opinion.
Programming gives children, every child, agency over an increasingly complex and technologically sophisticated world. Computer science is a legitimate science; perhaps the most significant advancement in science of the past century. It is foundational for all other science. THEREFORE, IT MUST BE TAUGHT AND USED WELL BY EVERY CHILD. Computer science gives kids access to complexity and provides an authentic context for learning the crummy mathematics content we dispense to defensless children.
One might also discuss the terrible (or nonexistent) job we do of teaching ANY science to children (below secondary grades). Oh yeah, add art, instrumental music, civics, mathematics, and history to that list as well.
The difference between Computer Science and all of the other stuff we don't bother to teach is the vehemence with which nearly two generations of educators have fought to democratize computer science and keep it out of the classroom. There are countless examples of far less relevant and less fun bullshit we fill kids' school days with.
Furthermore, ISTE cannot be trusted to play any leadership role in this effort. They have disqualified themselves from having any voice in discussions about the future of computing in schools. I signed the ISTE charter, edited their last computer science journal for several years, and have spoken at the last 28 of their conferences. I even co-authored the cover story for the last issue of their magazine, "Learning and Leading with Technology." However, ISTE's self-congratulatory pathetic "standards" for educational computing do not contain the word, "programming," anywhere. There are no powerful ideas they embrace, just some mindless notion of "technology good."
I've written about ISTE before:

Refreshing the ISTE Technology Standards
Senior Editor Gary Stager interviews Don Knezek, CEO of ISTE, on the revised National Educational Technology Standards(NETS). Plus: Stager's perspective.
Published in the June 2007 issue of District Administration

The ISTE Problem
ISTE's vague standards and an exclusionary "seal of alignment" make one wonder whose side the group is on.
Published in the February 2003 issue of District Administration
Why not ask the Wolfram brothers or Seymour Papert about the value of children programming? Why are we relying on the "vision" of politicians or tech directors whose primary concerns are about plumbing and getting Math Blaster to run on Chromebooks connected to an interactive whiteboard?
The UK example is exactly NOT what we should be doing. Their curriculum (scope, sequence, content) makes no sense and bares very little resemblance to computer science. Like other "Coding" or ill conceived computer science curricula written by government committee, the UK curriculum doesn't even need a computer. AND when you make a hierarchical curriculum, IF needs to be in 2nd grade while THEN gets introduced in a subsequent year. The only way you become good at computer science is by revisiting ideas and techniques in lots of projects – just like in any other medium.
Puzzles are not CS. An hour of "code" is not CS. Using Scratch for a few sessions or storyboarding are not CS.
There is no length to which people will not resort to deprive children of learning to program computers.
Oh yeah, the issues of efficacy, equity, etc you mention have been studied for decade. We know what to do.
I could go on….
Gary Stager's work and educational philosophy are based on four ideas.
Unlike most media outlets, The Huffington Post actually pretends to take an interest in education. However, I continue to believe that their Education section was created to be an advertising platform for the truly awful film, "Waiting for Superman," remembered as the Howard the Duck of education documentaries by the three other schmucks and I who paid to see it.
Regardless of their motives, The Huffington Post, is a frequent mouthpiece for the charter school movement and unofficial stenographer for corporations trying to make a quick buck off the misery of teachers and students.
The Huffington Post recently featured an article, "The Most Popular Books For Students Right Now," authored by their Education Editor Rebecca Klein. I clicked on the headline with interest, because I'm a fan of books and reading (I know a truly radical view for an educator). What I found was quite disappointing.
Aside from the fact that six books were the favorite across twelve grade levels, the books fell into two obvious camps; books kids like and books they were required to read by a teacher.
Nonetheless, data is data and Web users like lists.
What I do not like is when basic tenets of journalism, like "follow the money," are ignored in order to mislead readers. The source for the "independent reading habits of nearly 10 million readers" is Renaissance Learning, described by The Huffington Post as "an educational software company that helps teachers track the independent reading practices of nearly 10 million students."
That's like saying ISIS is a magazine publisher Donald Trump, owner of an ice cream parlor. While factually true, this is what Sarah Palin might call putting lipstick on a pig.
Renaissance Learning is a wildly profitable company that sells Accelerated Reader, a major prophylactic device for children who might otherwise enjoy reading. The product is purchased by dystopian bean counters who view small children as cogs in a Dickensian system of education where nothing matters more than data or achievement.
Their product creates online multiple-choice tests that schools pay for in order to quantify each child's "independent" reading. If the school doesn't own the test for a particular book a kid reads, they receive no credit. Kids routinely dumb down their reading in order to score better on the quizzes. Accelerated Reader rewards compliance and speed by turning reading into a blood sport in which winners will be rewarded and their classroom combatants, punished.
Ironically, I wrote about Accelerated Reader in The Huffington Post back in 2012. (Read Mission Accomplished)
When you look at the "favorite" book list featured in The Huffington Post, please consider that kids read The Giver and The Crucible because they are standard parts of the curriculum. This tells us nothing about what kids at grades 7, 8, or 11 actually like to read. Seeing Green Eggs and Ham as the first grade winner should make you sad. Can you imagine taking a comprehension test on this classic??? How vulgar!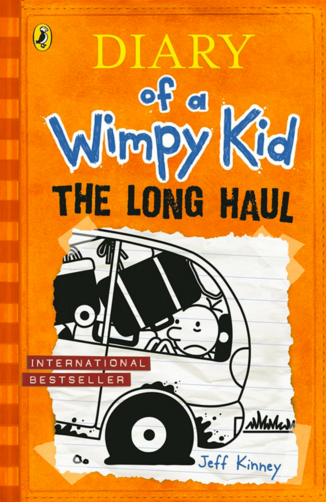 The Grade 2 favorite is also likely assigned by teachers, Click, Clack, Moo: Cows That Type. The mind reels when I try to imagine the test measuring comprehension of the comic book/graphic novel, named favorite book by 3rd, 4th, 5th, AND 6th graders, "Diary of a Wimpy Kid: The Long Haul. First of all, we should be alarmed that this simple book tops the charts for four years, but don't forget that kids will be tested by a computer on their comprehension of this delightful comic book.
"Nothing forced can ever be beautiful." – Xenophone
Caveat emptor!
Back-to-school…
Three little words that I have dreaded since 1968. I remain haunted by the hideous nature of my own school experience. Each back-to-school commercial and increasingly premature retail display fills me with dread. As a parent, "Back-to-School Night," was too often a torturous affair filled with the recitation of gum rules, awful presentations, and assorted violations of the Geneva Convention.
However, I look forward to going back to school tomorrow. This is my second year as the Special Assistant to the Head of School for Innovation at The Willows Community School in Culver City, California.
The Willows is a lovely twenty-one year-old PK-8 progressive independent school filled with truly happy children and terrific educators who know each child. The school is filled with play, the arts, and inquiry. The kids crack me up and my colleagues are genuinely interested in collaboration. Their willingness to learn and try things differently creates a context in which I can do good work on behalf of the kids we serve. I am truly grateful for their generosity of spirit and hospitality. The school is a lovely place for kids to learn because it is a great place for teachers. This also results in virtually zero faculty turnover.
Happy & school need not be contradictory terms.
My responsibilities at The Willows include teacher mentoring, curriculum design, professional development, working with groups of kids, and organizing special events. Much of what I do consists of wandering into classrooms, asking, "Hey, whatcha doing?" and then suggesting, "Why don't you try this instead?"
On any given day my work might include recommending Australian fiction, integrating Romare Beardon into the curriculum, turning the kindergarten "bee unit" upside down, teaching math or programming to 2nd graders, brainstorming project ideas with teachers, participating in a learning lunch, or organizing a Superheroes of the Maker Movement event. I help out with the school's extensive "making" opportunities and even enjoy meetings. One rewarding aspect of the job is when I excite a teacher about trying some nutty idea and then sell the administration on supporting that R&D. I adore being an advocate for teachers.
My calendar is plenty full and I do not need to work in a school on a regular basis. Few of my peers on the "circuit" do so. But, I love to teach, particularly to teach teachers, and I cherish having a canvas on which to paint my ideas for making schools more hospitable to the intentions of children. I am not willing to give up on schools because that's where the kids are.
The Willows has viewed Constructing Modern Knowledge as a critical piece of their extensive professional learning portfolio. Each year, between 6 and 10 Willows educators participate in CMK. This builds community around shared experiences and brings cutting-edge ideas and expertise back to the school. Several young teachers who attended CMK for the first time this past July have been eager to seek my advice on everything from classroom decor to writing prompts to project ideas for the coming school year.
I am enormously grateful to the founding Head of The Willows Lisa Rosenstein for having the flexibility, vision, and sense of humor required to make me part of their team. As a keynote speaker, consultant, teacher educator, author, and clinician, I spend 1/3 – 1/2 of each year on the road. When I'm home, I rush back to The Willows. My travel provides diverse experience, an ability to identify patterns, and experience that I hope benefits our school.
A great part of working at The Willows is I get to be an educational leader, not computer boy. I am unconstrained by the edtech ghetto while getting to use technology the way I always have to amplify human potential and to provide learners with opportunities that would not exist without access to computation. I relish the chance to help fourth grade teachers create a 3D thematic tableau outside of their classroom window and prefer it to the trivia consuming too much of what is know currently as educational technology. That said, The Willows is a leader in the continuous use of constructive, creative, computationally-rich technology from PK -8.
Aside from the children I have the pleasure of hanging out with and the great colleagues I work with, the greatest joy associated with my job at The Willows is sharing an office with my friend, former student, and colleague Amy Dugré, Director of Technology. Amy is a spectacular educator, fine leader, and among the best practicing constructionists working in schools anywhere. I cherish her selflessness, friendship, and support.
Wherever or whatever you teach, here's to a great new year! Please remember to do the right thing. If you won't stand between kids and the madness, who will?
---
Note: You will find no greater advocate for public education than myself. Regrettably, the current political climate makes it impossible for a public school to demonstrate the sort of hiring flexibility that I have experienced at The Willows. What I learn each day, is shared with every school and educator I have the privilege of working with anywhere in the world.
Dr. Gary Stager recently authored Intel's Guide to Creating and Inventing with Technology in the Classroom. The piece explores the maker movement for educators, policy-makers, and school leaders.
Download a copy here.
Gary was recently interviewed by the National School Boards Association for the June 2015 American School Boards Journal.
Read "The Best Makerspace is Between Your Ears."
I've been teaching boys and girls to program computers professionally since 1982 when I created one of the world's first summer camp computing programs. I led professional development at Methodist Ladies' College in Melbourne, Australia for a few years beginning in 1990. Girls at MLC used their personal laptops to program in LogoWriter across the curriculum. (read about the history of 1:1 computing and programming here). That work led to perhaps as many as 100,000 Australian boys and girls learning to program computers in the early 1990s.
I taught incarcerated kids in a teen prison to program as part of my doctoral research and currently teach programming to K-8 girls and boys at The Willows Community School
Along the way, I've found it easy to engage girls and their teachers in computer programming. Ample access to computers. high expectations, and a competent teacher are the necessary conditions for girls to view themselves as competent programmers. Such confidence and competence unlocks the world of computer science and gaining agency over the machine for learners.
That said, there is plenty of evidence that girls view computer science like kryptonite. Mark Guzdial, Barbara Ericson, and others have done a yeoman job of documenting the dismal rates of female participation in school or higher-ed computer science. This reality is only aggravated by the sexism and misogyny commonplace in high-tech firms and online.
Programming is fun. It's cool. It's creative. It may not only lead to a career, but more importantly grants agency over an increasingly complex and technologically sophisticated world. Being able to program allows you to solve problems and answer Seymour Papert's 47 year-old  question, "Does the computer program the child or the child program the computer?"
Add the ubiquity of microcomputers to accessibility of programming languages like Turtle Art, MicroWorlds, Scratch, or Snap! and there is no excuse for every kid to make things "out of code."
All of that aside, girls in the main just don't find computer science welcoming, relevant, or personally empowering. Entire conferences, government commissions, volumes of scholarship, and media decry the crisis in girls and S.T.E.M. Inspiring girls to embrace computer science remains the holy grail. But…
I found the key!
Drones
Girls love to program drones to fly.
Seriously. Drones.
I recently purchased an inexpensive small drone, The Parrot Rolling Spider Mini Drone. ($80 US) If flying drones is cool. Programming them to fly is even cooler.
Thanks to a lovely dialect of Scratch called Tickle, you can use an iPad to program a flying machine! Most drones have virtual joystick software for flying the plane in real-time, but programming a flight requires more thought, planning, and inevitable debugging. Programmer error, typos, a breeze, or physical obstacles often result in hilarity.
Earlier this week, I brought my drone and iPad to a workshop Super-Awesome Sylvia and I were leading. Primary and secondary school students from a variety of schools assembled to explore learning-by-making.
Late in the workshop, I unleashed the drone.
Kids were immediately captivated by the drone and wanted to try their hand at programming a flight – especially the girls!
I truly love how such natural play defies so many gender stereotypes. Programming to produce a result, especially control is super cool for kids of all ages. (It's also worth mentioning that this one of the few "apps" for the iPad that permits actual programming, not just "learning about coding.")