Unlike most media outlets, The Huffington Post actually pretends to take an interest in education. However, I continue to believe that their Education section was created to be an advertising platform for the truly awful film, "Waiting for Superman," remembered as the Howard the Duck of education documentaries by the three other schmucks and I who paid to see it.
Regardless of their motives, The Huffington Post, is a frequent mouthpiece for the charter school movement and unofficial stenographer for corporations trying to make a quick buck off the misery of teachers and students.
The Huffington Post recently featured an article, "The Most Popular Books For Students Right Now," authored by their Education Editor Rebecca Klein. I clicked on the headline with interest, because I'm a fan of books and reading (I know a truly radical view for an educator). What I found was quite disappointing.
Aside from the fact that six books were the favorite across twelve grade levels, the books fell into two obvious camps; books kids like and books they were required to read by a teacher.
Nonetheless, data is data and Web users like lists.
What I do not like is when basic tenets of journalism, like "follow the money," are ignored in order to mislead readers. The source for the "independent reading habits of nearly 10 million readers" is Renaissance Learning, described by The Huffington Post as "an educational software company that helps teachers track the independent reading practices of nearly 10 million students."
That's like saying ISIS is a magazine publisher Donald Trump, owner of an ice cream parlor. While factually true, this is what Sarah Palin might call putting lipstick on a pig.
Renaissance Learning is a wildly profitable company that sells Accelerated Reader, a major prophylactic device for children who might otherwise enjoy reading. The product is purchased by dystopian bean counters who view small children as cogs in a Dickensian system of education where nothing matters more than data or achievement.
Their product creates online multiple-choice tests that schools pay for in order to quantify each child's "independent" reading. If the school doesn't own the test for a particular book a kid reads, they receive no credit. Kids routinely dumb down their reading in order to score better on the quizzes. Accelerated Reader rewards compliance and speed by turning reading into a blood sport in which winners will be rewarded and their classroom combatants, punished.
Ironically, I wrote about Accelerated Reader in The Huffington Post back in 2012. (Read Mission Accomplished)
When you look at the "favorite" book list featured in The Huffington Post, please consider that kids read The Giver and The Crucible because they are standard parts of the curriculum. This tells us nothing about what kids at grades 7, 8, or 11 actually like to read. Seeing Green Eggs and Ham as the first grade winner should make you sad. Can you imagine taking a comprehension test on this classic??? How vulgar!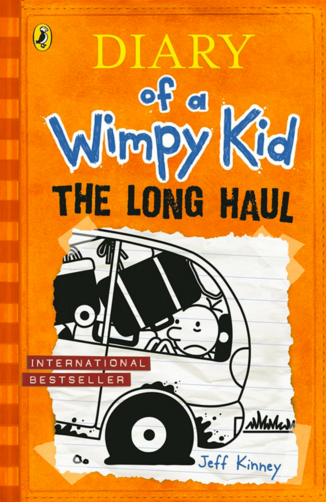 The Grade 2 favorite is also likely assigned by teachers, Click, Clack, Moo: Cows That Type. The mind reels when I try to imagine the test measuring comprehension of the comic book/graphic novel, named favorite book by 3rd, 4th, 5th, AND 6th graders, "Diary of a Wimpy Kid: The Long Haul. First of all, we should be alarmed that this simple book tops the charts for four years, but don't forget that kids will be tested by a computer on their comprehension of this delightful comic book.
"Nothing forced can ever be beautiful." – Xenophone
Caveat emptor!
Back-to-school…
Three little words that I have dreaded since 1968. I remain haunted by the hideous nature of my own school experience. Each back-to-school commercial and increasingly premature retail display fills me with dread. As a parent, "Back-to-School Night," was too often a torturous affair filled with the recitation of gum rules, awful presentations, and assorted violations of the Geneva Convention.
However, I look forward to going back to school tomorrow. This is my second year as the Special Assistant to the Head of School for Innovation at The Willows Community School in Culver City, California.
The Willows is a lovely twenty-one year-old PK-8 progressive independent school filled with truly happy children and terrific educators who know each child. The school is filled with play, the arts, and inquiry. The kids crack me up and my colleagues are genuinely interested in collaboration. Their willingness to learn and try things differently creates a context in which I can do good work on behalf of the kids we serve. I am truly grateful for their generosity of spirit and hospitality. The school is a lovely place for kids to learn because it is a great place for teachers. This also results in virtually zero faculty turnover.
Happy & school need not be contradictory terms.
My responsibilities at The Willows include teacher mentoring, curriculum design, professional development, working with groups of kids, and organizing special events. Much of what I do consists of wandering into classrooms, asking, "Hey, whatcha doing?" and then suggesting, "Why don't you try this instead?"
On any given day my work might include recommending Australian fiction, integrating Romare Beardon into the curriculum, turning the kindergarten "bee unit" upside down, teaching math or programming to 2nd graders, brainstorming project ideas with teachers, participating in a learning lunch, or organizing a Superheroes of the Maker Movement event. I help out with the school's extensive "making" opportunities and even enjoy meetings. One rewarding aspect of the job is when I excite a teacher about trying some nutty idea and then sell the administration on supporting that R&D. I adore being an advocate for teachers.
My calendar is plenty full and I do not need to work in a school on a regular basis. Few of my peers on the "circuit" do so. But, I love to teach, particularly to teach teachers, and I cherish having a canvas on which to paint my ideas for making schools more hospitable to the intentions of children. I am not willing to give up on schools because that's where the kids are.
The Willows has viewed Constructing Modern Knowledge as a critical piece of their extensive professional learning portfolio. Each year, between 6 and 10 Willows educators participate in CMK. This builds community around shared experiences and brings cutting-edge ideas and expertise back to the school. Several young teachers who attended CMK for the first time this past July have been eager to seek my advice on everything from classroom decor to writing prompts to project ideas for the coming school year.
I am enormously grateful to the founding Head of The Willows Lisa Rosenstein for having the flexibility, vision, and sense of humor required to make me part of their team. As a keynote speaker, consultant, teacher educator, author, and clinician, I spend 1/3 – 1/2 of each year on the road. When I'm home, I rush back to The Willows. My travel provides diverse experience, an ability to identify patterns, and experience that I hope benefits our school.
A great part of working at The Willows is I get to be an educational leader, not computer boy. I am unconstrained by the edtech ghetto while getting to use technology the way I always have to amplify human potential and to provide learners with opportunities that would not exist without access to computation. I relish the chance to help fourth grade teachers create a 3D thematic tableau outside of their classroom window and prefer it to the trivia consuming too much of what is know currently as educational technology. That said, The Willows is a leader in the continuous use of constructive, creative, computationally-rich technology from PK -8.
Aside from the children I have the pleasure of hanging out with and the great colleagues I work with, the greatest joy associated with my job at The Willows is sharing an office with my friend, former student, and colleague Amy Dugré, Director of Technology. Amy is a spectacular educator, fine leader, and among the best practicing constructionists working in schools anywhere. I cherish her selflessness, friendship, and support.
Wherever or whatever you teach, here's to a great new year! Please remember to do the right thing. If you won't stand between kids and the madness, who will?
---
Note: You will find no greater advocate for public education than myself. Regrettably, the current political climate makes it impossible for a public school to demonstrate the sort of hiring flexibility that I have experienced at The Willows. What I learn each day, is shared with every school and educator I have the privilege of working with anywhere in the world.
Dr. Gary Stager recently authored Intel's Guide to Creating and Inventing with Technology in the Classroom. The piece explores the maker movement for educators, policy-makers, and school leaders.
Download a copy here.
Gary was recently interviewed by the National School Boards Association for the June 2015 American School Boards Journal.
Read "The Best Makerspace is Between Your Ears."
I've been teaching boys and girls to program computers professionally since 1982 when I created one of the world's first summer camp computing programs. I led professional development at Methodist Ladies' College in Melbourne, Australia for a few years beginning in 1990. Girls at MLC used their personal laptops to program in LogoWriter across the curriculum. (read about the history of 1:1 computing and programming here). That work led to perhaps as many as 100,000 Australian boys and girls learning to program computers in the early 1990s.
I taught incarcerated kids in a teen prison to program as part of my doctoral research and currently teach programming to K-8 girls and boys at The Willows Community School
Along the way, I've found it easy to engage girls and their teachers in computer programming. Ample access to computers. high expectations, and a competent teacher are the necessary conditions for girls to view themselves as competent programmers. Such confidence and competence unlocks the world of computer science and gaining agency over the machine for learners.
That said, there is plenty of evidence that girls view computer science like kryptonite. Mark Guzdial, Barbara Ericson, and others have done a yeoman job of documenting the dismal rates of female participation in school or higher-ed computer science. This reality is only aggravated by the sexism and misogyny commonplace in high-tech firms and online.
Programming is fun. It's cool. It's creative. It may not only lead to a career, but more importantly grants agency over an increasingly complex and technologically sophisticated world. Being able to program allows you to solve problems and answer Seymour Papert's 47 year-old  question, "Does the computer program the child or the child program the computer?"
Add the ubiquity of microcomputers to accessibility of programming languages like Turtle Art, MicroWorlds, Scratch, or Snap! and there is no excuse for every kid to make things "out of code."
All of that aside, girls in the main just don't find computer science welcoming, relevant, or personally empowering. Entire conferences, government commissions, volumes of scholarship, and media decry the crisis in girls and S.T.E.M. Inspiring girls to embrace computer science remains the holy grail. But…
I found the key!
Drones
Girls love to program drones to fly.
Seriously. Drones.
I recently purchased an inexpensive small drone, The Parrot Rolling Spider Mini Drone. ($80 US) If flying drones is cool. Programming them to fly is even cooler.
Thanks to a lovely dialect of Scratch called Tickle, you can use an iPad to program a flying machine! Most drones have virtual joystick software for flying the plane in real-time, but programming a flight requires more thought, planning, and inevitable debugging. Programmer error, typos, a breeze, or physical obstacles often result in hilarity.
Earlier this week, I brought my drone and iPad to a workshop Super-Awesome Sylvia and I were leading. Primary and secondary school students from a variety of schools assembled to explore learning-by-making.
Late in the workshop, I unleashed the drone.
Kids were immediately captivated by the drone and wanted to try their hand at programming a flight – especially the girls!
I truly love how such natural play defies so many gender stereotypes. Programming to produce a result, especially control is super cool for kids of all ages. (It's also worth mentioning that this one of the few "apps" for the iPad that permits actual programming, not just "learning about coding.")
The following is an attempt to share some of my objections to Common Core in a coherent fashion. These are my views on a controversial topic. An old friend I hold in high esteem asked me to share my thoughts with him. If you disagree, that's fine. Frankly, I spent a lot of time I don't have creating this document and don't really feel like arguing about the Common Core. The Common Core is dying even if you just discovered it.
This is not a research paper, hence the lack of references. You can Google for yourself. Undoubtedly, this post contains typos as well. I'll fix them as I find them.
This critique shares little with the attacks from the Tea Party or those dismissed by the Federal Education Secretary or Bill Gates as whiney parents.
I have seven major objections to the Common Core State Standards (CCSS)
The CCSS are a solution in search of a problem.
The CCSS were implemented in a remarkably undemocratic fashion at great public expense to the benefit of ideologues and corporations.
The standards are preposterous and developmentally inappropriate.
The inevitable failure of the Common Core cannot be blamed on poor implementation when poor implementation is baked into the design.
Standardized curriculum lowers standards, diminishes teacher agency, and lowers the quality of educational experiences.
The CCSS will result in an accelerated erosion of public confidence in public education.
The requirement that CCSS testing be conducted electronically adds unnecessary complexity, expense, and derails any chance of computers being used in a creative fashion to amplify student potential.
The CCSS are a solution in search of a problem
The professed rationale for the Common Core is based on several patently ridiculous assumptions. These include:
There is a sudden epidemic of bad teaching in American schools.
There has never been a way for parents to know how their children are doing in school.
Curriculum varies widely from jurisdiction to jurisdiction across the United States.
I am no apologist for the current state of public (or private) education in America. There is a shortage of imagination, love, and commitment to knowing every child in order to amplify her potential. However, there is abundant scholarship by Linda Darling-Hammond, Diane Ravitch, Gerald Bracey, Deborah Meier, and others demonstrating that more American kids are staying in school longer than at any time in history. If we control for poverty, America competes quite favorably against any other nation in the world, if you care about such comparisons.
Parents have ample ways of knowing how their children are doing; from speaking with them, meeting with teachers, looking at their work, and the excessive number of standardized tests already administered to American school children. Some places in America spend as long as several months per school year on testing, not including practice tests or the test-prep curriculum.
At best, the Common Core State Standards ensure that if a kid moves from Maine to Mobile, they won't miss the monkey lesson. Such uniformity of instruction based on arbitrary curricular topics is impossible to enforce and on the wrong side of history. As my colleague and mentor Seymour Papert said, "At best school teaches a billionth of a percent of the knowledge in the world and yet we quibble endlessly about which billionth of a percent is important enough to teach." Schools should prepare kids to solve problems their teachers never anticipated with the confidence and competence necessary to overcome any obstacle, even if only to discover that there is more to learn.
The CCSS were implemented in a remarkably undemocratic fashion at great public expense to the benefit of ideologues and corporations
Other once great nations have embraced nutty ideas like national curricula, but such policies were voted upon by legislators willing to raise their hand and be held accountable for their vote. The CCSS is a de-facto national curriculum created by corporate forces and anonymous unaccountable bureaucrats. State education departments and local districts surviving savage cuts in state education funding can hardly afford to reject the Common Core when its implementation brings with it billions of dollars in Federal funding from the Obama administration. Americans would never tolerate a national curriculum. That's why the Common Core was required as a backdoor vehicle for enforcing instructional uniformity.
CCSS advocates assert that the standards were written by Governors and teachers. This claim is laughable.
The two major forces behind the Common Core, aside from the Federal Department of Education, are Bill Gates and multinational testing/publishing conglomerate, Pearson. The Gates Foundation has spent up to $2.3 billion on astroturf groups lobbying on behalf of The Common Core. (more info here)
While Gates is driven by ideology or a misguided sense of philanthropy, Pearson stands to profit handsomely. They are the largest education publisher in the USA. They also lead in producing and scoring standardized tests. The controversial PARCC test that recently made headlines when they spied on kids' social media accounts and got government goons to enforce their testing regime. Add test-prep curriculum, worksheets, professional development, and their recent forays into teacher and administrator credentialing, and you quickly see how Pearson controls the entire education ecosystem – profiting at every step of the process they created. Not much imagination is required to see Pearson running publicly funded charter schools created in the rubble created by the Common Core. Heads they win. Tails kids and teachers lose. (Read the Politico Pearson exposé, "No Profit Left Behind")
The Common Core State Standards only apply to public schools. Neither Bill Gates or President Obama would tolerate sending their children to schools slavishly adhering to this curricular diet intended for other people's children. Surely the Gates and Obama children will be career and college ready in their lovely schools with art, music, blocks, field trips, well-stocked libraries, and teachers trusted to design curriculum.
The standards are preposterous and developmentally inappropriate
The Common Core State Standards are focused on college and career readiness all the way down to kindergarten!
Please explain Cavalieri's Principle. I have yet to meet an adult who knows what this is, but it appears in the Common Core High School Geometry Standards.
Give an informal argument using Cavalieri's principle for the formulas for the volume of a sphere and other solid figures.

Read the voluminous CCSS Math or CCSS English Language Arts standards for yourself.
Thankfully, the CCSS only currently exist for Math and English Language Arts. This means that other subjects in the arts, sciences, and social sciences will not be standardized. However, it also means they are less likely to be taught in CCSS-obsessed schools.
The inevitable failure of the Common Core cannot be blamed on poor implementation when poor implementation is baked into the design
Promoters of the Common Core shrug off criticisms by blaming teachers for poorly implementing the standards. This line of attack is worse than cynical victim blaming. Allow me to explain why.
Let's stipulate that the Common Core State Standards are a terrific idea. Our nation needs clear enforceable uniform education standards at each grade level.
If that were the case, the CCSS would be rolled-out over twelve years, not all at once. If a curricular topic typically taught in the 9th grade is moved to 7th grade by the Common Core, then many children will not have been taught those concepts, but will still be tested on them. When they inevitably fail to perform well, their teachers will be blamed and in states like New York where teacher pay and job security is tied to test scores, their teachers will be punished for doing what they have been told to do.
Scotland is rolling out a new national curriculum, but they are doing so over twelve years.
Why do you think that the Common Core was in such a hurry to implement a new K-12 curriculum at once?
Standardized curriculum lowers standards, diminishes teacher agency, and lowers the quality of educational experiences
Curriculum should be determined as close to the child as possible in collaboration with colleagues and reflecting the community. It is the height of arrogance to prepare instruction for children you have never met.
Uniform standards standardize (lower) expectations in the name of uniformity. The quality of education suffers when teachers have their curricular discretion challenged and replaced with a list of topics to "cover" at best, or a scripted curriculum (common in urban settings), at worst. The sheer number of Common Core standards makes depth, mastery, passion, curiosity, or other habits of mind less likely to achieve. When does a student get great at something when their education experience is strapped to an ever-accelerating treadmill?
When teachers are not required to make curricular decisions and design curriculum based on the curiosity, thinking, understanding, passion, or experience of their students, the resulting loss in teacher agency makes educators less thoughtful and reflective in their practice, not more. The art of teaching has been sacrificed at the expense of reducing pedagogical practice to animal control and content delivery.
My standards for what children should be able to know and do extend far beyond that which is taught or tested by the CCSS.
The CCSS will result in an accelerated erosion of public confidence in public education
The singular genius of George W. Bush and his No Child Left Behind legislation (kicked-up a notch by Obama's Race-to-the-Top) was the recognition that many parents hate school, but love their kids' teachers. If your goal is to privatize education, you need to concoct a way to convince parents to withdraw support for their kid's teacher. A great way to achieve that objective is by misusing standardized tests and then announcing that your kid's teacher is failing your kid. This public shaming creates a manufactured crisis used to justify radical interventions before calmer heads can prevail.
These standardized tests are misunderstood by the public and policy-makers while being used in ways that are psychometrically invalid. For example, it is no accident that many parents confuse these tests with college admissions requirements. Using tests designed to rank students mean that half of all test-takers be below the norm and were never intended to measure teacher efficacy.
The test scores come back up to six months after they are administered, long after a child advances to the next grade. Teachers receive scores for last year's students, with no information on the questions answered incorrectly. These facts make it impossible to use the testing as a way of improving instruction, the stated aim of the farcical process.
I am not willing to give up on public schools because that's where the children are. Public education is the bedrock of our democracy.
The negative trajectory of technology use required by the CCSS
You will find no greater advocate for the use of computational technology in education than me. However, the requirement that the CCSS assessment exams driving the entire Common Core effort be conducted electronically has a deeply disturbing effect on educational computing.
Instead of using computers to create, program, edit, compose, publish, or collaborate, the Common Core electronic assessment requirement is causing schools, districts, and states to invest exorbitant sums on large numbers of often under-powered "devices" for test-taking and test-prep purposes. Existing computers will be tied up in these assessment activities as well. The security requirements of the CCSS exams are causing schools to lock-down computers in ways deleterious to learning and student empowerment. The fact that lots of "devices" need to be purchased for testing too often results in a diminution in computational power available to children in school. Constructive activities such as nusic composition, filmmaking, computer programming, physical computing, robotics, etc.. are rendered more difficult or impossible when technology purchases are shaped by testing requirements.
There are technical complexities and numerous pain points associated with this online testing as well. Many schools lack adequate network infrastructure to support hundreds or thousands of children being online at once. The testing software is buggy and prone to failure, especially since testing occurs nationwide at approximately the same time (and for longer than a Bar Exam). The testing software itself is awful and plagued by horrendous user-interface issues. Kids are being penalized for not being able to navigate buggy and confusing software, even if they understand the concept being tested. Poor(er) children with less access to computing activities are even more disadvantaged by the awful test navigation. In other words, much of what is being measured by the online Common Core tests will be a student's ability to work the testing software, not valuable educational content. If you don't believe me, try one of the online test samples for the PARCC assessment.
One last thing
It is particularly ironic how much of the public criticism of the Common Core is related to media accounts and water cooler conversations of the "crazy math" being taught to kids. There are actually very few new or more complex concepts in the Common Core than previous math curricula. In fact, the Common Core hardly challenges any of the assumptions of the existing mathematics curriculum. The Common Core English Language Arts standards are far more radical. Yet, our innumerate culture is up in arms about the "new new math" being imposed by the Common Core.
What is different about the Common Core approach to mathematics, particularly arithmetic, is the arrogant imposition of specific algorithms. In other words, parents are freaking out because their kids are being required to solve problems in a specific fashion that is different from how they solve similar problems.
This is more serious than a matter of teaching old dogs new tricks. The problem is teaching tricks at all. There are countless studies by Constance Kamii and others demonstrating that any time you teach a child the algorithm, you commit violence against their mathematical understanding. Mathematics is a way of making sense of the world and Piaget teaches us that it is not the job of the teacher to correct the child from the outside, but rather to create the conditions in which they correct themselves from the inside. Mathematical problem solving does not occur in one way no matter how forcefully you impose your will on children. If you require a strategy competing with their own intuitions, you add confusion that results in less confidence and understanding.
Aside from teaching one algorithm (trick), another way to harm a child's mathematical thinking development is to teach many algorithms for solving the same problem. Publishers make this mistake frequently. In an attempt to acknowledge the plurality of ways in which various children solve problems, those strategies are identified and then taught to every child. Doing so adds unnecessary noise, undermines personal confidence, and ultimately tests memorization of tricks (algorithms) at the expense of understanding.
This scenario goes something like this. Kids estimate in lots of different ways. Let's teach them nine or ten different ways to estimate, and test them along the way. By the end of the process, many kids will be so confused that they will no longer be able to perform the estimation skill they had prior to the direct instruction in estimation. Solving a problem in your head is disqualified.
---
These articles do a pretty good job of supporting my arguments above:
http://dianeravitch.net/2015/04/16/salon-how-the-common-core-united-the-left-and-the-right-against-it/
http://dianeravitch.net/2015/04/16/freedman-are-the-common-core-tests-valid/
© 2015 Gary S. Stager
All Rights Reserved
PBL 360 Overview – Professional Development for Modern Educators
Gary S. Stager, Ph.D. and his team of expert educators travel the world to create immersive, high-quality professional development experiences for schools interested in effective 21st century project-based learning (PBL) and learning by doing. Whether your school (or school system) is new to PBL, the tools and technologies of the global Maker Movement, or looking to sustain existing programs, we can design flexible professional learning opportunities to meet your needs, PK-12.
Our work is based on extensive practice assisting educators on six continents, in a wide variety of grade levels, subject areas and settings. Dr. Stager has particular experience working with extremely gifted and severely at-risk learners, plus expertise in S.T.E.M. and the arts. The Victorian State of Victoria recently offered a highly successful three-day PBL 360 workshop for members of their "New Pedagogies Project."
PBL 360 captures the spirit of the annual Constructing Modern Knowledge summer institute in a local setting.
Options
Professional growth is ongoing, therefore professional development workshops need to be viewed as part of a continuum, not an inoculation. The PBL professional development workshops described below not only reflect educator's specific needs, but are available in one, two or three-day events, supplemented by keynotes or community meetings, and may be followed-up with ongoing mentoring, consulting or online learning. Three days is recommended for greatest effect and capacity building.
While learning is interdisciplinary and not limited to age, we can tailor PD activities to emphasize specific subjects or grade levels.
These experiences embrace an expanding focus from learner, teacher, to transformational leader with a micro to systemic perspective. Video-based case studies, hands-on activities and brainstorming are all part of these highly interactive workshops.
Guiding principles
Effective professional development must be situated as close to the teacher's actual practice as possible
You cannot teach in a manner never experienced as a learner
Access to expertise is critical in any learning environment
Practice is inseparable from theory
We stand on the shoulders of giants and learn from the wisdom of those who ventured before us
Modern knowledge construction requires computing
Learning and the learner should be the focus of any education initiative
Children are competent
School transformation is impossible if you only change one variable
Things need not be as they seem
PBL 360
Effective project-based learning requires more than the occasional classroom project, no matter how engaging such occasional activities might be. PBL 360 helps educators understand the powerful ideas behind project-based learning so they can implement PBL and transform the learning environment using digital technology and modern learning theory. PBL 360 helps teachers build a powerful, personal set of lenses and an ability to see "360 degrees" – meaning in every direction – with which to build new classroom practices.
Teachers, administrators and even parents should consider participation.
Reinventing ourselves
Piaget teaches us that knowledge is a consequence of experience. Therefore, any understanding of project-based learning or ability to implement it effectively must be grounded in personal experience. It is for this reason that all professional development pathways begin with an Invent to Learn workshop. Subsequent workshop days will build upon personal reflections and lessons learned from the Invent to Learn experience. Flexibility and sensitivity to the specific needs of participants is paramount.
Day One – Learning Learning
Join colleagues for a day of hard fun and problem solving — where computing meets tinkering and design. The workshop begins with the case for project-based learning, making, tinkering, and engineering. Next, we will discuss strategies for effective prompt-setting. You will view examples of children engaged in complex problem solving with new game-changing technologies and identify lessons for your own classroom practice. Powerful ideas from the Reggio Emilia Approach, breakthroughs in science education, and the global maker movement combine to create rich learning experiences.
"In the future, science assessments will not assess students' understanding of core ideas separately from their abilities to use the practices of science and engineering. They will be assessed together, showing that students not only "know" science concepts; but also that they can use their understanding to investigate the natural world through the practices of science inquiry, or solve meaningful problems through the practices of engineering design." Next Generation Science Standards (2013)
Participants will have the chance to tinker with a range of exciting new low- and high-tech construction materials that can really amplify the potential of your students. The day culminates in the planning of a classroom project based on the TMI (Think-Make-Improve) design model.
Fabrication with cardboard and found materials, squishy electronic circuits, wearable computing, Arduino, robotics, conductive paint, and computer programming are all on the menu.
This workshop is suitable for all grades and subject areas.
Day Two – Teaching
Day two begins with a period of reflection about the Invent to Learn workshop the day before, focusing on teaching and project-based learning topics, including:
Reflecting on the Invent to Learn workshop experience
Compare and contrast with your own learning experience
Compare and contrast with your current teaching practice
Project-based learning
What is a project?
Essential elements of effective PBL
Thematic curricula
Making connections
Meeting standards
Design technology and children's engineering
The case for tinkering
Epistemological pluralism
Learning styles
Hands-on, minds-on
Iterative design methodology
Teacher roles in a modern classroom
Teacher as researcher
Identifying the big ideas of your subject area or grade level
Preparing learners for the "real world"
What does real world learning look like?
Lessons from the "Best Educational Ideas in the World"
What we can learn from Reggio Emilia, El Sistema and the "Maker" community?
Less Us, More Them
Shifting agency to learners
Creating independent learners
Classroom design to support PBL and hands-on learning
Physical environment
Centers, Makerspaces, and FabLabs
Scheduling
Tools, technology, materials
Computers as material
Digital technology
Programming
Choices and options
PBL 360 models teaching practices that put teachers at the center of their own learning, just like we want for students. This in turn empowers teachers to continue to work through the logistics of changing classroom practice as they develop ongoing fluency in tools, technologies, and pedagogy. Teachers who learn what modern learning "feels" like are better able to translate this into everyday practice, supported by ongoing professional development and sound policy.
Day Three – Transformation
The third day focuses on the details and specifics of implementing and sustaining PBL in individual classrooms and collaboratively with colleagues. Participants will lead with:
Program Planning
Curricular audit
Standards, grade levels
Assessment
Classroom Planning
Planning PBL for your classroom
Curricular projects vs. student-based inquiry
Creating effective project prompts
Identifying Change
The changing role of the teacher
Shaping the PBL-supportive learning environment
Does your school day support PBL?
Action plan formulation
Advocacy
Communicating a unifying vision with parents and the community
Adjusting expectations for students, parents, community, administrators, and colleagues
Creating alliances
Identifying resources
Modern learning embraces a vision of students becoming part of a solution-oriented future where their talents, skills, and passions are rewarded. The changes in curriculum must therefore be matched with a change in pedagogy that supports these overarching goals. Teachers need to understand design thinking, for example, not just as a checklist, but as a new way to shape the learning environment. It is no longer acceptable to simply teach students to use digital tools that make work flow more efficient, nor will it be possible to segregate "making" and "doing" into vocational, non-college preparatory classes.
PBL 360 will help teachers create learning environments that meet these goals with professional development that is innovative, supportive, and sustainable.
Constructive Technology Workshop Materials
Although constructive technology evolves continuously, the following is the range of hardware and software that can be combined with traditional craft materials and recycled items supplied by the client. The specialized materials will be furnished by Constructing Modern Knowledge, LLC. Specific items may vary.
Cardboard construction
Robotics

LEGO WeDo
Hummingbird Robotics Kits
Pro-Bot

eTextiles/soft circuits/wearable computers

Lilypad Arduino Protosnap
Lilypad Arduino MP3
Flora

Computer Science, programming, and control

Scratch
Snap!
Turtle Art
Arduino IDE
Ardublocks

Microcontroller engineering and programming

Arduino Inventor's Kits
Digital Sandbox

New ways to create electrical circuits

Circuit Stickers
Electronic papercraft
Circuit Scribe pens
Conductive paint
Squishy Circuits

Electronics and Internet of Things
Consumables

Coin cell batteries
Sewable battery holders
Foam sheets and shapes
Felt
Needles and thread
Conductive thread and tape
Fabric snaps
Additional costs may be incurred for transporting supplies and for consumable materials depending on the number of participants and workshop location(s). Groups of more than 20 participants may require an additional facilitator.
Invent To Learn books may be purchased at a discount to be used in conjunction with the workshop.

About Gary S. Stager, Ph.D.

Gary Stager, an internationally recognized educator, speaker and consultant, is the Executive Director of  Constructing Modern Knowledge. Since 1982, Gary has helped learners of all ages on six continents embrace the power of computers as intellectual laboratories and vehicles for self-expression. He led professional development in the world's first laptop schools (1990), has designed online graduate school programs since the mid-90s, was a collaborator in the MIT Media Lab's Future of Learning Group and a member of the One Laptop Per Child Foundation's Learning Team.
When Jean Piaget wanted to better understand how children learn mathematics, he hired Seymour Papert. When Dr. Papert wanted to create a high-tech alternative learning environment for incarcerated at-risk teens, he hired Gary Stager. This work was the basis for Gary's doctoral dissertation and documented Papert's most-recent institutional research project.
Gary's recent work has included teaching and mentoring some of Australia's "most troubled" public schools, launching 1:1 computing in a Korean International School beginning in the first grade, media appearances in Peru and serving as a school S.T.E.M. Director. His advocacy on behalf of creativity, computing and children led to the creation of the Constructivist Consortium and the Constructing Modern Knowledge summer institute. Gary is the co-author of Invent To Learn: Making, Tinkering, and Engineering in the Classroom, often cited as the "bible of the Maker Movement in schools".
A popular speaker and school consultant, Dr. Stager has keynoted major conferences worldwide to help teachers see the potential of new technology to revolutionize education. Dr. Stager is also a contributor to The Huffington Post and a Senior S.T.E.M. and Education Consultant to leading school architecture firm, Fielding Nair International. Gary also works with teachers and students as Special Assistant to the Head of School for Innovation at The Willows Community School in Culver City, California.He has twice been a Visiting Scholar at the University of Melbourne's Trinity College. Gary currently works as the Special Assistant to the Head of School for Innovation at The Willows Community School in Culver City, California.
Contact
Email learning@inventtolearn.com to inquire about costs and schedule for your customized workshop. We will work with you to create an experience that will change your school, district, or organization forever. Additional ongoing consulting, mentoring, or online learning services are available to meet individual needs.
Summer Institute
Schools should also consider sending personnel to the annual summer project-based learning institute, Constructing Modern Knowledge – (www.constructingmodernknowledge.com)
In November, I had a the great honor of working with my colleagues at the Omar Dengo Foundation, Costa Rica's NGO responsible for computers in schools. For the past quarter century, the Fundacion Omar Dengo has led the world in the constructionist use of computers in education – and they do it at a national level!
While there, I delivered the organization's annual lecture in the Jean Piaget Auditorium. The first two speakers in this annual series were Seymour Papert and Nicholas Negroponte.
The first video is over an hour in length and is followed but the audience Q & A. The second portion of the event gave me the opportunity to tie a bow on the longer address and to explore topics I forgot to speak about.
I hope these videos inspire some thought and discussion.

Gary Stager "This is Our Moment " – Conferencia Anual 2014 Fundación Omar Dengo (Costa Rica)
San José, Costa Rica. November 2014
.
Gary Stager – Questions and Answers Section – Annual Lecture 2014 (Costa Rica)
San José, Costa Rica. November 2014
I started teaching Logo to kids in 1982 and adults in 1983. I was an editor of ISTE's Logo Exchange journal and wrote the project books accompanying the MicroWorlds Pro and MicroWorlds EX software environments. I also wrote programming activities for LEGO TC Logo and Control Lab, in addition to long forgotten but wonderful Logo environments, LogoExpress and Logo Ensemble.
Now that I'm working in a school regularly, I have been working to develop greater programming fluency among students and their teachers. We started a Programming with Some BBQ "learning lunch" series and I've been leading model lessons in classrooms. While I wish that teachers could/would find the time to develop their own curricular materials for supporting and extending these activities, I'm finding that I may just need to do so despite my contempt for curriculum.
One of the great things about the Logo programming language, upon which Scratch and MicroWorlds are built, is that there are countless entry points. While turtle graphics tends to be the focus of what schools use Logo for, I'm taking a decidedly more text-based approach. Along the way, important computer science concepts are being developed and middle school language arts teachers who have never seen value in (for lack of a better term) S.T.E.M. activities, have become intrigued by using computer science to explore grammar, poetry, and linguistics. The silly activity introduced in the link below is timeless, dating back to the 1960s, and is well documented in E. Paul Goldenberg and Wally Feurzig's fantastic (out-of-print) book, "Exploring Language with Logo."
I only take credit for the pedagogical approach and design of this document for teachers. As I create more, I'll probably share it.
My goal is always to do as little talking or explaining as humanly possible without introducing metaphors or misconceptions that add future confusion or may need to remediated later. Teaching something properly from the start is the best way to go.
Commence the hilarity and let the programming begin! Becoming a programmer requires more than an hour of code.
Introduction to Logo Programming in MicroWorlds EX
Modifications may be made or bugs may fixed in the document linked above replaced as time goes by.