[April 2016] At last week's #asugsv Summit, the annual bacchanal where dilettantes, amateurs, libertarians, billionaires, and Silicon Valley mercenaries gather to plot the destruction of public education in plain view, Dr. Condoleeza Rice of 9/11 and Iraqi war infamy shared her expertise on "reforming" public education. Like many simpletons and profiteers, Dr. Rice seeks salvation in dystopian technology and reportedly demonstrated a level of understanding of educational technology similar to her imaginary "mushroom cloud" in Baghdad.
"Technology is neutral," Rice observed. "It's how it is applied that matters." Technology can be used to support a world in which a child's zip code or color or gender or age doesn't shape their future—just their commitment to getting an education, she said. (Edsurge – Heard & Overheard at the ASU+GSV Summit. April 19, 2016.)
No. You are profoundly wrong Dr. Rice!
In fact I detailed how wrong you are three years ago. Perhaps you didn't read my daily brief entitled, "Technology is Not Neutral!" You may read it below…
Larry Ferlazzo invited me to share a vision of computers in education for inclusion in his Classroom Q&A Feature in Education Week. The text of that article is below.

You may also enjoy two articles I published in 2008:
Technology is Not Neutral

Educational computing requires a clear and consistent stance
© 2013 Gary S. Stager, Ph.D.
There are three competing visions of educational computing. Each bestows agency on an actor in the educational enterprise. We can use classroom computers to benefit the system, the teacher or the student. Data collection, drill-and-practice test-prep, computerized assessment or monitoring Common Core compliance are examples of the computer benefitting the system. "Interactive" white boards, presenting information or managing whole-class simulations are examples of computing for the teacher. In this scenario, the teacher is the actor, the classroom a theatre, the students the audience and the computer is a prop.
The third vision is a progressive one. The personal computer is used to amplify human potential. It is an intellectual laboratory and vehicle for self-expression that allows each child to not only learn what we've always taught, perhaps with greater efficacy, efficiency or comprehension. The computer makes it possible for students to learn and do in ways unimaginable just a few years ago. This vision of computing democratizes educational opportunity and supports what Papert and Turkle call epistemological pluralism. The learner is at the center of the educational experience and learns in their own way.
Too many educators make the mistake of assuming a false equivalence between "technology" and its use. Technology is not neutral. It is always designed to influence behavior. Sure, you might point to an anecdote in which a clever teacher figures out a way to use a white board in a learner-centered fashion or a teacher finds the diagnostic data collected by the management system useful. These are the exception to the rule.
While flexible high-quality hardware is critical, educational computing is about software because software determines what you can do and what you do determines what you can learn. In my opinion the lowest ROI comes from granting agency to the system and the most from empowering each learner. You might think of the a continuum that runs from drill/testing at the bottom; through information access, productivity, simulation and modeling; with the computer as a computational material for knowledge construction representing not only the greatest ROI, but the most potential benefit for the learner.
Piaget reminds us ,"To understand is to invent," while our mutual colleague Seymour Papert said, "If you can use technology to make things, you can make more interesting things and you can learn a lot more by making them."
Some people view the computer as a way of increasing efficiency. Heck, there are schools with fancy-sounding names popping-up where you put 200 kids in a room with computer terminals and an armed security guard. The computer quizzes kids endlessly on prior knowledge and generates a tsunami of data for the system. This may be cheap and efficient, but it does little to empower the learner or take advantage of the computer's potential as the protean device for knowledge construction.
School concoctions like information literacy, digital citizenship or making PowerPoint presentations represent at best a form of "Computer Appreciation." The Conservative UK Government just abandoned their national ICT curriculum on the basis of it being "harmful and dull" and is calling for computer science to be taught K-12. I could not agree more.
My work with children, teachers and computers over the past thirty years has been focused on increasing opportunity and replacing "quick and easy" with deep and meaningful experiences. When I began working with schools where every student had a laptop in 1990, project-based learning was supercharged and Dewey's theories were realized in ways he had only imagined. The computer was a radical instrument for school reform, not a way of enforcing the top-down status quo.
Now, kindergarteners could build, program and choreograph their own robot ballerinas by utilizing mathematical concepts and engineering principles never before accessible to young children. Kids express themselves through filmmaking, animation, music composition and collaborations with peers or experts across the globe. 5th graders write computer programs to represent fractions in a variety of ways while understanding not only fractions, but also a host of other mathematics and computer science concepts used in service of that understanding. An incarcerated 17 year-old dropout saddled with a host of learning disabilities is able to use computer programming and robotics to create "gopher-cam," an intelligent vehicle for exploring beneath the earth, or launch his own probe into space for aerial reconnaissance. Little boys and girls can now make and program wearable computers with circuitry sewn with conductive thread while 10th grade English students can bring Lady Macbeth to life by composing a symphony. Soon, you be able to email and print a bicycle. Computing as a verb is the game-changer.
Used well, the computer extends the breadth, depth and complexity of potential projects. This in turn affords kids with the opportunity to, in the words of David Perkins, "play the whole game." Thanks to the computer, children today have the opportunity to be mathematicians, novelists, engineers, composers, geneticists, composers, filmmakers, etc… But, only if our vision of computing is sufficiently imaginative.
Three recommendations:
1) Kids need real computers capable of programming, video editing, music composition and controlling external peripherals, such as probes or robotics. Since the lifespan of school computers is long, they need to do all of the things adults expect today and support ingenuity for years to come.
2) Look for ways to use computers to provide experiences not addressed by the curriculum. Writing, communicating and looking stuff up are obvious uses that require little instruction and few resources.
3) Every student deserves computer science experiences during their K-12 education. Educators would be wise to consider programming environments designed to support learning and progressive education such as MicroWorlds EX and Scratch.
— — — — — — — — — — — — — — — — -
In addition to being a veteran teacher educator, popular speaker, journalist, author, and publisher, Gary is co-author of the bestselling book called the "bible of the maker movement in schools", Invent To Learn — Making, Tinkering, and Engineering in the Classroom. He also leads the Constructing Modern Knowledge summer institute and is Publisher at CMK Press.
Hadi, I wish I shared your optimism that kids in your high school courses had experience with turtle geometry. I found the design of this unit clickable with very little nutritional value, especially since its web-based design implies little teacher interaction or scaffolding. If the turtle "blocks" used in the example are merely an exercise in sequencing, then they need no punctuation on them whatsoever. If I desired to change the angle or linear units, there was no way to do so (at least no way obvious to me).
Therefore, from a design perspective, there are several problems with the lesson. They include:
Low engagement
Limits on student creativity, exploration, and tinkering
A missed opportunity for students to learn/use mathematical ideas while learning Javascript
I am NOT asking that the lessons yell at kids for being wrong or test them along the way. That would make things worse.
My pal Will Richardson asked me to respond to news that the Florida legislature (ground zero for destructive education policies) has passed a bill allowing high school students to substitute "coding" courses for foreign language requirements. (see Florida Senate approves making coding a foreign language)
If you are a toddler learning English as a second language between binge watching seasons of Glitter Force, it's easy to see how "coding" in a programming language and literacy in a foreign language are equivalent.
For adult legislators entrusted with governance, this policy means two things:
They have no idea what computer coding is.

When policy makers say that students should "understand" technology or refer to technology as a "basic skill," they reveal a profound ignorance of computer science and have reduced a powerful intellectual pursuit to the level of a bicycle safety assembly or "don't copy that floppy" poster.

They are finally willing to admit that they don't give a rat's ass about teaching foreign language.

This may also be a tacit recognition that high school foreign language instruction is mostly torturous and unsuccessful.
When Will tweeted me about the news, a fellow twitterit asked, "Why music can't satisfy foreign language requirements?" While, there is no greater advocate for music education than myself, this newfound willingness to substitute one discipline for a completely unrelated required course is an admission that all course requirements should be abolished. There is so little consensus on what matters. And that may be a very good thing.
---
Related articles:
More than 20 years ago, a graduate student of mine, named Beth, (surname escapes me, but she had triplets and is a very fine high school math teacher) used an early version of MicroWorlds to program her own version of a toolkit similar to Geometer's Sketchpad. Over time, I ran a similar activity with kids as young as 7th grade. I've done my best to piece together various artifacts from my archives into a coherent starting point for this potentially expansive activity. Hopefully, you'll be able to figure out how to use the tools provided and improve or expand upon them.
Students (middle and high school) will use MicroWorlds EX create their own tool for exploring two-dimensional geometry similar to Geometers' Sketchpad, Cabri, or GeoGebra. [1]
As students build functionality (via programming) into a tool for creating and measuring geometric constructions, they reinforce their understanding of important geometric concepts. As the tool gets more sophisticated, students learn more geometry, which in turn leads to a desire to explore more complex geometric issues. This is an ecological approach to programming. The tool gets better as you learn more and you learn more as the tool becomes more sophisticated.
Along the way, students become better programmers while using variables, list processing, and recursion in their Logo procedures. They will also engage in user interface design.
Resources:
---
[1] I would not show commercial models of the software to students until after they have programmed some new functionality into their own tools.
A response to the plethora of articles spouting hooey similar to this article – Saving Computer Science from Itself
(Regrettably, I will undoubtedly be compelled to write more on this topic in the future. In the meantime, here is my answer to the "should we teach kids to code" argument)
As someone who has taught countless children (from preschool) and their teachers to program across the curriculum for 34 years, I disagree with lots of the arguments in this article. I agree that we have done an awful job of defining CS AND reaching any rational consensus of why it is critical that every child learn computer science.
The larger argument I would like to make is that this is not a matter of opinion.
Programming gives children, every child, agency over an increasingly complex and technologically sophisticated world. Computer science is a legitimate science; perhaps the most significant advancement in science of the past century. It is foundational for all other science. THEREFORE, IT MUST BE TAUGHT AND USED WELL BY EVERY CHILD. Computer science gives kids access to complexity and provides an authentic context for learning the crummy mathematics content we dispense to defensless children.
One might also discuss the terrible (or nonexistent) job we do of teaching ANY science to children (below secondary grades). Oh yeah, add art, instrumental music, civics, mathematics, and history to that list as well.
The difference between Computer Science and all of the other stuff we don't bother to teach is the vehemence with which nearly two generations of educators have fought to democratize computer science and keep it out of the classroom. There are countless examples of far less relevant and less fun bullshit we fill kids' school days with.
Furthermore, ISTE cannot be trusted to play any leadership role in this effort. They have disqualified themselves from having any voice in discussions about the future of computing in schools. I signed the ISTE charter, edited their last computer science journal for several years, and have spoken at the last 28 of their conferences. I even co-authored the cover story for the last issue of their magazine, "Learning and Leading with Technology." However, ISTE's self-congratulatory pathetic "standards" for educational computing do not contain the word, "programming," anywhere. There are no powerful ideas they embrace, just some mindless notion of "technology good."
I've written about ISTE before:

Refreshing the ISTE Technology Standards
Senior Editor Gary Stager interviews Don Knezek, CEO of ISTE, on the revised National Educational Technology Standards(NETS). Plus: Stager's perspective.
Published in the June 2007 issue of District Administration

The ISTE Problem
ISTE's vague standards and an exclusionary "seal of alignment" make one wonder whose side the group is on.
Published in the February 2003 issue of District Administration
Why not ask the Wolfram brothers or Seymour Papert about the value of children programming? Why are we relying on the "vision" of politicians or tech directors whose primary concerns are about plumbing and getting Math Blaster to run on Chromebooks connected to an interactive whiteboard?
The UK example is exactly NOT what we should be doing. Their curriculum (scope, sequence, content) makes no sense and bares very little resemblance to computer science. Like other "Coding" or ill conceived computer science curricula written by government committee, the UK curriculum doesn't even need a computer. AND when you make a hierarchical curriculum, IF needs to be in 2nd grade while THEN gets introduced in a subsequent year. The only way you become good at computer science is by revisiting ideas and techniques in lots of projects – just like in any other medium.
Puzzles are not CS. An hour of "code" is not CS. Using Scratch for a few sessions or storyboarding are not CS.
There is no length to which people will not resort to deprive children of learning to program computers.
Oh yeah, the issues of efficacy, equity, etc you mention have been studied for decade. We know what to do.
I could go on….
Gary Stager's work and educational philosophy are based on four ideas.
Unlike most media outlets, The Huffington Post actually pretends to take an interest in education. However, I continue to believe that their Education section was created to be an advertising platform for the truly awful film, "Waiting for Superman," remembered as the Howard the Duck of education documentaries by the three other schmucks and I who paid to see it.
Regardless of their motives, The Huffington Post, is a frequent mouthpiece for the charter school movement and unofficial stenographer for corporations trying to make a quick buck off the misery of teachers and students.
The Huffington Post recently featured an article, "The Most Popular Books For Students Right Now," authored by their Education Editor Rebecca Klein. I clicked on the headline with interest, because I'm a fan of books and reading (I know a truly radical view for an educator). What I found was quite disappointing.
Aside from the fact that six books were the favorite across twelve grade levels, the books fell into two obvious camps; books kids like and books they were required to read by a teacher.
Nonetheless, data is data and Web users like lists.
What I do not like is when basic tenets of journalism, like "follow the money," are ignored in order to mislead readers. The source for the "independent reading habits of nearly 10 million readers" is Renaissance Learning, described by The Huffington Post as "an educational software company that helps teachers track the independent reading practices of nearly 10 million students."
That's like saying ISIS is a magazine publisher Donald Trump, owner of an ice cream parlor. While factually true, this is what Sarah Palin might call putting lipstick on a pig.
Renaissance Learning is a wildly profitable company that sells Accelerated Reader, a major prophylactic device for children who might otherwise enjoy reading. The product is purchased by dystopian bean counters who view small children as cogs in a Dickensian system of education where nothing matters more than data or achievement.
Their product creates online multiple-choice tests that schools pay for in order to quantify each child's "independent" reading. If the school doesn't own the test for a particular book a kid reads, they receive no credit. Kids routinely dumb down their reading in order to score better on the quizzes. Accelerated Reader rewards compliance and speed by turning reading into a blood sport in which winners will be rewarded and their classroom combatants, punished.
Ironically, I wrote about Accelerated Reader in The Huffington Post back in 2012. (Read Mission Accomplished)
When you look at the "favorite" book list featured in The Huffington Post, please consider that kids read The Giver and The Crucible because they are standard parts of the curriculum. This tells us nothing about what kids at grades 7, 8, or 11 actually like to read. Seeing Green Eggs and Ham as the first grade winner should make you sad. Can you imagine taking a comprehension test on this classic??? How vulgar!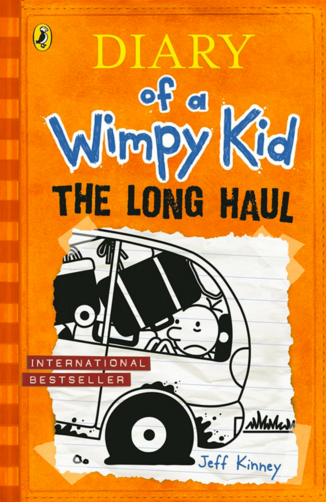 The Grade 2 favorite is also likely assigned by teachers, Click, Clack, Moo: Cows That Type. The mind reels when I try to imagine the test measuring comprehension of the comic book/graphic novel, named favorite book by 3rd, 4th, 5th, AND 6th graders, "Diary of a Wimpy Kid: The Long Haul. First of all, we should be alarmed that this simple book tops the charts for four years, but don't forget that kids will be tested by a computer on their comprehension of this delightful comic book.
"Nothing forced can ever be beautiful." – Xenophone
Caveat emptor!