On Christmas Eve (2016), the world lost one of its most profound thinkers when learning theorist, Dr. Edith Ackermann, left us at age 70. Anyone blessed with even the most casual encounter with Edith embraced her as a mentor, collaborator, and friend. She bestowed boundless respect upon anyone trying to make the world more beautiful, just, or creative. Edith's grace danced into a room like a cool breeze awakening its occupants and setting their sights towards what truly matters.
Edith was a giant among learning theorists, even if under-appreciated and a best kept secret. Her work focused on the intersection of play, design, childhood, and technology. She worked closely with Jean Piaget, Seymour Papert, and Ernst von Glasersfeld – three of the most important experts on learning ever. Her insights were invaluable to the LEGO Company, MIT students, architects, and educators around the world.
Edith was always there to help me clarify my thinking and to take an idea one stop past my anticipated exit. She was a pal with whom you could walk arm in arm discussing almost anything, laugh boisterously, and gossip quietly. We disliked many of the same ideas and people, but Edith was just much better at hiding her disdain.
Perhaps, Edith's remarkable perspective came from being an outsider. Despite the profound impact she had on innumerable students and colleagues, I never got the sense that the testosterone-oozing world of MIT afforded her the respect or security she so richly deserved.
Shamefully, I do not know much about Edith's history or personal life; yet another painful reminder that we should do everything possible to know our friends better. Therefore, I will share some thoughts about her work and what she meant to me.
I don't remember when I first met Edith. I think it was in 2000 when Seymour Papert sent me to sub for him as the keynote speaker at a conference held at the Piaget Archives in Geneva. Papert failed to tell the organizers that 1) he wasn't coming or 2) that I was his replacement. The entire story is a hilarious comedy of errors that I'll share another day.
Edith and I attended many EuroLogo (now Constructionism) Conferences and worked together 15+ years ago in Mexico City leading a workshop as members of the MIT Media Lab's Future of Learning Group. Several years ago, I invited Edith to be a guest speaker at my 2014 Constructing Modern Knowledge institute. I set aside concerns that her Swiss accent, quiet demeanor, and brilliant intellect would not work in a room full of predominantly American educators. Her unrivaled genius made the risk worthwhile.
Edith's wisdom, passion, humanity, and generosity of spirit made her an immediate favorite of the very educators who others treat as low-skill labor in need of a 7-step plan for raising achievement. The next year, Edith spent most of the institute with us interacting informally with participants and appearing on a panel discussion with two of my other heroes, David Loader and Deborah Meier. Last summer, despite her ongoing battle with Cancer, Edith Ackermann spent all four days of CMK helping each of us make meaning out of our individual and collective experiences.
Edith taught us so much.
One powerful idea she shared was that "Making is a way of seeing." Edith had a gift for bringing into focus what others miss. She invited us to "lean in," not in the vulgar career climbing form advocated by Sheryl Sandberg, but as a way of becoming one with nature, the community, ideas, beauty, and one's soul.
I would like to share three very special memories of Edith Ackermann at Constructing Modern Knowledge.
2016
After nine years of effort, I managed to convince Reggio Children President Carla Rinaldi to participate in Constructing Modern Knowledge. Edith and Carla were old friends who greeted each other with great love and respect. Their mutual affection was truly touching. During the institute, I stole a little time to show Carla and Edith how Tickle (an iOS dialect of Scratch) could be used to bring drones and a variety of robots to life. They appreciated the technological wizardry for a split second and then became preschoolers imagining how the different toys could play, communicate and love one another. Both experts were so in tune with the inner lives of children that they were able to wear the spirit of childhood play with great ease and abundant joy.
2015
A tacit theme of Constructing Modern Knowledge involves creating the conditions by which each participating educator may think about how their particular learning experience connects with their own priory experience and future classroom practice. Superficially, our speakers may seem to have nothing to do with one another or the sorts of project work undertaken by CMK attendees. In 2015, I invited two National Endowment for the Arts Jazz Masters, 86 year-old pianist Barry Harris and 89 year-old saxophonist Jimmy Heath, to perform a masterclass at CMK. Edith not only understood immediately why I invited them to perform at an event about learning and making, but she was thrilled to spend time with Barry Harris whose music she knew. Edith had also watched videos of Barry teaching. Just take a look at the joy with which she approached this encounter.
2014
I work all year organizing Constructing Modern Knowledge and try to steal an hour to indulge a passion of mine, taking great friends and colleagues to Cremeland, an "al fresco" roadside stand in Manchester, New Hampshire known for its fabulous fried fish and ice cream. The first year Edith joined the CMK team, I took her and a couple of colleagues for our secret lunch at Cremeland. You order food at one window, eat at picnic tables in the parking lot, and then return to a window at the opposite end of the building for decadent ice cream.
There is always a bit of chaos when a group of people are ordering from an unknown menu through a tiny window, but throw Edith's Swiss accent into the mix and watch hilarity ensue.
Server: Can I take your order?
Edith: I'll have the haddock platter.
Server: Hot Dog?
Edith: Haddock
Server: Hot Dog?
Edith: Haddock
Server: Hot Dog?
Edith: NO! Haddock not Hot Dog!
This became a private joke between us and when I gave the CMK faculty and speakers t-shirts with chalkboards printed on them, Edith wrote, "Haddock, not hot dog," on hers.
Au revoir dear Edith…. We love you and will miss you more than you could ever know.
---
For further reading…
Exploratorium Talk – The craftsman, The trickster, and the Poet — Conference Art as a way of knowing. San Francisco, 2011
Constructionism 2010 Talk – Constructivism(s): Shared roots, crossed paths, multiple legacies
When it comes to technology, teachers are too often treated as imbeciles or felons!
In 1990, I was hired to teach public school 4th grade. By that time, I had already been engaging children in collaborative online projects for several years and sbsing a telephone for most of my twenty-seven years on earth. Two days into the school year I rebelled against the absurdity of not having a working telephone in my classroom, went to Radio Shack, purchased a $3 phone splitter, found a barely used telephone sitting in an abandoned office, connected the splitter, and began pulling a spool of phone cable down the school corridor. A custodian noticed my efforts and asked if I would like him to drill a few holes to make the job tidier. A few minutes later, I had a computer connected to the Internet via modem so that my students could work on National Geographic Kids Network science projects. (I could send and receive email too.)
Then as now, I could not understand why other teachers would suffer the indignities associated with not being trusted to use a telephone, 114 years after Bell yelled, "Watson! Come here! I need you!" Yet, the powerlessness continued. For at least another decade, teachers were forced to call their gynecologist from a payphone outside the cafetorium at lunch time.
Schools did not change policies, teachers bought their own damned cellphones and now could join the billions of other people around the world with phone access.
In 2016, educators are sent to workshops I lead with school-supplied laptops incapable of installing an "app," playing a YouTube video, surfing to a .edu domain, or sending email with an attachment. Some have their USB ports disabled. This is not only a source of embarrassment for seemingly "professional" educators, but wastes precious learning time when those teachers are on the phone to the district IT fascist begging for access to their own "personal computer." I need to abandon teaching to console grown educators frustrated that they cannot participate in sound educational experiences.
Irrational schools and school district policies quickly turn $1,200 teacher laptops into $100 pieces of sculpture.
Each spring, I receive email messages from educators attending Constructing Modern Knowledge. These messages say, "our school IT paraprofessional would like a list of all the software I will need this summer so he (always a HE) can install it for me." Aside from this remarkable act of disempowerment and dependency, it misses the entire idea that computers are extensible. You never know which features and functionality that may emerge. I cannot and will not provide a list of software to be installed because that decision is based on the needs of the specific project that institute participants choose to work on.
Ten years ago, I was hired by a university to be a Visiting Professor. As part of my contract negotiations, I was promised a new laptop. When the university reneged, I spent a few grand on my own computer. Despite being a bit poorer, I had a key to the building, an office, and place to park my car. I was trusted to write curricula, teach, and award grades. One day, my laptop would no longer print to the university printers. When I interrupted the slumber of the tech "support" staff to troubleshoot, they informed me that faculty was no longer allowed to print from their personal (that word again) computers from their offices, even if the university didn't provide computers. So, I bought a printer for $50 and put it in my office next to where my computer would sit.
In one act of lunacy, the university banned color printing. When I noticed that my senior colleague responsible for teacher credentialing was hand-coloring documents for the state licensing board with colored pencils, I took the damned printer off my desk and gave it to her.
Just as educators resolved one power imbalance by purchasing their own cellphones, it is time for action. My colleague Audrey Watters has written extensively about why everyone – student, teacher, citizen – needs a domain of one's own. Pennies a day gets you a domain, server space, and private email account(s).
You know what else you should own? Your own damned laptop! Here's what you can buy for $350 and have it arrive tomorrow. (Toshiba makes great PCs, but you can save even more money if you go with another manufacturer.)
Toshiba Radius 2016 Newest Edition 11.6″ HD LED-backlit TruBrite 2-in-1 Touchscreen Convertible Laptop | Intel Quad Core | 4GB RAM | 500GB HD | HDMI | Webcam | Bluetooth | WIFI | Windows 10
NOW do you understand why Secretary Clinton may have used her own server? Is it the least bit possible that the Federal Government can't keep up with technological progress or imposes nonsensical rules for its use?
PS: Concerned that your school or district owns your intellectual property? Use you own damned server. For more than twenty years, every single syllabus, handout, article, paper… I wrote was stored on my own personal server. It would be really hard for your school superintendent or department chair to claim they own something that never lived on their network.
This time of year, the "news" is full of heartwarming back-to-school tales of good citizens buying school supplies for needy classrooms. Pop-music footnotes, Katy Perry and Pharrell the Plagiarist have both engaged in selfless acts of corporate shilling philanthropy shameless publicity to help students get school supplies. Donors Choose has created a social media platform where teachers can beg crowdfund for crayons and Kleenex. (Read my article about Donors Choose)
Ain't it swell that school supply supplying is bigger and better than ever?
HELL NO!
I will not help teachers commit suicide by supporting these feel good attempts to turn basic public school funding into an act of charity. Each time educators normalize deprivation and substitute charity as social justice withheld, they will find themselves with fewer classroom resources. Such actions also spurn greater public school privatization and devaluing of teachers.
Q:      You know who should pay for school supplies?
A:      Tax payers!
Perhaps corporations and pop stars could begin paying their fair share of taxes so that Katy Perry isn't forced to enrich Bain Capital's Mitt Romney's Staples.
But, but, but, but, but… teachers spend a fortune on classroom supplies that their students need. Right, I get it. I do too. I spent $1,000 the first month I taught 4th grade. That's not the point.
First of all, teachers should be able to deduct those costs off their income taxes. Second, public schools should be adequately funded. Third, teachers should stop contributing to consumerism and ask what their kids really need.
Yes, I'm going there. Every time a teacher requires 4 of these, 3 of those… a specific brand of pen, or an official notebook they contribute to needless family strife and exacerbate inequality.
When you require a Trapper Keeper (the Volvo of notebooks) or ban the Trapper Keeper (the three-hole punched incubus), you do not "teach organizational skills" as much as you teach compliance, reinforce prehistoric educational practices, and place a needless financial strain on your students' families. It's a freakin' notebook for God's sake. If a teacher is concerned with enforcing whether a student writes on one of both sides of a paper, or cares about the brand or color of their notebook, they should seek professional help.
Parents should stop worrying about this nonsense and expect public schools to be adequately funded and stocked with necessary supples – as is required by law and practice.
We are the richest nation in the history of the world. We can afford a cello and laptop for every child. It is a sin to beg for pencils.
So, let's review. I salute the folks who wish to contribute to public education. Volunteering, contributing to organizations like Access Books, bring a performance to school, or pay for things kids might love are a much better idea. Every time a school wastes a second fundraising for basic supplies, a billionaire replaces a teacher with a YouTube video
I cannot believe that for the third straight year, a piece of garbage masquerading as education "research" is once again being passed around like social media dysentery. Worst of all, well-meaning, yet ultimately gullible educators seem compelled to "debate" such nonsense. Since teachers are terminally nice and all dissent is viewed as defect, it doesn't take much for people to find the silver lining in this bag of manure.
I hate sharing this article with you because it makes me feel like a hypocrite, but I hope readers will consider not considering such baloney in the future.
They have the audacity to call this child abuse a "theory." Never mind the scientific standards required for a crackpot idea to rise to the level of a theory..
May 2016
I spent this morning in the company of extraordinary women. First, I was delighted to attend the National Center for Women in IT keynote address "Intersectionality & Diversity in Computing: Key Dilemmas and What to Do About Them." by one of my sheroes, Professor Melissa Harris-Perry. Next, I attended a talk by Mimi Ito about how the intersection of youth and digital culture were converging with traditional opportunities to create greater social capital, particularly among underserved populations. At the end of her session, my friend Cynthia Solomon (recipient of the NCWIT Pioneer Award last night), raised an important issue. She expressed concern about how Minecraft charges users and therefore makes it inaccessible to poor children. Dr. Ito agreed about the financial barrier to participation and said that important people, such as herself, were asking Microsoft, the owners of Minecraft, to make the software free. The audience was pleased with that response.
This might surprise you, but I disagree. Schools, teachers, and kids should pay for software.
Software does not grow on trees. It is created by artists, programmers, writers, designers, and engineers who need and deserve to feed their families, just like the humble teacher. The continuous devaluing of software, along with other media, profits no one in the short-term and giant corporations in the long-run. This phenomena not only harms the earning potential of creators, but ensures that educators will be deprived of high quality tools and materials. Sorry, but you get what you pay for.
I know what you're thinking. We're just poor teachers. Our budgets are slashed to the bone. We fundraise for crayons. Software is ephemeral. We should not have to pay for it like when we happily purchase "real" things; flash cards, interactive white boards, or that hall pass timer that reminds kids to poop faster.
There have only been a handful of truly innovative software programs ever created for learning (MicroWorlds, The Zoombinis, Geometer's Sketchpad, Rocky's Boots, LogoWriter, Inspire Data, My Make Believe Castle, Broderbund's Science Toolkit) over the past three decades. That development pipeline has rusted over while software becomes "free."*
Inspired by Dr. Harris-Perry's address, I suggest that we are looking at the Minecraft cost issue from the wrong perspective. The problem is not that Minecraft (or even better more educative software) isn't free, but that schools are so poorly funded they cannot afford to pay for what they need.
Fix the funding system! Make Silicon Valley pay their fair share of taxes! Give teachers discretionary funds for classroom activities! Change the tax code to allow teachers to deduct classroom materials from their income tax! Don't destroy the handful of creative companies who create great materials for children.
Don't tell me that you're preparing kids for S.T.E.M. jobs while demanding free software!
The High Cost of Free
Aside from the vulgarity of Donors Choose, the most unattractive example of teacher dependency and low self-esteem is the desire to become corporate certified. What's next? Should teachers where festive holiday sweaters affixed with corporate sponsor logos like NASCAR drivers or Happy Meals? If not, then why the rush to advertise your corporate affiliation on your blog, Twitter profile, or CV?
Google is not your friend. They are a giant corporation selling users and their data to other corporate customers. That doesn't bother me 10 percent as much as the spectacle of educators begging for corporate affection.
Go ahead. Name a single educational idea or value Google has added to educational practice. Cheap, free, and easy are not powerful ideas. There is nothing progressive in using cloud-based versions of office software or denatured half computers in the form of Chromebooks. Why should any educator care what Google thinks about teaching or learning?

Google certification is particularly embarrassing. I do not understand why any "professional" educator would parade around in an "I can use The Google and type a memo" sash. Such educators are uncompensated evangelists and walking billboards for Google, perhaps at their own peril.
The price of integrity must be more than "free" photo storage or use of a Web-based word processor.
Don't believe me? Read Maria Schneider's Open Letter to YouTube, "Pushers" of Piracy. Really read it. Read it again. Think about it. Share it.
Ms. Schneider is neither a crank or Luddite. She is a spectacularly talented composer who earned the first ever Grammy Award for an Internet crowd-funded project. In her article, she details how Alphabet/Google/YouTube profits from piracy, protects pirates, demonizes artists, and strong-arms creators into entering self-destructive business arrangements. Like other corporate bullies. Alphabet/Google/YouTube hides behind lobbyists while portraying themselves as martyrs.
Teachers need to stand with creators, not Google. If teachers do not view themselves as "content creators," then they should be reminded that there are powerful corporate interests who would like to replace them with YouTube videos and a Web-based comprehension quiz.
Don't stand with Google! (or any other company)
Schmoozing with salespeople does not and should not define you as an educator. Stand with and on the shoulders of other great educators. Be content to be a customer, never the product or a prop.
---
Footnote
* Next time you are told that "The Cloud is free," ask how much money your school/district is paying to employ IT personnel who guard, monitor, secure, or block it. How much does all that extra bandwidth cost? What can't children do or learn while waiting for "The cloud" to have the functionality of a 5-10 year-old PC?
It takes real balls for every other startup company, politician, and Silicon Valley dilettante to advocate for "coding" with a macho certainty suggesting that learning to program is a novel idea or accomplished in an hour.
Professional learning opportunities for educators:
Constructing Modern Knowledge offers world-class hands-on workshops across the globe, at schools, conferences, and museums. During these workshops, teachers learn to learn and teach via making, tinkering, and engineering. Computer programming (coding) and learning-by-making with a variety of materials, including Sphero and Tickle. For more information, click here.
[April 2016] At last week's #asugsv Summit, the annual bacchanal where dilettantes, amateurs, libertarians, billionaires, and Silicon Valley mercenaries gather to plot the destruction of public education in plain view, Dr. Condoleeza Rice of 9/11 and Iraqi war infamy shared her expertise on "reforming" public education. Like many simpletons and profiteers, Dr. Rice seeks salvation in dystopian technology and reportedly demonstrated a level of understanding of educational technology similar to her imaginary "mushroom cloud" in Baghdad.
"Technology is neutral," Rice observed. "It's how it is applied that matters." Technology can be used to support a world in which a child's zip code or color or gender or age doesn't shape their future—just their commitment to getting an education, she said. (Edsurge – Heard & Overheard at the ASU+GSV Summit. April 19, 2016.)
No. You are profoundly wrong Dr. Rice!
In fact I detailed how wrong you are three years ago. Perhaps you didn't read my daily brief entitled, "Technology is Not Neutral!" You may read it below…
Larry Ferlazzo invited me to share a vision of computers in education for inclusion in his Classroom Q&A Feature in Education Week. The text of that article is below.

You may also enjoy two articles I published in 2008:
Technology is Not Neutral

Educational computing requires a clear and consistent stance
© 2013 Gary S. Stager, Ph.D.
There are three competing visions of educational computing. Each bestows agency on an actor in the educational enterprise. We can use classroom computers to benefit the system, the teacher or the student. Data collection, drill-and-practice test-prep, computerized assessment or monitoring Common Core compliance are examples of the computer benefitting the system. "Interactive" white boards, presenting information or managing whole-class simulations are examples of computing for the teacher. In this scenario, the teacher is the actor, the classroom a theatre, the students the audience and the computer is a prop.
The third vision is a progressive one. The personal computer is used to amplify human potential. It is an intellectual laboratory and vehicle for self-expression that allows each child to not only learn what we've always taught, perhaps with greater efficacy, efficiency or comprehension. The computer makes it possible for students to learn and do in ways unimaginable just a few years ago. This vision of computing democratizes educational opportunity and supports what Papert and Turkle call epistemological pluralism. The learner is at the center of the educational experience and learns in their own way.
Too many educators make the mistake of assuming a false equivalence between "technology" and its use. Technology is not neutral. It is always designed to influence behavior. Sure, you might point to an anecdote in which a clever teacher figures out a way to use a white board in a learner-centered fashion or a teacher finds the diagnostic data collected by the management system useful. These are the exception to the rule.
While flexible high-quality hardware is critical, educational computing is about software because software determines what you can do and what you do determines what you can learn. In my opinion the lowest ROI comes from granting agency to the system and the most from empowering each learner. You might think of the a continuum that runs from drill/testing at the bottom; through information access, productivity, simulation and modeling; with the computer as a computational material for knowledge construction representing not only the greatest ROI, but the most potential benefit for the learner.
Piaget reminds us ,"To understand is to invent," while our mutual colleague Seymour Papert said, "If you can use technology to make things, you can make more interesting things and you can learn a lot more by making them."
Some people view the computer as a way of increasing efficiency. Heck, there are schools with fancy-sounding names popping-up where you put 200 kids in a room with computer terminals and an armed security guard. The computer quizzes kids endlessly on prior knowledge and generates a tsunami of data for the system. This may be cheap and efficient, but it does little to empower the learner or take advantage of the computer's potential as the protean device for knowledge construction.
School concoctions like information literacy, digital citizenship or making PowerPoint presentations represent at best a form of "Computer Appreciation." The Conservative UK Government just abandoned their national ICT curriculum on the basis of it being "harmful and dull" and is calling for computer science to be taught K-12. I could not agree more.
My work with children, teachers and computers over the past thirty years has been focused on increasing opportunity and replacing "quick and easy" with deep and meaningful experiences. When I began working with schools where every student had a laptop in 1990, project-based learning was supercharged and Dewey's theories were realized in ways he had only imagined. The computer was a radical instrument for school reform, not a way of enforcing the top-down status quo.
Now, kindergarteners could build, program and choreograph their own robot ballerinas by utilizing mathematical concepts and engineering principles never before accessible to young children. Kids express themselves through filmmaking, animation, music composition and collaborations with peers or experts across the globe. 5th graders write computer programs to represent fractions in a variety of ways while understanding not only fractions, but also a host of other mathematics and computer science concepts used in service of that understanding. An incarcerated 17 year-old dropout saddled with a host of learning disabilities is able to use computer programming and robotics to create "gopher-cam," an intelligent vehicle for exploring beneath the earth, or launch his own probe into space for aerial reconnaissance. Little boys and girls can now make and program wearable computers with circuitry sewn with conductive thread while 10th grade English students can bring Lady Macbeth to life by composing a symphony. Soon, you be able to email and print a bicycle. Computing as a verb is the game-changer.
Used well, the computer extends the breadth, depth and complexity of potential projects. This in turn affords kids with the opportunity to, in the words of David Perkins, "play the whole game." Thanks to the computer, children today have the opportunity to be mathematicians, novelists, engineers, composers, geneticists, composers, filmmakers, etc… But, only if our vision of computing is sufficiently imaginative.
Three recommendations:
1) Kids need real computers capable of programming, video editing, music composition and controlling external peripherals, such as probes or robotics. Since the lifespan of school computers is long, they need to do all of the things adults expect today and support ingenuity for years to come.
2) Look for ways to use computers to provide experiences not addressed by the curriculum. Writing, communicating and looking stuff up are obvious uses that require little instruction and few resources.
3) Every student deserves computer science experiences during their K-12 education. Educators would be wise to consider programming environments designed to support learning and progressive education such as MicroWorlds EX and Scratch.
— — — — — — — — — — — — — — — — -
In addition to being a veteran teacher educator, popular speaker, journalist, author, and publisher, Gary is co-author of the bestselling book called the "bible of the maker movement in schools", Invent To Learn — Making, Tinkering, and Engineering in the Classroom. He also leads the Constructing Modern Knowledge summer institute and is Publisher at CMK Press.
My pal Will Richardson asked me to respond to news that the Florida legislature (ground zero for destructive education policies) has passed a bill allowing high school students to substitute "coding" courses for foreign language requirements. (see Florida Senate approves making coding a foreign language)
If you are a toddler learning English as a second language between binge watching seasons of Glitter Force, it's easy to see how "coding" in a programming language and literacy in a foreign language are equivalent.
For adult legislators entrusted with governance, this policy means two things:
They have no idea what computer coding is.

When policy makers say that students should "understand" technology or refer to technology as a "basic skill," they reveal a profound ignorance of computer science and have reduced a powerful intellectual pursuit to the level of a bicycle safety assembly or "don't copy that floppy" poster.

They are finally willing to admit that they don't give a rat's ass about teaching foreign language.

This may also be a tacit recognition that high school foreign language instruction is mostly torturous and unsuccessful.
When Will tweeted me about the news, a fellow twitterit asked, "Why music can't satisfy foreign language requirements?" While, there is no greater advocate for music education than myself, this newfound willingness to substitute one discipline for a completely unrelated required course is an admission that all course requirements should be abolished. There is so little consensus on what matters. And that may be a very good thing.
---
Related articles:
Unlike most media outlets, The Huffington Post actually pretends to take an interest in education. However, I continue to believe that their Education section was created to be an advertising platform for the truly awful film, "Waiting for Superman," remembered as the Howard the Duck of education documentaries by the three other schmucks and I who paid to see it.
Regardless of their motives, The Huffington Post, is a frequent mouthpiece for the charter school movement and unofficial stenographer for corporations trying to make a quick buck off the misery of teachers and students.
The Huffington Post recently featured an article, "The Most Popular Books For Students Right Now," authored by their Education Editor Rebecca Klein. I clicked on the headline with interest, because I'm a fan of books and reading (I know a truly radical view for an educator). What I found was quite disappointing.
Aside from the fact that six books were the favorite across twelve grade levels, the books fell into two obvious camps; books kids like and books they were required to read by a teacher.
Nonetheless, data is data and Web users like lists.
What I do not like is when basic tenets of journalism, like "follow the money," are ignored in order to mislead readers. The source for the "independent reading habits of nearly 10 million readers" is Renaissance Learning, described by The Huffington Post as "an educational software company that helps teachers track the independent reading practices of nearly 10 million students."
That's like saying ISIS is a magazine publisher Donald Trump, owner of an ice cream parlor. While factually true, this is what Sarah Palin might call putting lipstick on a pig.
Renaissance Learning is a wildly profitable company that sells Accelerated Reader, a major prophylactic device for children who might otherwise enjoy reading. The product is purchased by dystopian bean counters who view small children as cogs in a Dickensian system of education where nothing matters more than data or achievement.
Their product creates online multiple-choice tests that schools pay for in order to quantify each child's "independent" reading. If the school doesn't own the test for a particular book a kid reads, they receive no credit. Kids routinely dumb down their reading in order to score better on the quizzes. Accelerated Reader rewards compliance and speed by turning reading into a blood sport in which winners will be rewarded and their classroom combatants, punished.
Ironically, I wrote about Accelerated Reader in The Huffington Post back in 2012. (Read Mission Accomplished)
When you look at the "favorite" book list featured in The Huffington Post, please consider that kids read The Giver and The Crucible because they are standard parts of the curriculum. This tells us nothing about what kids at grades 7, 8, or 11 actually like to read. Seeing Green Eggs and Ham as the first grade winner should make you sad. Can you imagine taking a comprehension test on this classic??? How vulgar!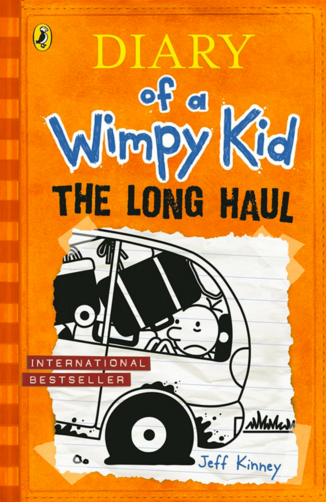 The Grade 2 favorite is also likely assigned by teachers, Click, Clack, Moo: Cows That Type. The mind reels when I try to imagine the test measuring comprehension of the comic book/graphic novel, named favorite book by 3rd, 4th, 5th, AND 6th graders, "Diary of a Wimpy Kid: The Long Haul. First of all, we should be alarmed that this simple book tops the charts for four years, but don't forget that kids will be tested by a computer on their comprehension of this delightful comic book.
"Nothing forced can ever be beautiful." – Xenophone
Caveat emptor!