An old friend and colleague got a new job at an education marketing/communication company where he believed they wanted actual content. He asked me to share some views on educational leadership. So, I took the time to formulate responses for his august publication. Sadly, it appears that the new publication seeks to be a low-rent version of EdSurge, focused on aggregating links and pro-vendor happy talk. Therefore, I humbly share the unpublished interview with my dozen[1] of loyal social media readers.
Question: What do educators need to know today?
Shameless self-promotion is the key to all good things in education.
Sixteen years of politics have successfully eroded the public's confidence in public education. Every school needs a Minister of Propaganda to inform the community of the wonderful things happening in classrooms. If the adults feel incapable of performing this role, find a fifteen year-old student to deputize.
We stand on the shoulders of giants.
I once heard President Clinton say, "Every problem in education has been solved somewhere." Put down the Twitter machine, read some books, attend conferences, and learn from great educators.
I want to live in a world where kids wake up at three AM clamoring to get back to school to work on a project they care about and where teachers ask themselves, "How do I make this the best seven hours of a kid's life?"
There is nothing to be gained from reading "get rich quick" books sold at airport gift shops.
Thomas Friedman, Frank Bruni, Steven Covey, Michael Horn, Clayton Christensen, and Dan Pink are no match for Herbert Kohl, John Dewey, Loris Malaguzzi, Seymour Papert, Alfie Kohn, Jonathan Kozol, or Frank Smith. A suggested reading list may be found at http://cmkfutures.com/reading/
The current fascination with "Big Data Analytics" and "AI" will result in classrooms none of you will send your kids to.
Rather than wait for a dystopian future, there are things we can do today to make schools better places for learning.
We need to fight amnesia.
Since "No Child Left Behind," mountains of wisdom and evidence have been erased from our professional practice. For example, the debate over approaches to literacy ranges all of the way from punitive phonics to painful phonics. Sound commonsense practices, such as whole language, are no longer even debated.
Removing agency from teachers makes them less effective, not more.
It is time for urgency.
As Jonathan Kozol says, "You are only 7 once." Microcomputers have now been in schools for close to two generations. It is high time we stop debating the merits of modernity.
We are the wealthiest nation in the history of the world.
We can afford a multimedia laptop and cello for every child.
If every school had a strong instrumental music program, there might not be a President Trump.
"Teacher working conditions are student learning conditions." – Deborah Meier
Pearson is not your friend.
Question: When did a deep knowledge of teaching practices and education philosophy become a hindrance?
Around 1985, a couple of years after A Nation at Risk, legislatures around the world declared, "Teaching ain't nothin'," and replaced rich and varied teacher education curricula with Animal Control and Curriculum Delivery. The art of teaching and self-contained interdisciplinary elementary classrooms were replaced with departmentalized, mechanical efficiency schemes.
Unqualified is the new qualified. Appointing unqualified folks, like Joel Klein or Betsy DeVos, to leadership positions signals a corrosive message throughout the school system – educators can not be trusted to lead schools.
It is impossible to overstate the impact of the anti-intellectual assault on public education led by Bill Gates, Eli Broad, the Walton Family, and Teach for America. It is preposterous to argue against continuing education for educators. Why isn't there Hedgefund Trader for America or Surgeon for America?
Question: What are the top three things Gary Stager University would teach prospective teachers and principals?
Teaching and learning are not the same thing. Learning is a verb and not the direct result of having been taught. Learning is natural. Children do not need to be tricked or coerced into learning when engaged in meaningful pursuits. Whenever faced with a classroom decision, educators should rely on the mantra, "Less Us, More Them." Students always profit when maximum agency is shifted to them.
The "project" should be the smallest unit of concern to educators. Piaget teaches us that "knowledge is a consequence of experience." Experiences are best supported through interesting learner-centerered projects.
Classroom management is only necessary when you go into a classroom thinking you need to manage it. We need to lower the level of antagonism between adults and children in order to create productive contexts for learning. If your temperament and worldview are better suited to being a prison guard, you have made a serious vocational error.
I became a pre-k through 8th grade teacher in the mid-1980s. I was literally in the last teacher education cohort who was expected to learn how to teach science, music, art, physical education, special education, make puppets out of Pop-Tart boxes, create math manipulatives, and fill a classroom with interdisciplinary projects. Teacher preparation was equal parts art and science. Then around 1985, a couple of years after A Nation at Risk, legislatures around the world declared, "Teaching ain't nothin'," and replaced rich and varied teacher education curricula with Animal Control and Curriculum Delivery.
Today, anyone who has ever been a billionaire or 7-11 night manager can run the US Department of Education or be a superintendent of schools, while well-prepared and experienced educators are met with suspicion and derision. We say that, "we stand on the shoulders of giants," but ask a room full of school leaders how many of the authors in this reading list they have read and prepare to be stunned by the blank stares. Suggest any teaching practice not sold by Pearson and you're likely to have a school principal reply, "Oh! You mean like Montessori?" Quite simply, unqualified is the new qualified.
Elementary teaching has been narrowed and departmentalized in ways that make it as ineffective as high school. Truly getting to know each child and to engage them in meaning making through interdisciplinary projects has been the first casualty of the assault on the art of teaching. As teacher agency has eroded through mistrust, prescriptive curriculum, and standardized testing, teachers become less, not more, thoughtful in their practice. When you mechanize teaching and place it under constant surveillance, teaching quality becomes less human, rewarding, joyful, creative, and more compliant.
Over the past thirty years, educators have lost control, freedom, and memory of classic pedagogical practices. During my work in classrooms around the world, I am often struck by how teachers are unaware of teaching practices I have long taken for granted. For example, I just assumed that every teacher knew about classroom centers, could defend their use, and make them a staple of each learning environment. I was wrong. That's one of the reasons I wrote "Thoughts on Classroom Centers," although I would still love to find the seminal work(s) on the topic.
Choice Time
While mentioning this lingering question to one of my heroes, Deborah Meier, she suggested I ask Renée Dinerstein. (I intend to) Ms. Dinnerstein is the author of a fine new book, Choice Time – How to Deepen Learning Through Inquiry and Play, PreK-2. The book focuses on the critical element of student choice and what they do during learner-centered classroom time. Classroom centers are the magic carpet of choice time.
I just purchased the book and cannot recommend it highly enough. It is a beautiful guide filled with clear and practical advice for teachers without being condescending or treating its readers like imbeciles. The book is not 500 pages of jargon and reproducibles, but rather 165 pages of inspiration intended to rekindle creative teaching in order to create more productive contexts for learning by children. It also helps teachers observe and understand the thinking of each child.
Although it says that the book's wiscom is intended for PK-2nd grade, I would recomment the book to teachers at any grade level.
The author maintains a web site, investigatingchoicetime.com, intended to extend the inspiration shared in the book.
May 2016
I spent this morning in the company of extraordinary women. First, I was delighted to attend the National Center for Women in IT keynote address "Intersectionality & Diversity in Computing: Key Dilemmas and What to Do About Them." by one of my sheroes, Professor Melissa Harris-Perry. Next, I attended a talk by Mimi Ito about how the intersection of youth and digital culture were converging with traditional opportunities to create greater social capital, particularly among underserved populations. At the end of her session, my friend Cynthia Solomon (recipient of the NCWIT Pioneer Award last night), raised an important issue. She expressed concern about how Minecraft charges users and therefore makes it inaccessible to poor children. Dr. Ito agreed about the financial barrier to participation and said that important people, such as herself, were asking Microsoft, the owners of Minecraft, to make the software free. The audience was pleased with that response.
This might surprise you, but I disagree. Schools, teachers, and kids should pay for software.
Software does not grow on trees. It is created by artists, programmers, writers, designers, and engineers who need and deserve to feed their families, just like the humble teacher. The continuous devaluing of software, along with other media, profits no one in the short-term and giant corporations in the long-run. This phenomena not only harms the earning potential of creators, but ensures that educators will be deprived of high quality tools and materials. Sorry, but you get what you pay for.
I know what you're thinking. We're just poor teachers. Our budgets are slashed to the bone. We fundraise for crayons. Software is ephemeral. We should not have to pay for it like when we happily purchase "real" things; flash cards, interactive white boards, or that hall pass timer that reminds kids to poop faster.
There have only been a handful of truly innovative software programs ever created for learning (MicroWorlds, The Zoombinis, Geometer's Sketchpad, Rocky's Boots, LogoWriter, Inspire Data, My Make Believe Castle, Broderbund's Science Toolkit) over the past three decades. That development pipeline has rusted over while software becomes "free."*
Inspired by Dr. Harris-Perry's address, I suggest that we are looking at the Minecraft cost issue from the wrong perspective. The problem is not that Minecraft (or even better more educative software) isn't free, but that schools are so poorly funded they cannot afford to pay for what they need.
Fix the funding system! Make Silicon Valley pay their fair share of taxes! Give teachers discretionary funds for classroom activities! Change the tax code to allow teachers to deduct classroom materials from their income tax! Don't destroy the handful of creative companies who create great materials for children.
Don't tell me that you're preparing kids for S.T.E.M. jobs while demanding free software!
The High Cost of Free
Aside from the vulgarity of Donors Choose, the most unattractive example of teacher dependency and low self-esteem is the desire to become corporate certified. What's next? Should teachers where festive holiday sweaters affixed with corporate sponsor logos like NASCAR drivers or Happy Meals? If not, then why the rush to advertise your corporate affiliation on your blog, Twitter profile, or CV?
Google is not your friend. They are a giant corporation selling users and their data to other corporate customers. That doesn't bother me 10 percent as much as the spectacle of educators begging for corporate affection.
Go ahead. Name a single educational idea or value Google has added to educational practice. Cheap, free, and easy are not powerful ideas. There is nothing progressive in using cloud-based versions of office software or denatured half computers in the form of Chromebooks. Why should any educator care what Google thinks about teaching or learning?

Google certification is particularly embarrassing. I do not understand why any "professional" educator would parade around in an "I can use The Google and type a memo" sash. Such educators are uncompensated evangelists and walking billboards for Google, perhaps at their own peril.
The price of integrity must be more than "free" photo storage or use of a Web-based word processor.
Don't believe me? Read Maria Schneider's Open Letter to YouTube, "Pushers" of Piracy. Really read it. Read it again. Think about it. Share it.
Ms. Schneider is neither a crank or Luddite. She is a spectacularly talented composer who earned the first ever Grammy Award for an Internet crowd-funded project. In her article, she details how Alphabet/Google/YouTube profits from piracy, protects pirates, demonizes artists, and strong-arms creators into entering self-destructive business arrangements. Like other corporate bullies. Alphabet/Google/YouTube hides behind lobbyists while portraying themselves as martyrs.
Teachers need to stand with creators, not Google. If teachers do not view themselves as "content creators," then they should be reminded that there are powerful corporate interests who would like to replace them with YouTube videos and a Web-based comprehension quiz.
Don't stand with Google! (or any other company)
Schmoozing with salespeople does not and should not define you as an educator. Stand with and on the shoulders of other great educators. Be content to be a customer, never the product or a prop.
---
Footnote
* Next time you are told that "The Cloud is free," ask how much money your school/district is paying to employ IT personnel who guard, monitor, secure, or block it. How much does all that extra bandwidth cost? What can't children do or learn while waiting for "The cloud" to have the functionality of a 5-10 year-old PC?
It takes real balls for every other startup company, politician, and Silicon Valley dilettante to advocate for "coding" with a macho certainty suggesting that learning to program is a novel idea or accomplished in an hour.
Professional learning opportunities for educators:
Constructing Modern Knowledge offers world-class hands-on workshops across the globe, at schools, conferences, and museums. During these workshops, teachers learn to learn and teach via making, tinkering, and engineering. Computer programming (coding) and learning-by-making with a variety of materials, including Sphero and Tickle. For more information, click here.
My pal Will Richardson asked me to respond to news that the Florida legislature (ground zero for destructive education policies) has passed a bill allowing high school students to substitute "coding" courses for foreign language requirements. (see Florida Senate approves making coding a foreign language)
If you are a toddler learning English as a second language between binge watching seasons of Glitter Force, it's easy to see how "coding" in a programming language and literacy in a foreign language are equivalent.
For adult legislators entrusted with governance, this policy means two things:
They have no idea what computer coding is.

When policy makers say that students should "understand" technology or refer to technology as a "basic skill," they reveal a profound ignorance of computer science and have reduced a powerful intellectual pursuit to the level of a bicycle safety assembly or "don't copy that floppy" poster.

They are finally willing to admit that they don't give a rat's ass about teaching foreign language.

This may also be a tacit recognition that high school foreign language instruction is mostly torturous and unsuccessful.
When Will tweeted me about the news, a fellow twitterit asked, "Why music can't satisfy foreign language requirements?" While, there is no greater advocate for music education than myself, this newfound willingness to substitute one discipline for a completely unrelated required course is an admission that all course requirements should be abolished. There is so little consensus on what matters. And that may be a very good thing.
---
Related articles:
More than 20 years ago, a graduate student of mine, named Beth, (surname escapes me, but she had triplets and is a very fine high school math teacher) used an early version of MicroWorlds to program her own version of a toolkit similar to Geometer's Sketchpad. Over time, I ran a similar activity with kids as young as 7th grade. I've done my best to piece together various artifacts from my archives into a coherent starting point for this potentially expansive activity. Hopefully, you'll be able to figure out how to use the tools provided and improve or expand upon them.
Students (middle and high school) will use MicroWorlds EX create their own tool for exploring two-dimensional geometry similar to Geometers' Sketchpad, Cabri, or GeoGebra. [1]
As students build functionality (via programming) into a tool for creating and measuring geometric constructions, they reinforce their understanding of important geometric concepts. As the tool gets more sophisticated, students learn more geometry, which in turn leads to a desire to explore more complex geometric issues. This is an ecological approach to programming. The tool gets better as you learn more and you learn more as the tool becomes more sophisticated.
Along the way, students become better programmers while using variables, list processing, and recursion in their Logo procedures. They will also engage in user interface design.
Resources:
---
[1] I would not show commercial models of the software to students until after they have programmed some new functionality into their own tools.
The slide below is being passed around the Internet by well-meaning educators.
However, such "don't do this, do that" statements from startup-culture and Silicon Valley education "experts" almost always reveal their profound ignorance of how learning occurs and children develop.
Neither question is developmentally appropriate, although the first (bad one) at least includes a chance for play, fantasy, and imagination. The latter is designed to train workers to be cogs in a system dominated by the good folks at companies like Google.
Unlike most media outlets, The Huffington Post actually pretends to take an interest in education. However, I continue to believe that their Education section was created to be an advertising platform for the truly awful film, "Waiting for Superman," remembered as the Howard the Duck of education documentaries by the three other schmucks and I who paid to see it.
Regardless of their motives, The Huffington Post, is a frequent mouthpiece for the charter school movement and unofficial stenographer for corporations trying to make a quick buck off the misery of teachers and students.
The Huffington Post recently featured an article, "The Most Popular Books For Students Right Now," authored by their Education Editor Rebecca Klein. I clicked on the headline with interest, because I'm a fan of books and reading (I know a truly radical view for an educator). What I found was quite disappointing.
Aside from the fact that six books were the favorite across twelve grade levels, the books fell into two obvious camps; books kids like and books they were required to read by a teacher.
Nonetheless, data is data and Web users like lists.
What I do not like is when basic tenets of journalism, like "follow the money," are ignored in order to mislead readers. The source for the "independent reading habits of nearly 10 million readers" is Renaissance Learning, described by The Huffington Post as "an educational software company that helps teachers track the independent reading practices of nearly 10 million students."
That's like saying ISIS is a magazine publisher Donald Trump, owner of an ice cream parlor. While factually true, this is what Sarah Palin might call putting lipstick on a pig.
Renaissance Learning is a wildly profitable company that sells Accelerated Reader, a major prophylactic device for children who might otherwise enjoy reading. The product is purchased by dystopian bean counters who view small children as cogs in a Dickensian system of education where nothing matters more than data or achievement.
Their product creates online multiple-choice tests that schools pay for in order to quantify each child's "independent" reading. If the school doesn't own the test for a particular book a kid reads, they receive no credit. Kids routinely dumb down their reading in order to score better on the quizzes. Accelerated Reader rewards compliance and speed by turning reading into a blood sport in which winners will be rewarded and their classroom combatants, punished.
Ironically, I wrote about Accelerated Reader in The Huffington Post back in 2012. (Read Mission Accomplished)
When you look at the "favorite" book list featured in The Huffington Post, please consider that kids read The Giver and The Crucible because they are standard parts of the curriculum. This tells us nothing about what kids at grades 7, 8, or 11 actually like to read. Seeing Green Eggs and Ham as the first grade winner should make you sad. Can you imagine taking a comprehension test on this classic??? How vulgar!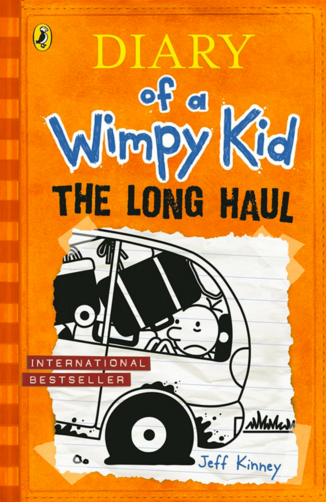 The Grade 2 favorite is also likely assigned by teachers, Click, Clack, Moo: Cows That Type. The mind reels when I try to imagine the test measuring comprehension of the comic book/graphic novel, named favorite book by 3rd, 4th, 5th, AND 6th graders, "Diary of a Wimpy Kid: The Long Haul. First of all, we should be alarmed that this simple book tops the charts for four years, but don't forget that kids will be tested by a computer on their comprehension of this delightful comic book.
"Nothing forced can ever be beautiful." – Xenophone
Caveat emptor!