"Equity demands access to a greater range of intellectual & creative experiences, not merely access to same crap rich White boys don't need either." – Gary S. Stager, Ph.D.
A response to the plethora of articles spouting hooey similar to this article – Saving Computer Science from Itself
(Regrettably, I will undoubtedly be compelled to write more on this topic in the future. In the meantime, here is my answer to the "should we teach kids to code" argument)
As someone who has taught countless children (from preschool) and their teachers to program across the curriculum for 34 years, I disagree with lots of the arguments in this article. I agree that we have done an awful job of defining CS AND reaching any rational consensus of why it is critical that every child learn computer science.
The larger argument I would like to make is that this is not a matter of opinion.
Programming gives children, every child, agency over an increasingly complex and technologically sophisticated world. Computer science is a legitimate science; perhaps the most significant advancement in science of the past century. It is foundational for all other science. THEREFORE, IT MUST BE TAUGHT AND USED WELL BY EVERY CHILD. Computer science gives kids access to complexity and provides an authentic context for learning the crummy mathematics content we dispense to defensless children.
One might also discuss the terrible (or nonexistent) job we do of teaching ANY science to children (below secondary grades). Oh yeah, add art, instrumental music, civics, mathematics, and history to that list as well.
The difference between Computer Science and all of the other stuff we don't bother to teach is the vehemence with which nearly two generations of educators have fought to democratize computer science and keep it out of the classroom. There are countless examples of far less relevant and less fun bullshit we fill kids' school days with.
Furthermore, ISTE cannot be trusted to play any leadership role in this effort. They have disqualified themselves from having any voice in discussions about the future of computing in schools. I signed the ISTE charter, edited their last computer science journal for several years, and have spoken at the last 28 of their conferences. I even co-authored the cover story for the last issue of their magazine, "Learning and Leading with Technology." However, ISTE's self-congratulatory pathetic "standards" for educational computing do not contain the word, "programming," anywhere. There are no powerful ideas they embrace, just some mindless notion of "technology good."
I've written about ISTE before:

Refreshing the ISTE Technology Standards
Senior Editor Gary Stager interviews Don Knezek, CEO of ISTE, on the revised National Educational Technology Standards(NETS). Plus: Stager's perspective.
Published in the June 2007 issue of District Administration

The ISTE Problem
ISTE's vague standards and an exclusionary "seal of alignment" make one wonder whose side the group is on.
Published in the February 2003 issue of District Administration
Why not ask the Wolfram brothers or Seymour Papert about the value of children programming? Why are we relying on the "vision" of politicians or tech directors whose primary concerns are about plumbing and getting Math Blaster to run on Chromebooks connected to an interactive whiteboard?
The UK example is exactly NOT what we should be doing. Their curriculum (scope, sequence, content) makes no sense and bares very little resemblance to computer science. Like other "Coding" or ill conceived computer science curricula written by government committee, the UK curriculum doesn't even need a computer. AND when you make a hierarchical curriculum, IF needs to be in 2nd grade while THEN gets introduced in a subsequent year. The only way you become good at computer science is by revisiting ideas and techniques in lots of projects – just like in any other medium.
Puzzles are not CS. An hour of "code" is not CS. Using Scratch for a few sessions or storyboarding are not CS.
There is no length to which people will not resort to deprive children of learning to program computers.
Oh yeah, the issues of efficacy, equity, etc you mention have been studied for decade. We know what to do.
I could go on….
Gary Stager's work and educational philosophy are based on four ideas.
The slide below is being passed around the Internet by well-meaning educators.
However, such "don't do this, do that" statements from startup-culture and Silicon Valley education "experts" almost always reveal their profound ignorance of how learning occurs and children develop.
Neither question is developmentally appropriate, although the first (bad one) at least includes a chance for play, fantasy, and imagination. The latter is designed to train workers to be cogs in a system dominated by the good folks at companies like Google.
Unlike most media outlets, The Huffington Post actually pretends to take an interest in education. However, I continue to believe that their Education section was created to be an advertising platform for the truly awful film, "Waiting for Superman," remembered as the Howard the Duck of education documentaries by the three other schmucks and I who paid to see it.
Regardless of their motives, The Huffington Post, is a frequent mouthpiece for the charter school movement and unofficial stenographer for corporations trying to make a quick buck off the misery of teachers and students.
The Huffington Post recently featured an article, "The Most Popular Books For Students Right Now," authored by their Education Editor Rebecca Klein. I clicked on the headline with interest, because I'm a fan of books and reading (I know a truly radical view for an educator). What I found was quite disappointing.
Aside from the fact that six books were the favorite across twelve grade levels, the books fell into two obvious camps; books kids like and books they were required to read by a teacher.
Nonetheless, data is data and Web users like lists.
What I do not like is when basic tenets of journalism, like "follow the money," are ignored in order to mislead readers. The source for the "independent reading habits of nearly 10 million readers" is Renaissance Learning, described by The Huffington Post as "an educational software company that helps teachers track the independent reading practices of nearly 10 million students."
That's like saying ISIS is a magazine publisher Donald Trump, owner of an ice cream parlor. While factually true, this is what Sarah Palin might call putting lipstick on a pig.
Renaissance Learning is a wildly profitable company that sells Accelerated Reader, a major prophylactic device for children who might otherwise enjoy reading. The product is purchased by dystopian bean counters who view small children as cogs in a Dickensian system of education where nothing matters more than data or achievement.
Their product creates online multiple-choice tests that schools pay for in order to quantify each child's "independent" reading. If the school doesn't own the test for a particular book a kid reads, they receive no credit. Kids routinely dumb down their reading in order to score better on the quizzes. Accelerated Reader rewards compliance and speed by turning reading into a blood sport in which winners will be rewarded and their classroom combatants, punished.
Ironically, I wrote about Accelerated Reader in The Huffington Post back in 2012. (Read Mission Accomplished)
When you look at the "favorite" book list featured in The Huffington Post, please consider that kids read The Giver and The Crucible because they are standard parts of the curriculum. This tells us nothing about what kids at grades 7, 8, or 11 actually like to read. Seeing Green Eggs and Ham as the first grade winner should make you sad. Can you imagine taking a comprehension test on this classic??? How vulgar!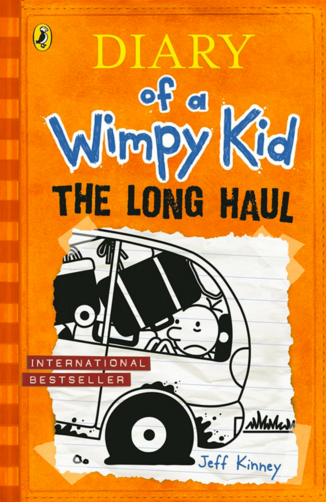 The Grade 2 favorite is also likely assigned by teachers, Click, Clack, Moo: Cows That Type. The mind reels when I try to imagine the test measuring comprehension of the comic book/graphic novel, named favorite book by 3rd, 4th, 5th, AND 6th graders, "Diary of a Wimpy Kid: The Long Haul. First of all, we should be alarmed that this simple book tops the charts for four years, but don't forget that kids will be tested by a computer on their comprehension of this delightful comic book.
"Nothing forced can ever be beautiful." – Xenophone
Caveat emptor!
I engage frequently in conversations such as the one below. These interactions take place online and face-to-face.
Well-intentioned educator: We need to teach children to make mistakes.
Me: Really? We need to teach mistake making?
Educator: Well, we need to teach them to embrace failure.
Me: There is nothing virtuous about failure. You cannot possibly motivate children with the same force you use to punish them. Besides, Papert teaches us that the best projects push up against the persistence of reality. Overcoming obstacles is natural. Failure is the imposition of judgment by others.
Educator: What I mean is that kids should be risk-takers.
Me: It doesn't seem like a good idea for adults to be encouraging children to take risks. Learning has nothing to do with risk. Risk is potentially dangerous.
Educator: We should encourage tinkering and experimentation.
Me: Why didn't you say that?
An Australian federal court just ruled for teachers in amazing fashion that should impact educational practice everywhere on earth. The court ruled that materials and tools teachers need to do their job should be paid for by their employer and not by the teachers.
Nearly a decade after my colleagues and I introduced 1:1 laptop computing to a few hundred thousand of Australian students for the purposes of project-based learning, programming across the curriculum, shifting agency from teachers to students, collaboration, and creative expression, the government of the State of Victoria discovered laptops and set forth a number of "transformative" and "revolutionary" notions of how they could use the most powerful technological tool of all-time, the personal laptop, as a way of teachers doing chores. There was no educational vision whatsoever behind the "Notebooks for Teachers and Principals Program" and subsequently as the "eduSTAR.NTP Program."
What the state department of education did was urge teachers to purchase laptops through automatic salary education schemes of between $8 and $34 Australian dollars per month (approximately $6 – $26). More than 40,000 teachers and principals participated. Who wouldn't want a top-of-the-line MacBook Pro for $26/month?
Teachers then had to do clerical work, report grades, attendance, etc… via the laptops. After about $20 million (AU) was taken from teachers this way and tens of thousands of educators got laptops, the Australian Education Union filed suit claiming that since the laptops were required by the job educators perform, their employer should pay for such hardware.
Imagine that? Teachers should have ample supplies and technology required to do their job provided for them like any other employee.
The Australian Federal Court sided with the education union and has ordered the State to refund the money educators paid for their laptops, PLUS INTEREST!
Check out just a few of the Education Union's press release:
"We are pleased that the Federal Court found teachers should not have to spend their own wage to purchase items that are essential for their work. This is a win for our members and sets an important precedent."

"Laptop computers are essential for teachers and principals. It is unreasonable for them to pay for resources that are a necessary part of their job," says Meredith Peace, AEU Victorian president."

"Teachers need computers to write school reports, respond to parent emails, develop and co-ordinate curriculum, and collaborate with colleagues. They do not sit in offices at desks, they teach in classrooms – so they need laptop computers.

"The AEU pursued this matter through the Federal Court because teachers and principals deserve the tools and resources that are essential to their jobs to be provided by their employer. To attract and retain teachers, we must provide standard professional tools."

"We argued that even if the deductions were deemed to be authorised, they were predominantly for the benefit of the Department, rather than the teachers themselves."
The union also asserted that teachers were being asked to purchase laptops in schools where students were provided them by the school/state.
"It is unreasonable to expect teachers and principals to pay for accessing their work computers. Students themselves in many schools have laptops under the one-to-one laptop program. Teachers are expected to engage their students in learning through digital devices and teach them the ICT skills they need to be successful learners in an increasingly digitised world, so they need a laptop," says Peace.
A few questions?
When will American educators sue for the supplies, tools, and technology they purchase in service of their employer?
What are the implications for your school's technology implementation?
When a teacher (or student) DOES purchase her own computer, should a school be able to restrict its use?
Congratulations to the Australian educators who spoke truth to power and won!
I'm of several minds on this decision, however for the following reasons…
Clearly teachers should use computers and if it's a work tool, the court's decision is correct.
I remain a staunch advocate for every child having 24/7 use of a fully-featured personal laptop computer. However, the Victoria laptop rollout was a vision-free clusters#ck in which none of the intellectual or creative potential of computing had anything whatsoever to do with the real or intended use of the laptops.
This is going to immediately cause problems for schools embracing laptops, even if the merits of this case are unrelated. This is because morons set education policy and anything associated with "laptop" is likely to now be viewed as toxic.
S.T.E.M. is every politician's favorite acronym. The White House held a Maker Faire. Barnes and Noble stores will soon be hosting Mini-Maker Faires and next week's World Maker Faire NYC expects over 100,000 attendees sharing and celebrating personal ingenuity, engineering, creativity, and invention.
The maker movement is being touted as education reform, a matter of national security, and resurrection of the American manufacturing economy. We are told that we need to prepare kids for S.T.E.M. jobs and help them love math and science.
Against this backdrop, Ahmed (Texan for, "We're all gonna die!") Mohamed was detained, suspended, and arrested in handcuffs for bringing his homeade clock to school. He thought his teachers would be impressed by his handiwork or be proud of him. Boy was he wrong. (Read the rest of the story here via Washington Post)
This adolescent reign of terror began when Ahmed showed his clock to his Engineering teacher. That teacher knew it wasn't a bomb. When the clock beeped during English class, he showed it to the English teacher who confiscated it. She knew that Ahmed had not brought a bomb to school. Nowhere in the story is any threat or violence insinuated, but that didn't stop the school from calling the cavalry.
During 6th period, Irving's own Thomas Edison was pulled out of class by the school principal.
"They took me to a room filled with five officers in which they interrogated me and searched through my stuff and took my tablet and my invention," the teen said. "They were like, 'So you tried to make a bomb?' I told them no, I was trying to make a clock. But his questioner responded, "It looks like a movie bomb to me." (Washington Post)
At this point, the only charges that should have been filed are for racism and stupidity by school officials.
Yet, young "Kill-Whitey Antichrist" was handcuffed, dragged to the Police headquarters, and not allowed to call his parents or seek legal representation. Not wanting to be accused of being fair or rational, the high school suspended the innocent boy tinkerer for three days. That will teach his kind to be good at math!
During questioning, officers repeatedly brought up his last name, Mohamed said. When he tried to call his father, Mohamed said he was told he couldn't speak to his parents until after the interrogation was over. (Washington Post)
So, let's just stipulate that this was an act of racism and islamophobia.
How should this have been handled?
Let's say that Ahmed's teachers were a-scared. The lad could have been questioned in a civil fashion with his parents present while the Irving, Texas police force investigated the clock. If there had been a more serious threat, say, an actual "ticking time bomb," the police could have still investigated before the parents left work and arrived at school. Surely, a city the size of Irving has the equipment, manpower, and expertise to examine a suspicious object. DFW, America's 3rd busiest airport is in Irving, Texas!
Once the clock was determined to be – well, a clock. Ahmed's school principal should have apologized to the student, given him two Pizza Hut gift certificates, and called an emergency faculty meeting to ensure that nothing this stupid ever happens again.
All systems go!
NBC-DFW reported that a police report released Tuesday cites a "hoax bomb" incident, listing three MacArthur High teachers as complainants against Mohamed. (Washington Post)
According to press accounts, the only system in the school to perform flawlessly was the one in which three "educators" conspired to frame a 14 year-old student within the blink of an eye.
What Should Happen Now?
Now that MacArthur High School Principal Dan Cummings has lost this round of "Are you Smarter than a 5th Grader?"
The suspension must be lifted and expunged from Ahmed's record.
The school district and principal must stop defending their actions.
The entire administrative team and each of the three teachers involved must apologize to Ahmed publicly at an all-school assembly or perhaps at Friday night's football game.
Each school administrator and the three teachers who filed a complain need to write "I will not be a racist clown who hates children" 100 times on a sheet of paper.
The police officers involved should be suspended without pay.
If you think someone has a bomb, don't ask them to hand it to you ala Wile E. Coyote. Run and call the police.
Diversity and sensitivity training – blah, blah, blah…
Speaking of racism and islamophobia
Can you believe that the Washington Post calls the student "Muslim boy" at the top of their reporting?
And here is just one of the racist tweets you might find online.
Obama will speak out about this boy .. Yet remains silent on cops being killed by thugs and BLM supporter https://t.co/fKa6EHH7uj

— Renegade Cowboy⚓️ (@Rene_gadeCowboy) September 16, 2015
Update 9/16: The Irving School District and Irving Police standby their actions and refuse to admit that they did anything wrong.
---
Veteran teacher educator, journalist, and speaker Gary S. Stager, Ph.D. is the co-author of Invent to Learn – Making, Tinkering, and Engineering in the Classroom, called "the bible of the maker movement in schools" by the San Jose Mercury News.