Under the best of circumstances, 98% of school is language arts and the remaining 27% is dedicated to a thing called math. Every other subject is fungible. Under the best circumstances, art, music, drama, and making things are under constant threat of underfunding or elimination. I have been receiving pleas for advice from art, music, and maker education teachers facing a "return to school" in which their programs are being shelved due to safety concerns while their hallowed spaces are being annexed for socially distant small group reading, 'riting, and 'rithmetic.
The hastily thrown together plans are based on woefully incomplete data, questionable assumptions, fear, and frankly, exhaustion. Creative teachers are being asked to watch as the curricular programs they built, developed, fought, and fundraised for, are being sacrificed for "School." While these changes may be made with all of the best intentions, they will narrow the curriculum, denature what the educational experience, and marginalize some of the system's most creative educators. History suggests that once these programs are eliminated, they will likely never return.
So, here is my advice for the teachers expert in learning-by-doing. Stand your ground. Fight for your programs. Defend your turf – literally and figuratively. Make it abundantly clear that when face-to-face school resumes, you're not going anywhere.
They call your subjects "specials" for a reason. It's time to reclaim that term and rid it of its pejorative connotation. What you do is special! It is why many kids come to school. If you work in a private school, your programs are probably why parents pay for their children to attend.
The non-desk-bound subjects are your school's value proposition. They are what keeps school viable. Many of you just demonstrated that accessing information, writing, engaging in conversation, attending lectures, and test-taking – the meat and potatoes of schooling – may be done online. (The dirty little secret is often in far less time than the school schedule suggests.)
So, here's my million-dollar idea. If you can stomach attending another virtual committee meeting to plan the coming school year, make the following case. Any hybrid or face-to-face model of schooling in the future should prioritize the preservation of art, music, drama, making, and hands-on science. Start with that goal and work backwards to create plans for realizing that vision of education. Flip the script!
All matters of space allocation, staffing, scheduling, and funding should support the goal of preserving and sustaining the experiences that are best (or only) achieved when adults and children are located in the same physical space at the same time. Imagine what school would look like when committed to helping children realize their fullest potential and emphasizing that which makes us human.
Let me be even less ambiguous. School should be about art, music, drama, science, and making things. Do not settle for keeping your job while your role is diminished, and your programs are marginalized. This is the time for school to expand the experiences children cannot enjoy on the Internet, on TV, or from a book.
I won't insult readers by reciting the evidence for how these experiences improve "academic performance," improve attendance, motivate students, or enhance a community. You know all of those things already. The decision-makers who continuously chip away at such essential programs know so too. We should use this moment to do the right thing.
Do not confuse my radical suggestion as a short-term intervention for dealing with the immediacy of the COVID-19 crisis, but rather an exercise in educating for an inevitable future in which today's arbitrary school schedule will be as impractical as it is unacceptable. In the very near future, children will attend schools more and less than today with flexible schedules based on shifts in parental work patterns, individual student needs, and a plethora of productive contexts for learning – online, in school, and in the community.
The most predictable opposition to my modest proposal is a concern for safety. I am not an epidemiologist and certainly do not wish to jeopardize anyone's health. My answer to the question, "How can we do this safely and maintain social distancing and proper hygiene?" is "I don't know. Figure it out." There appears to be consensus on the practical tactics being employed by those seeking to open joyless schools where children may be minded, fed, and lectured to. Surely, those tips and tricks apply to my humane and vibrant model as well.
Maintain appropriate physical distancing as recommended by scientists and medical professionals
Wear a mask
Wash your hands
Do not share tools or musical instruments
Reduce class sizes
Spend more time outdoors
Let's explore the last three tips since those relate specifically to the sort of schooling experience I propose. Science classes and maker spaces may need to focus on experiments and projects using a smaller number of low-cost materials than they did pre-Pandemic. Each student can have those materials assigned to them and stored in safe containers. Think of a toolbox per kid. There are a million and one science experiments and explorations one can conduct with household items. Perhaps each kid will build their own microscope as many already do in schools with maker spaces. Classes in making may focus on the protean maker space, computer programming. A great deal of physical computing may be explored via the $15 micro:bit, four alligator clips, and two 10mm LEDs; I could write a semester course for any grade level with those materials. Of course, the richest nation in the history of the world can afford a personal multimedia laptop computer for every child and their own musical instrument.
Class size reduction gets a bit trickier. You may have to lead many smaller music ensembles and choirs. Plays with smaller casts may be produced, phone-based video production can be created, and drama may be represented by socially distant staged reading. The lack of extracurricular activities and other distractions creates a fertile opportunity for students to read, write, program, and practice more than ever before.
There are at least several months during which the weather is pleasant enough for educational activities to occur under the stars (or a canopy). Thanks to climate change, it's rarely too cold to go outside and kids are not as fragile as schools pretend they are – see football, marching band, Scouts, playing outside, winter sports… Bundle the little kids up and tell yuppie parents that this is a forest schooling or experiential learning. They may even pay more for that. The kids will love it too!
I have infinite faith in teachers, administrators, parents, and school boards coming together to chart a course for realizing this new agenda for schooling when physical school resumes. Things need not be as they seem. Chart a new course! You got this!
---
About the author:
Veteran educator Gary Stager, Ph.D. is co-author of Invent To Learn — Making, Tinkering, and Engineering in the Classroom, publisher at Constructing Modern Knowledge Press, and the founder of the Constructing Modern Knowledge summer institute. He led professional development in the world's first 1:1 laptop schools thirty years ago and designed one of the oldest online graduate school programs. Gary began defending school music programs from the wrecking ball in 1982. Learn more about Gary.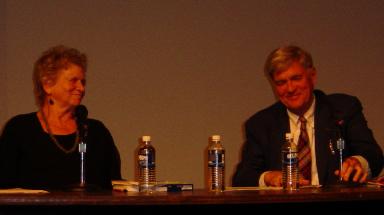 During Gary Stager's recent Ask Me Anything session with Deborah Meier, her Habits of Mind and Ted Sizer's Essential Principles for schools (especially secondary schools) were discussed. Watch a recording of the Ask Me Anything session, here.
Deborah Meier's Bridging Differences column with Diane Ravitch, et al.
Books by Deborah Meier
Documentaries made about Central Park East elementary and secondary schools, founded by Deborah Meier.
Deborah Meier's Five Habits of Mind, as originally explored in the book, The Power of Their Ideas: Lessons for America from a Small School in Harlem.
Evidence – asking, "How do you know?"
Connections – asking, "How is this connected to something else I already know or care about?"
Perspective or Viewpoint – asking, "From whose perspective is this story being told?"
Conjecture – asking, "How can I imagine a different outcome?", and
Relevance – asking, "Why is this important?"
Read and watch how the habits of mind are employed at Boston's Mission Hill School
Books by Ted Sizer, including Horace's Compromise: The Dilemma of the American High School (all three volumes of the Horace trilogy are essential reading)
The Ten Common Principles of Essential Schools (by Ted Sizer), complete with explanations
The Coalition of Essential Schools website
The Coalition of Essential Schools Remembers Ted Sizer
There's no shortage of articles, web sites, top 1,000 app lists instructing educators what to do during the pandemic and when school returns to "normal." All of that "help" may be counter-productive. You deserve a break.
If you're not feeling up to reading, cooking, playing an instrument, or coding right now, watch an episode of Encore! on Disney+ and you will be remember what school can and should mean to children. Keep a box of tissues nearby and your closest friend on speed dial first.
Here are some of the books that ground, focus, and inspire me. I hope you'll find some beauty, peace, grace, or meaning from any of these recommendations.
---

Painting Chinese: A Lifelong Teacher Gains the Wisdom of Youth

The great Herb Kohl's gorgeous meditation of a lifetime of learning and teaching.

---

Wonder Art Workshop: Creative Child-Led Experiences for Nurturing Imagination, Curiosity, and a Love of Learning

Skip the stuff about "brain research" and dig into the large assortment of beautiful and magical art experiments. Super fun and creative!

---

The Book of Learning and Forgetting

This book by the great psycholinguist Frank Smith may be my favorite exploration of learning. It was always a favorite text of my graduate students too.

---

Ordinary Resurrections: Children in the Years of Hope

While not Jonathan Kozol's most popular or best known books, this is my favorite of his many masterpieces. Ordinary Resurrections is poignant and poetic while giving voice to the most innocent and vulnerable members of our society. This book is timeless and life-changing.

---

Changing Lives: Gustavo Dudamel, El Sistema, and the Transformative Power of Music

Read quickly past the fanboy stuff about the remarkable conductor, Gustavo Dudamel, and learn about one the most profound pedagogical approaches on earth, El Sistema. You will be moved by the what's possible when teachers believe in the capacity of each learner and refuse to acknowledge obstacles. In my humble opinion, this one of the best education books of the past decade. Author Tricia Tunstall also coauthored a notable follow-up, Playing for Their Lives: The Global El Sistema Movement for Social Change Through Music.

---

The Inner Principal: Reflections on Educational Leadership

I challenge you to name a more candid, open, or philosophical book ever written by a school administrator, especially one as accomplished as David Loader.

---

The Muses Go to School: Inspiring Stories About the Importance of Arts in Education

The likes of Whoopi Goldberg, Phillip-Seymour Hoffman, Rosie Perez, and Bill T. Jones share the testimony to the critical importance of public school arts education with response pieces by amazing educators including Deborah Meier, Lisa Delpit, Bill Ayers, Diane Ravitch, Maxine Greene, and yours truly (clearly a clerical error).

---

The Long Haul: An Autobiography

Myles Horton's tales of founding and sustaining the Highlander Folk School, an Appalachian retreat where students included Martin Lutther King, Jr., Rosa Parks, Eleanor Roosevelt, and Pete Seeger. Oh yeah, We Shall Overcome was composed there too. This book not only tells the important story of an unknown piece of American history, but offers much wisdom and inspiration for all teachers.

---

Idea Makers: Personal Perspectives on the Lives & Ideas of Some Notable People

Notable scientist, mathematician, and computer scientist Stephen Wolfram book of insightful essays about great mathematicians, scientists, and technologists, many of who he knew personally.

---

The Children

Pulitizer Prize winner David Halbestram's monumental history of the American civil rights movement and the remarkable role played by courageous young people. This book reminds all of us of each person's power to change the world.

---

Books I love to read aloud with kids

Field Trip to the Moon (PK-2)

---

Harold and the Purple Crayon (PK-2)

---

Homer Price (2-5)

I still love this book and its sequel!

---

Apprentice with the world's greatest musicians!

Ever dream of taking piano, bass, vibes, voice, drum, guitar, saxophone, or trumpet lessons from one of the world's finest musicians? Care to understand jazz or Brazilian music? Wish you could develop your own voice with the help of one of the world's most acclaimed vocalists?
Perhaps you don't play an instrument and just enjoy watching great artists explain their craft? That's cool too.

Well, Open Studio is not only the gold standard by which all other online music education programs are measured, but it has cracked the code in teaching impossibly complex and intimate concepts online.

Check out the multitude of offerings at every conceivable skill level.

---
Summer is a great time for kids to read entire series of books.

Here are some great ones you won't find in your school curriculum or approved by the Texas State Textbook Commission, a wholly-owned subsidiary of Pearson!

Horrible Histories (grades 4-9)

Collect them all! They're gorey, bloody, irreverent, gross, and filled with historical facts shared in an entertaining fashion.

---

The Time Warp Trio series (grades 2-5)

Jon Scieszka's zany time travel adventure in which three buddies explore great moments in history.

---

Guys Read series (grades 5-8)

Seven volume anthologies of high-interest short stories with each book featuring a different literary genre.

---

Books to keep kids active

Jane Bull is the author of countless colorful, clever, fabulous, and fun craft books published by DK. Highly recommended!

---

New York City Street Games

This out-of-print, but still available gem, teaches youts to play all da clasic sports your grandparents played on the streets of NYC. There is a great documentary, narrated by Ray Romano on the same subject.

---

Books for learning to program in Scratch

Here is an article I wrote featuring my favorite books to help kids learn Scratch programming.

---

Favorite cookbooks for little kids

Pretend Soup and Other Real Recipes: A Cookbook for Preschoolers and Up

Salad People and More Real Recipes: A New Cookbook for Preschoolers and Up

Fabulous books full of wordless recipes for healthy food

---

Honest Pretzels: And 64 Other Amazing Recipes for Cooks Ages 8 & Up

---

Little Helpers Toddler Cookbook: Healthy, Kid-Friendly Recipes to Cook Together

---

The Tickle Fingers Toddler Cookbook: Hands-on Fun in the Kitchen for 1 to 4s

---

Sesame Street Let's Cook!

Cookie Monster's Foodie Truck: A Sesame Street ® Celebration of Food

---

The Complete Cookbook for Young Chefs (#1 bestseller)

The Complete Baking Book for Young Chefs

---

Timeless videos I still love to watch with my grandkids

Here are some of my favorite videos to watch with the toddlers. They're funny, kind, not scary, and stimulate imagination.

Pee-Wee's Playhouse: The Complete Series

Never disappoints or fails to entertain. The show is pitch perfect for kids and adults to enjoy together. (a real bargain too)

---

The Little Rascals: The "Complete" Collection

The best available collection of the classic shorts that inspired generations to play, dream, and learn by making – long before there was a maker movement. Trust me. Kids still love these 80 year-old films.

---

Mister Rogers' Neighborhood: It's a Beautiful Day

30 classic episodes

---

If you love card games…

I don't, but I have given countless sets as gifts to delighted kids and families.

Fluxx

An endless assortment of looney card games where the rules or the objective of a game change with every card!

---
A hole in the wall as science and public policy
By: Gary Stager
District Administration, May 2004
(archive)
A funny thing happened to me while in India (besides losing my luggage, teaching for three days on three hours sleep, and confronting an elephant in traffic). While speaking at a conference, I encountered another educator whose work blew my mind. Such an experience is a rarity at the dozen or so educational conferences I attend each year across America.
Dr. Sugata Mitra, a physicist from Indian think-tank NIIT, embodies the best features of a scientist, educator, tinkerer and dreamer. His social conscience led him to invent a novel approach to learning technology. The scientist in him designed controlled experiments to explain the remarkable phenomena he observed.
India is a populace nation with staggering poverty and majority illiteracy. Politics, religion and tradition conspire to create millions of poor people and slums unfit for the stray dogs who compete for food. Wealth and great poverty coexist side by side like two nations with diplomatic relations.One boy who uses the kiosk defined the Internet as, "That with which you can do anything."
Mitra's own campus was separated from the "other India" by a wall. He often sensed that the poor children watched his research community with the cell phones attached to their ears and funny bags hanging from their bodies disappear into a mysterious fortress.
Mitra inserted a PC monitor into the wall behind a pane of glass and alongside a touch screen. The computer had a high-speed Internet connection and was on nearly all of the time. No other intervention occurred. Before long, this "hole in the wall" attracted children from the community and a great educational experiment had begun.
A video camera trained on the children using the kiosk and computerized logs of what was done on the computer create a record of the children's activities. Within a short period of time, children who speak one of India's thousand languages other than English and who had never received any instruction in technology use were surfing the Web. More over, groups of children played online games and painted pictures with MS Paint. After being shown MP3 software, some children even managed to find music in Hindi to play.
The success of the first "Hole in the Wall" inspired Mitra to replicate the experience with kiosks across the economic, cultural and geographic diversity of India. Children in every case were able to demonstrate what we might call computer literacy without any curriculum, formal teaching or adult intervention. The "Hole in the Wall" children discovered and taught each other amazing things. Young children stand on the shoulders of others and direct the action. The hundreds of shortcuts often left on a kiosk computer offered evidence of such expertise. Mitra found that kiosk users managed to learn hundreds of English words and used their native language to describe computer functions. Most users were 6 to 12 years old. Adults did not make any attempt to use the kiosk.
Self-Service Education
Dr. Mitra describes his learning theory as minimally invasive education – a hypothesis that even in totally unfamiliar situations, children in groups will learn on their own with little or no input from others, provided the learning environment induces an adequate level of curiosity. Like in minimally invasive surgery there should be no more expert intervention than absolutely necessary.
This work proves that when provided with access to a computer in a social context, all children will become computer literate with or without a traditional teacher. Mitra's careful experiments confirm the theories of Piaget and Vygotsky. Most of all, "The Hole in the Wall," offers a glimmer of hope for concerned global citizens who do not know where to begin in increasing educational opportunity in the developing world. The "Hole in the Wall" project is a testament to the competency and capacity of children to construct their own knowledge in a community of practice. Internet access can connect children to each other and the 21st century.
Does your school really need that computer literacy class? Can your teachers celebrate the technological fluency of your students and build upon it in the design of richer tasks and more imaginative curricula? American schools are blessed with advantages most of the world cannot even ponder. The "Hole in the Wall" project demands that we do better by our students and do our part to change the world.
Gary Stager is editor-at-large and an adjunct professor at Pepperdine Univ.
I've managed to do some some writing during the plague. Thanks for reading and stay safe.
I hope that anyone reading this is healthy and sane during this period of uncertainty. Teachers and kids alike are grieving over the loss of freedom, social interactions, and normalcy. Many families, even those never before considered at-risk, are terrified of the potential for financial ruin or catastrophic health risks. Since I'm all about the love and spreading optimism, I humbly share a silver-lining for teachers and the kids that they serve.
The fact that you are being told to "teach online" in some vague version of "look busy" may mean that teachers are finally being trusted. Districts large and small are abandoning grading as they recognize that education (at home) is inequitable. I guess it's better late than never to discover the obvious.
Parents and superintendents are vanquishing the needless infliction of nonsense known as homework. Standardized testing is being canceled, an actual miracle. Colleges have recognized that enrolling students next Fall is more important than SAT or ACT scores. Each of these emergency measures has been advocated by sentient educators forever.
So, there is reason to celebrate (briefly), but then you must act! Use this time to remake schooling in a way that's more humane, creative, meaningful, and learner-centered. This is your moment!
In the absence of compelling models of what's possible, the forces of darkness will fill the void. Each of us needs to create models of possibility.
The fact that kids' days are now unencumbered by school could mean that they finally have adequate time to work on projects that matter rather than being interrupted every 23 minutes. I recently wrote, What's Your Hurry?, about teaching computer programming, but it's applicable to other disciplines.
Project-based learning offers a context for learner-centered pedagogy. I was reminded that the new edition of our book, "Invent To Learn – Making, Tinkering, and Engineering in the Classroom," includes several chapters on effective prompt setting that may be useful in designing projects for kids at home. Invent To Learn also lays out the case for learning-by-doing. Use that information to guide your communication with administrators, parents, and the community.
The following are but a few suggestions for seizing the moment and reinventing education after this crisis is resolved so we may all return to a new, better, normal.
Practice "Less us, more them"
Anytime a teacher feels the impulse to intervene in an educational transaction, it is worth pausing, taking a breath, and asking, "Is there less that I can do and more that the student(s) can do?" The more agency shifted to the student, the more they will learn.
One exercise you can practice teaching online, as well as face-to-face, is talk less. If you typically lecture for 40 minutes, try 20. If you talk for 20 minutes, try 10. If you talk for 10, try 5. In my experience, there is rarely an instance in which a minute or two of instruction is insufficient before asking students to do something. While teaching online, try not to present content, but rather stimulate discussion or organize activities to maximize student participation. Piaget reminds us that "knowledge is a consequence of experience."
Remember, less is more
My colleague Brian Harvey once said, "The key to school reform is throw out half the curriculum – any half." This is wise advice during sudden shift to online teaching and the chaos caused by the interruption of the school year.
Focus on the big ideas. Make connections between topics and employ multiple skills simultaneously. Abandon the compulsion to "deliver" a morbidly obese curriculum. Simplify. Edit. Curate.
Launch students into open-ended learning adventures
Learning adventures are a technique I became known for when I began teaching online in the 1990s. This process is described in the 2008 paper, Learning Adventures: A new approach for transforming real and virtual classroom environments.
Inspire kids to read entire books
Since the bowdlerized and abridged basals are locked in school, encourage kids to luxuriate with real books! Imagine if kids had the freedom to select texts that interest them and to read them from cover-to-cover without a comprehension quiz or vocabulary lesson interrupting every paragraph! Suggest that kids post reviews on Amazon.com for an authentic audience rather than making a mobile or writing a five-paragraph essay. Use Amazon.com or Goodreads to find other books you might enjoy.
Tackle a new piece of software
Been meaning to learn Final Cut X, Lightroom, a new programming language, or any other piece of sophisticated software? Employ groups of kids to tackle the software alone or together and employ their knowledge once school returns. Let them share what they know and lead.
Contribute to something larger than yourself
This is the time for teachers to support kids in creating big creative projects. Write a newspaper, novel, poetry anthology, play, cookbook, or joke book. Make a movie and then make it better. Create a virtual museum. Share your work, engage in peer editing, and share to a potentially infinite audience.
Check out what Berklee College of Music students have already done!
Teach like you know better
Use this time to rev-up or revive sound pedagogical practices like genre study, author study, process writing, interdisciplinary projects and the other educative good stuff too often sacrificed due to a lack of sufficient time. You now have the time to teach well.
Take note of current events
Daily life offers a world of inspiration and learning invitations. Why not engage kids in developmentally appropriate current events or take advantage of opportunities like JSTOR being open to the public during the COVID-19 crisis? Here's a possible student prompt.
"Go to JSTOR, figure out how it works, find an interesting article, and share what you learned with the class."
Let Grow
Change the world by challenging students to learn something on their own by embracing the simple, yet profound, Let Grow school project. A simple assignment asks kids to do something on their own with their parent's permission and share their experiences with their peers.
Stand on the shoulders of giants
Every problem in education has been solved and every imaginable idea has been implemented somewhere. Teachers should use this time to read books about education written by experts and learn the lessons of the masters.
Take time to enjoy some culture
There is no excuse to miss out on all of the cultural activities being shared online from free Shakespeare from the Globe Theatre, Broadway shows, operas, living room concerts, piano practice with Chick Corea, and exciting multimedia collaborations. Many of these streams are archived on social media, YouTube, or the Web. Bring some peace, beauty, and serenity into your home.
The following are some links, albeit incomplete and subjective, to free streaming cultural events.
Apprentice with the world's greatest living mathematician
In A Personal Road to Reinventing Mathematics Education, I wrote about how I have been fortunate enough to know and spend time with some of the world's most prominent mathematicians and that while not a single one of them ever made me feel stupid, plenty of math teachers did. Stephen Wolfram is arguably the world's leading mathematician/scientist/computer scientist. Over the past few years, he has become interested in teachers, kids, and math education. Dr. Wolfram spoke at Constructing Modern Knowledge, runs an annual summer camp for high school mathematicians, and has made many of his company's remarkable computational tools available for learners.
Acknowledging that many students are home do to the pandemic this week, Wolfram led a free online Ask Me Anything session about an array of math and science topics, ostensibly for kids, as well as a "follow-along" computation workshop. You, your children, or your students have unprecedented access to all sorts of expertise, just a click away! This is like Albert Einstein making house calls!
A bit of exploration will undoubtedly uncover experts in other disciplines sharing their knowledge and talents online as well.
Abandon hysterical internet policies
The immediate need for laptops, Internet access, student email, plus the expedient use of available technologies like YouTube, FaceTime, Skype, Twitter, Instagram, and Zoom has instantly dispelled the hysterical and paranoid centralized approach to the Internet schools have labored under for the past twenty-five years. The Internet has never been dependent on the policies of your school or your paraprofessional IT staff to succeed. Perhaps we will learn what digital citizenship actually looks like after teachers and children are treated like modern citizens.
Heed Seymour Papert's advice
When I worked with Seymour Papert, he created a document titled, "Eight Big Ideas Behind the Constructionist Learning Lab." This one sheet of paper challenges educators to create productive contexts for learning in the 21st Century. Can you aspire to make these recommendations a reality in your classroom(s)?
Do twenty things to do with a computer
In 1971, Seymour Papert and Cynthia Solomon published, Twenty Things to Do with a Computer. How does your school measure up a half-century later?
Program your own Gameboy
Yes, you read that correctly. Here is everything you need to know to write your own computer games, build an arcade, or program a handheld gaming device!
Teach reading and programming simultaneously
Upper elementary and middle school students could learn to program in Scratch and develop their reading fluency at the same time. Learn how in A Modest Proposal.
Share my sense of optimism
Shortly before the COVID-19 crisis, I published, Time for Optimism, in which I shared reasons why progressive education is on the march and how we might teach accordingly. We can do this!
Wash your hands! Stay inside! Stand with children!
---
Veteran educator Dr. Gary Stager is co-author of Invent To Learn — Making, Tinkering, and Engineering in the Classroom and the founder of the Constructing Modern Knowledge summer institute. He led professional development in the world's first 1:1 laptop schools and designed one of the oldest online graduate school programs. Learn more about Gary.

Scratch is a miracle. It's popularity as a creative computing environment and its ubiquity around the world are truly impressive. Millions of children use the environment and have shared tens of millions of projects for others to enjoy and remix.
Scratch is a descendent of the Logo programming language. Logo was the first, and I would argue best, programming environment ever designed for children and learning. Logo is over fifty years old. While this would seem to be a million years old in technology years, Logo not only remains powerful in the hands of children, but benefits from a half-century worth of research, project ideas, and collective pedagogical wisdom.
Scratch adds media computation to the Logo bag of tricks available to kids. The sort of storytelling projects created in it appeals to adults who value kids being engaged in creative acts. A large part of Scratch's appeal is the enormity of its project library full of projects that look like anyone can make them. It is also worth remembering that Scratch was originally designed for use in afterschool programs where teaching could not be guaranteed. Kids look at Scratch and know what to do. These are powerful and legitimate design features that contribute to its popularity.
Logo on the other hand was designed as a vehicle for education reform and created a "microworld" in which children could be mathematicians rather than just be taught math. Kids using Logo often fell in love with mathematics and felt intellectually powerful for the first time. Logo introduced the concept of the turtle, a representation of the child's place in physical space, and turtle geometry, a math connected to movement in the real world. The turtle matched the intensity of children, captured their imagination, and was their collaborator in constructing mathematical knowledge. In 1968, Alan Kay first imagined the Dynabook, the progenitor of the modern laptop or tablet computer, after observing children programming in Logo. Kay recalls being amazed by the sophisticated mathematics young children were engaged in. Fifty-two years later, I feel the exact same way every time I use Logo with children.
*Today, a 5th grader came bounding up to me to announce, "Look what I accomplished!" She had taught the Logo turtle to draw a fraction, a bit of curricular detritus that normally invokes dread. In the process, she simultaneously demonstrated understanding of fractions, division, angle, linear measurement, and was on the verge of understanding variables all while teaching the turtle to draw. Turtle geometry may be the greatest mathematical prosthetic ever invented for learners. Logo creates a Mathland in which "messing about" and learning mathematics is as natural as a child develops oral language.
Math is the weakest link in every school. It remains the center for misery and instructionism in most. Seymour Papert taught me that the teaching of math ultimately jeopardizes all other efforts at educational progress. There is no gap as wide as the gulf between mathematics – a jewel of human intellect, and school math. Papert believed that even the most progressive schools become undone by the traditional diet and pedagogy of school math. He often discussed the need to create a mathematics children can love, rather than inventing tricks for teaching a "noxious" irrelevant math. Papert convinced me that no matter how project-based or student-centered a school happens to be, there remains a part of the day or week (math time) when coercion is reintroduced into the system. That is ultimately coercive to the nobler aims of the institution. Logo is and has been one of the few Trojan horses available for helping teachers rethink "math" on behalf of the kids they serve.
I fear for the future of such experiences in a world in which software has no value and there is no incentive for modern Logos to be created.
I just spent several hundred words stipulating that Scratch is a good thing. However, decisions were made in the evolution of Scratch that undermine its ability to make mathematics comprehensible, wondrous, relevant, and accessible for learners of all ages. Scratch could maintain fidelity to the powerful ideas inherent in Logo while adding all of the storytelling, animation, and media manipulation in a Web-based programming environment, but the designers of Scratch have decided to do otherwise. In fact, the most recent version, Scratch 3.0, has made it either too difficult or impossible to create the sorts of experiences I desire for my grandchildren and the children I'm privileged to teach.
I truly do not wish to step into the minefield of arguing about everyone's favorite software, but my concerns are legitimate. I know readers may be thinking, "Hey, design your own software if you love Logo so much!" This is impossible in a world in which software has no value and there is no incentive for modern Logos to be created. Scratch benefits from mountains of government, university, and corporate funding, making it the 900-pound gorilla in coding for kids. That's a good thing, but it could be better. My hope is that as Scratch evolves, consideration is given to bringing back some of the powerful mathematical ideas that have been lost.
Let me get specific. The following examples are a non-exhaustive list of the ways in which Scratch makes my life more difficult as a teacher and teacher educator concerned with providing authentic mathematical experiences.
Putting the turtle out to pasture
Perhaps the most enduring and kid-imagination-capturing metaphor of Logo programming goes like this:
[Teacher] "The turtle has a pen stuck in its belly button. What do you think happens when it drags its pen?"
[Kids] It draws!
This sounds simple, but is at the heart of what makes Logo a powerful, personal experience. Placing a transitional object representing ourselves inside of the machine is an instant personal invitation to programming. Drawing, with a crayon, pencil, or turtle is the protean activity for representing a child's thinking.
Drawing or painting with the mouse is fine but denies children opportunities to express mathematical formalisms in service of drawing. There is fifty years' worth of scholarship, joy, and powerful ideas associated with turtle graphics – often a user's first experience with thinking like a mathematician and debugging.
Scratch 3.0 inexplicably demotes its pen blocks (commands) to software extensions. The extensions are hidden until the user un-hides them. All of the other Scratch 3.0 extensions support either external hardware control or more advanced esoterica like interactive video, language translation, or text-to-speech functionality. I appreciate that part of Scratch's success is its clean design and lack of clutter. However, pen blocks are seminal and were integrated into previous versions. This design decision has several negative consequences.
It complicates the possible use of turtle graphics by requiring finding the location of the extensions button and clicking on the pen extensions
It implies that turtle graphics (drawing) is not as valuable a form of expression as animation.
The symbol on the extensions button is highly non-intuitive.
The pen blocks, once the extension is loaded, appear near the bottom of the block palettes, far from the motion blocks they rely on. This makes block programming cumbersome when the focus is turtle geometry.
The turtle has a pen stuck in its nose? Ouch!
In Scratch, the sprite draws from the perimeter of its shape, not its center. This makes precise movement, predictions about distances, and drawing precision much more difficult.
There are no turtle costumes for sprites
The turtle head points in the direction that matches "Forward" commands. This is obvious to even the youngest programmers. In Scratch, even if one wanted to use the turtle, there are no turtle costumes. Neither the turtles found in systems, like Turtle Art, MicroWorlds,
 Lynx , or even the old 70s-80s era turtle
 are provided. While it is possible to design your own Scratch costumes, you would be required to do so for every project, rather than merely adding sprite costumes to the system.
It is easy to explain that the "turtle may wear other costumes you design," telling the kids that "the sprite could be a turtle that you can dress in custom costumes," adds needless complexity.
No Clean, CG, Home, or CS
Nearly every other version of Logo has a Clean command for erasing the screen, CG, or CS for erasing the screen and repositioning the turtle at the center of the screen with a compass orientation of zero. Commonly found, HOME commands, send the turtle back to the center of the screen at coordinates, [0 0]. These are all simple concepts for even young children to quickly grasp and use.
Scratch's pen extension Erase All block wipes the screen clean, but neither returns the sprite to home nor reorients a "dizzy turtle."
Sure, if a teacher wants students to have a block performing the roles of Clearscreen, Scratch allows them to Make a Block.
The problem with doing so is that Scratch leaves the blocks you create, complete with their instructions, in the blocks palette – cluttering up your workspace. The definition of the "new" block cannot be hidden from users, even when the new block appears under My Blocks. Even more critically, there is no simple way to add pseudo-primitives (user-created blocks) to Scratch 3 for use by students each time they use the software. Therefore, you need to recreate Clearscreen in every new project.
[Making your own blocks is buggy too. Make your own block. Drag that stack of blocks, topped by Define, off the screen to delete it. Press Undo (Apple-Z or CTRL-Z). The definition stack of blocks returns, but not the new block under My Blocks until another block is created.]
The default sprite orientation is 90
When you hatch a sprite in Scratch, its orientation is towards the right side of the screen with an orientation of 90. If one hopes for children to construct understanding of compass orientation based on Mod 360, orienting the sprite/turtle to 0 is more intuitive. Since the turtle is a metaphor for yourself in space, your orientation is up, or 0 when facing the computer to program it.
No wrapping
For many kids, one of the most intoxicating aspects of turtle graphics comes from commanding the turtle to go forward a large number of steps. In many ways, it's a kid's first experience with big numbers. Turn the turtle and go forward a million steps and get a crazy wrapping pattern on the screen. Add some pen color changes, turns, and more long lines and math turns into art turns into math.
Scratch has no wrapping due to its focus on animation and game design. There could be a way to toggle wrap/no wrap. But alas…
Units are unnecessary
Not only are they unneeded, but educationally problematic. Far too much of math education is merely vocabulary acquisition, often devoid of actual experience. I go into countless classrooms where I find a store-bought or handmade "angles" poster on the wall listing the various kinds of angles. My first question is, "Who do you think is reading that?" The kids certainly aren't, but more importantly, "Who cares?" Kids are forced to memorize names of angles too often without any experience with angles. Turtle geometry changes all of that.
If you watch me introduce turtle geometry to children, I show them that the turtle can walk and turn. It walks in turtle steps. I never use the terms, angle or degrees, until either kids use them or much much much later. After kids have experience with angles and a growing intuition about their units of measure will I mention the words, angle or degrees. After experience, those labels hang nicely on the concepts and the terms are understood, not just parroted.
In Scratch, the turn right and turn left blocks include the label for "degrees." This is quite unfortunate. The design of these blocks is particularly odd since they do not even use the words, right and left, but arrows instead. This is most peculiar when juxtaposed against the rest of the motion blocks which are excessively chatty with extraneous text for their inputs.
Why use symbols for right and left and not a straight arrow for move?
To make matters worse, the default degree value in Scratch is 15. Kids naturally turn in 90 degree increments. If the default were 90, as it is in Turtle Art, kids quickly realize that there are turns smaller and larger when seeking angular precision. This is a much more effective sequence for understanding angle measurement from the syntonic to the abstract.
One tacit, yet profound, benefit of teachers teaching with Logo is that they gain experience teaching mathematics without front-loading vocabulary. In too many classrooms, kids are "taught" terms, like degree or angle, absent any experience. Logo-like environments offer the potential for teachers to appreciate how students may engage in mathematics unburdened by jargon. After children enjoy meaningful experiences and "mess-about" with the turtle, it is easy to say, "that's called an angle," or "the units used to measure angles are called degrees." Those terms now have a powerful idea to hang their hat on.
Starting with units is not just unnecessary, it's pedagogically unproductive.
Asymmetrical movement
Why are there blocks for turning right and left when there is only one move block? In Logo, Forward (FD) and Back (BK) are incredibly simple for children to understand and act out by playing turtle as a formal activity or in the course of programming. Move is ambiguous. Which way should I move? Forward and back make perfect sense.
Frankly, having a default of 10 in the move block is also a drag. For decades, teachers have experienced success by asking children, "How far would you like the turtle to go?" Kids suggest values and then are surprised by them. 10 is an arbitrary number. I might prefer 0 or a random integer as the default value for move. Such a change would force children to make a decision about the distance they wish to travel.
If you want the turtle to move backward, there is no back block. You are required to turn 180 degrees or move by a negative value.
Premature use of negative numbers
Introducing negative numbers and vectors the moment one encounters the turtle is premature and likely developmentally inappropriate. There is no reason for little kids to deal with negative numbers so soon when forward (fd) and back (bk) blocks could have been in the system, or at least as primitives under the pen extensions.
Multiple forwards provides kids practice with repeated addition, leading to multiplication.
Consider this simple example:
fd 20
fd 30
fd 100
Now you want the turtle to return to the midpoint of that line segment.
You can achieve that goal three ways, not including all of the repeated addition that might be used if a kid is not ready to divide 150 by 2 or figure out that a U-turn equals 180 degrees.
bk 75
rt 180 fd 75
fd -75
It is the possibility of solving even simple problems in multiple ways that is central to the genius of learning to think mathematically with Logo and the turtle. Sadly, the Scratch use of "move" to replace forward and back makes what was once a natural simple act, complicated or impossible.
PS: One more annoyance
Why are ask and answer in the Sensing palette? They get information from a user, but do not sense anything. Either move them or rename the Sensing palette, Data. Again, why lead the witness with the arbitrary "What's your name?" value?

*Notes: This was largely written after a recent day teaching kids. I spent months deciding whether to share this with the world. The great Cynthia Solomon contributed to my thinking and Sylvia Martinez read a draft. Seymour Papert is in my head all of the time.
Resources
Selected bibliography
Abelson, H., & DiSessa, A. A. (1986). Turtle geometry: The computer as a medium for exploring mathematics: MIT press.
Harvey, B. (1982). Why logo? . Byte, 7, 163-193.
Hawkins, D. (2002). The informed vision; essays on learning and human nature. NY: Algora Press.
Newell, B. (1988a). Turtle confusion: Logo puzzles and riddles. Canberra, Australia: Curriculum Development Centre.
Newell, B. (1988b). Turtles speak mathematics. Canberra, Australia: Curriculum Development Centre.
Papert, S. (1972). Teaching children to be mathematicians versus teaching about mathematics. International Journal of Mathematical Education in Science and Technology, 3(3), 249-262.
Papert, S. (1993). Mindstorms: Children, computers, and powerful ideas (2nd ed.). New York: Basic Books.
Papert, S. (1999). Introduction: What is logo and who needs it? In LCSI (Ed.), Logo philosophy and implementation (pp. v-xvi). Montreal, Quebec: LCSI.
Papert, S. (2000). What's the big idea? Toward a pedagogical theory of idea power. IBM Systems Journal, 39(3&4), 720-729.
Papert, S. (2002). The turtle's long slow trip: Macro-educological perspectives on microworlds. Journal of Educational Computing Research, 27, 7-27.
Papert, S. (2005). You can't think about thinking without thinking about thinking about something. Contemporary Issues in Technology and Teacher Education, 5(3), 366-367.
Watt, D. (1983). Learning with logo. New York: McGraw-Hill Book Co.
Watt, M., & Watt, D. (1986). Teaching with logo: Building blocks for learning. NY: Addison-Wesley Publishing Company.
The Papert articles (above) are available here.
---
Veteran educator Dr. Gary Stager is co-author of Invent To Learn — Making, Tinkering, and Engineering in the Classroom and the founder of the Constructing Modern Knowledge summer institute. He led professional development in the world's first 1:1 laptop schools and designed one of the oldest online graduate school programs. Learn more about Gary.
---
All children should learn to program, not because it may lead to a job, but because it is a new liberal art and grants young people agency over an increasingly and technologically sophisticated world. At a time of rising authoritarianism and science denialism, it seems prudent to provide kids with experiences that develop a systematic way of making sense of the world. It may literally be the least we can do.
Current approaches to teaching computing to kids suffer from the traditional failures of curriculum development and too often fall prey to the following desires:
vocabulary acquisition
a condescending view of teacher competence
convenience
frugality
ignorance of the intellectual euphoria associated with bending a computer to your will
offering students an illusion of agency without actual power
speed
The calls for "CS for All" are right out of the timeless schooling playbook; require a new subject without a requisite investment of funds or imagination and reduce it the sort of lifeless content devoid of experience that is easily tested. For extra credit, "demonstrate" that some students just don't have a facility for the subject. A bell curve would be swell, but the real goal is for the "new subject" to fail with only children and their teachers to blame.
There is no better way to explain the quality of computer science curricula being developed for school use. Much of this curriculum is designed by interns or the very same educators who presided over the death of interest in CS. In many cases, the curriculum focuses on isolated topics, rather than on doing. What can a student do with the information being taught? Fluency is the goal!
(IMHO) Computer programming is not a means to demonstrate understanding of computer science jargon or even a technical act. At its best, computer programming a form of composition – like writing, music composition, painting, sculpting, or dancing. A handful of carefully designed assignments does not make one a computer programmer any more than it produces authors, musicians, or artists.
Computer programming mediates a conversation between the person and herself. Skills and habits of mind emerge from acts of creation, development, and debugging. One might think about this in terms of the purest forms of project-based learning where the project is a teacher's smallest unit of concern and students are free to lose themselves in the process of realizing something that matters to them.
Great expertise is developed by identifying things that bother you, a laser-like focus on overcoming that obstacle, and the emergence of a new thing that bothers to you as you approach your temporary goal. This phenomena maps perfectly to the process of programming and debugging. It also matches a young person's remarkable capacity for intensity while mirroring the writing process and other forms of composition.
Show kids a primitive or two and see what they can do with it. The genius of "Logo family" languages, like MicroWorlds, Lynx, Scratch, Snap!, TurtleStitch, Beetleblocks,  Turtle Art, or perhaps even MakeCode is that seemingly infinite world of complexity can be realized with a handful of commands or blocks. With forward and right, you can draw anything in the universe. New commands, reporters, variables, conditionals, and control structures may be introduced to students as they need them. Programming elegance results from constraints or experience. Since microcomputers are no longer limited to 4K of RAM, "efficient" code becomes less of a necessity and more of an aesthetic quality that develops over time.Allowing kids to program in their own voice allows them to concretize abstractions and solve problems while developing programming prowess.
The Piagetian adage, "knowledge is a consequence of experience," is certainly true for programming. The more you program and the longer you stare at the screen of what you are programming, the better you will become at it. Schools that "or a little bit of Scratch" or celebrate "Hour of Code" trivialize the power of programming. Engaging in the false complexity associated with teaching a new programming language every year (or faster) is also likely to deprive students of the exhilarating feelings that result from your program meeting or exceeding your expectations. Programming should be like learning to write, compose, make cinema, dance, etc…
Above all else, quality work takes time. What's your hurry?
PS: Computer programming requires computers.
• • •
Veteran educator Dr. Gary Stager is co-author of Invent To Learn — Making, Tinkering, and Engineering in the Classroomand the founder of the Constructing Modern Knowledgesummer institute. He led professional development in the world's first 1:1 laptop schools and designed one of the oldest online graduate school programs. Learn more about Gary here.
---
Get started learning to program by programming at Constructing Modern Knowledge 2020!
Snap! is a block based language created by the University of California at Berkeley and used in their first year computer science courses, as well as the high school AP Computer Science Principles Beauty and Joy of Computing curriculum. You might think of as Snap! as Scratch's older wiser cousin – perfect for learning computer science, engaging in more mathematical programming, and creating more complex coding projects.
For years, I have believed there to be an assortment of sophisticated programming projects that should be part of every child's educational experience. Writing a program to graph a linear equation supports timeless algebraic curricula and is an excellent introduction to0 software design. Best of all, it is an opportunity to communicate the formalisms of algebra to the computer. By teaching this to the computer, students better understand the mathematics. When you learn that you can program your own tools, you are inspired to engage in even more sophisticated mathematical explorations.
I've done similar projects in Logo and MicroWorlds over the past years.
This project is possible in Scratch (with barely any modifications), but the next project, generating an X Y table for a linear equation is not. Therefore, I decided to use Snap! in the context of the 7th grade class I taught today.
Here you may download and use the handout based on my classroom experience with kids. I attempted to commit the process to paper. I will likely create a handout for creating the X Y table too. In the meantime, can you figure out how to do it yourself?
[Note: I declare what Y equals rather than just inserting the equation into the y coordinate in order to make the y = …x clearer for kids]
---
Gary S. Stager, Ph.D. is an award-winning teacher educator, speaker, consultant and author who is an expert at helping educators prepare students for an uncertain f
uture by super charging learner-centered traditions with modern materials and technology. He is considered one of the world's leading authorities on learning-by-doing, robotics, computer programming and the maker movement in classrooms. Dr. Gary Stager is co-author of Invent To Learn — Making, Tinkering, and Engineering in the Classroom and the founder of the Constructing Modern Knowledge summer institute. He led professional development in the world's first 1:1 laptop schools and designed one of the first online graduate school programs. Learn more about Gary here.
---
I've been meaning to share this project idea with Josh Burker, author of The Invent to Learn: Guide to Fun and the Invent to Learn: Guide to More Fun books, for more than a year.
While on one of the fabulous London Walks tours (I've done dozens of them) of Chelsea in London last year, I learned that before houses had street numbers assigned to them, people shared cards with a rendering of their home's fanlight depicted on it. This practice dates back to 1720.
The function of the fanlight is to light a home's entry way, but many of London's upscale townhouses feature a semicircle shaped fanlight in which a geometric pattern exists. Each pattern needs to be different, at least in a particular neighborhood, in order to depict the occupants of the home for deliveries and visitors. Below are some of the photos of fanlights I took while walking around Chelsea.
Here's the project idea…
Use your favorite dialect of Logo (Turtle Art, SNAP!, Scratch, etc…) to design a unique fan light. Teachers may support the activity by providing the code for drawing a uniform semicircle in which each student's fanlight pattern must fit.
Extension
This is a good project for employing the concept of state transparency; in programming as in life, it is a good idea to return to where you started. Returning the turtle to its initial starting position and orientation allows you to repeat the pattern elsewhere on the screen and perform various transformations on it.
Try these challenges
Use Logo/MicroWorlds/SNAP!/Scratch to program the turtle to draw a row of townhomes with different fan lights in each window.
Change the scale of your entire neighborhood.
Change the scale of your fanlight window without altering its shape.
Allow the user to specify the scale of the fanlight and draw it to that scale.
Create a more abstract illustration using your fanlight in different ways.
That's it!
Happy programming
---
Gary S. Stager, Ph.D.is an award-winning teacher educator, speaker, consultant and author who is an expert at helping educators prepare students for an uncertain future by super charging learner-centered traditions with modern materials and technology. He is considered one of the world's leading authorities on learning-by-doing, robotics, computer programming and the maker movement in classrooms. Dr. Gary Stager is co-author of Invent To Learn — Making, Tinkering, and Engineering in the Classroom and the founder of the Constructing Modern Knowledge summer institute. He led professional development in the world's first 1:1 laptop schools and designed one of the first online graduate school programs. Learn more about Gary here.