"Equity demands access to a greater range of intellectual & creative experiences, not merely access to same crap rich White boys don't need either." – Gary S. Stager, Ph.D.
A response to the plethora of articles spouting hooey similar to this article – Saving Computer Science from Itself
(Regrettably, I will undoubtedly be compelled to write more on this topic in the future. In the meantime, here is my answer to the "should we teach kids to code" argument)
As someone who has taught countless children (from preschool) and their teachers to program across the curriculum for 34 years, I disagree with lots of the arguments in this article. I agree that we have done an awful job of defining CS AND reaching any rational consensus of why it is critical that every child learn computer science.
The larger argument I would like to make is that this is not a matter of opinion.
Programming gives children, every child, agency over an increasingly complex and technologically sophisticated world. Computer science is a legitimate science; perhaps the most significant advancement in science of the past century. It is foundational for all other science. THEREFORE, IT MUST BE TAUGHT AND USED WELL BY EVERY CHILD. Computer science gives kids access to complexity and provides an authentic context for learning the crummy mathematics content we dispense to defensless children.
One might also discuss the terrible (or nonexistent) job we do of teaching ANY science to children (below secondary grades). Oh yeah, add art, instrumental music, civics, mathematics, and history to that list as well.
The difference between Computer Science and all of the other stuff we don't bother to teach is the vehemence with which nearly two generations of educators have fought to democratize computer science and keep it out of the classroom. There are countless examples of far less relevant and less fun bullshit we fill kids' school days with.
Furthermore, ISTE cannot be trusted to play any leadership role in this effort. They have disqualified themselves from having any voice in discussions about the future of computing in schools. I signed the ISTE charter, edited their last computer science journal for several years, and have spoken at the last 28 of their conferences. I even co-authored the cover story for the last issue of their magazine, "Learning and Leading with Technology." However, ISTE's self-congratulatory pathetic "standards" for educational computing do not contain the word, "programming," anywhere. There are no powerful ideas they embrace, just some mindless notion of "technology good."
I've written about ISTE before:

Refreshing the ISTE Technology Standards
Senior Editor Gary Stager interviews Don Knezek, CEO of ISTE, on the revised National Educational Technology Standards(NETS). Plus: Stager's perspective.
Published in the June 2007 issue of District Administration

The ISTE Problem
ISTE's vague standards and an exclusionary "seal of alignment" make one wonder whose side the group is on.
Published in the February 2003 issue of District Administration
Why not ask the Wolfram brothers or Seymour Papert about the value of children programming? Why are we relying on the "vision" of politicians or tech directors whose primary concerns are about plumbing and getting Math Blaster to run on Chromebooks connected to an interactive whiteboard?
The UK example is exactly NOT what we should be doing. Their curriculum (scope, sequence, content) makes no sense and bares very little resemblance to computer science. Like other "Coding" or ill conceived computer science curricula written by government committee, the UK curriculum doesn't even need a computer. AND when you make a hierarchical curriculum, IF needs to be in 2nd grade while THEN gets introduced in a subsequent year. The only way you become good at computer science is by revisiting ideas and techniques in lots of projects – just like in any other medium.
Puzzles are not CS. An hour of "code" is not CS. Using Scratch for a few sessions or storyboarding are not CS.
There is no length to which people will not resort to deprive children of learning to program computers.
Oh yeah, the issues of efficacy, equity, etc you mention have been studied for decade. We know what to do.
I could go on….
Gary Stager's work and educational philosophy are based on four ideas.
The slide below is being passed around the Internet by well-meaning educators.
However, such "don't do this, do that" statements from startup-culture and Silicon Valley education "experts" almost always reveal their profound ignorance of how learning occurs and children develop.
Neither question is developmentally appropriate, although the first (bad one) at least includes a chance for play, fantasy, and imagination. The latter is designed to train workers to be cogs in a system dominated by the good folks at companies like Google.
Unlike most media outlets, The Huffington Post actually pretends to take an interest in education. However, I continue to believe that their Education section was created to be an advertising platform for the truly awful film, "Waiting for Superman," remembered as the Howard the Duck of education documentaries by the three other schmucks and I who paid to see it.
Regardless of their motives, The Huffington Post, is a frequent mouthpiece for the charter school movement and unofficial stenographer for corporations trying to make a quick buck off the misery of teachers and students.
The Huffington Post recently featured an article, "The Most Popular Books For Students Right Now," authored by their Education Editor Rebecca Klein. I clicked on the headline with interest, because I'm a fan of books and reading (I know a truly radical view for an educator). What I found was quite disappointing.
Aside from the fact that six books were the favorite across twelve grade levels, the books fell into two obvious camps; books kids like and books they were required to read by a teacher.
Nonetheless, data is data and Web users like lists.
What I do not like is when basic tenets of journalism, like "follow the money," are ignored in order to mislead readers. The source for the "independent reading habits of nearly 10 million readers" is Renaissance Learning, described by The Huffington Post as "an educational software company that helps teachers track the independent reading practices of nearly 10 million students."
That's like saying ISIS is a magazine publisher Donald Trump, owner of an ice cream parlor. While factually true, this is what Sarah Palin might call putting lipstick on a pig.
Renaissance Learning is a wildly profitable company that sells Accelerated Reader, a major prophylactic device for children who might otherwise enjoy reading. The product is purchased by dystopian bean counters who view small children as cogs in a Dickensian system of education where nothing matters more than data or achievement.
Their product creates online multiple-choice tests that schools pay for in order to quantify each child's "independent" reading. If the school doesn't own the test for a particular book a kid reads, they receive no credit. Kids routinely dumb down their reading in order to score better on the quizzes. Accelerated Reader rewards compliance and speed by turning reading into a blood sport in which winners will be rewarded and their classroom combatants, punished.
Ironically, I wrote about Accelerated Reader in The Huffington Post back in 2012. (Read Mission Accomplished)
When you look at the "favorite" book list featured in The Huffington Post, please consider that kids read The Giver and The Crucible because they are standard parts of the curriculum. This tells us nothing about what kids at grades 7, 8, or 11 actually like to read. Seeing Green Eggs and Ham as the first grade winner should make you sad. Can you imagine taking a comprehension test on this classic??? How vulgar!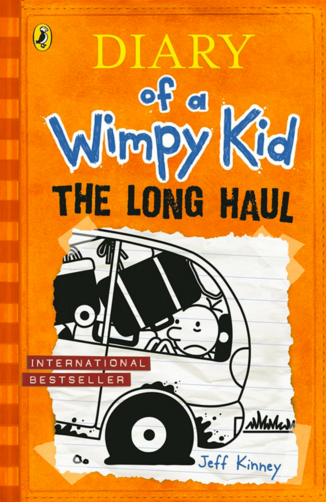 The Grade 2 favorite is also likely assigned by teachers, Click, Clack, Moo: Cows That Type. The mind reels when I try to imagine the test measuring comprehension of the comic book/graphic novel, named favorite book by 3rd, 4th, 5th, AND 6th graders, "Diary of a Wimpy Kid: The Long Haul. First of all, we should be alarmed that this simple book tops the charts for four years, but don't forget that kids will be tested by a computer on their comprehension of this delightful comic book.
"Nothing forced can ever be beautiful." – Xenophone
Caveat emptor!
An Australian federal court just ruled for teachers in amazing fashion that should impact educational practice everywhere on earth. The court ruled that materials and tools teachers need to do their job should be paid for by their employer and not by the teachers.
Nearly a decade after my colleagues and I introduced 1:1 laptop computing to a few hundred thousand of Australian students for the purposes of project-based learning, programming across the curriculum, shifting agency from teachers to students, collaboration, and creative expression, the government of the State of Victoria discovered laptops and set forth a number of "transformative" and "revolutionary" notions of how they could use the most powerful technological tool of all-time, the personal laptop, as a way of teachers doing chores. There was no educational vision whatsoever behind the "Notebooks for Teachers and Principals Program" and subsequently as the "eduSTAR.NTP Program."
What the state department of education did was urge teachers to purchase laptops through automatic salary education schemes of between $8 and $34 Australian dollars per month (approximately $6 – $26). More than 40,000 teachers and principals participated. Who wouldn't want a top-of-the-line MacBook Pro for $26/month?
Teachers then had to do clerical work, report grades, attendance, etc… via the laptops. After about $20 million (AU) was taken from teachers this way and tens of thousands of educators got laptops, the Australian Education Union filed suit claiming that since the laptops were required by the job educators perform, their employer should pay for such hardware.
Imagine that? Teachers should have ample supplies and technology required to do their job provided for them like any other employee.
The Australian Federal Court sided with the education union and has ordered the State to refund the money educators paid for their laptops, PLUS INTEREST!
Check out just a few of the Education Union's press release:
"We are pleased that the Federal Court found teachers should not have to spend their own wage to purchase items that are essential for their work. This is a win for our members and sets an important precedent."

"Laptop computers are essential for teachers and principals. It is unreasonable for them to pay for resources that are a necessary part of their job," says Meredith Peace, AEU Victorian president."

"Teachers need computers to write school reports, respond to parent emails, develop and co-ordinate curriculum, and collaborate with colleagues. They do not sit in offices at desks, they teach in classrooms – so they need laptop computers.

"The AEU pursued this matter through the Federal Court because teachers and principals deserve the tools and resources that are essential to their jobs to be provided by their employer. To attract and retain teachers, we must provide standard professional tools."

"We argued that even if the deductions were deemed to be authorised, they were predominantly for the benefit of the Department, rather than the teachers themselves."
The union also asserted that teachers were being asked to purchase laptops in schools where students were provided them by the school/state.
"It is unreasonable to expect teachers and principals to pay for accessing their work computers. Students themselves in many schools have laptops under the one-to-one laptop program. Teachers are expected to engage their students in learning through digital devices and teach them the ICT skills they need to be successful learners in an increasingly digitised world, so they need a laptop," says Peace.
A few questions?
When will American educators sue for the supplies, tools, and technology they purchase in service of their employer?
What are the implications for your school's technology implementation?
When a teacher (or student) DOES purchase her own computer, should a school be able to restrict its use?
Congratulations to the Australian educators who spoke truth to power and won!
I'm of several minds on this decision, however for the following reasons…
Clearly teachers should use computers and if it's a work tool, the court's decision is correct.
I remain a staunch advocate for every child having 24/7 use of a fully-featured personal laptop computer. However, the Victoria laptop rollout was a vision-free clusters#ck in which none of the intellectual or creative potential of computing had anything whatsoever to do with the real or intended use of the laptops.
This is going to immediately cause problems for schools embracing laptops, even if the merits of this case are unrelated. This is because morons set education policy and anything associated with "laptop" is likely to now be viewed as toxic.
Two years ago, Dr. Leah Buechley delivered a stunning address at Stanford University's 2013 FabLearn Conference. In her speech, Dr. Buechley challenged MakerEd.org's slogan, "Every Child a Maker," in light of the lack of diversity displayed by a commercial entity often associated with its activities, Maker Media. (Note: The non-profit advocacy group, MakerEd.org and the company, Maker Media, share a founder and similar names, but are indeed separate entities regardless of any confusion in the marketplace.)
Dr. Buechley shared stunning statistics on the lack of diversity represented on the cover of Make Magazine (the flagship of the enterprise), the lack of editorial diversity in Make, and the cost of the most popular kits sold by MakerShed, the retail arm of Maker Media.
I highly recommend that you take some time to watch Dr. Buechley's Stanford Talk.
These are not the words of a cranky critic. Leah Buechley is one of the mother's of the maker movement (small m). She urged those with enormous capital, influence, and connections to take their mission of "Every Child a Maker" more seriously. A change in behavior needed to accompany this rhetoric in order to truly make the world a better place. Maker Media and its subsidiaries have gained access to The White House, departments of education, and policy-making discussions. With such access comes great responsibility. Every educator and parent has seen the pain inflicted on public education by corporations and other rich white men who view the public schools as their personal plaything.
Earlier this week, I wrote the article, Criminalizing Show & Tell, to tell the outrageous tale of a 9th grade young man who was arrested, cuffed, detained, and suspended from school for bringing his invention to class. He hoped his creativity would gain him support in a school culture hostile to his complexion, name and religious beliefs. In my article, I addressed the steps that must be taken to correct this abuse of power, deprivation of rights, and violation of sound education principles.
Since then, Ahmed Mohammed has become the cause célèbre of the Internet. Why, he got tweeted by @potus AND got his very own hashtag, #istandwithAhmed. What Ahmed has NOT received is an apology from the school district that brutalized him or the police force that wrongfully arrested him. In fact, the school district continued their victim-blaming in a letter to parents  and the Irving, Texas police chief thinks that his force handled everything perfectly as well.
But hey, he got a #hashtag! Case closed, right?
I don't think so.
This morning I awoke to this tone-deaf email from Makershed announcing their Stand with Ahmed clock kit sale. Worst of all, only 3 of the 12 clocks are actually on-sale.
If tasteless isn't your style, how about sweet?
My social media stream is full of postings like this one.
Hooray! Ahmed is getting lots of presents. Who doesn't like presents?
A few pesky questions remain:
Who will buy all the plane tickets Ahmed and his parents need to meet the folks wishing to pose for photos with him?

Will his school punish him for missing class?
Oh, that's right. He doesn't have class because:
Ahmed was suspended for not bringing a bomb to school.
Neither social justice or the right to a high-quality public school education free of brutality and intolerance can be exchanged for exciting cash and prizes.
Ahmed's growing gift bag of goodies will do nothing to cleanse the Irving, Texas schools and community of its toxicity, xenophobia, Islamophobia, or racism. The misbehaving adults will not have their behaviors addressed.
Where does a fourteen year-old boy go to get his childhood back?
---
Veteran teacher educator, journalist, and speaker Gary S. Stager, Ph.D. is the co-author of Invent to Learn – Making, Tinkering, and Engineering in the Classroom, called "the bible of the maker movement in schools" by the San Jose Mercury News.
Dr. Gary Stager recently authored Intel's Guide to Creating and Inventing with Technology in the Classroom. The piece explores the maker movement for educators, policy-makers, and school leaders.
Download a copy here.