I'm an optimist by nature. That's why I awake each day thinking I can make the world a better place for children despite overwhelming evidence to the contrary. For years I believed that public education would hit bottom like an alcoholic and then rise from the ashes unencumbered by the shackles of past policies and practices. When that Phoenix rose, I would be ready. I had worked in the best and worst public and private schools in the world. I worked with homeschooling communities and even created productive contexts for learning within a prison for teenagers. I would be prepared to help reinvent public education as soon as the conditions were ripe for such transformation.
The problem with the rehab or resurrection myth was that I never anticipated the chance that American public policy regarding public education was that there IS NO BOTTOM to rise up from. It now appears that schooling and the way in which some Americans treat other people's children has no bottom. Things can and will get worse, perhaps indefinitely. The public is on a collision course to defund education and other services intended for the common good. I have chronicled this trend for a decade, but hoped things would never get this bad.
I clung romantically to fantasies that Americans embraced democratic principles, the common good and loved children. Learning otherwise is a somber realization, especially on Easter Sunday.
It has been suggested that Ronald Reagan made it cool to distrust government and ethical obligations to help your neighbor when in 1988 he said the scariest words you can hear are, "I'm from the government and I'm here to help." A decade earlier, Proposition 13 in California taught "citizens" that no matter what your neighbor or community needs, you will never be asked to reach into your pocket again and pay for it. Selfishness had become cool. America replaced the ideals of the Founding Fathers with the adolescent fantasies of Ayn Rand.
The singular genius of George W. Bush was recognizing that while people might dislike "school," they like their children's teacher. If you wanted to destroy or privatize (a semantic difference without distinction) public education, you needed to find a way to erode public confidence in the each and every public school. But how to do that?
Create an Orwellian law like "No Child Left Behind." Give corporations billions of dollars for the creation, implementation and frequent mis-scoring of deeply miseducative and misused standardized tests. Require 100% of all students to be above the norm on largely norm-reference tests by 2014 – a statistical impossibility – and when everyone is not "above average" quickly enough, blame teachers, takeover schools, make kids repeat grades and make already troubled schools even more joyless and irrelevant.
Along the way, tell parents constantly and with increasing volume that your child's teacher is failing your child and the Voila! you will withdraw your support for the system.
Cue the charter schools, get tough reformers like Michelle Rhee and get Oprah to pimp a simplistic propaganda film. Mission accomplished! Heckuva job, Brownie! As the great patriot Glen Beck once sang, "We Shall Overcome!" When the three wisemen – Arne Duncan, Al Sharpton and Newt Gingrich team-up as "school reformers," one can expect things to get old testament bad for public education. As long as unqualified is the new qualified, things will get worse for our children and even worse for other people's children.
Please! Please! Please! watch this video clip from the Rachel Maddow show, share it with friends and then try to restrain your violent impulses or find the strength to carry-on for another day. I'm sorry you have to watch a cheesy commercial first and that you may not like the messenger. The message is really important and stunning.
This is the tale of how two generations of severely at-risk young people are having their chances for a productive life and slice of the American dream sacrificed on the alter of capitalist greed, authoritarian impulses and callous disregard for the vulnerable.
Note to self: Next time I decide to arrest teen mothers demanding a quality education, be sure to run the police sirens to drown out their cries and screams.
Happy Easter!
Visit msnbc.com for breaking news, world news, and news about the economy
Here are some additional links regarding this story:
I just read with horror that Chicago Mayor-elect Rahm Emmanuel has appointed Rochester, NY schools superintendent Jean-Claude Brizard to be the new Cathie Black of the Chicago Public Schools (the nation's 2nd largest school district). This continues FOO's (friends of Obama) full-scale assault on public education and teacher unions begun months before President Obama was even elected.
Apparently, large city schools superintendent is the only job for which references are not checked.
Jean-Claude Brizard is an Eli Broad disciple whose singular genius was creating in-school suspensions where kids waste time doing nothing in school, rather than outside of school. (video news report here) That's some reform!
Since coming to Rochester in January 2008, Brizard has pushed for his own brand of reform: instituting a contentious in-school suspension policy, and moving problematic teachers out of classrooms into what some New York City teachers call "rubber rooms." (Rochester City Newspaper – March 17, 2010)
In February, more than 95% of Rochester teachers voted no-confidence in Brizard. Now that's quite a recommendation and cause for a promotion!
Just like Rahm Emmanuel used the "punch a hippie" strategy while in the Obama White House, his appointment of Brizard is a form of "punch a teacher."
In an April 19, 2011 article Chicago Tribune article "Our Kind of Guy to Lead Chicago Schools," they write the following about Brizard.
Can Rochester, N.Y., superintendent Jean-Claude Brizard pad a payroll? Skirt the rules? Spend frivolously? Distort statistics to make himself look good? Infuriate his constituents with a high-handed style?

Check, check, check, check and check.
Mike Klonsky has done some fine writing on the Brizard appointment and Rochester, NY television station WHAM 13 (ABC affiliate) reporter, Rachel Barnhart, has assembled an indispensable collection of articles about Brizard's record in Rochester, so you may fact-check his record for yourself. It is too bad that Mayor-elect Emmanuel did not heed the advice of George W. Bush and "use the Google" before subjecting Chicago school children to Jean-Claude Brizard.
I wrote the following about Brizard in 2008 for my Good Magazine cover story, School Wars. Alas, it was cut from the article.
Where do they grow these guys?

The new Superintendent of the Rochester, NY Public Schools, Jean Claude-Brizard, has a dream. He wants to create "Dream Schools" in his urban school district. Here is how the Rochester Democrat and Chronicle News described his dream.

…the plan calls for bundling troubled schools together in a special group to be called "Dream Schools."

Those schools would be mandated to teach a uniform curriculum, devote longer blocks of time to math and reading, offer after-school tutoring — and face closure if they fail to improve over time. Schools would be selected for the distinction based on state test scores.

"We are going to put them in a box and tell them what they need to do to get better," Brizard said. "After intense intervention, if there is no improvement, guess what? We'll shut them down."

The Democrat and Chronicle news article later reports, with no sense whatsoever of irony of contradiction that new Superintendent Brizard's plan, "would both strengthen and relax centralized control of schools."

Right, you have all the freedom you want at the local school-level to treat teachers like robots and teach a standardized curriculum!

A few weeks later, Superintendent Brizard announced his plan to spend $1.2 million to save the Reading First program in Rochester. The announcement was made the very same week that the US Government declared that Reading First didn't teach children to read.

As I read the news I could not help wondering to myself, "Where do they grow people who think like that?" The answer is simple. You learn that ideology trumps even common sense at the Broad Academy, an intensive program in which future school leaders are trained to think like their mentor Eli Broad.
In September 2008, District Administration Magazine published an article I wrote in which I explored how Jean-Claude Brizard appeared reality-impaired and driven by ideology. The text of that article follows:
Who Ya Gonna Believe? (2008)
The ongoing battle between facts and mythology
It has long been accepted that good teaching requires a mixture of art and science. Outstanding teachers possess a solid knowledge of learning theory, human development. That content knowledge is brought to life by personal gifts, creativity and craft. Sadly, education news stories suffer from a lack of critical analysis or follow-up questions and educators too often justify questionable practices on the basis of personal beliefs, even when such beliefs are contradicted by evidence.
There is perhaps no greater educational battleground in the fight between ideology and fact than reading instruction. In fact, No Child Left Behind went to great lengths to redefine "science" when it insisted that every classroom practice adhere to "scientifically-based research" to the exclusion of evidence that interfered with their belief system. The underlying assumption of NCLB's Reading First program was that every child learns to read through a program of "highly structured, systematic sequential explicit phonics instruction." Research and common sense challenges that belief system.
First of all, not everyone learns everything the same way. Second, if the only way to learn to read is this form of alphabet sound connection, how does one explain the billions of people who read languages such as Chinese or Hebrew that don't have such written language systems? How do deaf people read?
The Department of Education's May 2008 report on the efficacy of Reading First concluded, "Reading First did not improve students' reading comprehension." Wow! That's fairly unambiguous. The creators, funders and enforcers of a national reading initiative announced that it did not work. Surely, a reading method that failed to improve comprehension would be tossed on the dustbin of history, right? Not so fast.
Let the spinning begin. "On the plus side, researchers found that Reading First teachers spent more time emphasizing phonics and other aspects of what many experts consider solid instruction — about 10 minutes more a day, or nearly an hour more a week. "Teachers' behavior was changed," Institute of Education Sciences Director Whitehurst says.
Fantastic! Teachers are spending more time doing what doesn't work. Just as the program was declared ineffective and long since its corruption was made public, Rochester, NY Schools Superintendent Jean Claude-Brizard, proposed to spend $1.2 million dollars of local funds to "save" Reading First in his district. Truth makes some educators emotional. The Arizona Republic recently wrote about educators who "mourn" the passing of Reading First. Barbara Wright of the Casa Grande Elementary District told the paper, "This was good, solid, research-based information, and we implemented it in all our schools at the time, even though only two schools were funded." She said that despite the probable death of the ineffective program that it will "continue to guide the district's reading program." I'm sorry, you should not be allowed to claim something is solid or research-based when it has been proven ineffective. Such claims are not scientific. They are religious.
It's not just reading
In the April 2008 issue of District Administration, Long Beach California Superintendent, Christopher Steinhauser, proudly boasts of his use of grade retention. The Broad Foundation even rewarded him for it. Like Mayor Michael Bloomberg and Governor Jeb Bush, Steinhauser embraces making students repeat a grade as an effective policy tool in the face of an overwhelming mountain of evidence that it does more harm than good.
Other professions have a term for when you put your personal belief ahead of facts – malpractice.
Senators Daniel Patrick Moynihan and Joe Biden have often said, "You are entitled to your own opinion, but you are not entitled to your own facts." This is excellent advice for educators who continue to eliminate recess, impose zero tolerance policies, cut arts programs, maintain agrarian school starting times, "teach algebra" at younger and younger grades and spend months each year testing or preparing students to take high-stakes tests. Conventional wisdom too often goes unchallenged and ineffective practices become myths. These practices are justified by personal beliefs.
The great philosopher Stevie Wonder reminds us, "When you believe in things that you don't understand, then you suffer. Superstition ain't the way." In education, adult superstitions cause children to suffer.
Published originally in the September 2008 issue of District Administration Magazine.
Gary S. Stager is Senior Editor of District Administration and Editor of The Pulse: Education's Place for Debate.
There has been some extraordinary news recently that has received very little attention in the United States or coverage by our news media. For the past two months, Australia has experienced cataclysmic flooding. The most devastated region was the State of Queensland where an area the size of France AND Germany, or larger than the State of Texas, was underwater! Imagine that!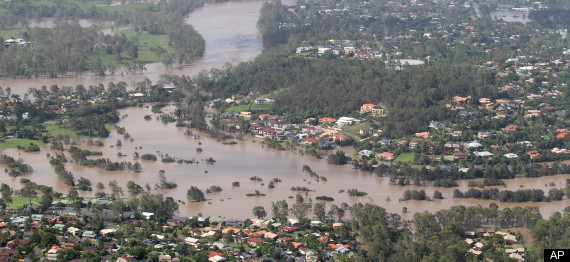 Infrastructure, crops, homes, schools, businesses were destroyed in a State representing 20% of the nation's economy. Thirty-five people died. 5% of the world's steelmaking coal exports have been removed from the world market. Soon after Queensland, the States of Victoria and New South Wales were also ravaged by flooding.
So, the first extraordinary news is that one of our closest allies has been flooding for two months and most Americans know very little about it.
The second bit of news should be at least as extraordinary to Americans. The Prime Minister and Federal Parliament announced yesterday a one-time tax levy designed to cover some of the reconstruction costs incurred by the floods. Australians earning between $50,000 and $100,000 per year will be assessed an additional 0.5 percent of their income. Australians earning more than $100,000 per year will pay an additional 1% of their income to contribute towards the massive rebuilding costs.
Australians earning less than $50,000/year OR who were victims of the flooding pay nothing.
Imagine that happening in the United States of America? Our infrastructure is crumbling and our neighbors are in need. Should the Congress decides to raise taxes for the common good? Fuggetaboutit!
Hell, we just gave an estate tax bonanza of $25,000,000,000 to 6,000 rich families and extended tax cuts to millionaire and billionaires who use teams of accountants and off-shore accounts to avoid paying taxes in the first place.
If a great American city is wiped out by a flood, we wait until Leighton Meester holds a telethon or Justin Bieber organizes a bake sale. Quick! Call a Kardashian! Surely, Jessica Simpson can save the day!
Government is to be avoided at all costs. Charity uber alles!
Last night, I was listening to the BBC coverage of the Aussie flood tax levy and the program interviewed an economist from the Westpac Bank (a major Australian bank). He casually referred to a person earning $150,000 per year as HIGH INCOME! President Obama is attacked  for attempting to define $250,000 as the upper limit of being MIDDLE CLASS! The American mythology causes voters to act against their own self-interest based on the fantasy that we will each be a billionaire any day now.
Oprah, Barack Obama, NBC News, Arianna Huffington and most other rich & powerful folks keep telling anyone who will listen that the mediocre propagandistic documentary, "Waiting for Superman" is evidence that American want serious change ™ in education policy and they want it now!
NBC, Oprah and other media behemoths have surrendered millions of dollars worth of air time to promote "Superman." President Obama even had the poor lottery-losing kids to the White House for a photo-op, but there was no talk of them becoming Sascha or Malia's classmates.
A central message of "Superman" and its promoters is that we need to run schools like a business, with competition, merit pay, etc… That explains their affection for charter schools.
So, how's that free market stuff working out?
Jackass 3-D made in a single weekend more than 25 times more than "Waiting for Superman" since it opened!
When I saw the film, four of us packed the cineplex.
The market has spoken. "Waiting for Superman" is as big a flop as its ingenue, former" educator," Michelle Rhee.
On October 4, 2010, I had the great privilege of participating in a webinar sponsored by Edutopia and featuring a stunning panel of experts charged with addressing alternative visions of school reform.
It is this freedom of the teacher to decide and, indeed, the freedom of the children to decide, that is most horrifying to the bureaucrats who stand at the head of current education systems. They are worried about how to verify that the teachers are really doing their job properly, how to enforce accountability and maintain quality control. They prefer the kind of curriculum that will lay down, from day to day, from hour to hour, what the teacher should be doing, so that they can keep tabs on it. Of course, every teacher knows this is an illusion. It's not an effective method of insuring quality. It is only a way to cover ass. Everybody can say, "I did my bit, I did my lesson plan today, I wrote it down in the book." Nobody can be accused of not doing the job. But this really doesn't work. What the bureaucrat can verify and measure for quality has nothing to do with getting educational results–those teachers who do good work, who get good results, do it by exercising judgment and doing things in a personal way, often undercover, sometimes even without acknowledging to themselves that they are violating the rules of the system. Of course one must grant that some people employed as teachers do not do a good job. But forcing everyone to teach by the rules does not improve the "bad teachers"–it only hobbles the good ones. (Seymour Papert – Perestroika & Epistemological Pluralism, 1990)
Please subscribe to my free newsletter
Here are some resources related to my presentation:
Mark your calendars!
A few days ago, Edutopia asked me to write another piece voicing my objections to NBC's Education Nation coverage and the deeply flawed documentary, "Waiting for Superman." I suggested that they host a webinar instead. I had already tweeted, blogged and Facebooked so much that I inexplicably lost my voice.
Edutopia took the suggestion and enlisted boy wonder, Steve Hargaddon, to organize and host the event entitled, Elevating the Education Reform Debate. This two hour webinar will feature some of the voices silenced by NBC, Oprah and director Davis Guggenheim. They include my heroes and colleagues, Deborah Meier and Alfie Kohn; friends, Chris Lehmann and Will Richardson; YouTube sensation, Sir Ken Robinson; and Julie Evans. I cannot wait to hear what they (or I) will say on Monday.
Wake the kids and call your neighbors! This is an event you won't want to miss!
This Elluminate webinar is FREE and open to the entire World Wide Web.
Date: Monday, October 4, 2010
US Secretary of Education Arne Duncan has decided to throw a few dollars around for parental involvement to distract the public from the anti-democratic school "reforms" he advocates. Of course this announcement is accompanied by the familiar "mea culpa" that the government hasn't done enough to involve parents.
This is a total load o' crap, especially given Duncan's heavy-handed imposition of Race-to-the-Top and endorsement of anti-democratic measures, such as charter schools and mayoral control of school districts. (Let's set aside the abysmal record of mayoral control in D.C., Duncan's Chicago and New York where after 8 1/2 years of heroic mayoral control 28% of African American males now graduate).
Oh yeah, an awful lot of parents are school teachers and union members who don't appreciate being vilified and having their family's security jeopardized by the policies of Duncan and his billionaire buddies.
If you want parental involvement/engagement in education, then make them full partners in the operation of public schools. Encourage greater participation in elected school boards and advocate "universal charter school" legislation in which every single American public school is run by the parents and teachers in that school. The only parental involvement ever tolerated by many local schools is when they ask parents to be ATMs and Narcs. Schools want parents to write checks and enforce their rules beyond school hours.
Perhaps, Secretary Duncan can stop blaming kids and parents for the fact that you have created joyless & irrelevant test-prep sweatshops where teachers work in fear and learning is subservient to compliance.
Parental involvement does not require $270,000,000 of Federal investment. It requires a bag of Doritos, a cheap box of wine and an honest partnership between equally empowered stakeholders.
The following is an article I published in 2008 that should give you a sense of how terrible the Duncan "parental involvement" plan happens to be when put into practice.
Chief Family Engagement Officer (2008) by Gary S. Stager, Ph.D.

Seize control of 1,400 public schools
Appoint a prosecutor to lead
Disband the democratically elected Board of Education
Hold one public hearing in five years
Centralize the bureaucracy
Maintain files used to discredit critics on the right and left
Favor managers over educators
Detain teachers in rubber rooms (read additional news accounts here and here)
Invent Orwellian job titles for propaganda officers…

Stalinist Russia?

Fughetaboutit! It's just the New York City Public Schools under Chancellor Joel Klein.

The March 4, 2008 edition of the New York Times reports on the state of Mayoral control of the public schools in After 5 Years, City Council Holds First Hearing on Mayor's Control of Public Schools. The article covers a New York City Council hearing where questions about the efficacy of suspending democracy battled the non-educator Chancellor's argument that "mayoral oversight is critical to turning around the vast system…" and "The fundamental governance structure of mayoral accountability and control, I think, is right and needs to be maintained." As the title of the Times article suggests, this was the first time the City Council has held a hearing about the Mayor's school takeover in five years.

Sure, the Chancellor's claims of improved test scores, enhanced accountability and greater efficiency went unchallenged. I have come to expect very little from politicians and journalists who suspend their disbelief when matters of public education are discussed. At least once Councilman compared mayoral control to martial law.

Lack of parental input into governance of their local schools, standardized curricula, no public oversight of the system and powerless administrators are the expected outcomes when political ideologues get to play corporate dress-up and the public schools become their toy.

None of this surprises me. I was however delighted by the latest Orwellian confection served up by the Chancellor. Klein offered a faux mea culpa about how he had not followed up on the millions he spent to hire "parent coordinators" in each school. (I assume to neutralize desires for parental involvment)

If the image of full-time paid "parent coordinators" does not paint a clear enough picture of this educational Potemkin Village, Chancellor Klein admitted that "he had waited too long to create the post of a 'chief family engagement officer' to oversee the coordinators."

Just when I thought the corporate psychosis polluting our public schools had reached its zenith, semantic gems like "chief family engagement officer" are invented. Thank you Chancellor Klein! That's one for the ages!

— Gary Stager
The Pulse: Education's Place for Debate

2008-03-05
As some of you know, I have been writing about school improvement and the political, corporate and ideological forces that have been attempting to claim "school reform" as their own invention for more than a decade for my blog, District Administration Magazine, The Huffington Post and GOOD Magazine (perhaps my most cogent discussion of the "School Wars" and the desire to surrender the public treasure of public education to private hands.)
You may also beware of my serious misgivings about what I view as NBC News' unprecedented attack on public education in the guise of Education Nation. I so annoyed NBC News earlier this week that they had me blocked from posting on Facebook for a time. Since my social media sentence was commuted, I continue to try and correct the record on Education Nation's Facebook page and via Twitter.
My greatest concern about Education Nation is the one-sided depiction of both the "crisis" in public education and the "solution" to said crisis. Despite NBC News' cries that 300 people are participating in their televised panels and therefore diversity is automatically achieved, citizens would be well-advised to heed the advice of Watergate's "Deep Throat," and follow the money.
Merely adding Al Sharpton or NBC and Oprah's resident education expert, R&B singer John Legend, to a discussion does not ensure that multiple perspectives will be heard or that expertise is bestowed upon unqualified folks with access to the media. Colin Powell might be an expert on creating "Don't Ask Don't Tell" or on starting a war in Iraq, but does not qualify him as a leading voice on school reform.
Simply stated, Education Nation does not represent the well-informed, research-based expertise of many successful urban school reformers and education experts including obvious choices, MacArthur Genius Deborah Meier; best-selling author, Alfie Kohn; outspoken critic of the corporate takeover of public education, Susan Ohanian; tireless advocate for poor children, Jonathan Kozol or serial urban school reformer, Dennis Littky.
Many brave and vocal educators, such as Carolyn Foote, have held NBC News' feet to the fire and demanded to know why teacher voices were not being adequately represented in the Education Nation programming. Carolyn and others have rightfully pointed out that the participating teachers are unlikely to receive proper billing or sufficient air-time. NBC News responded by indicating that "some of Education Nation's best friends are teachers."
However, we make a huge mistake if we accept NBC's claims of teacher involvement by counting heads or are persuaded by the impressive biographies of the teachers chosen to participate without exploring why such invitations were extended to those particular teachers. In this case, a few clicks of the mouse allows one to follow the money and follow the ideological blindness.
I do not in any way mean to denigrate the teachers being showcased by NBC News. I have no reason to believe that they are anything but hard-working, dedicated and excellent educators. I merely wish to make the case that they were chosen by NBC to advance a particular narrative.
That narrative is based on the following myths:
Public education is destroying America
There is a sudden emergency of bad teachers sweeping the land
Schools should be run more like businesses (Education Nation's patron Eli Broad believes this, but should we listen to a man who served on the board of AIG?)
Charter schools, merit pay, standardized testing and mayoral control are the magic beans that will save children from wretched teachers
When we fire all of the zillions of bad teachers a whole new crop of fantastic ones will grow in a Washington D.C. cornfield
The best and brightest will eagerly become teachers when we remove all teacher autonomy and reduce teaching to test prep and script reading
Unqualified is the new qualified as exemplified by Teach for America's zeal to create unqualified missionaries to replace teachers
Getting tougher is the same as reform
Michelle Rhee was victimized by enemies of school reform (teachers) when voters rejected her tactics and bankrupt educational vision (thanks Nora O'Donnell)
Billionaires are smart!
Racism and intergenerational poverty have nothing to do with academic achievement
The purpose of education is job readiness
Teacher layoffs, budget cuts and union busting are just three ways of saying "We should pay teachers more, but them accountable."
Poor children need educational experiences much different from those afforded the children of the powerful
We should all run out to the cineplex and see Waiting for Superman!
Here are the teachers NBC touts as being representative of educators' interests.
Kaycee Eckhardt had been teaching for four years in Japan when Hurricane Katrina hit her native Louisiana on her 25th birthday. Inspired to return home and teach in New Orleans, she took a job as a 9th grade reading teacher at New Orleans Charter Science and Math Academy. Her school serves some of the areas hit worst by Hurricane Katrina and often struggles to provide hot food, running water, and electricity. Despite that, in the past two years, Kaycee's students have averaged a phenomenal three years of growth each year. In addition, Kaycee's students have the highest math and science scores of any school in New Orleans. In 2009, she was awarded the Louisiana Charter School Association Teacher of the Year award.
Charter school teacher who may not hold a teaching credential and who is participating in TeachNola, a spinoff of Teach-for-America and the New Teacher Project that "streamlines" the process of learning to become a qualified educator. This is the same path Michelle Rhee took in her meteoric rise and fall as D.C. Schools Chancellor.
Sarah Zuckerman teaches art in Indianapolis, Indiana. As an art teacher she is deeply committed to making sure students develop core literacy skills and integrates literacy into all her art lessons. As a result her students have shown consistent academic growth in all their tested subjects. Sarah has taught abroad in China and Mexico and is a practicing artist who has shown her work nationally and internationally. Sarah received the Sontag Prize for Urban Education in 2010 and was a 2009 Teach Plus Fellow.
Wealthier children enjoy art education for aesthetic, cultural and creative reasons, not to raise test scores. The Sontag Prize is funded by Boston Public Schools and the Lynch Foundation, an advocate of Catholic Schools. It is unclear whether Ms. Zuckerman is a "trained" educator.
Shakera Walker is an award winning kindergarten teacher and a passionate advocate for the education reform movement and early childhood education. With over 8 years of teaching experience, Shakera continues to have a dramatic impact on student achievement. As a result of her incredible leadership, Shakera was awarded The Sontag Prize in Urban Education (2010).
The Sontag Prize is funded by Boston Public Schools and the Lynch Foundation, an advocate of Catholic Schools.
Joseph Almeida teaches 6th grade math at KIPP Infinity in New York City. He has created a YouTube channel with tailored lessons recorded for his students so that they can learn both inside and outside of the classroom. Joseph was awarded the Sue Lehman Award for Teaching excellence by Teach for America and was featured in the recently released book "Teaching as Leadership: The Highly Effective Teacher's Guide in Closing the Achievement Gap," a book that has been hailed for both its policy and pedagogical influence.
KIPP and Teach for America affiliations. Works in a charter school. Not sure if he is a credentialed teacher.
David Wu, who spent part of his life in Taiwan, is a high school Chemistry teacher at Dorsey High School in Los Angeles. Originally headed to medical school, he decided to join Teach for America for two years and has now stayed four. His students, who often start far below the district and statewide averages for Chemistry, have beaten both the district average and state average the last two years on the California Standards Test. He is also the first teacher at Dorsey High School to see one of his students score a perfect score on the CST–and he's had two students do it in the last two years.
Yet another Teach for America teacher. Works in a charter school. Not sure if he is a credentialed teacher. More emphasis on meaningless standardized test scores.
Kelly Burnette is a high school Biology and Physical Science teacher from Nassau, Florida. Her school district, which has quickly transformed from a rural community to a bustling suburb, has one brand-new state-of-the-art high school and another one built in 1912. Kelly just recently transferred from the new school in the suburbs to the older school in an under served area in an attempt to help that school turn around. At her previous school, Kelly helped lead teachers at a school that had been given a "D" grade in 2007-2008 to an  "A" rating in 2008-2009. For her work, she was chosen as a finalist for Florida's Teacher of the Year award.
Ms. Burnette might be an actual public school educator! Hooray! (I will assume that all of the school grade nonsense is beyond her control.)
Abigail Garland teaches 12th grade history at IDEA College Prep, a charter school in Donna, Texas, at which 80% of its students qualify for free or reduced lunch. She previously taught at Jaurez-Lincoln High School in La Joya, Texas. For the past three years, not a single student of Abigail's has failed his or her state assessment, and 80% scored a 90% or higher on the 11th grade Social Studies exam. In 2008-2009 she was awarded the Humanities Texas award as an outstanding teacher. Since becoming Department Head the school's state assessment passing rate has not fallen below 99% and commended scores (scores of 90% or higher) have risen from 50% to 73%. Abigail is passionate about higher education, and her classroom goals are derived from her hope that every student will have the ability to succeed in college.
Charter school teacher. More obsession with test scores.
Doris Milano is an elementary school teacher in Palm Beach County, Florida. During her 16-year tenure as an educator in her community, Doris has inspired and challenged her students to soar beyond mediocrity. For three consecutive years, Doris students have made more than a year and a half of growth in a year's time in all subject areas. Doris has won numerous awards for her teaching practice, including the EXCEL Award from the Foundation for Excellence in Education.
The implication that other teachers strive for mediocrity is offensive. The award she has received is from Jeb Bush's non-profit dedicated to the failed or unconstitutional strategies of private school vouchers, charter schools, merit pay and standardized testing.
Fatima Rich teaches 4th and 5th grade at Greenbrier Elementary in Indianapolis, IN. Although 77% of the students at Greenbrier qualify for Free or Reduced Price Lunch, she has seen phenomenal growth in her student's test scores, with more than 30% increase in the number of students who scored proficient or advanced in one year and her students are now beating the state average on the 5th grade math assessment.
Another example of reducing education to test preparation and standardized test scores.
Erin Dukeshire has taught middle school science in Miami and Boston and currently took a job as the science teacher at a turnaround school called Orchard Gardens because she wanted to transform a Boston school where only 3% of the students are proficient in math and none were proficient in science. At her previous school Erin lifted her students' science scores from 15% below the state average to well above the average.
Might be a great teacher, but "turnaround schools" are under-performing schools that can circumvent teacher union contracts.
Pamela Heuer is a 7th and 8th Grade Reading teacher in Indianapolis Public Schools. An alumna of Teach For America, Heuer's students averaged 1.9 years of growth in one semester during the 2008-2009 school year, and her students were recognized as the fastest growing students in the entire Indianapolis school district. For spearheading a peer reading program with a neighboring elementary school, Heuer received the Eli Lilly New Teacher Challenge Award.
Teach for America affiliation and advocate.
Claudia Aguirre is the principal at MS 247 Dual Language Middle School in Manhattan.  That school, which teaches about half of its classes in each language, has quickly moved up the ranks of New York City's middle schools because of Claudia's efforts to impose strict program of classes and work, add academic help sessions and social activities after regular school hours. MS 247 now tests on par with the average middle school in the state across the board, a marked improvement from the scores before Claudia took over.
An actual school principal. Nothing particular jumps out from her bio except for the emphasis on "strict" and after school hours which indicate that this might be a school unlike those parents of means might embrace for their children.
Michelle Henry teachers 3rd-5th Grade Mathematics at Witter Elementary in Florida. Although a full 93 percent of Witter's students qualify for Free or Reduced Lunch, the school had an 82 percent AYP rating in 2009. In addition, the Foundation for Excellence in Education recently presented Henry an award for having some of the greatest math gains of any teacher in the state of Florida. Henry is the recipient of the Mary Fraiser National Scholar of Gifted Education Award is rated an "Outstanding Teacher" under MAP and the Teacher Incentive Fund.
Another recipient of an award from Jeb Bush's foundation and citation of the No Child Left Behind Annual Yearly Progress rating
Pam Williams, the current Georgia Teacher of the Year, is a high school social studies and economics teacher from rural Appling County in southern Georgia.  A strong advocate for the Common Core State Standards, Pam is spending part of this year touring the state to talk to teachers and advocate for them at the state level.  She has previously taught in a self-contained 6th grade classroom, middle school Spanish, music, language arts, and social studies before moving to the high school level. In the last two years, she has taken over the economics program at Appling County High School and saw a 33% increase in the number of students passing the statewide End of Year Test after she redesigned the curriculum."
Another emphasis on test-prep and an embrace of "Common Core Standards," a fancy euphemism for "standardized national curriculum."
In closing, it's worth exploring the sponsors of Education Nation. The following foundations and corporations have their fingerprints on many of the most regressive educational practices in the United States today.
Further reading:
---
Note: This was originally submitted for publication in The Huffington Post. I sincerely hope it gets an airing there ASAP at which time I may remove the cross-posting here. I just wanted this to be read before
Education Nation
begins.
---
In anticipation of NBC News' assault on public education, Education Nation, I decided to collect some inspirational tales of teaching excellence.
I hope you enjoy reading these stories and will share your own.
If you share your own stories about excellent teachers, please use the hashtag #greatteaching
Regarding the Zuckerberg donation to the Newark Public Schools…
I am not hopeful at all. I am concerned. What makes you think that Christie hated public education and teachers yesterday, but not today?
Will the funds be used to supplement or supplant local school funding? In other words, will Christie steal $100,000,000 from Newark's budget as soon as the check clears?
This is a hostile takeover of another urban school district and a surrender of democracy to mayoral control. Neither Cory Booker or Chris Christie have a clue how to end the poverty and terrible infrastructure deficits in Newark, let alone run a school system. Until, quite recently (kudos to Booker), Newark didn't have a supermarket, movie theatre or bowling alley. It was a dead city.
How high do you expect student achievement to be in a once-majestic city with intergenerational poverty? I have said it before and I will say it again. I have worked in schools all over the world (on 6 continents) and have never come across more genuinely committed, hard-working or generous educators as those who work in the Newark, NJ Public Schools.
The teachers in that district have been maligned through decades of "state control" of the district and yet if we are to believe the politicians, nothing has improved. Shame on the politicians, not the poor kids and their teachers.
I've offered Cory Booker my assistance (via Twitter) many times. He's never had the courtesy to respond.
The teacher-bashing, charter school takeovers and endless standardized testing is sure to follow turn this gift into a weapon against common sense and the children of Newark.
Sadly, $100,000,000 is probably not enough money to build one new high school in Newark.
Zuckerberg's generosity is laudable, but the money won't help when marshall law/mayoral control is declared, the community is pushed aside and teachers are demonized.
Read the following articles for related information: