Under the best of circumstances, 98% of school is language arts and the remaining 27% is dedicated to a thing called math. Every other subject is fungible. Under the best circumstances, art, music, drama, and making things are under constant threat of underfunding or elimination. I have been receiving pleas for advice from art, music, and maker education teachers facing a "return to school" in which their programs are being shelved due to safety concerns while their hallowed spaces are being annexed for socially distant small group reading, 'riting, and 'rithmetic.
The hastily thrown together plans are based on woefully incomplete data, questionable assumptions, fear, and frankly, exhaustion. Creative teachers are being asked to watch as the curricular programs they built, developed, fought, and fundraised for, are being sacrificed for "School." While these changes may be made with all of the best intentions, they will narrow the curriculum, denature what the educational experience, and marginalize some of the system's most creative educators. History suggests that once these programs are eliminated, they will likely never return.
So, here is my advice for the teachers expert in learning-by-doing. Stand your ground. Fight for your programs. Defend your turf – literally and figuratively. Make it abundantly clear that when face-to-face school resumes, you're not going anywhere.
They call your subjects "specials" for a reason. It's time to reclaim that term and rid it of its pejorative connotation. What you do is special! It is why many kids come to school. If you work in a private school, your programs are probably why parents pay for their children to attend.
The non-desk-bound subjects are your school's value proposition. They are what keeps school viable. Many of you just demonstrated that accessing information, writing, engaging in conversation, attending lectures, and test-taking – the meat and potatoes of schooling – may be done online. (The dirty little secret is often in far less time than the school schedule suggests.)
So, here's my million-dollar idea. If you can stomach attending another virtual committee meeting to plan the coming school year, make the following case. Any hybrid or face-to-face model of schooling in the future should prioritize the preservation of art, music, drama, making, and hands-on science. Start with that goal and work backwards to create plans for realizing that vision of education. Flip the script!
All matters of space allocation, staffing, scheduling, and funding should support the goal of preserving and sustaining the experiences that are best (or only) achieved when adults and children are located in the same physical space at the same time. Imagine what school would look like when committed to helping children realize their fullest potential and emphasizing that which makes us human.
Let me be even less ambiguous. School should be about art, music, drama, science, and making things. Do not settle for keeping your job while your role is diminished, and your programs are marginalized. This is the time for school to expand the experiences children cannot enjoy on the Internet, on TV, or from a book.
I won't insult readers by reciting the evidence for how these experiences improve "academic performance," improve attendance, motivate students, or enhance a community. You know all of those things already. The decision-makers who continuously chip away at such essential programs know so too. We should use this moment to do the right thing.
Do not confuse my radical suggestion as a short-term intervention for dealing with the immediacy of the COVID-19 crisis, but rather an exercise in educating for an inevitable future in which today's arbitrary school schedule will be as impractical as it is unacceptable. In the very near future, children will attend schools more and less than today with flexible schedules based on shifts in parental work patterns, individual student needs, and a plethora of productive contexts for learning – online, in school, and in the community.
The most predictable opposition to my modest proposal is a concern for safety. I am not an epidemiologist and certainly do not wish to jeopardize anyone's health. My answer to the question, "How can we do this safely and maintain social distancing and proper hygiene?" is "I don't know. Figure it out." There appears to be consensus on the practical tactics being employed by those seeking to open joyless schools where children may be minded, fed, and lectured to. Surely, those tips and tricks apply to my humane and vibrant model as well.
Maintain appropriate physical distancing as recommended by scientists and medical professionals
Wear a mask
Wash your hands
Do not share tools or musical instruments
Reduce class sizes
Spend more time outdoors
Let's explore the last three tips since those relate specifically to the sort of schooling experience I propose. Science classes and maker spaces may need to focus on experiments and projects using a smaller number of low-cost materials than they did pre-Pandemic. Each student can have those materials assigned to them and stored in safe containers. Think of a toolbox per kid. There are a million and one science experiments and explorations one can conduct with household items. Perhaps each kid will build their own microscope as many already do in schools with maker spaces. Classes in making may focus on the protean maker space, computer programming. A great deal of physical computing may be explored via the $15 micro:bit, four alligator clips, and two 10mm LEDs; I could write a semester course for any grade level with those materials. Of course, the richest nation in the history of the world can afford a personal multimedia laptop computer for every child and their own musical instrument.
Class size reduction gets a bit trickier. You may have to lead many smaller music ensembles and choirs. Plays with smaller casts may be produced, phone-based video production can be created, and drama may be represented by socially distant staged reading. The lack of extracurricular activities and other distractions creates a fertile opportunity for students to read, write, program, and practice more than ever before.
There are at least several months during which the weather is pleasant enough for educational activities to occur under the stars (or a canopy). Thanks to climate change, it's rarely too cold to go outside and kids are not as fragile as schools pretend they are – see football, marching band, Scouts, playing outside, winter sports… Bundle the little kids up and tell yuppie parents that this is a forest schooling or experiential learning. They may even pay more for that. The kids will love it too!
I have infinite faith in teachers, administrators, parents, and school boards coming together to chart a course for realizing this new agenda for schooling when physical school resumes. Things need not be as they seem. Chart a new course! You got this!
---
About the author:
Veteran educator Gary Stager, Ph.D. is co-author of Invent To Learn — Making, Tinkering, and Engineering in the Classroom, publisher at Constructing Modern Knowledge Press, and the founder of the Constructing Modern Knowledge summer institute. He led professional development in the world's first 1:1 laptop schools thirty years ago and designed one of the oldest online graduate school programs. Gary began defending school music programs from the wrecking ball in 1982. Learn more about Gary.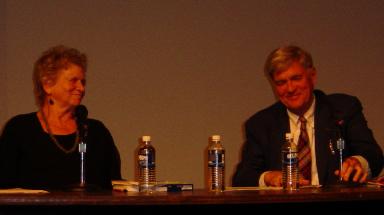 During Gary Stager's recent Ask Me Anything session with Deborah Meier, her Habits of Mind and Ted Sizer's Essential Principles for schools (especially secondary schools) were discussed. Watch a recording of the Ask Me Anything session, here.
Deborah Meier's Bridging Differences column with Diane Ravitch, et al.
Books by Deborah Meier
Documentaries made about Central Park East elementary and secondary schools, founded by Deborah Meier.
Deborah Meier's Five Habits of Mind, as originally explored in the book, The Power of Their Ideas: Lessons for America from a Small School in Harlem.
Evidence – asking, "How do you know?"
Connections – asking, "How is this connected to something else I already know or care about?"
Perspective or Viewpoint – asking, "From whose perspective is this story being told?"
Conjecture – asking, "How can I imagine a different outcome?", and
Relevance – asking, "Why is this important?"
Read and watch how the habits of mind are employed at Boston's Mission Hill School
Books by Ted Sizer, including Horace's Compromise: The Dilemma of the American High School (all three volumes of the Horace trilogy are essential reading)
The Ten Common Principles of Essential Schools (by Ted Sizer), complete with explanations
The Coalition of Essential Schools website
The Coalition of Essential Schools Remembers Ted Sizer
A hole in the wall as science and public policy
By: Gary Stager
District Administration, May 2004
(archive)
A funny thing happened to me while in India (besides losing my luggage, teaching for three days on three hours sleep, and confronting an elephant in traffic). While speaking at a conference, I encountered another educator whose work blew my mind. Such an experience is a rarity at the dozen or so educational conferences I attend each year across America.
Dr. Sugata Mitra, a physicist from Indian think-tank NIIT, embodies the best features of a scientist, educator, tinkerer and dreamer. His social conscience led him to invent a novel approach to learning technology. The scientist in him designed controlled experiments to explain the remarkable phenomena he observed.
India is a populace nation with staggering poverty and majority illiteracy. Politics, religion and tradition conspire to create millions of poor people and slums unfit for the stray dogs who compete for food. Wealth and great poverty coexist side by side like two nations with diplomatic relations.One boy who uses the kiosk defined the Internet as, "That with which you can do anything."
Mitra's own campus was separated from the "other India" by a wall. He often sensed that the poor children watched his research community with the cell phones attached to their ears and funny bags hanging from their bodies disappear into a mysterious fortress.
Mitra inserted a PC monitor into the wall behind a pane of glass and alongside a touch screen. The computer had a high-speed Internet connection and was on nearly all of the time. No other intervention occurred. Before long, this "hole in the wall" attracted children from the community and a great educational experiment had begun.
A video camera trained on the children using the kiosk and computerized logs of what was done on the computer create a record of the children's activities. Within a short period of time, children who speak one of India's thousand languages other than English and who had never received any instruction in technology use were surfing the Web. More over, groups of children played online games and painted pictures with MS Paint. After being shown MP3 software, some children even managed to find music in Hindi to play.
The success of the first "Hole in the Wall" inspired Mitra to replicate the experience with kiosks across the economic, cultural and geographic diversity of India. Children in every case were able to demonstrate what we might call computer literacy without any curriculum, formal teaching or adult intervention. The "Hole in the Wall" children discovered and taught each other amazing things. Young children stand on the shoulders of others and direct the action. The hundreds of shortcuts often left on a kiosk computer offered evidence of such expertise. Mitra found that kiosk users managed to learn hundreds of English words and used their native language to describe computer functions. Most users were 6 to 12 years old. Adults did not make any attempt to use the kiosk.
Self-Service Education
Dr. Mitra describes his learning theory as minimally invasive education – a hypothesis that even in totally unfamiliar situations, children in groups will learn on their own with little or no input from others, provided the learning environment induces an adequate level of curiosity. Like in minimally invasive surgery there should be no more expert intervention than absolutely necessary.
This work proves that when provided with access to a computer in a social context, all children will become computer literate with or without a traditional teacher. Mitra's careful experiments confirm the theories of Piaget and Vygotsky. Most of all, "The Hole in the Wall," offers a glimmer of hope for concerned global citizens who do not know where to begin in increasing educational opportunity in the developing world. The "Hole in the Wall" project is a testament to the competency and capacity of children to construct their own knowledge in a community of practice. Internet access can connect children to each other and the 21st century.
Does your school really need that computer literacy class? Can your teachers celebrate the technological fluency of your students and build upon it in the design of richer tasks and more imaginative curricula? American schools are blessed with advantages most of the world cannot even ponder. The "Hole in the Wall" project demands that we do better by our students and do our part to change the world.
Gary Stager is editor-at-large and an adjunct professor at Pepperdine Univ.
So, if I were asked to design a program for pre-service teachers, these books would be my starting place.
The Book of Learning and Forgetting by Frank Smith
Making Learning Whole by David Perkins
The Children's Machine by Seymour Papert
A Schoolmaster of the Great City by Angelo Patri
She Would Not Be Moved: How We Tell the Story of Rosa Parks and the Montgomery Bus Boycott by Herb Kohl
And What Do YOU Mean by Learning by Seymour Sarason?
The Long Haul by Myles Horton
The Hundred Languages of Children: The Reggio Emilia Experience in Transformation by Lella Gandini, George Forman, and Carolyn Edwards
In Schools We Trust: Creating Communities of Learning in an Era of Testing and Standardization by Deborah Meier
What to Look for in a Classroom by Alfie Kohn
A Fresh Look at Writing by Donald Graves
Ordinary Resurrections: Children in the Years of Hope by Jonathan Kozol
The Big Picture: Education is Everybody's Business by Dennis Littky and Samantha Grabelle
A reluctant choice between these books to make sure "math" is covered.
"You can't think about thinking without thinking about thinking about something" – Seymour Papert
I find potentially interesting education provocations everywhere. The remarkable generosity of the world's finest musical artists performing online during this pandemic have kept me safe and sane. I aspire as an educator to possess their level of talent, wisdom, expertise, focus, humor, commitment, generosity, and love. It is these very virtues that has made jazz musicians such a source of knowledge, wonder, and comfort in my life. One other very special aspect of "the hang" with jazz musicians is the lack of generational barriers within their community of practice. Most people aspiring to be great at what they do welcome opportunities to mentor newbies who express passion for similar pursuits. What makes the performing arts so special is that, as in the Brazilian samba schools, everyone – young and old alike – "dances" together.
So, in between concerts regularly scheduled concerts by Peter Martin, Chick Corea, and the Emmet Cohen Trio, I've watched great musicians discuss music they love at listening party fundraisers for Jazz House Kids (Friday nights) and Wynton Marsalis'  "Skain's Domain," (Monday night) where world-class artists spin yarns and take questions from the audience.
When I think about education, these are three ideals I cling to.
The best thing we can do is to create as many opportunities as possible for young people to be in the company of interesting adults.
Greatness is achieved through a laser-like focus on overcoming bugs that bother you. Once you approach overcoming that obstacle, a new challenge reveals itself. Such focus tends to make experts great teachers since such self-awareness is easy to articulate.
If you wish for others to learn from you, your practice needs to be as transparent as possible.
Each of these principles are embodied in the Skain's Domain Web livestreams (and archives). I highly recommend you watch the one below, even if you do not understand the subject matter, like jazz, or know who the participants are. There is still plenty to learn about learning and teaching.
This class is not a cocktail party!
Back in the 90s, my colleagues and I created online graduate school programs at Pepperdine University. One of my colleagues told students, "This is not a cocktail party! Your online interactions need to be pithy and deliberate." To make matters worse, she revealed to students that she used a handheld clicker to count their personal interactions.
Upon hearing this, my first reaction was sadness followed by thought that apparently my colleague has never been invited to a good cocktail party. In fact, I set out to use a cocktail party as the metaphor for all of my teaching. I assume that we have gathered for a common purpose. If someone becomes insufferable you can grab another coconut shrimp and participants are surrounded by a plethora of potentially interesting conversations. Social interaction was key to knowledge construction, collaboration and creativity. Worst of all, "measuring/assessing/counting" human interaction had a predictable prophylactic impact on the social cohesion and productivity of the class.
So, here's an activity for you to try…
Teachers from a school or department, perhaps even multiple schools, should meet online via a platform like Zoom. A diversity of experience, age, gender, friendships, perspectives, race, etc. are all welcome.
That Zoom session should be open to the public (or as broad a cross-section of your community as possible) and recorded in order to share the archive. Advertise the session in advance at a time your community may be available to "participate."
The participating teachers should discuss any topics they wish, reminisce about their teaching experiences, plan their next units, chill, catch-up on each other's lives, or a combination of all-of-the-above. If children are watching the online "faculty room," be sure that the language and topics discussed are age appropriate.
After 30-45 minutes of the "audience" observing your social fishbowl, open the session up to questions from the peanut gallery. Break the fourth wall.
Voila! That's it! Go ahead and change the world!
Let me know what you learn.
---
Veteran educator Dr. Gary Stager is co-author of Invent To Learn — Making, Tinkering, and Engineering in the Classroom and the founder of the Constructing Modern Knowledge summer institute. He led professional development in the world's first 1:1 laptop schools and designed one of the oldest online graduate school programs. Learn more about Gary.
I've managed to do some some writing during the plague. Thanks for reading and stay safe.
I hope that anyone reading this is healthy and sane during this period of uncertainty. Teachers and kids alike are grieving over the loss of freedom, social interactions, and normalcy. Many families, even those never before considered at-risk, are terrified of the potential for financial ruin or catastrophic health risks. Since I'm all about the love and spreading optimism, I humbly share a silver-lining for teachers and the kids that they serve.
The fact that you are being told to "teach online" in some vague version of "look busy" may mean that teachers are finally being trusted. Districts large and small are abandoning grading as they recognize that education (at home) is inequitable. I guess it's better late than never to discover the obvious.
Parents and superintendents are vanquishing the needless infliction of nonsense known as homework. Standardized testing is being canceled, an actual miracle. Colleges have recognized that enrolling students next Fall is more important than SAT or ACT scores. Each of these emergency measures has been advocated by sentient educators forever.
So, there is reason to celebrate (briefly), but then you must act! Use this time to remake schooling in a way that's more humane, creative, meaningful, and learner-centered. This is your moment!
In the absence of compelling models of what's possible, the forces of darkness will fill the void. Each of us needs to create models of possibility.
The fact that kids' days are now unencumbered by school could mean that they finally have adequate time to work on projects that matter rather than being interrupted every 23 minutes. I recently wrote, What's Your Hurry?, about teaching computer programming, but it's applicable to other disciplines.
Project-based learning offers a context for learner-centered pedagogy. I was reminded that the new edition of our book, "Invent To Learn – Making, Tinkering, and Engineering in the Classroom," includes several chapters on effective prompt setting that may be useful in designing projects for kids at home. Invent To Learn also lays out the case for learning-by-doing. Use that information to guide your communication with administrators, parents, and the community.
The following are but a few suggestions for seizing the moment and reinventing education after this crisis is resolved so we may all return to a new, better, normal.
Practice "Less us, more them"
Anytime a teacher feels the impulse to intervene in an educational transaction, it is worth pausing, taking a breath, and asking, "Is there less that I can do and more that the student(s) can do?" The more agency shifted to the student, the more they will learn.
One exercise you can practice teaching online, as well as face-to-face, is talk less. If you typically lecture for 40 minutes, try 20. If you talk for 20 minutes, try 10. If you talk for 10, try 5. In my experience, there is rarely an instance in which a minute or two of instruction is insufficient before asking students to do something. While teaching online, try not to present content, but rather stimulate discussion or organize activities to maximize student participation. Piaget reminds us that "knowledge is a consequence of experience."
Remember, less is more
My colleague Brian Harvey once said, "The key to school reform is throw out half the curriculum – any half." This is wise advice during sudden shift to online teaching and the chaos caused by the interruption of the school year.
Focus on the big ideas. Make connections between topics and employ multiple skills simultaneously. Abandon the compulsion to "deliver" a morbidly obese curriculum. Simplify. Edit. Curate.
Launch students into open-ended learning adventures
Learning adventures are a technique I became known for when I began teaching online in the 1990s. This process is described in the 2008 paper, Learning Adventures: A new approach for transforming real and virtual classroom environments.
Inspire kids to read entire books
Since the bowdlerized and abridged basals are locked in school, encourage kids to luxuriate with real books! Imagine if kids had the freedom to select texts that interest them and to read them from cover-to-cover without a comprehension quiz or vocabulary lesson interrupting every paragraph! Suggest that kids post reviews on Amazon.com for an authentic audience rather than making a mobile or writing a five-paragraph essay. Use Amazon.com or Goodreads to find other books you might enjoy.
Tackle a new piece of software
Been meaning to learn Final Cut X, Lightroom, a new programming language, or any other piece of sophisticated software? Employ groups of kids to tackle the software alone or together and employ their knowledge once school returns. Let them share what they know and lead.
Contribute to something larger than yourself
This is the time for teachers to support kids in creating big creative projects. Write a newspaper, novel, poetry anthology, play, cookbook, or joke book. Make a movie and then make it better. Create a virtual museum. Share your work, engage in peer editing, and share to a potentially infinite audience.
Check out what Berklee College of Music students have already done!
Teach like you know better
Use this time to rev-up or revive sound pedagogical practices like genre study, author study, process writing, interdisciplinary projects and the other educative good stuff too often sacrificed due to a lack of sufficient time. You now have the time to teach well.
Take note of current events
Daily life offers a world of inspiration and learning invitations. Why not engage kids in developmentally appropriate current events or take advantage of opportunities like JSTOR being open to the public during the COVID-19 crisis? Here's a possible student prompt.
"Go to JSTOR, figure out how it works, find an interesting article, and share what you learned with the class."
Let Grow
Change the world by challenging students to learn something on their own by embracing the simple, yet profound, Let Grow school project. A simple assignment asks kids to do something on their own with their parent's permission and share their experiences with their peers.
Stand on the shoulders of giants
Every problem in education has been solved and every imaginable idea has been implemented somewhere. Teachers should use this time to read books about education written by experts and learn the lessons of the masters.
Take time to enjoy some culture
There is no excuse to miss out on all of the cultural activities being shared online from free Shakespeare from the Globe Theatre, Broadway shows, operas, living room concerts, piano practice with Chick Corea, and exciting multimedia collaborations. Many of these streams are archived on social media, YouTube, or the Web. Bring some peace, beauty, and serenity into your home.
The following are some links, albeit incomplete and subjective, to free streaming cultural events.
Apprentice with the world's greatest living mathematician
In A Personal Road to Reinventing Mathematics Education, I wrote about how I have been fortunate enough to know and spend time with some of the world's most prominent mathematicians and that while not a single one of them ever made me feel stupid, plenty of math teachers did. Stephen Wolfram is arguably the world's leading mathematician/scientist/computer scientist. Over the past few years, he has become interested in teachers, kids, and math education. Dr. Wolfram spoke at Constructing Modern Knowledge, runs an annual summer camp for high school mathematicians, and has made many of his company's remarkable computational tools available for learners.
Acknowledging that many students are home do to the pandemic this week, Wolfram led a free online Ask Me Anything session about an array of math and science topics, ostensibly for kids, as well as a "follow-along" computation workshop. You, your children, or your students have unprecedented access to all sorts of expertise, just a click away! This is like Albert Einstein making house calls!
A bit of exploration will undoubtedly uncover experts in other disciplines sharing their knowledge and talents online as well.
Abandon hysterical internet policies
The immediate need for laptops, Internet access, student email, plus the expedient use of available technologies like YouTube, FaceTime, Skype, Twitter, Instagram, and Zoom has instantly dispelled the hysterical and paranoid centralized approach to the Internet schools have labored under for the past twenty-five years. The Internet has never been dependent on the policies of your school or your paraprofessional IT staff to succeed. Perhaps we will learn what digital citizenship actually looks like after teachers and children are treated like modern citizens.
Heed Seymour Papert's advice
When I worked with Seymour Papert, he created a document titled, "Eight Big Ideas Behind the Constructionist Learning Lab." This one sheet of paper challenges educators to create productive contexts for learning in the 21st Century. Can you aspire to make these recommendations a reality in your classroom(s)?
Do twenty things to do with a computer
In 1971, Seymour Papert and Cynthia Solomon published, Twenty Things to Do with a Computer. How does your school measure up a half-century later?
Program your own Gameboy
Yes, you read that correctly. Here is everything you need to know to write your own computer games, build an arcade, or program a handheld gaming device!
Teach reading and programming simultaneously
Upper elementary and middle school students could learn to program in Scratch and develop their reading fluency at the same time. Learn how in A Modest Proposal.
Share my sense of optimism
Shortly before the COVID-19 crisis, I published, Time for Optimism, in which I shared reasons why progressive education is on the march and how we might teach accordingly. We can do this!
Wash your hands! Stay inside! Stand with children!
---
Veteran educator Dr. Gary Stager is co-author of Invent To Learn — Making, Tinkering, and Engineering in the Classroom and the founder of the Constructing Modern Knowledge summer institute. He led professional development in the world's first 1:1 laptop schools and designed one of the oldest online graduate school programs. Learn more about Gary.
Today's horrific health and economic crisis might have at least one educational benefit, students are "working" from home and like everywhere else in the past two generations, communication is largely via computer generated text, not manual handwriting.
Whenever I visit a school, I scan the environment, observe social interactions, and look for learning artifacts. Even while strolling around spectacular schools — the sort of institutions blessed with phenomenal facilities, grandiose grounds, well-stocked libraries, maker spaces, and performing arts centers — I sense reason for concern. The lower primary classrooms have examples, presumably of exemplary student work, adorning the corridor walls. Sadly, the displayed work fails to match the grandeur, quality, and expectations of the school. Por que?
Thanks to the technology of choice, the pencil, your average elementary school student will spend an inordinate amount of time filling a cleverly designed worksheet with two or three banal sentences. I truly lament the lost opportunities for children to create work commensurate with their creativity and intellect. The prophylactic barrier is the pencil.
How many learning disabilities are created by a six-year-old's confusion between their ability to express one's self and their physical prowess at etching letters with a primitive writing stick? The development of a child's fine motor skills is much better suited to typing than handwriting. Few other intellectual pursuits require muscle development.
Word processing is the undisputed winner of the computer age. No serious writer under the age of a presidential candidate uses a writing stick for more than writing "not my fault" in Sharpie. Writers "write" on computers. Period. Full stop. Fin!
I harbor no doubt that the pencil has retarded literacy development. It spawned the five-paragraph essay, inauthentic "writing" assignments, and has made life unpleasant for teachers sifting through piles of student chicken scratch. The pencil has fundamentally limited the quality and volume of student writing. This is indisputable.
You learn to write by writing. When you waste several years teaching kids, not one, but two different styles of ancient stick scratching, you severely diminish opportunities for students to say something with coherence, persuasion, beauty, or personal voice.
Word processing makes it possible to write more, better, and quicker, while the editing process is continuous and fluid. You may still turn in X number of drafts to satisfy an assignment, but each of those drafts is the product of countless micro-drafts. Best of all, word processing eliminates another useless and ineffective subject of bygone eras, Spelling instruction! Bonus! #winning
Spare me the academic papers by tenure-track weenies at East Metuchen Community College seeking to "prove" that handwriting instruction raises test scores or I will be forced to send you reams of scholarship on butter churning as an effective weight loss strategy or blood letting as an indicator of entrepreneurship.
I am sorry, but publishers of handwriting workbooks and providers of D'Nealian professional development may have to go and get themselves some of those clean coal jobs or find some other way to torture young people. The College Board may be hiring!
If you feel nostalgic about handwriting, offer a calligraphy elective. Now, your school will have an art class! The high-falutin handwritten International Baccalaureate a concern? Relegate penmanship to an 11th grade PE unit.
The only time I use a pen or pencil is when asked to autograph a copy of a book I composed on a computer. Banking is online, so no more check writing excuses. You can teach kids to sign their name on a greeting card for their great grandmother in a session or two and then say, "Aloha!" to Eberhard Faber. Spend the rest of elementary school how to think and engage in work that matters. Their lumbrical muscles will thank you and their intellectual development will no longer be limited by a Number 2 drawing stick.
Teachers, it's time to say goodbye to your little friend… Pencils R.I.P
---
For those interested in "keyboarding instruction," please read this literature review.
---
Veteran educator Dr. Gary Stager is co-author of Invent To Learn — Making, Tinkering, and Engineering in the Classroom and the founder of the Constructing Modern Knowledge summer institute. He led professional development in the world's first 1:1 laptop schools and designed one of the oldest online graduate school programs. Learn more about Gary.
"Prechewed Pencils" by Bernie Goldbach is licensed under CC BY-NC-ND 2.0
TV and film writers are on strike for a "fair share" of the revenue from internet distribution of the programs and films they've written. But in a ironic twist on the relationship of written language to the internet, JK Rowling and Warner Brothers are suing tiny book publisher RDR books for turning what has been available free on the internet into a book. The key issue in the complaint they filed in New York court is that there's a major difference between information available free online and the same information in a book sold for profit. Is it coincidence that the suit was filed on Halloween?
A middle school librarian in Grand Rapids Michigan has been running a popular website devoted to comment and criticism on Rowling's phenomenal Harry Potter series. He and his contributors have created a virtual Harry Potter encyclopedia which provides serious literary criticism of Rowling's work and easy access to information about the books. Even Rowling herself says that it has been a handy reference for her as she is writing and needs to check something out from a previous book.
The website has never taken any advertising unlike several other web sites devoted to the series. So the royalties the author would earn on the book would be the only compensation he would receive for several years of diligent scholarship. The book, The Harry Potter Lexicon, is based entirely – almost verbatim – on the website. So why is Warner Bros and Rowling seeking an injunction to prevent the book which is ready for release in English and several foreign editions from being published when they have actually encouraged the website. The Lexicon author is featured in an interview to be included in the next Harry Potter DVD by Warner Brothers and a timeline he created for the books will also be on the DVD.
No question has been raised about the Potter web sites that earn tens of thousands of dollars a month through selling advertising so its hard to support the argument in the claim that it's that the book will be sold that makes the difference. The website has had 25 million hits so the information it provides has already been widely accessed.
What's so different about buying a book to get the same information?
And isn't it funny that so many folks have been predicting the death of reading books and this suit argues that a book is more of a threat to their literary empire than a website?
On the other hand maybe a book does have some strengths that a website doesn't have:
It's more permanent
It's edited so that the information in it should be more reliable than the website
It's portable and can be accessed anywhere including the bathroom, on a plane, in bed
It doesn't require access to or use of an energy source
One would think that Rowling would realize that this book has the potential to become a text in literature courses which would enhance her reputation as a literary giant rather than just an author of kids books. Not to mention the future genrations of serious literature students who will be buying her books. Harry Potter could reach the stature of Huckleberry Finn in great literature.
Lawyers are predicting that, because of the murky questions around intellectual property in various media the case could reach the Supreme Court. But that would depend on whether David, the publisher, can sell enough books to acquire the funds to fight Goliath, Warner Brothers.
Chairman George Miller of the House of Representatives HELP Committee has promised that three F's will guide changes in the reauthorization of NCLB, the 2001 revision of the Elementary and Secondary Education Act including Reading First. The three F's are fair, flexible, and finance.
Within the past two years the Inspector General of the Department of Education has issued a series of alarming reports on conflicts of interest and violations of the NCLB law that occurred during the implementation of Reading First by Department of Education staff and its consultants and contractors. In a subsequent Committee hearing several of these contractors and consultants admitted to making huge personal profits from requiring the use of tests and texts that they themselves had authored or otherwise profited from.
The perpetrators justified these conflicts of interest by citing the requirement in the Reading First law that state proposals must use materials and tests representing "Scientifically Based Reading Research." A small group of consultants and contractors, mostly affiliated with the University of Oregon, was given the power to decide which tests and programs were and were not acceptable under SBRR. They concluded that only tests and materials that they themselves had produced met that criterion. Even if that were true their actions would have still been illegal since another provision of the law expressly prohibits the DOE from using NCLB to impose methods and curriculum on the states. And of course they should have reclused themselves from decisions from which they personally profited.
But their claim to a scientific base for their materials is not valid. In fact it is as if the astrologers had been put in charge of the space program. None of the specific programs anointed by the DOE as SBRR has any scientific research on its effectiveness. DIBELS, a test funded by the US government and now sold for profit .has been rejected by a wide range of psychometrists and test makers. The Inspector General's reports cite this test specifically as one forced on states. An official of the Kentucky Department of Education testified at the committee hearing that their state proposal was turned down several times until they agreed to include DIBELS. Ironically, results on DIBELS are being used by Sec. Spellings to claim successes for Reading First which are spurious. Instructional materials published by Sopris West which were approved as scientific are not just poorly written: they are inane, racist, and sexist. Two programs pushed by the DOE staff and consultants are published by McGraw-Hill which includes several of the consultants and contractors as authors on the programs. A recommended program published by Scott, Foresman was developed by DOE consultants and contractors and SF used these same people to gain acceptance for the program in several states. All this is in the files of the House Committee.
Secretary Spellings has herself justified the strong arm approaches used by her staff on state negotiators by claiming that Reading First has been a success. Yet the National Assessment of Educational Progress data shows that bilingual fourth grade reading scores have been flat since a down and up ripple in the two years before NCLB took effect.
1999: 174
2000: 167
2001: 183
2002: 186
2003: 187
Since its inception Reading First has been used as a device for controlling reading curriculum and limiting use of materials not developed by those given the power to interpret the law. And it has had a devastating impact on teacher morale, forcing effective teachers who could not accept its narrow control out of the classroom in droves. This is not a simple "reading wars, phonics vs whole language" issue. Everyone from publishers of other phonics programs ( who filed the original complaints with the OIG) to traditional basal publishers, so-called balanced programs, and whole language programs have been excluded. In some cases DOE staff threatened specific school districts with loss of funds if they used Reading Recovery or Rigby, programs they had blacklisted. That's not fair. Reading Recovery, a holistic remediation program, is actually the only program that has been certified by a government agency as having research support for its effectiveness.
To date no action by the DOE or Secretary Spellings has done anything to correct this narrow, unfair and inflexible application of the law.
To achieve fairness and flexibility the law must be rewritten to make it impossible for any narrow group to impose their own biases on states and LEAs. There must be a level playing field for all publishers and programs. The blacklists that were created by the DOE and its contractors on programs, tests and people must be abolished. Much more progress would be made from encouraging a wide range of approaches and then requiring them to provide unbiased research evidence that they are successful. In several cases contracts were given to groups to monitor their own programs under Secretary Spellings.( As documented in the OIG reports)
Specifically the following revisions need to be made in the Reading First law:
It should be stated up front that the law is not intended to impose tests, methods or materials on any states or LEAs. The phrase SBRR should be eliminated from the bill as having no common accepted meaning in the field of reading. While schools may be held responsible for achieving success in reading, the law should be interpreted flexibly to allow them to choose their own methods and materials. Specific definitions of reading, reading research, and reading instruction should be taken out of the law since they are scientific matters which are not susceptible to legal definition.
School districts should not be required to contract with outside agencies for tutoring services which often employ unqualified staff. Teacher education programs should be supported to produce the needed number of qualified teachers for all classrooms including those in rural and inner city areas traditionally unserved..
For Reading First to be fair and flexible the DOE should be required to renegotiate all state contracts under Reading First which were illegally negotiated. And the procedure for reviewing new proposals should be fair and flexible. A much broader range of experts in the field of reading should be involved in the review process. Conflict of interest policies should be much more fully spelled out. And there should be prosecution of those who made illegal profits from past enforcement.
The House Appropriations Committee has recommended that funds for Reading First should be dramatically reduced until there is evidence that the law has become fair and flexible. That's essential to the law regaining the respect it has lost among the public and the educational community. Only when the law is made fair and flexible should it be fully funded.
Reading First can make an important difference in raising the literacy levels of those less well served by their schools.. But that requires positive, fair and flexible support of teachers and schools. The narrow punitive approach of the current law can only compound and obscure the real issues.